What are Box braids?
Box braids are a fantastic styling choice for fashionable sporty styles, especially for young women who lack time to care for their natural hair. These braids have a range of colors, sizes, and lengths to suit your choices, which is one of their main benefits. Single braids, called box braids, were typically worn by women of African and African American ancestry. They usually consist of square divisions, although some shapes may also be utilized (e.g., triangles).
Box Braids Men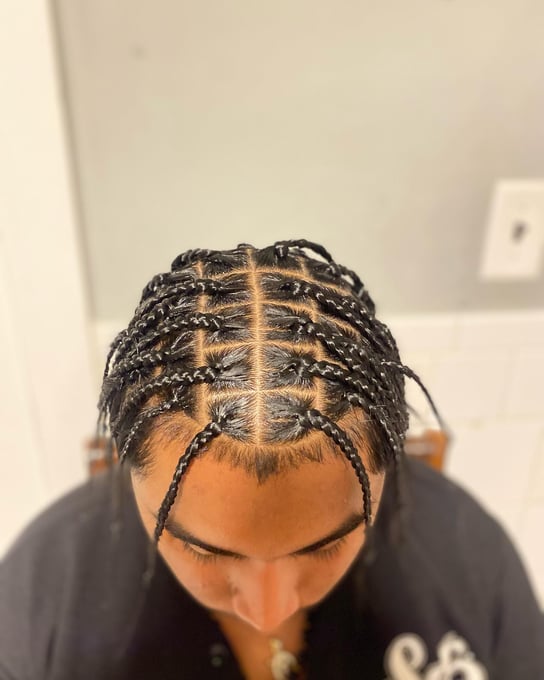 Men's braids stand out from other Hairstyles thanks to their remarkable aspect. Box braids are eye-catching and adaptable; they may be updated with new hues and accessories or matched with an undercut or fade. These braids are perfect for men who wish to switch up their normal cornrows and Afro or completely transform their appearance.
Medium Box Braids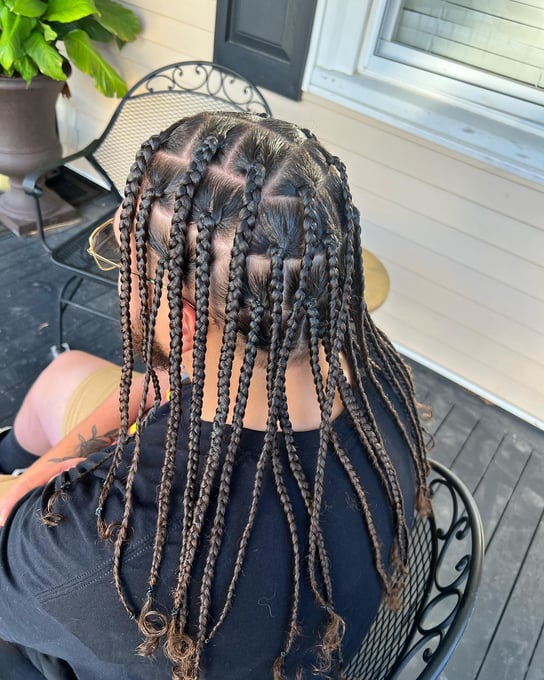 When you add a splash of color, discover your boldness. Utilize your self-assurance as you walk proudly while sporting a medium box braid haircut. With a unique appearance, own your authenticity while making a good statement. You may be generally self-assured and seeking a hairdo to follow your passion. Whatever medium box braid hairstyle or cornrow braids idea you select, there's also a style about to improve your appearance.
Knotless Box Braids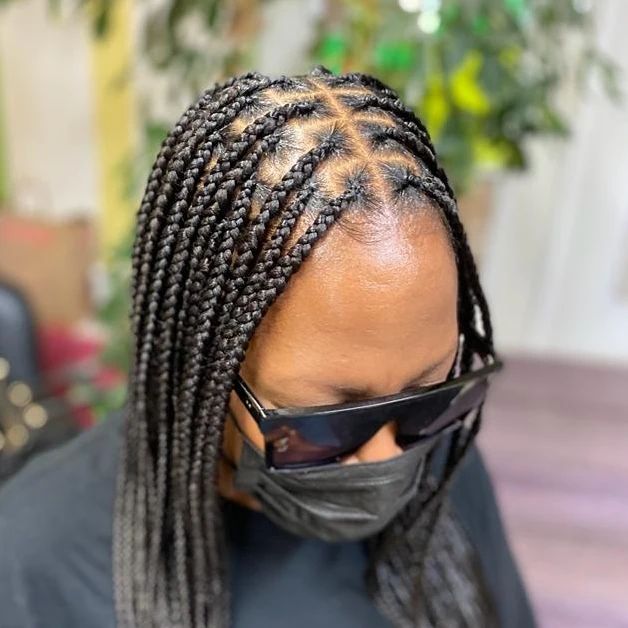 Begin a three-strand braid, then gradually add the braiding hair; use a Feed In Braids method to perfectly mix this with your natural hair rather than fastening the braiding hair with just a knot and plaiting. If you're braiding using 100 percent human hair, you might seal your braids by dipping them in hot water as just a final stage.
Jumbo Box Braids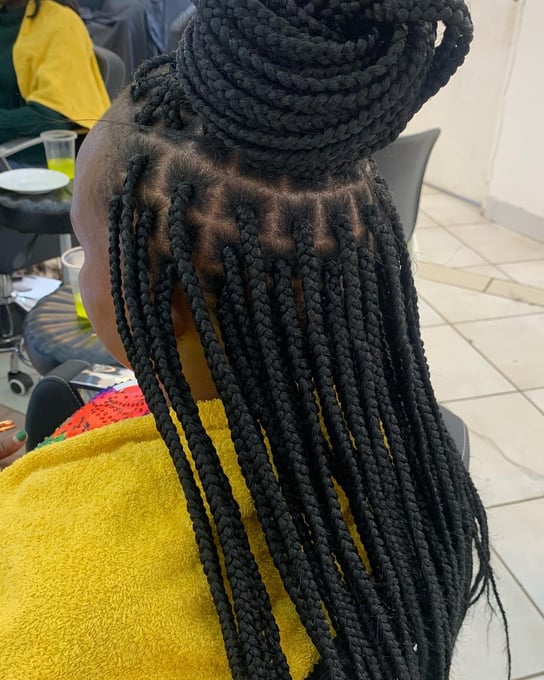 Jumbo box braids are a more significant and denser variation of the well-known protective hairstyle with African roots, which separates natural hair into boxy shapes. They are superior to other braided protective hairstyles for various noteworthy reasons.
Small Box Braids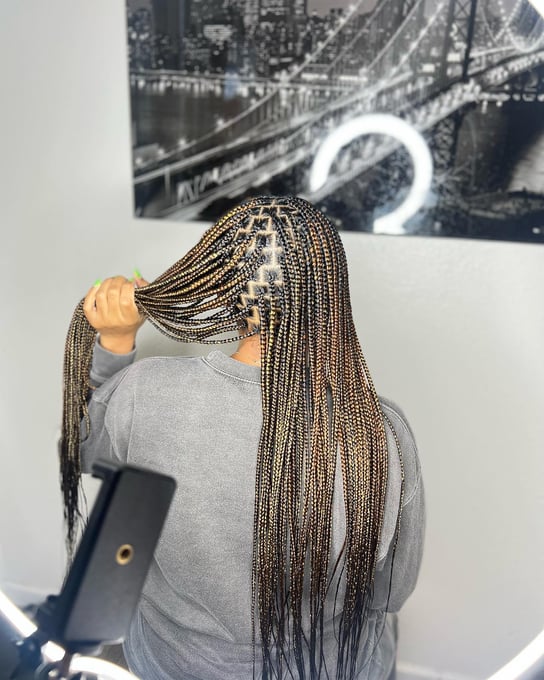 Long hair is used for this look, and it is braided into lovely, basic braids. This is a simple, universally flattering style. It is adaptable since it will look fantastic on everyone, depending on what you pair it with!
Box Braids Hairstyles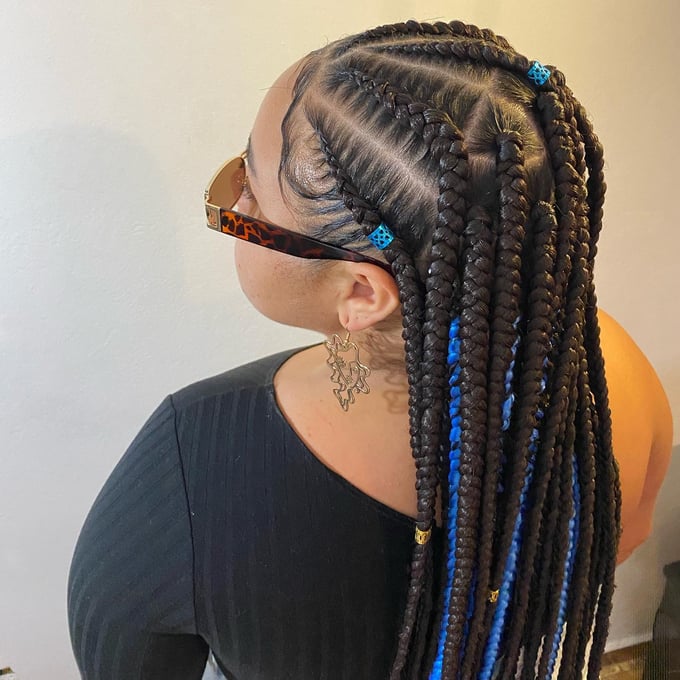 The box braids hairstyle is a great way to add length to your hair, color it, and wear various beautiful but easy-to-do hairstyles. You can style these braids in a tonne of unique styles! This guide will provide you with a plethora of lovely possibilities whether you're attempting a braids fashion for the first time, want it braided in various methods, or are looking for a charming individual braids hairstyle design.
Longest Box Braids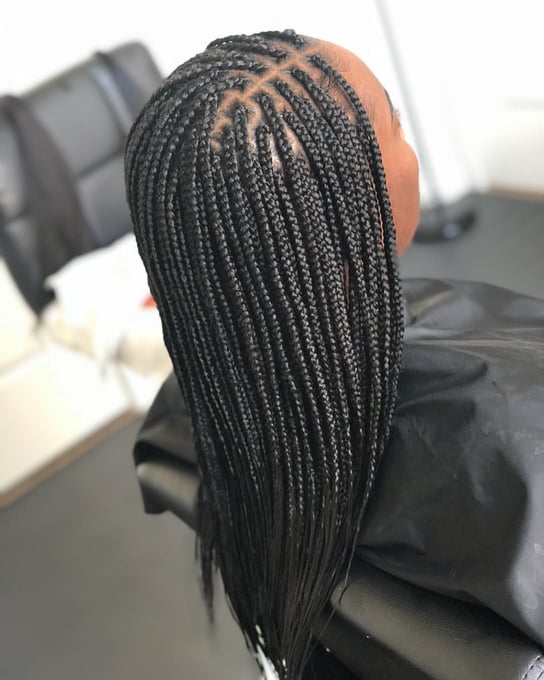 This lovely hairdo is the first concept we want to present to you. The hair has been braided into very long, vivid box braids. There is also a chic hair cord. The most extended B. braids are ideal if you desire a striking new appearance that will make you stand out from the crowd.
Box Braids with Beads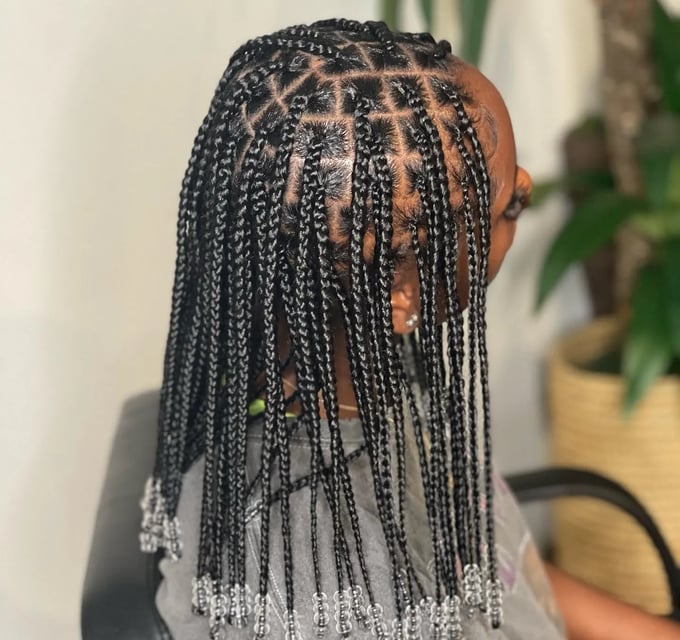 Box Braids with Beads there are many beautiful options beads are a common addition to braided hairstyles. Beads come in a wide range of hues and finishes that can be purchased. You can even buy beads that have been etched. Women can now exhibit their uniqueness through all of their hairstyles.
Box Braids Styles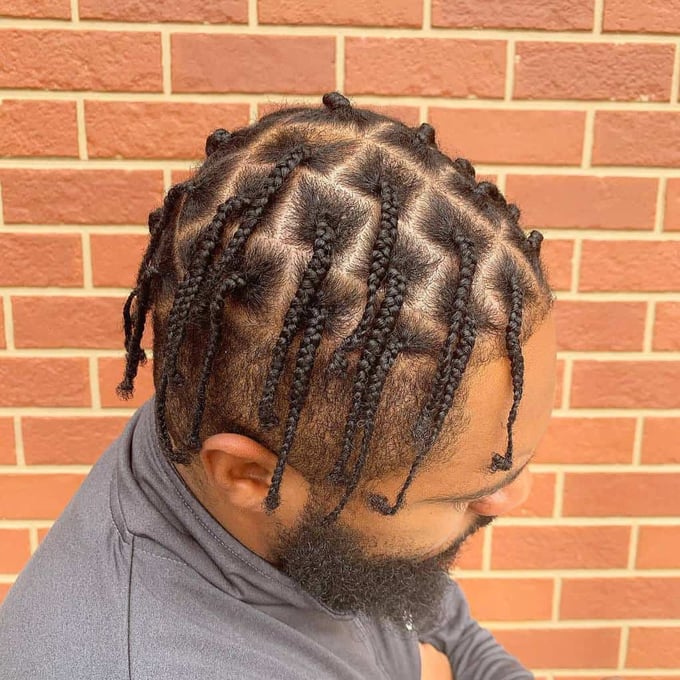 Africans and members of the African diaspora favor these braids more than any other type of hairstyle. This hairdo is "boxy," with square-shaped hair and a "protective style."
Goddess Box Braids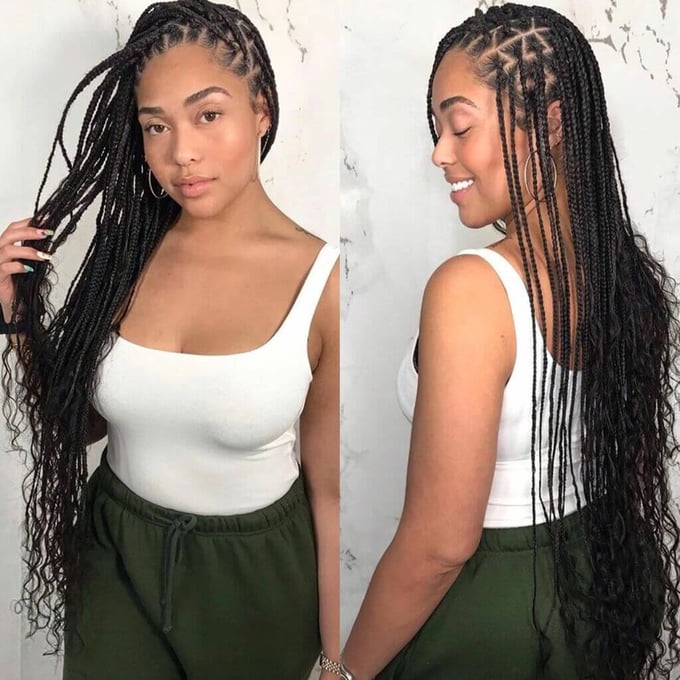 A softer, more feminine variation of typical box braid were goddess braids, often known as granny braids. Long, rope-like cornrow braids with curling tendrils that typically rest flat along the head characterize this preventive style.
Bohemian Box Braids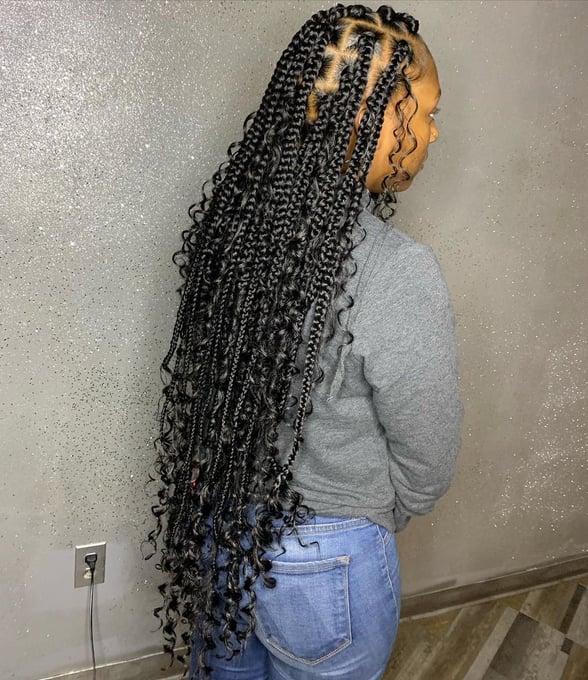 In essence, bohemian box braids were braids with undone curled ends that give hair a richer, more voluminous appearance. The first few inches are braided, whereas the remaining length is left unfinished and curly. Anyone who likes wearing long braids in their hair will love this preventive hairstyle.
Medium Knotless Box Braids
It takes less time to tie this knot than lengthy, fine knots because it is such a nice size. Additionally, if you wear them down, you won't feel as weighted on your head. Further, it can be entertaining to style this hair in various updos, including a traditional updo and a half-up, half-down appearance!
Short Box Braids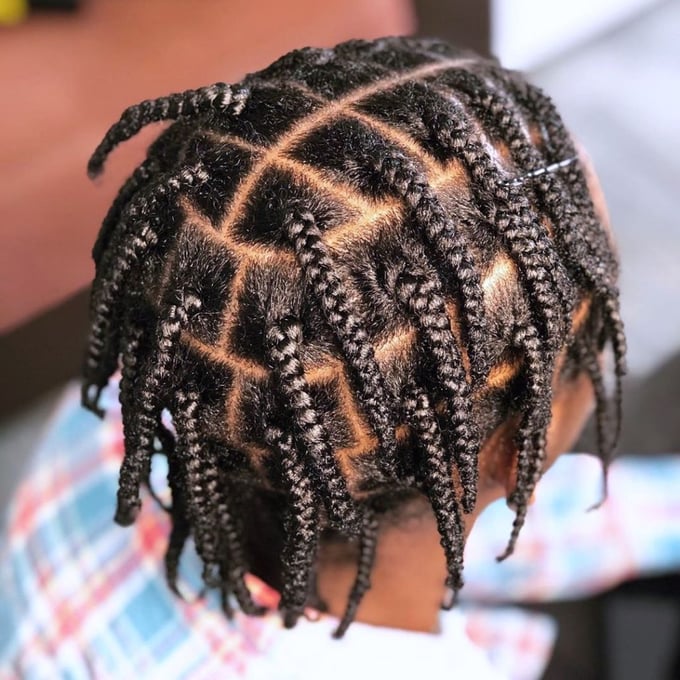 Want to give something trendy a try? Why not pick short braids like these instead? The hair is braided into gigantic box braid for this hairdo, with one-half black and the other a deep burgundy color. It provides a unique and fashion-forward look ideal for spring and summer by applying a solid color on only half of the braids. You can replicate this, or you can use any colors you like.
Box Braids with Curls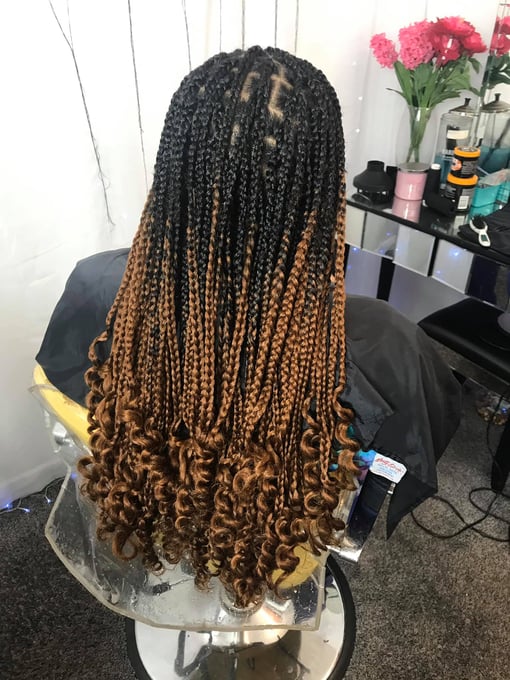 The very first hairstyle is extremely glitzy! Here, You styled stunning braids to the side. The hair changes into loose curls whenever the braids are about chin length. This haircut is gorgeous, fashionable, and simple to maintain. Additionally, it is appropriate for every situation. You can repeat this or pick a shorter curled height.
Box Braids Men Short Hair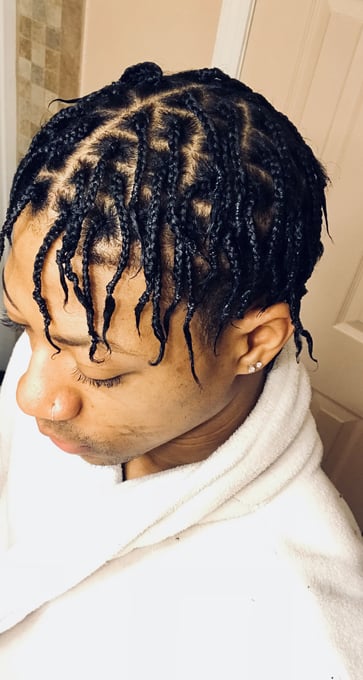 This is an inventive approach to combining braids' elegance with a crew cut's time-honored simplicity. Who had thought that the bleached blond tips that were so popular in the 1990s could be brought back with style and gravitas? Anyone who wishes to exhibit their personality subtly will find this great.
Box Braids for Kids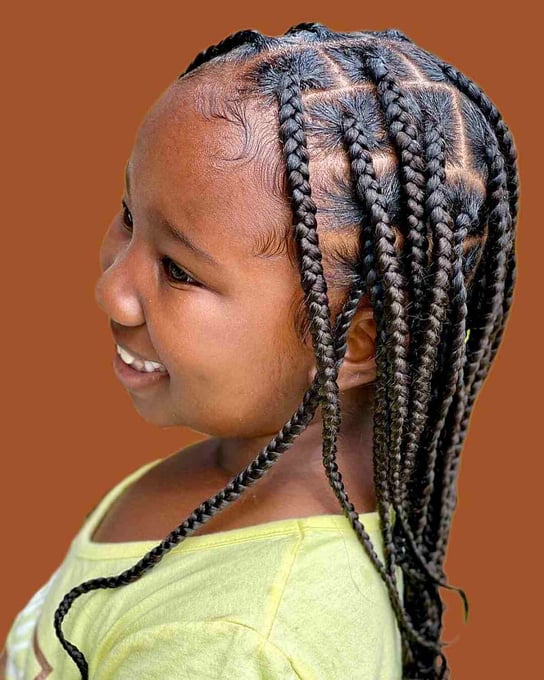 The square-shaped braids that distinguish box braids for kids make it the loveliest protection style for your baby girl's natural hair. These cozy and attractive plaits were designed to retain moisture throughout your child's mane, avoid drying out, and encourage healthy hair growth.
Small Knotless Box Braids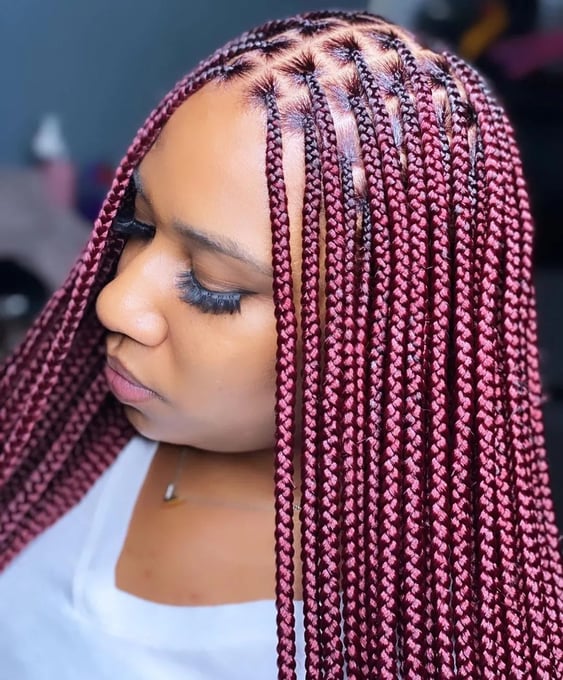 The benefits of knotless braids are their gentleness here on the scalp with a lack of tension; rather than a knot, these are braided into the natural hair resulting in a more smooth appearance. You could do small braids however you like, whether shorter or longer, and therefore are lightweight and attractive.
Crochet Box Braids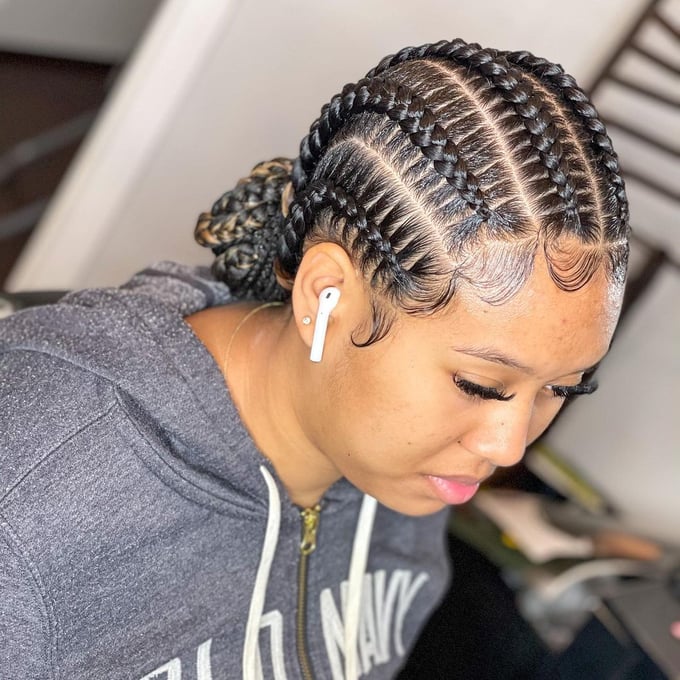 Crochet braids are one of the many styles you could apply to natural hair. You don't necessarily need to have natural hair to flaunt it, but it is sometimes regarded as a protective style due to its advantages for naturals. Since crochet braids might resemble conventional box braids perfectly, they can be challenging to distinguish from them. The installation method makes a huge difference. At the same time, These braids require you to divide your hair into separate portions and braid them using free hair extensions.
Blonde Box Braids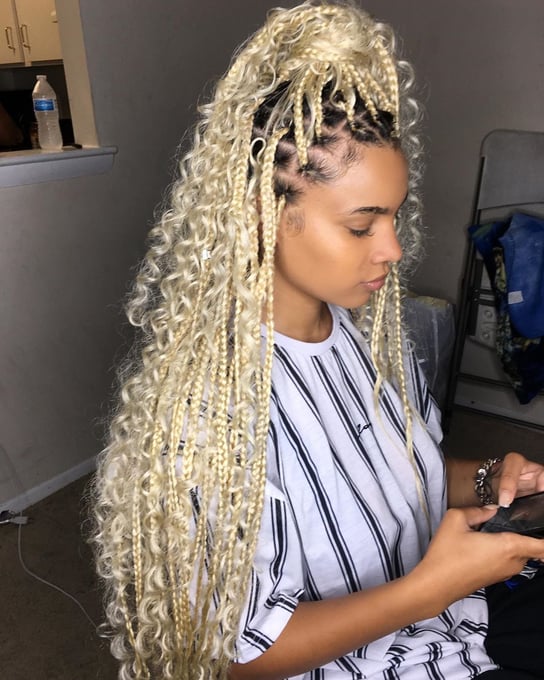 The newest thin braided appearance is the upcoming fashion trend. We adore these braids because they start at the top of the head and braid the blonde and dark hair together. The coat looks distinctive from the ombre, considering how the colors are woven together. We adore this concept.
Ombre Box Braids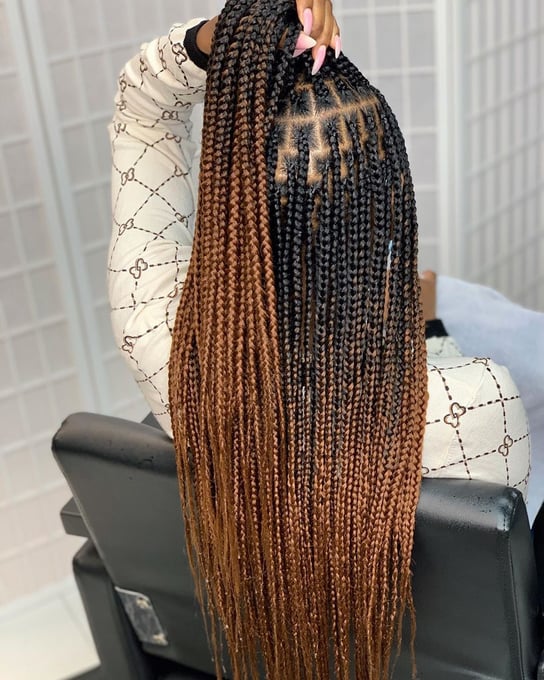 These braids, as an idea, have been around for a while. People who routinely wear braids and like to switch up their appearance have been incredibly inventive over the past few decades. Hair stylists and enthusiasts used their imagination to develop their ombre effect before synthesizing, and human hair manufacturers joined the trend.
They did this by combining a natural-colored braiding hair pack with a different color, sometimes a brighter one. Nowadays, it's much simpler; rather than going through the various procedures, you can walk into your neighborhood beauty supply store and grab a box of hair that has already been dyed ombre off the shelf.
Box Braids with Curly Ends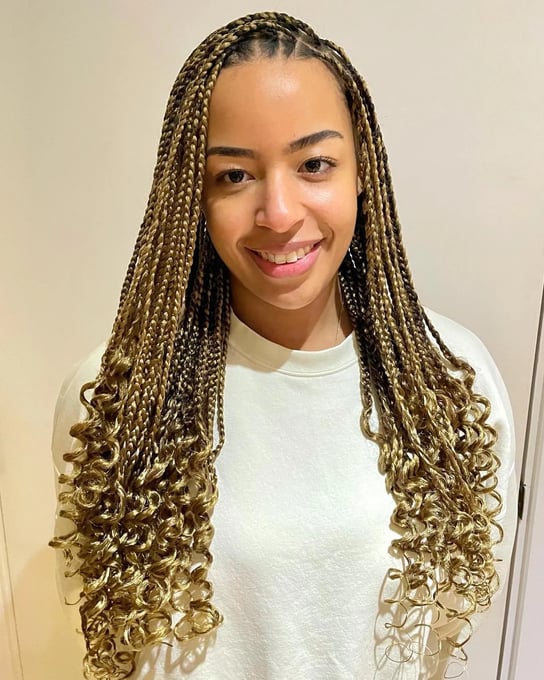 Since they are durable, simple to maintain, and protective, box braids are a traditional hairstyle. Although most box braid techniques keep the hair straight, you can add a twist and curl the ending of your braids. Although it may look complex, creating braids with curly ends is relatively simple.
Box Braids Hairstyles 2022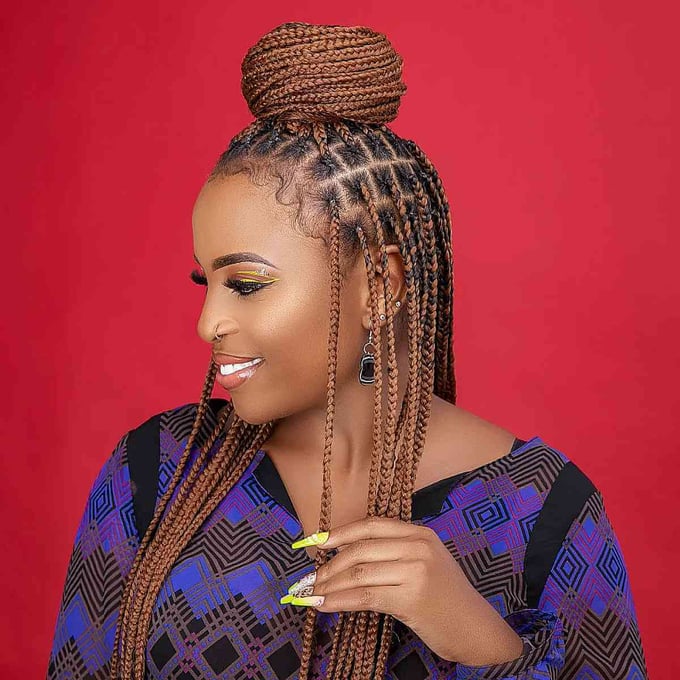 The box braids hairstyle is a great way to add length to your hair, color it, and wear various beautiful but easy-to-do hairstyles. Additionally, it's a low-maintenance preventive hairstyle for natural hair.
Triangle Box Braids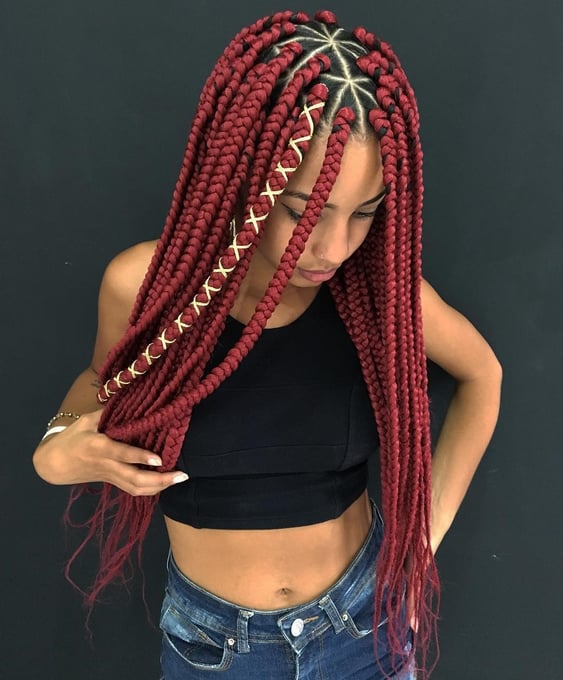 These braids in triangles are a distinctive look that will give your hair a modern feel. The two-toned hair colors and star-shaped pattern it produces would undoubtedly draw attention, as well as the most significant part is that the style will last over four to six weeks.
Bob Box Braids
Braids that mimic a bob hairstyle are known as bob box braids. They can range from chin-length to collarbone size but are often short and medium.
Box Braids with Heart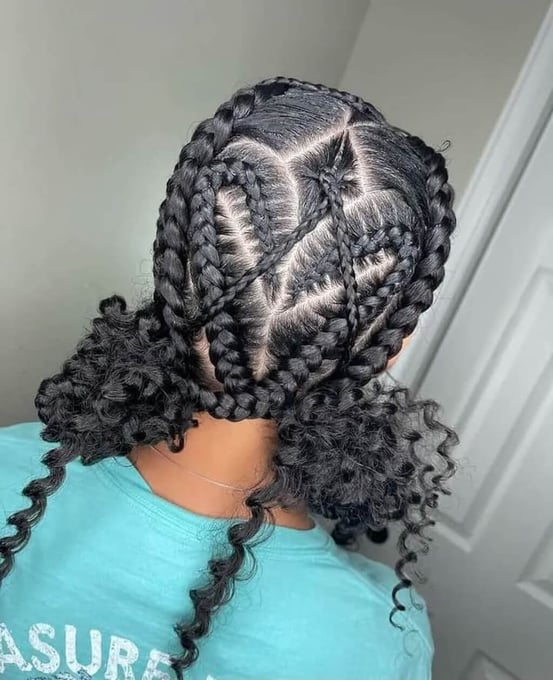 If you enjoy box braises, you are probably aware that they are typically built from "box" (square) components. At times, the sections were triangular. The addition of purple hair to the braids and heart-shaped braided section makes this style worthy of being pinned to your Pinterest boards or screenshotted.
Cornrows with Box Braids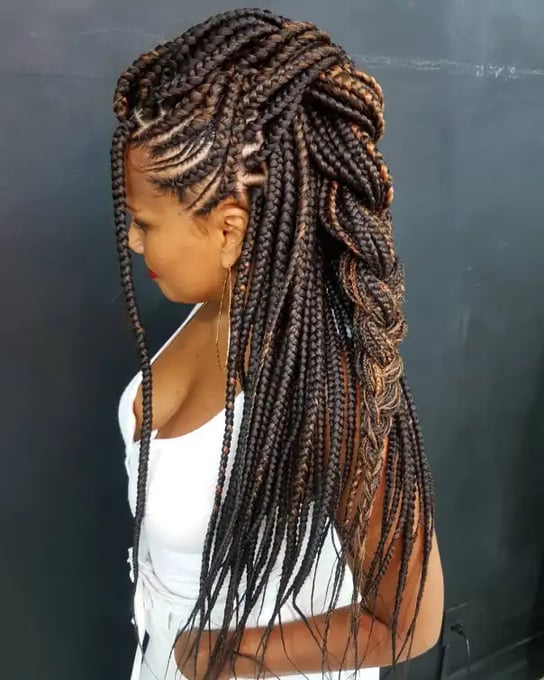 The scalp is parallel as it braids the cornrows. You might have heard them call them French braids and Scalp braids at one point or another. Box braids, also called plaits, are a type of braiding in which artificial braiding hair is plaited with the wearer's hair.
Bohemian Goddess Box Braids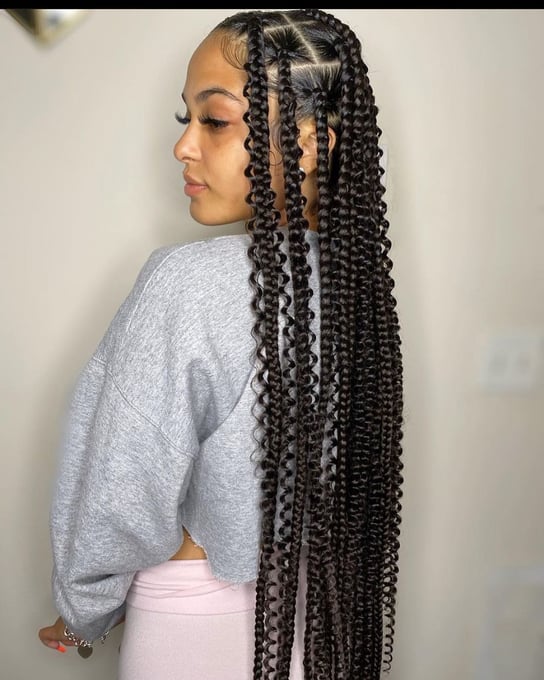 Goddess braids, often referred to as bohemian braids or boho braids, were braided hairstyles with curly hair added at different spots along the braid length. Goddess braids and bohemian braids are interchangeable. Goddess braids, also known as bohemian braids and boho braids, really Aren't thick cornrows, despite what so many blogs assert. Instead, they seem to be box braid with curly hair bits added along the size of the braids.
Brown Box Braids
Dark brown box braids are among the hottest hairstyles right now. This gorgeous colored hairdo is a favorite among many women, particularly celebrities who want to use their hair to express themselves. The brown shade is an excellent option for people who desire box braid with color but don't want to go crazy because it closely resembles natural black hair.
Bun Box Braids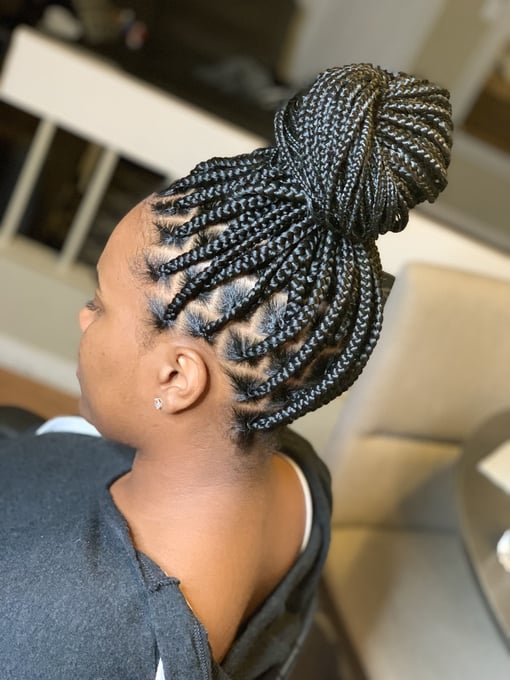 A box braid bun is an excellent substitute for wearing your braids down once you're sick of it. The uncomplicated appearance is ideal for a relaxed day in sweats or to go with weekend attire, but it also works for a formal night out. The most excellent part is how simple it is to style your braids into a bun. A gorgeous box braid hairstyle that adds elegance to your overall outfit can be created in four easy steps.
Pink Box Braids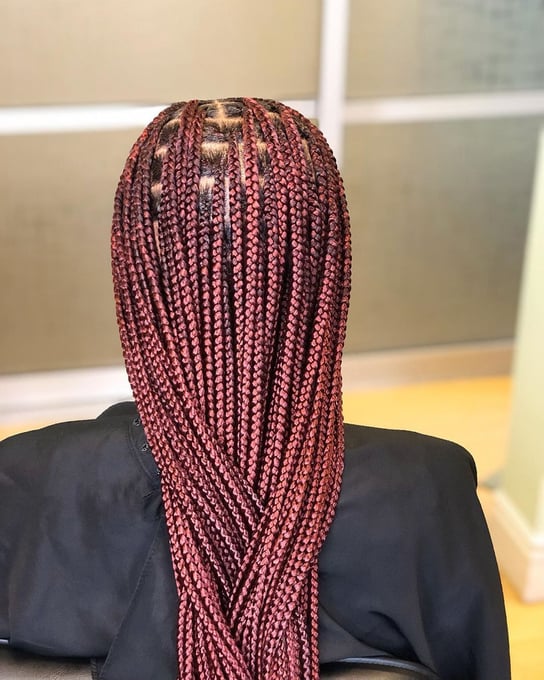 One of the most common hairstyles is box braids, and pink is the season's color. You might combine the two to create an attractive and fashionable hairstyle. This set of medium box braid, crocheted using pink extensions, is a good example. The pink tint enhances the attractiveness of the box braid and gives the entire ensemble more punch.
Burgundy Box Braids
Burgundy box braids are a protective hairstyle separated into square or "boxy" portions and colored in a darker shade of red-purple tones. Since it gives each piece more edge and complexity, burgundy is a rich, high-fashion color that wonderfully matches the African-American hairdo.
Butterfly Box Braids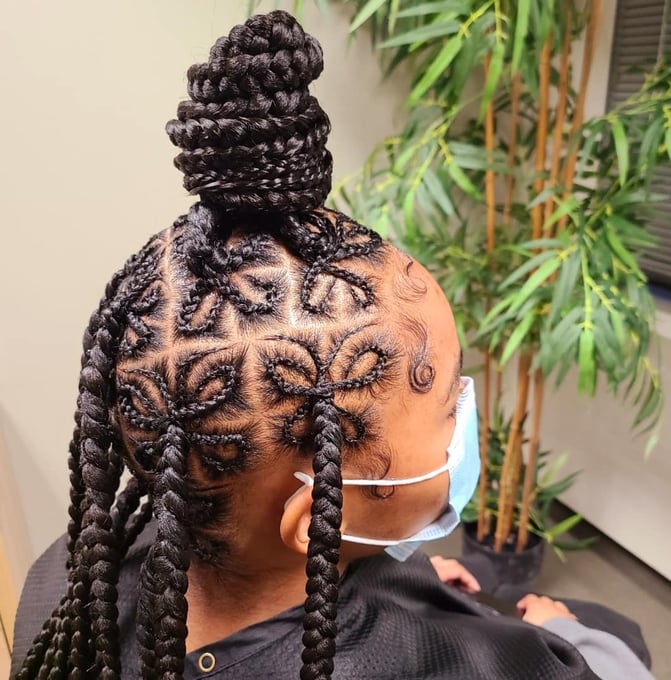 Individual plaits called "butterfly braids" are made with your natural hair and hair extensions. Pull out a small amount of the extension hair from either side to resemble a butterfly's wings as you braid it down its entire length.
Shoulder Length Box Braids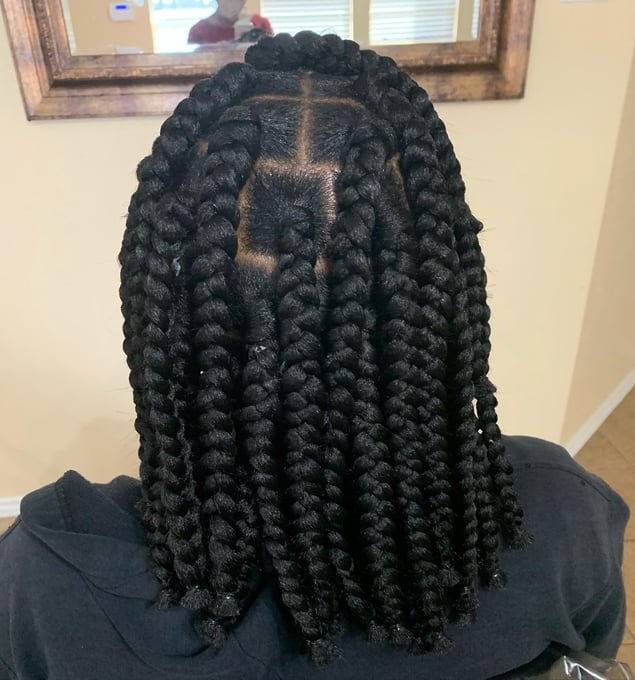 You want to be able to maintain new braids for a sufficient amount of time so that the time, money, and effort feel worthwhile. Protecting your natural hair is one of the goals of this style, though. More buildup, breakage, and damage to your hair can result from wearing braids for more than two months. You can wear braids for ten weeks if you take good care of them and have healthy hair.
Medium Box Braids with Curls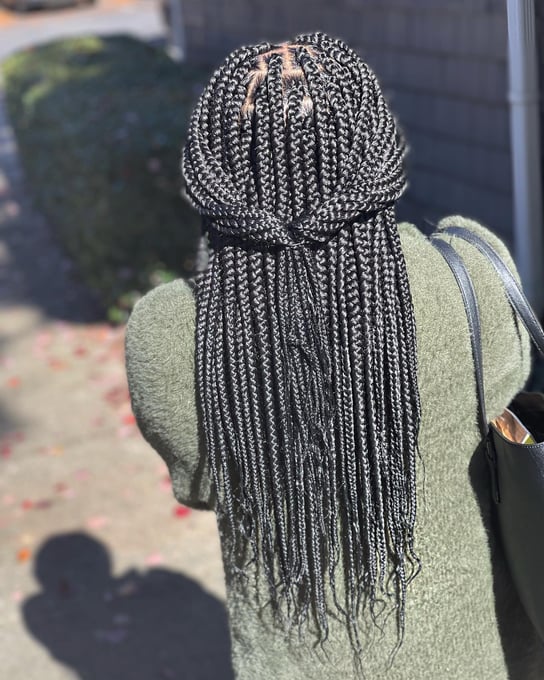 The initial hairstyle is extremely glitzy! Here, stunning braids are styled to the side. The hair changes into loose curls whenever the braids are about chin length. This haircut is gorgeous, fashionable, and simple to wear. Additionally, it is appropriate for every situation. You can repeat this or pick a shorter curl length.
Ginger Box Braids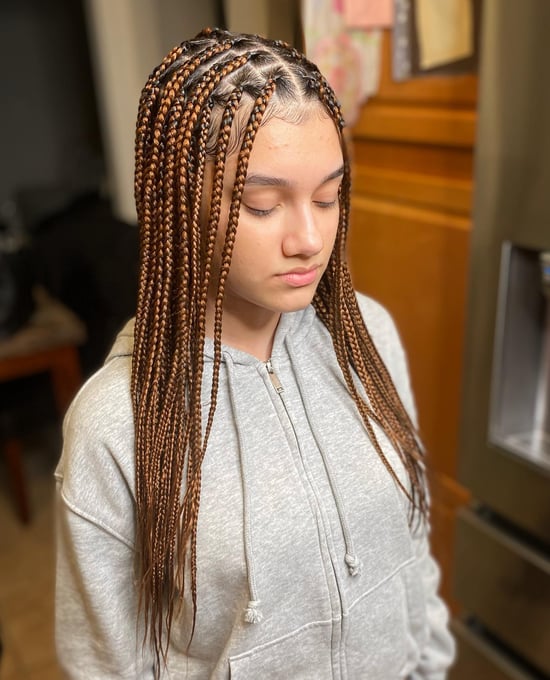 Here's a box-braid look that will fulfill your lifelong anime fantasies. Yes, it uses ginger, red, and white box braid, which are fantastic. The two flat half buns on either side of her head, which give her the appearance that she has just stepped out of an anime, are now the focal point of her ensemble.
Conclusion
Some other popular hairstyle among people of the African diaspora is the box braid. These braids aren't only cozy and fashionable but are also considered a method of safeguarding the hair because they resemble a square box, hence the name. These stunning hairstyles, such as bohemian or gigantic box braid, are nothing but works of art.
Reference
Note – The credit of the pictures and images shown in our website for illustrative purposes, goes to Pinterest and Instagram
FAQs
What are box braids?
Africans and members of the African diaspora favor box braids more than any other type of hairstyle.
How long do box braids last?
If care is maintained, you may anticipate your braids to last for a maximum of four to six weeks after your full-day visit without needing a touch-up (including trimming away extension fly-aways and ensuring your scalp health is in tip-top shape).
Do box braids destroy your hair?
The braids will start ripping your hair out at the roots if they're done too firmly. Typically, damage takes place slowly over time. Redness, discomfort, and lumps on the scalp indicate that wearing braids may cause hair loss.
Does hair grow faster in box braids?
Hair development is not sped up by braiding. Genetics dictate the rate of hair growth, but lifestyle elements, including stress levels and diet, can lead to thinning or breaking. However, how you wear your hair does not affect how quickly hair will grow.
How much do box braids usually cost?
These braids can range in price from $75 to $450, depending on your stylist, location, size, and the complexity of your braiding.