Christmas is around the corner, and making preparations for it beforehand is no joke. As the festival reaches, the world is all decked up with lights, Christmas trees, the street filled with the aroma of Christmas cake, and the sweet music of the famous Christmas carol. However, amidst getting busy with all these decorations, we find it tedious to look for the perfect
Christmas hairstyles
look we want. To end this struggle, we have brought you 30+ best hairstyles for Christmas 2022 that you can wear throughout the Christmas week. These hairstyles are straightforward to create and are less time-consuming. Moreover, the best hairstyles we have listed for you below can also be worn post the festival. We have combined the best trendiest hairstyle and the festival theme to suggest the most iconic hairstyle you can wear for Christmas 2022. So, without further ado, let us know these super gorgeous hairstyles in detail!
Christmas Tree Braid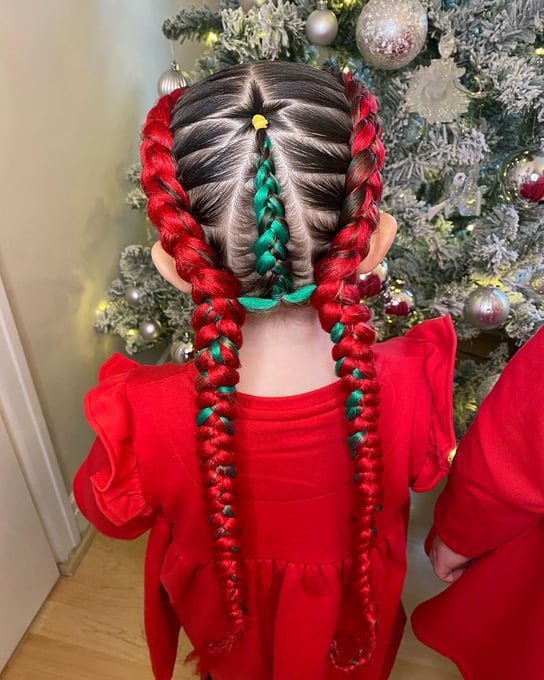 One of the most cherished Christmas mementos during the month of Jesus's birth is the Christmas tree. From buying the best Christmas tree from the market to bringing it home and decorating it with favourite decors, it holds such deep nostalgia. However, the best part is that you can create your own Christmas tree with your hair, some green bands, and colourful beads. Such a hair look is pitch-perfect to match the Christmas theme!
Christmas Hairstyles for Black Hair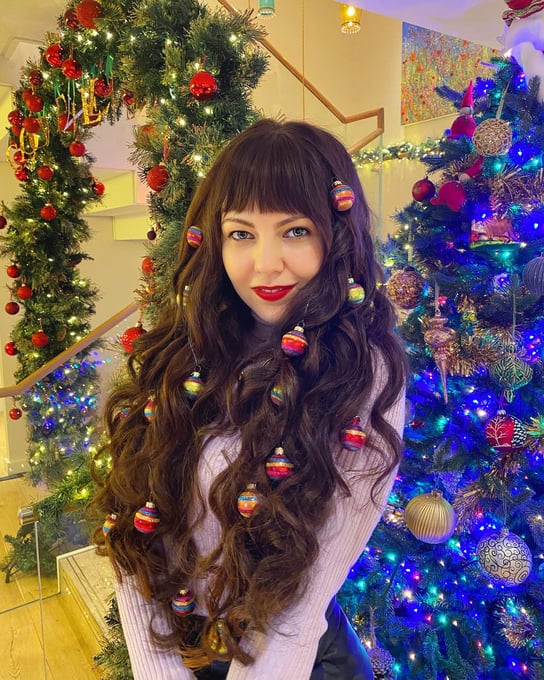 Black is the most elegant colour of all time. Not only is it the darkest form of colour, but it also depicts a hue of boldness. So, if you have naturally black hair, get ready to style your luscious dark mane with some pretty Christmas hair accessories. This will highlight the hairstyle you choose to create better and simultaneously make it look exquisite!
Christmas Hairstyles with Ribbon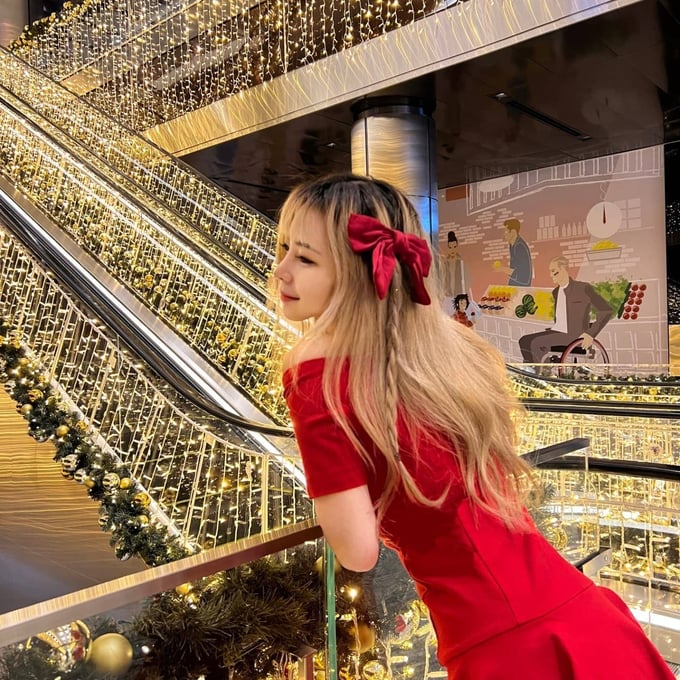 The ribbon is the oldest form of hair accessory that you can do your hair makeover with. As Christmas approaches, decorate your hair with elegant Christmas ribbons to make others drop their jaw with your hairstyle. Since creating a hairstyle with ribbons is now not worn by many, styling your hair with such an aesthetic accessory will make your hair look amazing.
Christmas Hairstyles with Antler Wreaths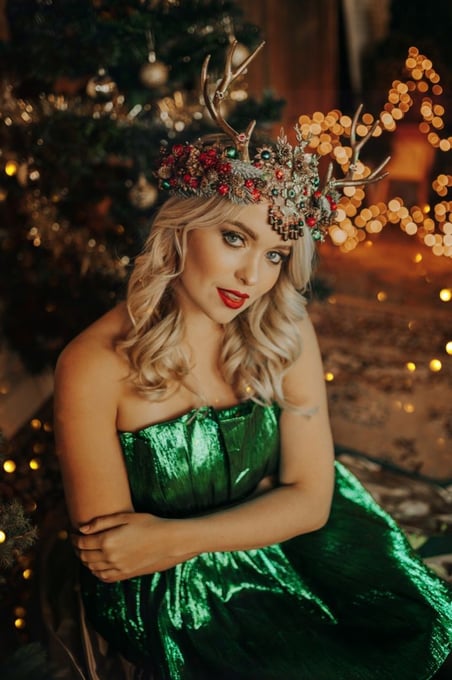 If you want a cocktail Christmas hairdo that will make others gaze at you in awe, then style your hair with Antler Wreath. This is a unique form of hair look that you can wear on Christmas. Such a hairstyle is best suited on the eve of Christmas or D-day!
Long Hair Christmas Hairstyles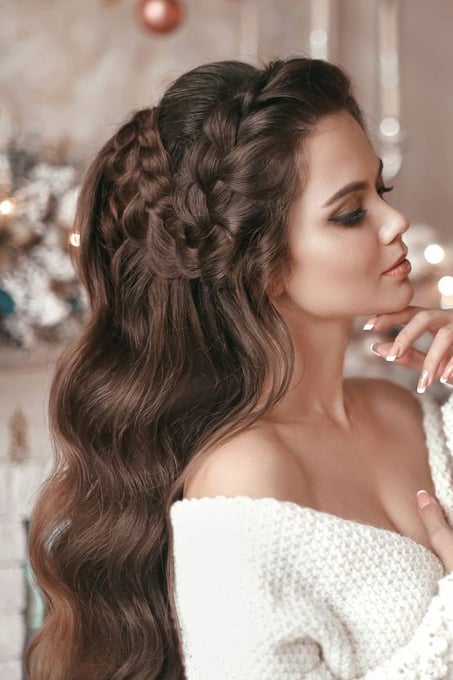 Owning long is a blessing, especially when it's Christmas! You can create your favourite look with your look, Luscious hair concerning the Christmas theme. For long hair, the best elegant hairdo would be a front antler Wreath with a Christmas tree braid at the back. However, you can also combine your Front Antler with an edgy high ponytail at the back to give your look a summer-tangy effect during the cold hours of Christmas!
Christmas Hairstyles for Black Girl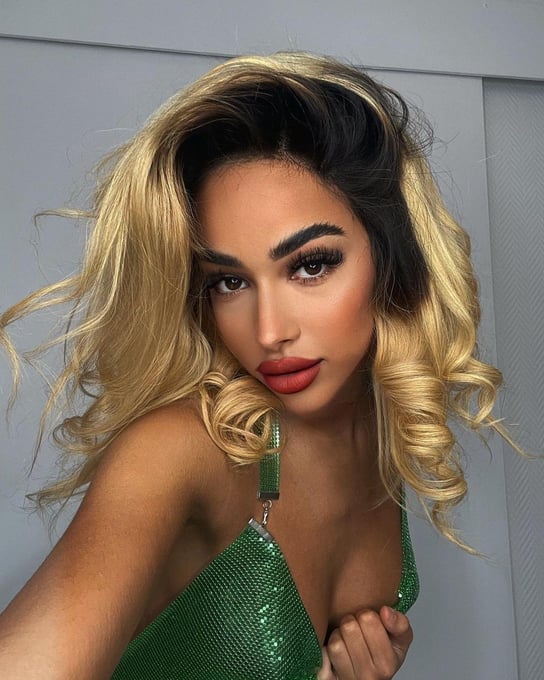 If you have a dark skin shade, it is a matter of bliss! Christmas is the time for all, irrespective of what your complexion is. However, the lucky ones are tanned or dark-shaded skin individuals. This is because their best-suited hairstyle is the elegant tiara braid with drop fringes aside! This hair look is best carried out with any dark-shaded individual!
Easy Christmas Hairstyles for Short Hair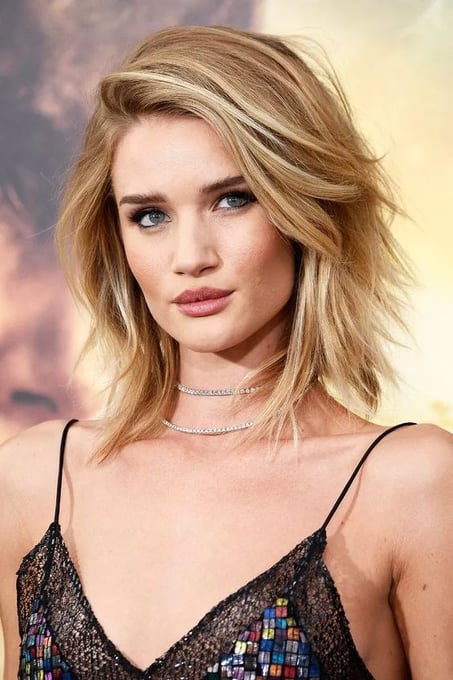 If you have short hair, these hairstyles are just for you! The best of all is the Christmas Tree Pull-through braid. Such a hairstyle replicates the Christmas tree with utmost perfection on the hair, making the vibe perfectly with the occasion! However, if you want another fashionable hairstyle, you should go for the Dutch braid hairstyle. To make it look more Christmas affiliated, decorate it with some yellow chimes.
Christmas Hairstyles Kids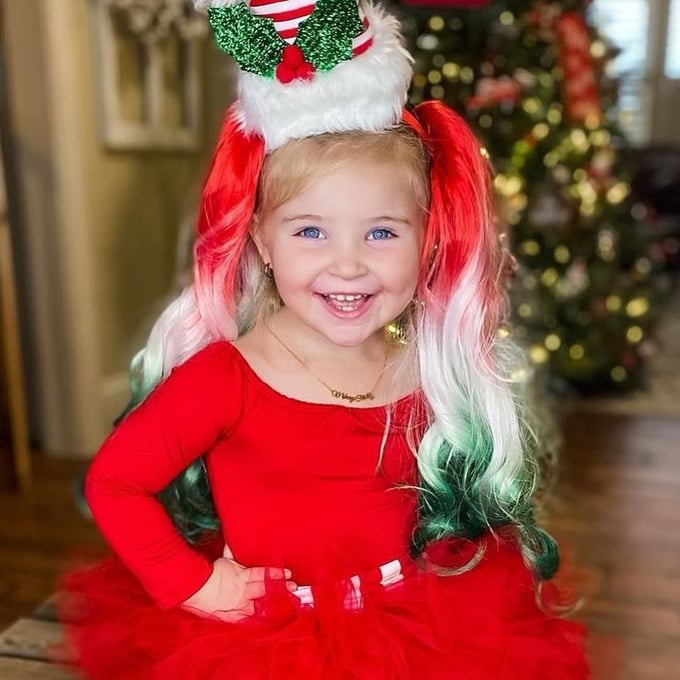 Christmas is one of the most celebrated and favorite festivals for kids! Not only do they celebrate the end of the year with fantastic food but also with beautiful presents they get from Santa. Therefore, to top up their happiness with a cherry, you can give them a creative hair look for this Christmas! You may make a tidy small Bun on top of their head with a Christmas scrunchy with side French braids. To make it look more Christmas-oriented, clip their side hair with Christmas or Santa-themed hair clips.
Christmas Hairstyles for Curly Hair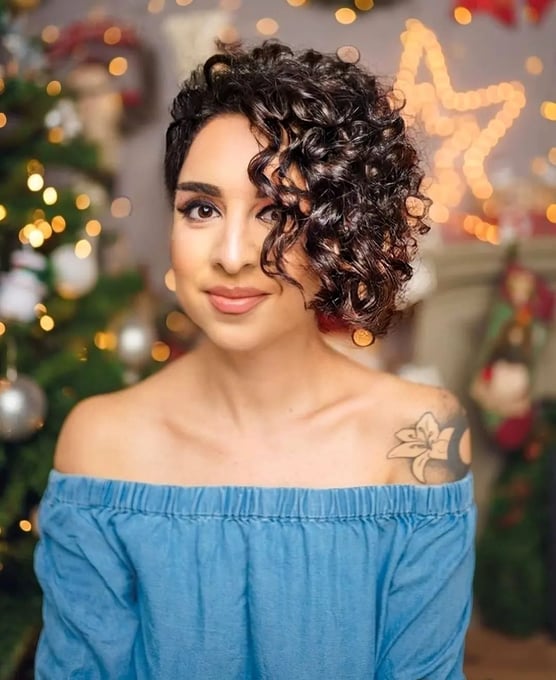 What more could you ask for Christmas if you already have curly hair? Indeed they are a true blessing! However, to flaunt it better during Christmas, you can make a side half-french braid or go for an ethnic top Ponytail! Make a high Ponytail and leave your curls to breathe by letting it loose at the end. They are an absolute game-changer!
Christmas Hairstyles Color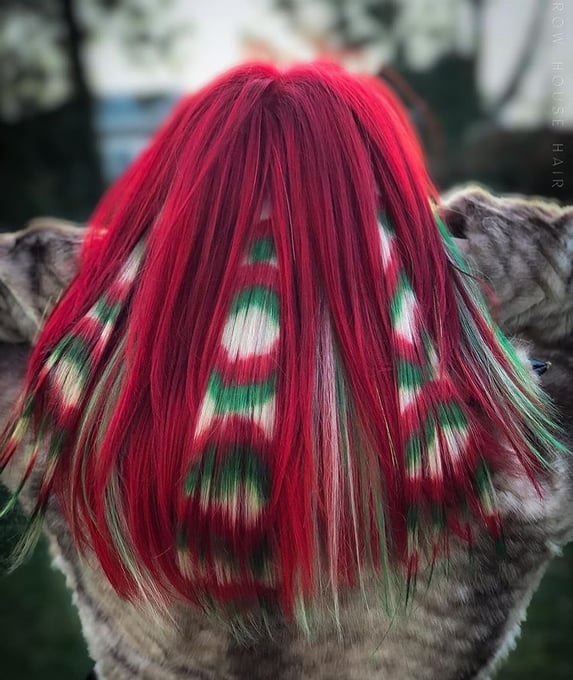 When it's time for Christmas, we already know the city will light up with green and red! However, when it comes to colouring our hair with a classic hair colour for Christmas, it gets a lot more challenging to choose the best, right? Not anymore, though! Here are some of the shades you can choose to make others drool at your hair colour! The colour game of 4! The best-suited hair colour for this is a combo of 4 great colours that perfectly blend the year-end and beginning of a new year! You can go for the red, dark, dark orange, and blonde combo. However, if you want to make it look more aesthetic, go for alternative dark burgundy with ombre blonde.
Glitter Ponytail Christmas Hairstyles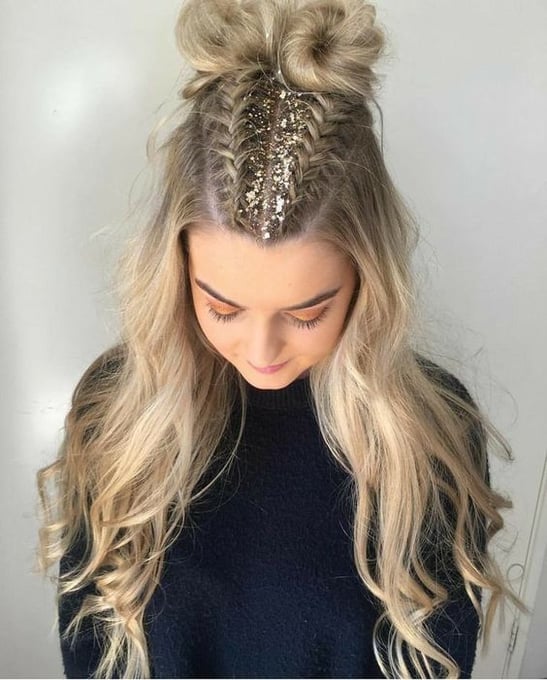 Christmas is the time to make your hair shine and look sassy! For styling your hair in an iconic manner with glitter or Glitter accessories. You can make classic two side Braids and decorate your braids with glittery bands or beads. You can also divide your front hair, make alternative thin braids, and decorate them with sticky hair stars. However, you can never let go of the back of your hair or make a small top-knot bun to give a bossy vibe!
Beard Christmas Tree Hairstyles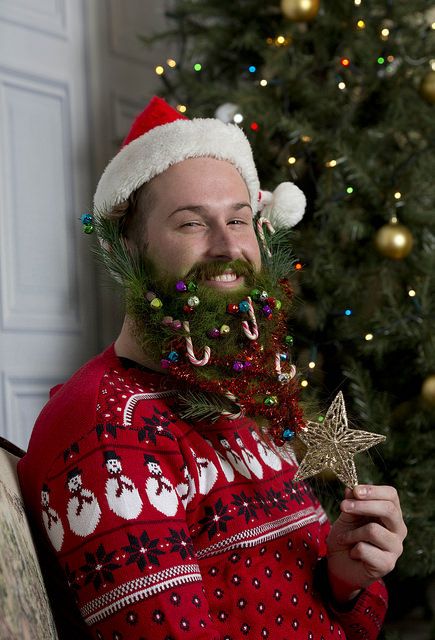 Are you looking to style your long, dense beard for Christmas? Then why not try out the Christmas tree braid on it? Such a beard style will look classy and stylish simultaneously, making you steal the crowd's attention!
Santa Hat Braid Hairstyles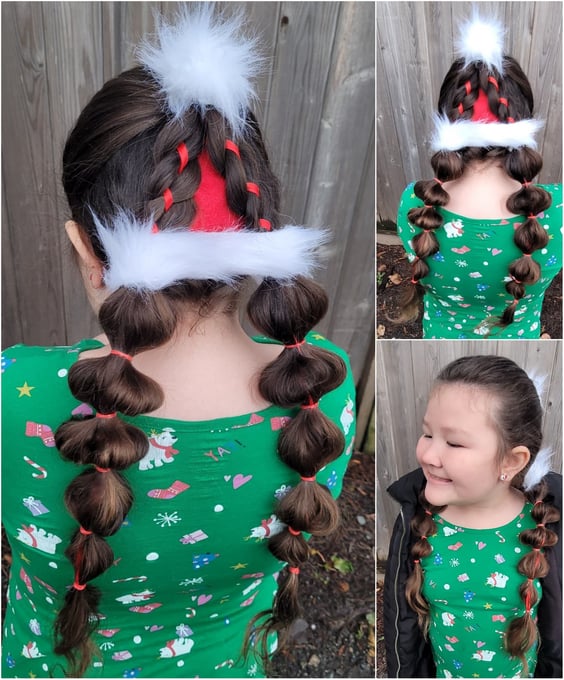 As a kid, the most exciting thing about Christmas was Santa and his Santa cap! From drawing Santa Cap to our copy to wearing it, we all have done crazy things to replicate the Christmas look at our best! However, this year, let us make it a bit more interesting with the Santa hair Braid hairstyle! You can make a high ponytail, secure it with a white scrunchy, and then divide it into two parts. Make braids out of each part and secure them with white scrunchies. Then using a red zig-zag, bind both braids, forming a triangle. And voila, there you have the most beautiful, self-made Santa hair in the form of a braid!
Christmas Tree Mohawk Hairstyles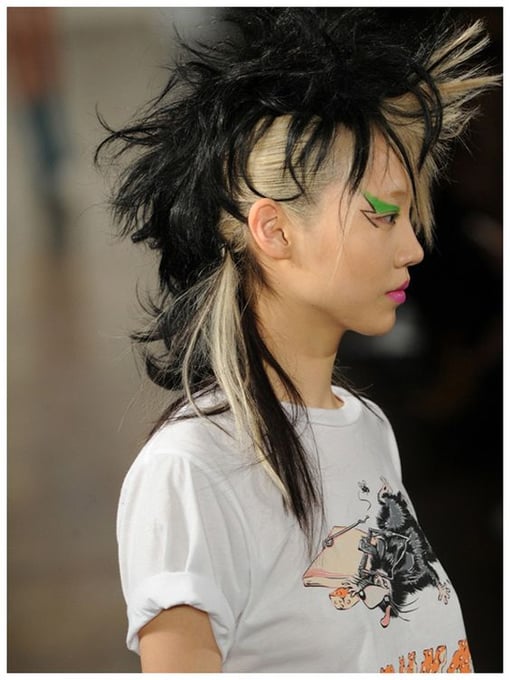 You will love this hairstyle if your favourite thing about Christmas is the Christmas tree. This hairstyle makes the Christmas tree so prominent on your hair that I'll make you the start of the festival! You can decorate it with small Christmas bell clips, sticky starts, and glittery beads to make it look like an actual Christmas tree!
Star Braid Christmas Hairstyles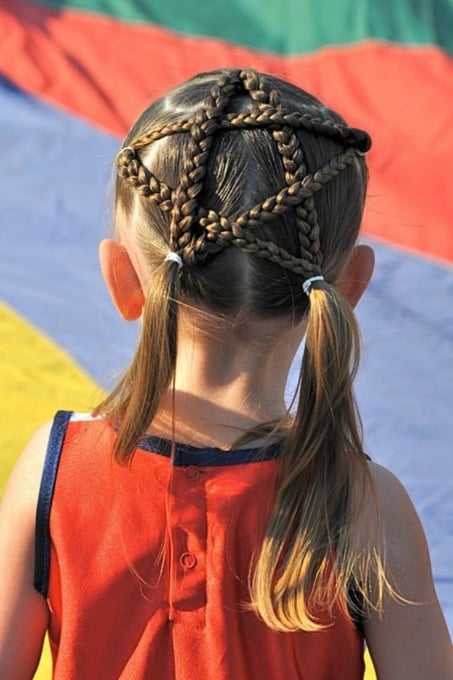 Christmas is the festival of love, peace, and gifts. However, the best of all is the stars that play peek-a-boo on the Christmas tree. Such stars can not only be found on Christmas trees but also can be formed with hair. This hairstyle is straightforward to create and looks best on kids.
Snowflake Bun Hairstyles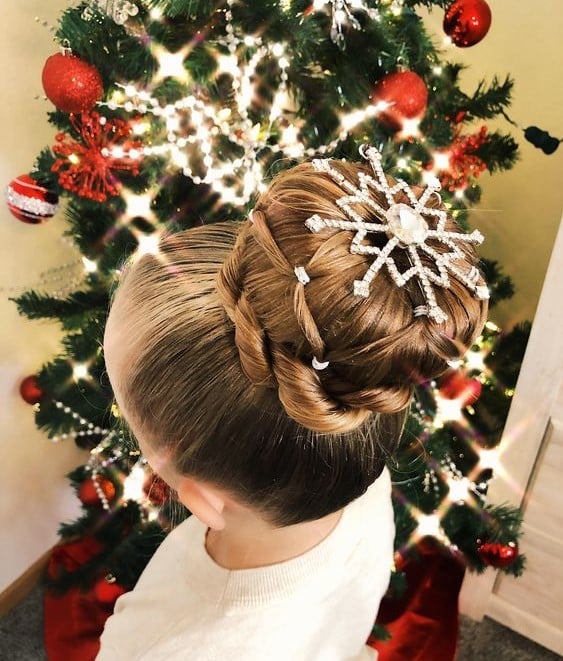 Snowflakes are a sign that Christmas is on the way. Not only is it soothing, but it also looks beautiful. Such an art of Christmas can be created using hairstyle. This hairstyle looks great on anyone and is very simple to create.
Candy Cane Braid Hairstyles
Christmas is all about sweets and gifts. The best memory that beholds the childhood Christmas days is the candy Cane! Try out this hairstyle if you love candy Cane as much as I do. Such a hairstyle is highly versatile. You can create a zig-zag Braid candy Cane hairdo or make a sleek candy cane Braid hairstyle based on your preference.
Antler Hair Christmas Hairstyles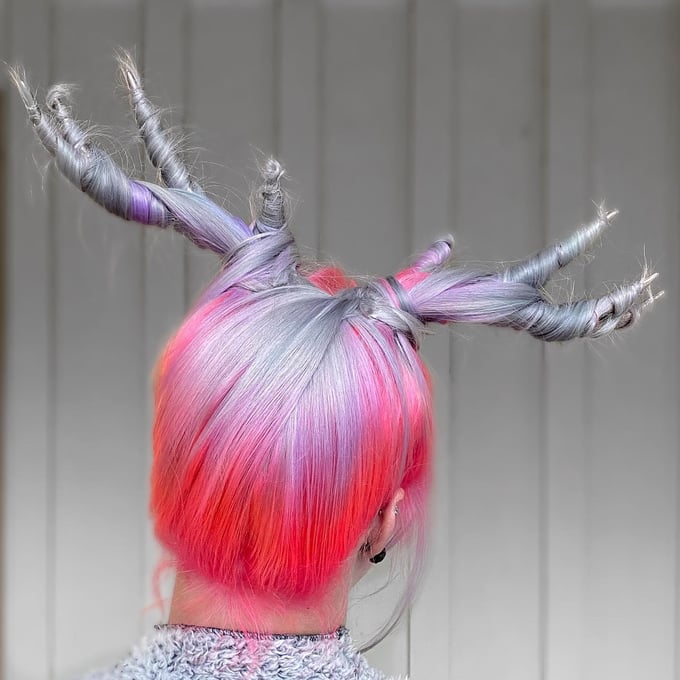 Reindeer are pretty fascinating. Remember the childhood days when we were told that Santa came on a sled pulled by reindeer where we used to wait in awe for our gifts to arrive? Long gone are those days, but the reindeer can still be preserved by making an Antler hairstyle! Such a hairstyle is just the right hairdo for your hair to make others look at you twice! This hairstyle looks great on a round and square-shaped face!
Christmas Tree Hairstyles
A Christmas tree is a form of celebrating Christmas that has been performed for ages. With the most typical celebration style, let us make this Christmas quite happening with a Christmas tree hairstyle! Such a hairstyle is the perfect fit for a Christmas party!
Christmas Tree Braid Hairstyles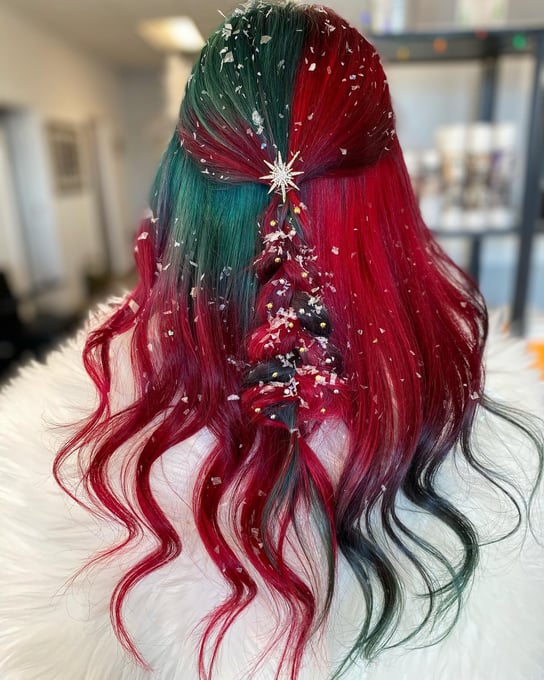 Braids are the most excellent and accessible means to replicate a Christmas tree. Such a hairstyle looks great on kids, teenagers, and girls in their early the twenties.
Snow Queen Christmas Hairstyles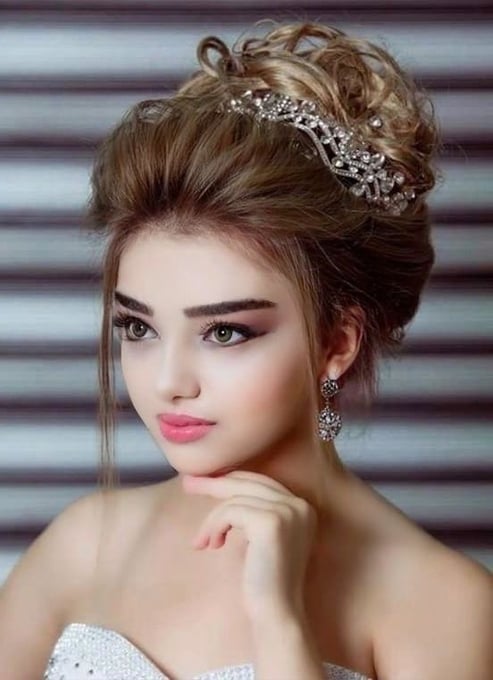 Christmas is the season of snow! This season's best possible hairstyle could be no other than creating a snow queen Christmas hairstyle. You can make a braid with your side and follow it at a curved angle. You can then pin it at the end-centre of your hair and secure it with a snowflake clip. However, this is a very flexible hairstyle, and you can be as creative as you wish to achieve your desired hair look.
Christmas Tree Braids With Christmas Lights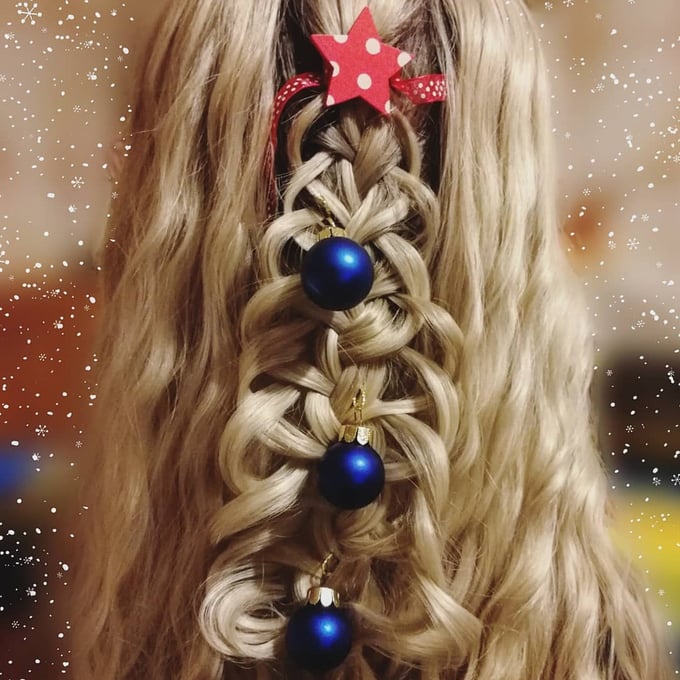 Now, there are multiple ways to create such a form of hairstyle. You can collect various hair colour accessories and decorate your Christmas tree braids. Or, you can create a Christmas tree braid with the help of a string LED lights. Such a hair look is quite sensational and dazzling for a Christmas night!
Christmas Hairstyles with Snow Man Buns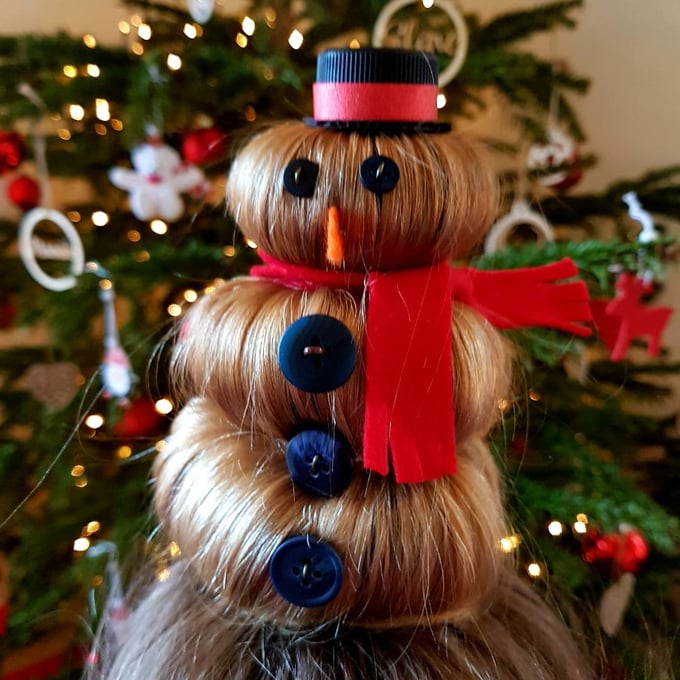 This hairstyle is the cutest of all the hairstyles. To create this look, you can make a three-tier Bun, making it look like a snowman. And then, you can design its nose, eyes, and hands with different clips and ribbons. To make a snowman hat, add a small, black hat at the top of the Bun!
Glowing Hair Christmas Hairstyles
You can use sleek glitter stripes for your hair to give your hairstyle a more shiny and glittery effect. These strips come in various colours and thicknesses. You can choose any glitter strips for your hair based on your choice. To highlight your hairstyle with these strips, incorporate these glittery sheets while making your desired hairdo.
Mistletoe Headband with Christmas Hairstyles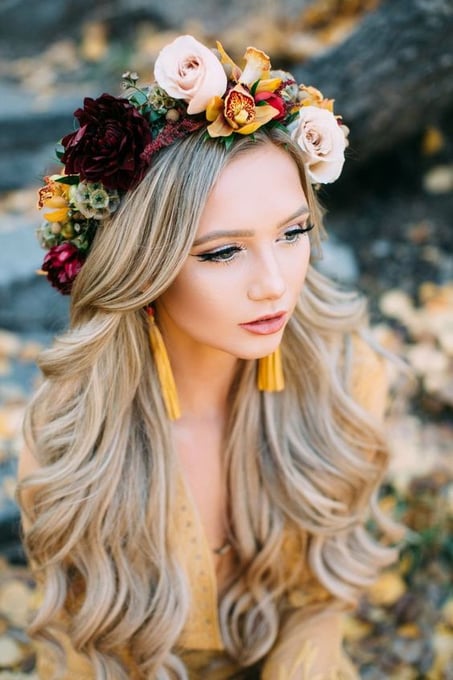 Christmas is the time to showcase your creative skills. And when it comes to hair, there is no dead end to creativity! Therefore, on this occasion of Christmas, get your hair done with this hairstyle. Such a hair look is highly classy, elegant, and aesthetic for girls aged 18-35.
Christmas Tree Ponytail Hairstyles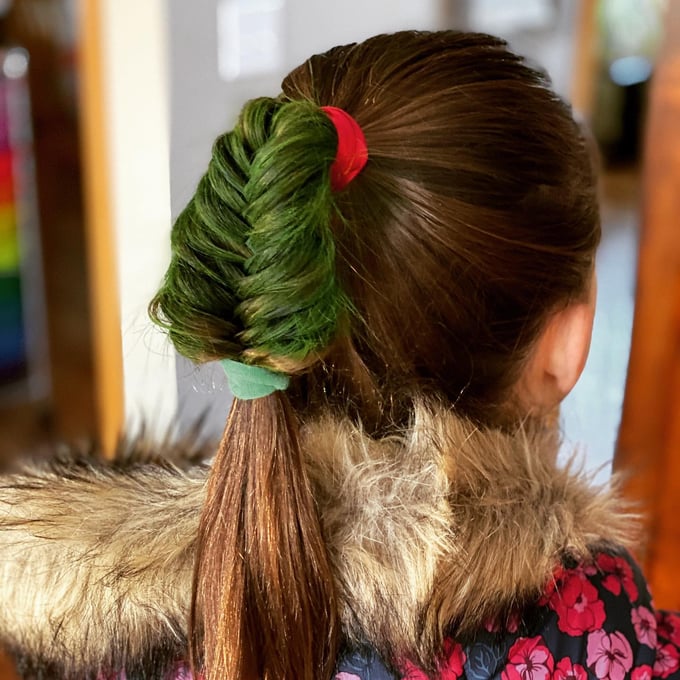 Take your hair game to the next level with this Christmas hairstyle. Such a hairstyle can be easily created on a high Ponytail. This will make your hair stay in place, prevent it from getting damaged, yet make you look fashionable!
Mermaid Braid Christmas Hairstyles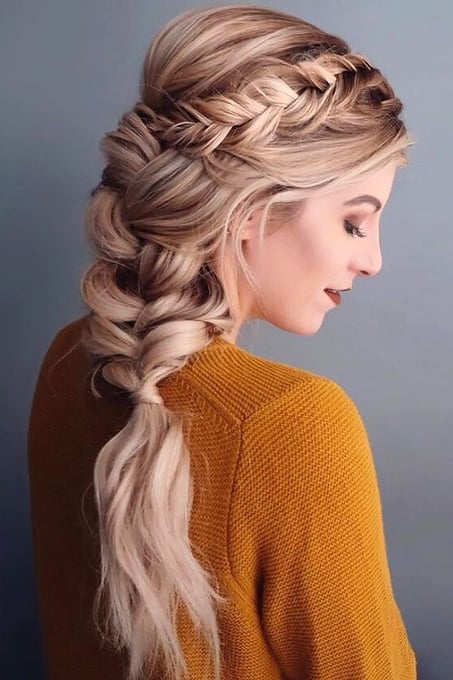 You must try this hairstyle if you love showing off your braids stylishly. Such a hairstyle is straightforward to create and the best possible hairdo you can achieve this Christmas! Note – while making this hairstyle, you can add beads, red hair sheets, and snowflakes between and at the end of the Braid give a more prominent Christmas touch!
Christmas Hairstyles with High Pony Bow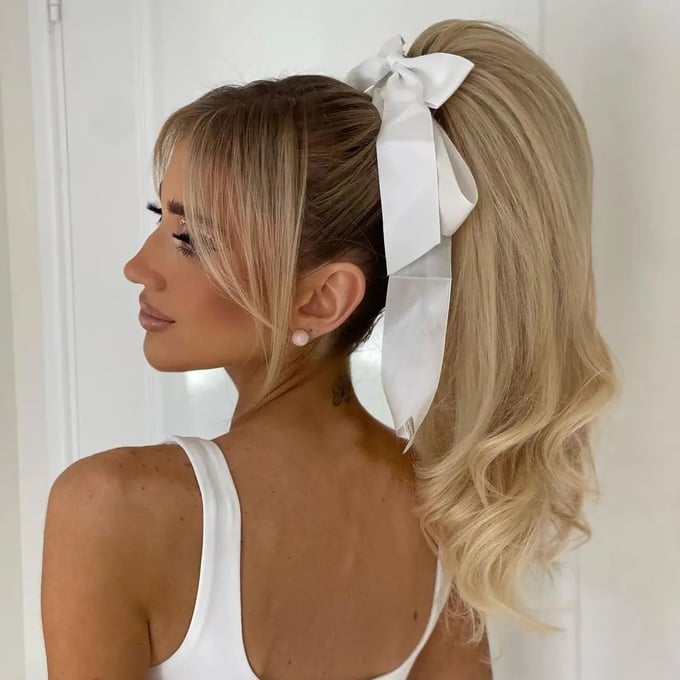 This is yet another one of the most sensational hair looks that is best suited for Christmas. To create this look, create a high Ponytail. Once done, secure it with a bow of choice that gives off a Christmas vibe!
Twisted Christmas Hairstyles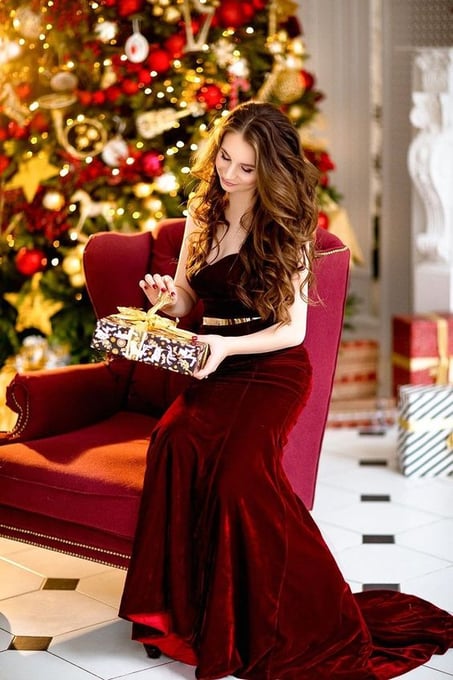 You must try this hairstyle if you love making hairdos based on the Christmas theme. Such a hair look is gorgeous and trendy, thus making it a perfect fit for 2022's Christmas. Although it looks straightforward, it is equally elegant and a must-try-out recommendation from my end.
Knotted Crown Christmas Hair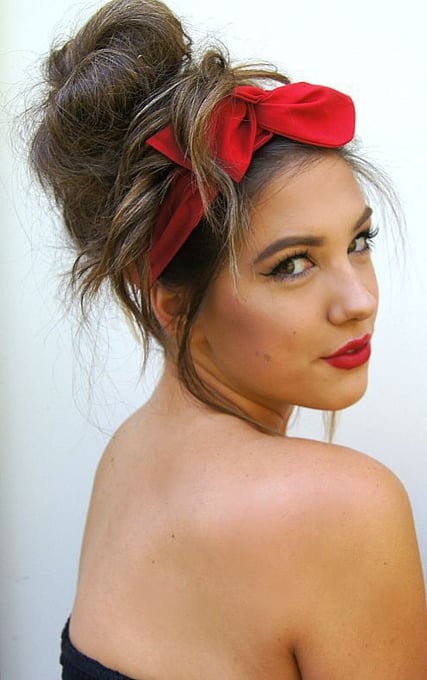 This hairstyle is straightforward to create. You can make this hair look by making a Bun out of hair knots or small side braids. You can, however, complement it with a Knotted Christmas crown tiara.
Christmas Hairstyles with Fabric Braid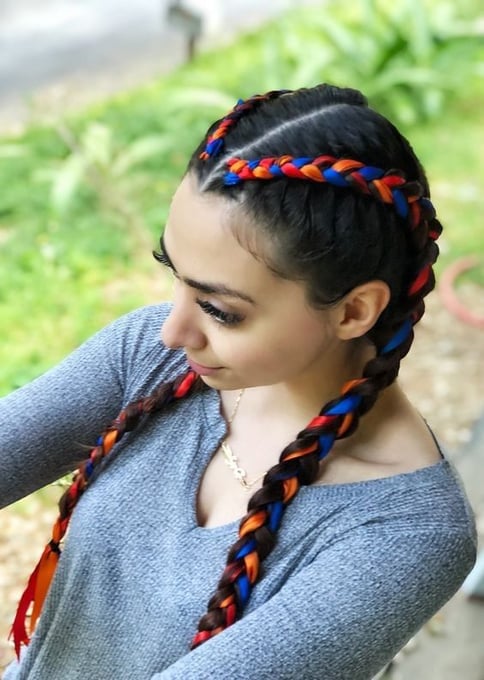 Fabric Braids are a lot in trend these days and are a perfect hair accessory to decorate your hair for this Christmas. Such a hairstyle looks very pretty and highly adorable. These can be easily worn by late teenagers and people in their twenties.
Glitter Christmas Hairstyles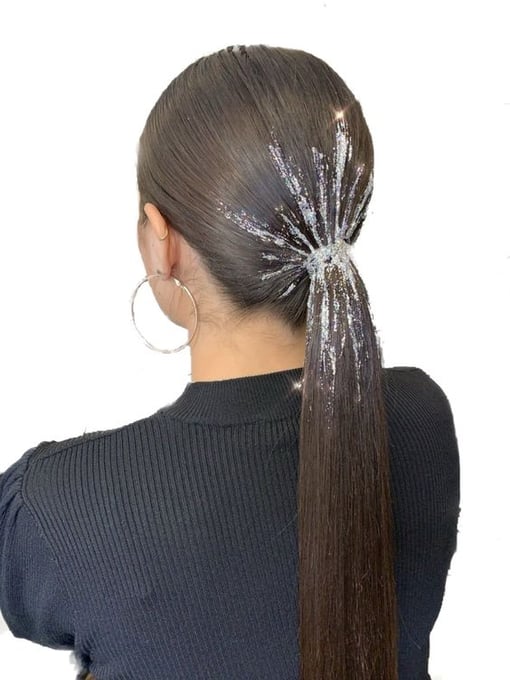 Christmas is all about being shiny and shimmery. While we try to dazzle our outfits and makeup, we often ignore our hair and give it a simple look. However, change your hair game this Christmas with this Glittery Christmas hairstyle. You can use different hair accessories of different glittery colours and incorporate them into your hairstyle to make it look more attractive.
Golden Tree Christmas Hairstyles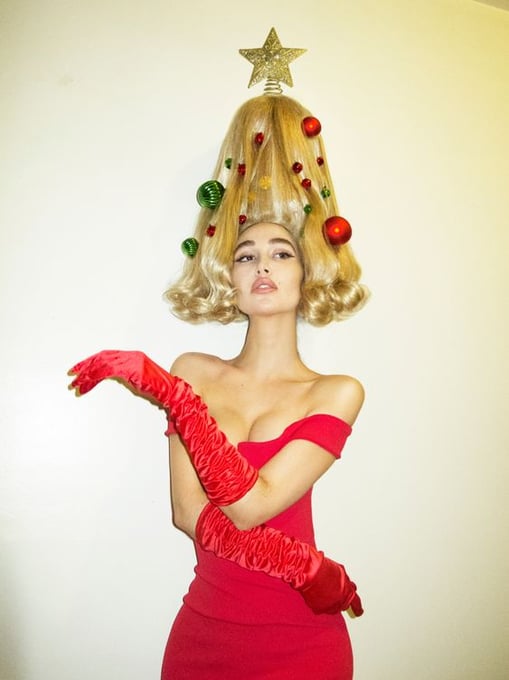 This is my favourite hairstyle, and I'm sure you will also fall in love with this hair look. Make a Christmas tree on your head with your hair to get this look. Once done, decorate it with different colours, designer chimes, golden balls, and stars. To make it look more aesthetic, you can add LED lights around your Christmas tree for a stunning look.
Bardot Mermaid Braid Christmas Hairstyles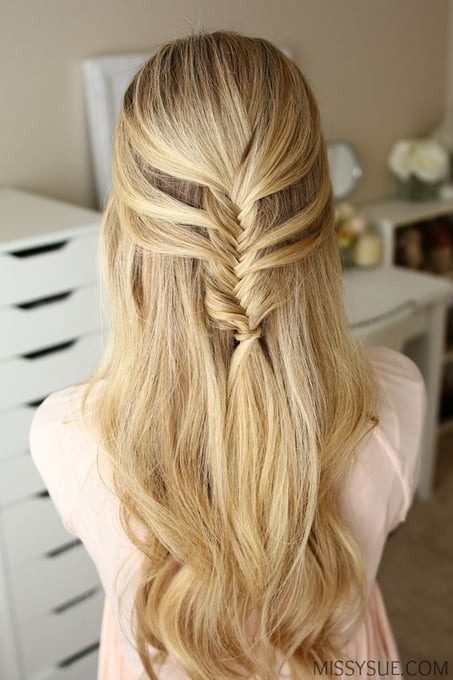 This is by far the best hairstyle of all time. Such a hairstyle is unique and quite trendy these days. If you love mostly styling your hair with braids, then you need to try out this hairstyle. Such a hair look is unique and looks outstanding.
Waterfall braid for Christmas hairstyles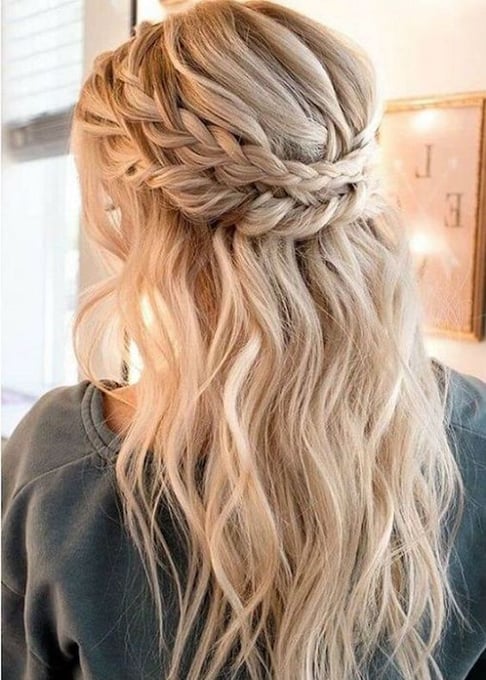 This is the most iconic braided hairstyle I will recommend for this Christmas. Not only is it sophisticated, but it looks so adorable. I love this hairstyle. Such a hairstyle suits the best blonde hair.
Reference
Note
– The credit of the pictures and images shown in our website for illustrative purposes, goes to
Pinterest
and
Instagram
.
FAQs
What is the hair colour for Christmas?
Christmas is the season of red and green. To make your hair speak Christmas, paint it either green or red. You can go for any shade of these two colours or combine them for a more stunning look.
Which hairstyle is best for Christmas?
Vintage waves and party ponytails are the two most iconic hair looks that you can get done for this Christmas!
Can you put a ribbon in your hair?
Yes, of course, you Can! Ribbons are a great way of flaunting your Christmas hairstyle. Not only does it look gorgeous, but it also makes you stand out in the crowd.
What hairstyle is good for winter?
Half Goddess Braid Half Down, Light bangs and a low bun, and Dutch braids are the three most exotic hair looks you can get for winter!