What are curtain bangs?
Curtain bangs are a hairstyle that has quickly become one of the most popular looks of 2021. Their unique yet flattering shape makes them the perfect way to frame your face and add texture and dimension to any hairstyle. Bangs are characterized by a long, gentle fringe that is parted down the middle and can be styled to be worn straight or swept to the side. The wispy texture of the bangs brings an effortless, boho vibe that can instantly refresh any look. So, let's dive into our 25 ideal curtain-bang hairstyles and know how they can be styled in multiple ways.
How to Style Curtain Bangs?
Start with freshly washed hair.
Separate a thin section of hair at the front of your head.
Blow dry the bangs with a round brush, starting at the roots and rolling the brush outward.
Use a flat iron to smooth out any stray hairs.
Use a curling iron to give the bangs a slight curl at the ends.
Finish off with a light-holding spray.
Long Curtain Bangs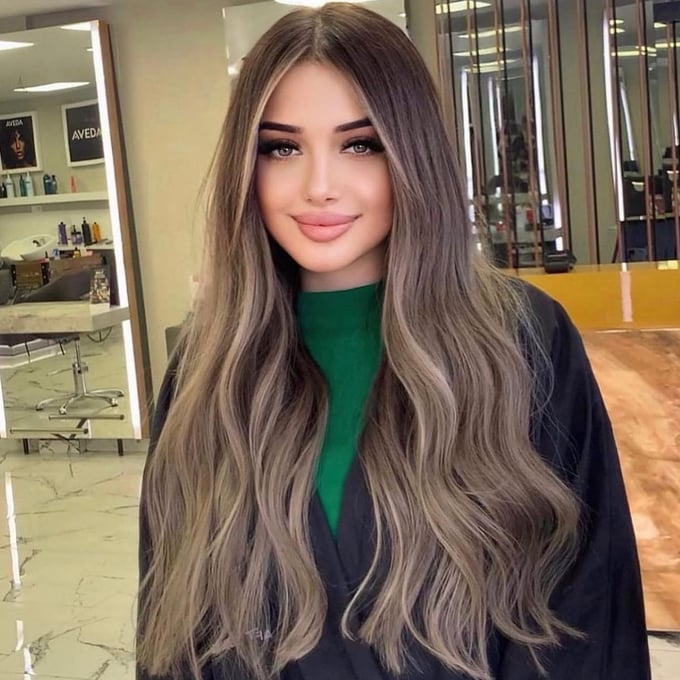 Long bangs are a popular hairstyle choice that has been trending lately. Curtain-bangs are an easy way to switch up your look and give you a new, fashionable style.
Curtain Bangs Short Hair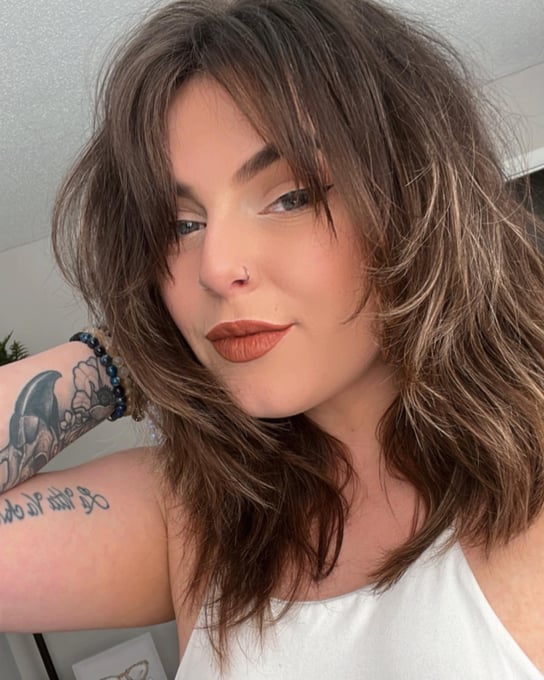 Curtain-Bangs consist of a fringe cut to fall in a straight line across the forehead, making them look like curtains. This style is excellent for those with shorter hair, as it adds texture and movement to create a more voluminous look.
Curtain Bangs Straight Hair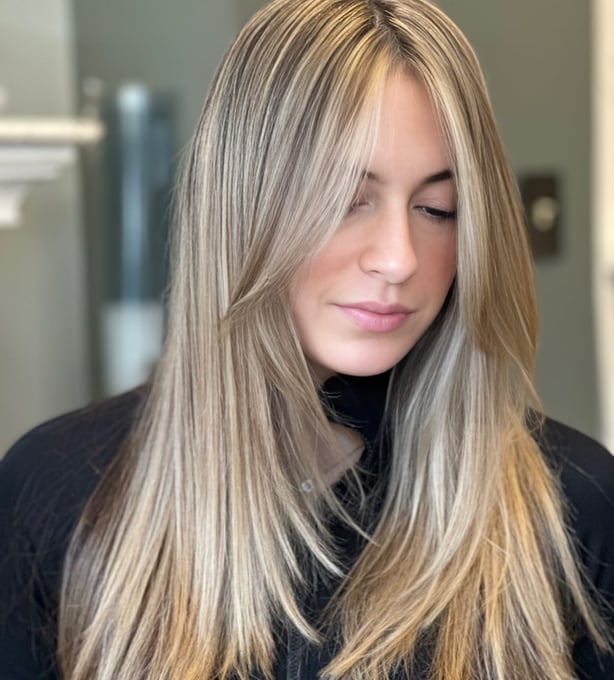 Curtain-bangs straight hair is a trendy hairstyle that is becoming increasingly popular. It consists of straight hair cut into bangs that are styled in a curtain-like shape that frames the face.
Curtain Bangs With Layers
Curtain-bangs with layers is a hairstyle that features long, layered bangs that are parted in the middle, resembling a curtain. This hairstyle is perfect for romantic dates or special events.
Curtain Bangs Curly Hair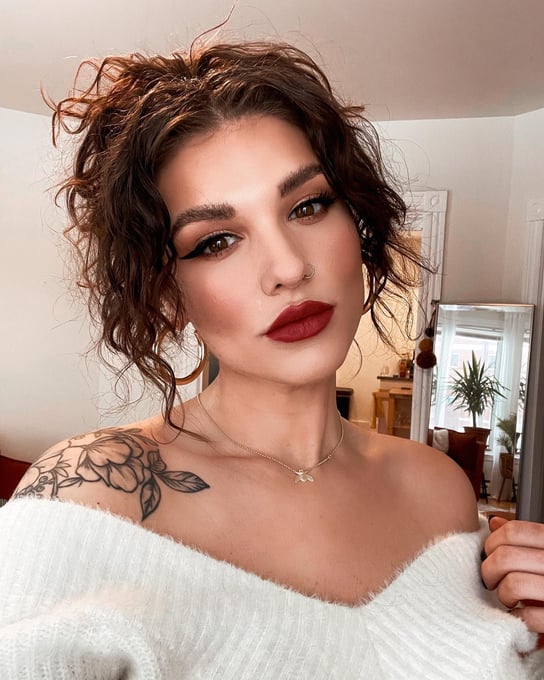 Curly hair with bangs is a great way to add style and texture to curly hair. They are a type of bangs that feature soft, wispy layers of hair that frame the face.
Round Face Curtain Bangs
Round-face bangs are a trendy hairstyle perfect for those with a round face shape. They are typically long and full, covering the forehead without appearing too heavy or overwhelming.
Wispy Curtain Bangs Long Hair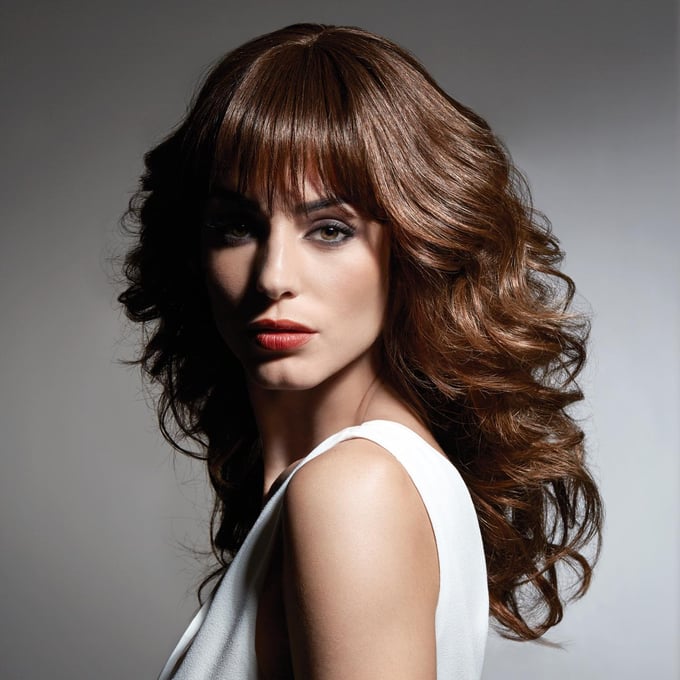 Wispy bang's long hair is a style of bangs that gives a softer, more gentle look to the face. The bangs are usually cut shorter in the middle and longer on the sides, creating a unique look.
Curtain Bangs Wavy Hair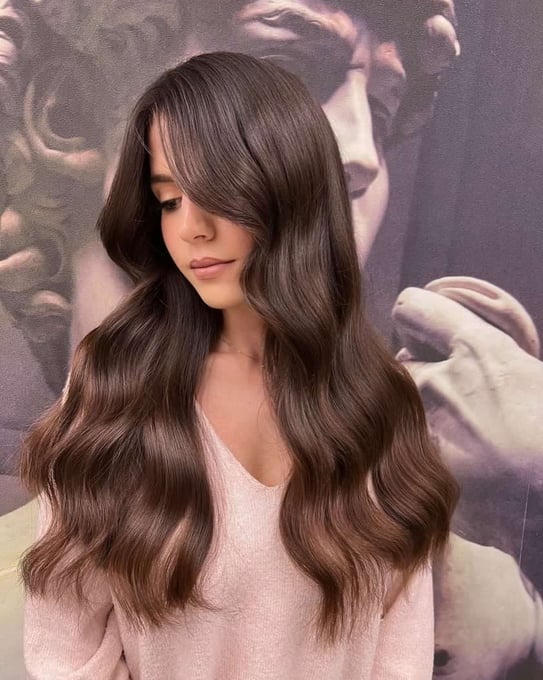 Bangs and wavy hair are popular trends among women in recent times. This look is stylish and easy to maintain, making it perfect to wear daily.
Medium Short Hair With Curtain Bangs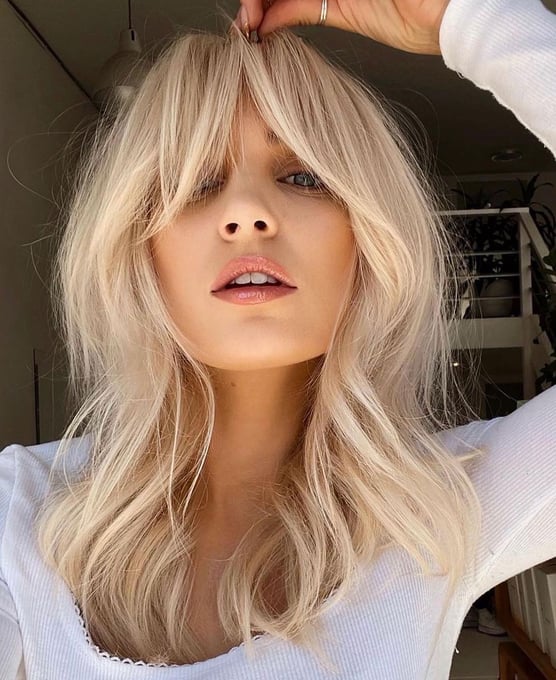 Medium short hair with bangs is a great way to style your hair if you want something different. This look is a combination of medium-length hair and long, sweeping bangs that hang over your forehead.
Shoulder Length Hair With Curtain Bangs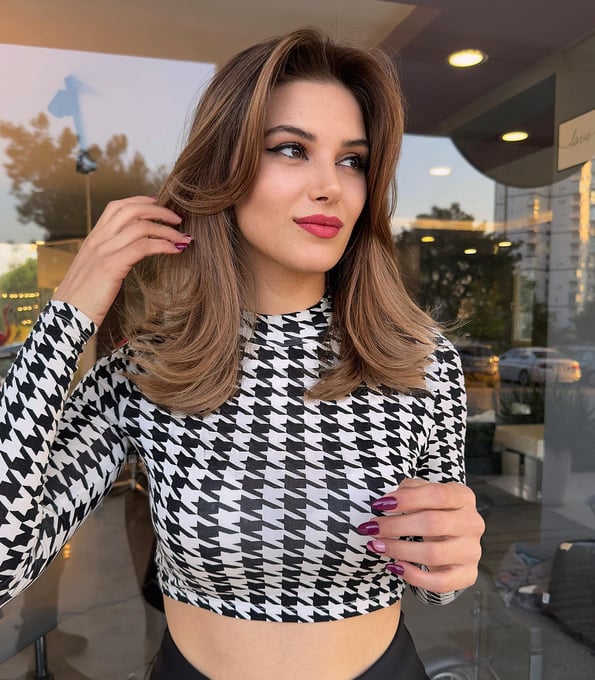 Shoulder-length hair with bangs is a timeless hairstyle that looks effortless and chic. This look features shoulder-length hair parted down the middle and long, wispy bangs that frame the face beautifully!
Curtain Bangs Side Part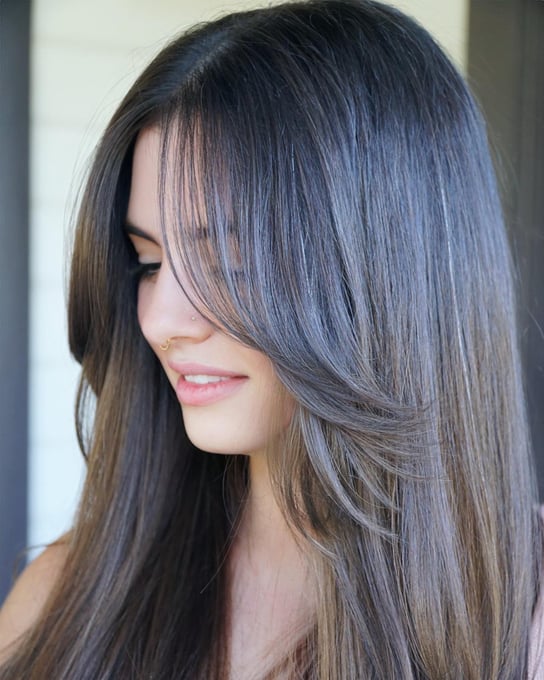 Bangs Side Part is a modern, trendy hairstyle that gives you a unique, chic look. It involves styling the bangs to the side of the head and framing the face with long, sweeping bangs.
Korean Curtain Bangs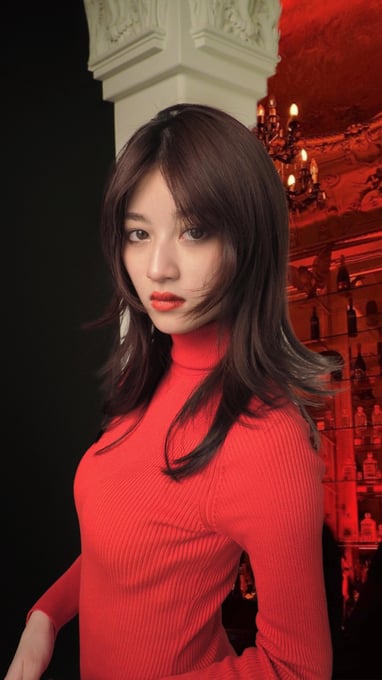 Korean bangs are a unique and stylish hairstyle popularized in South Korea. This trend involves creating a face-framing fringe parted in the middle and falls past the eyes, creating a soft and romantic look. 
Curtain Bangs 70s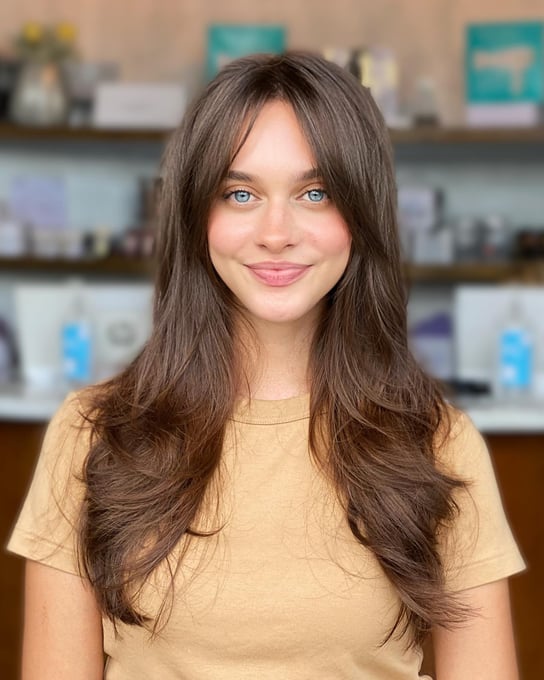 Bangs were popular in the 70s and have recently made a comeback. They are characterized by long, voluminous bangs parted down the middle, ending just above the eyebrows.
Curtain Bangs Men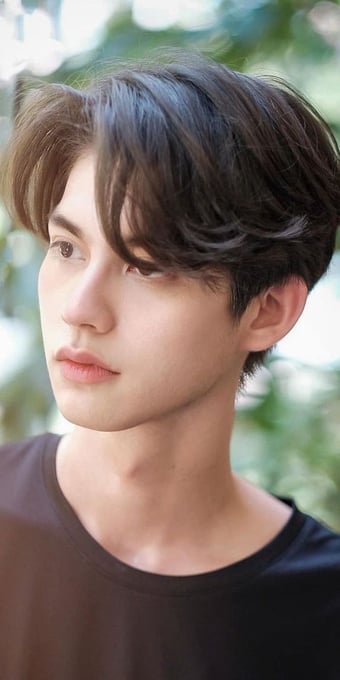 Bangs are modern haircuts for men that offer an excellent and edgy look. They feature short, choppy bangs that are cut to fall just above the eyebrows.
Curtain Bangs Asian
Bangs are a popular hairstyle among Asian women. They are known for their eye-catching shape and style, creating a unique look sure to draw attention.
Blonde Curtain Bangs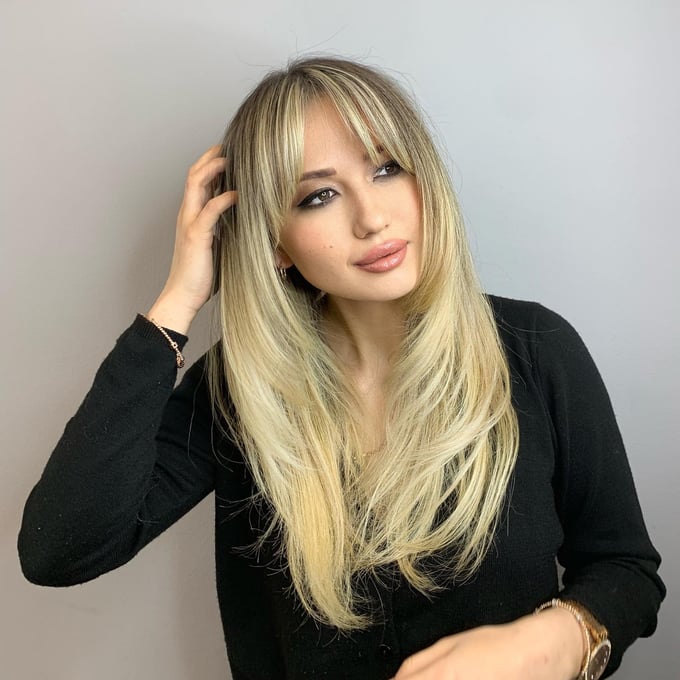 Blonde bangs have been gaining in popularity due to their ability to add a fresh and modern look to the hair. Such a look can be easily worn for an everyday look.
Curtain Bangs Ponytail
A curtain-bangs ponytail is a hairstyle that combines classic bangs with a long, high ponytail. This look is perfect for those who want to show off their long hair with an edgy, modern hairdo. 
Shag With Curtain Bangs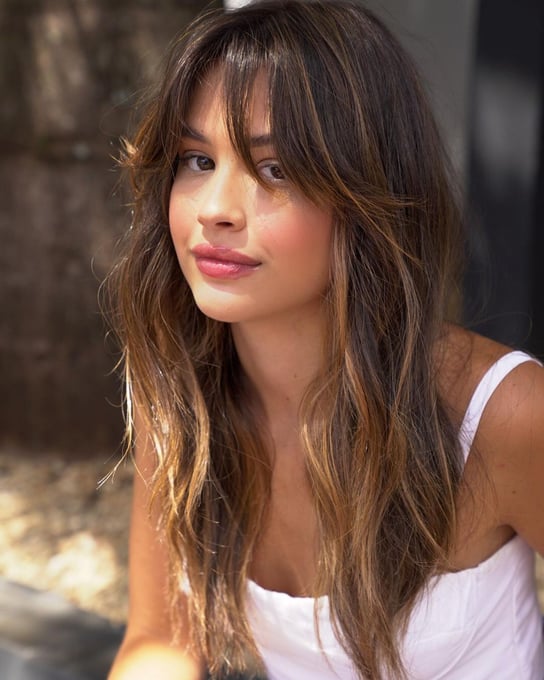 Shag with bangs is a versatile and trendy hairstyle that is perfect for those who want to add texture, volume, and shape to their hair. This style features layered locks and curtain-bangs that together look outstanding!
Curtain Bangs Thin Hair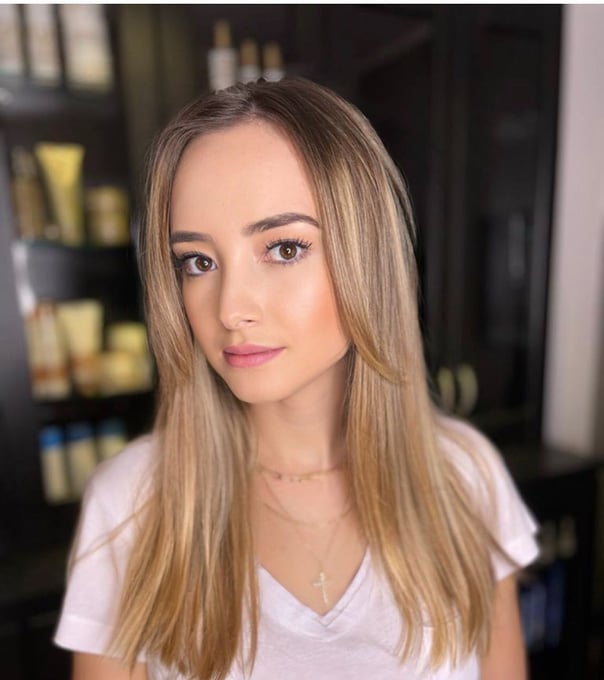 Bangs are a classic and versatile hairstyle that can add texture and dimension to thin hair. They are characterized by a gentle, layered fringe of hair that frames the face and can be worn long or short.
Curtain Bangs Black Hair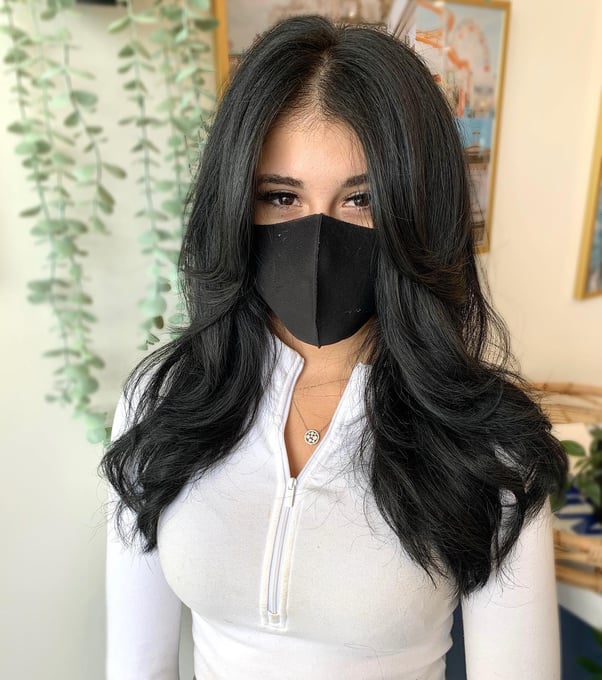 Bangs' with black hair is a classic look that has been around for centuries. This hairstyle is characterized by long, side-swept bangs that frame the face and create a curtain-like effect.
Bob With Curtain Bangs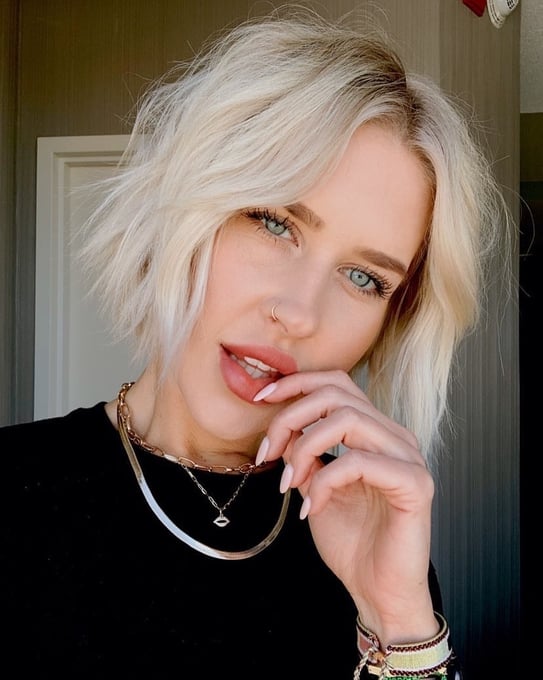 Bob with bangs is a popular hair trend that has recently gained traction. It involves cutting the hair so that it falls in a straight line across the forehead.
Wolf Cut With Curtain Bangs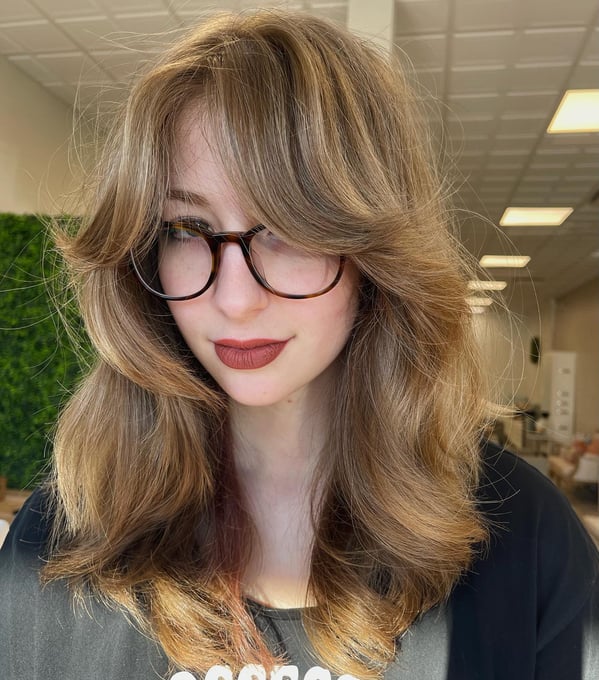 Wolf cut with bangs is a trendy hairstyle that combines a classic, edgy undercut with a modern, face-framing fringe. The undercut is cut short and layered with textured, choppy layers that are trendy these days!
Lob With Curtain Bangs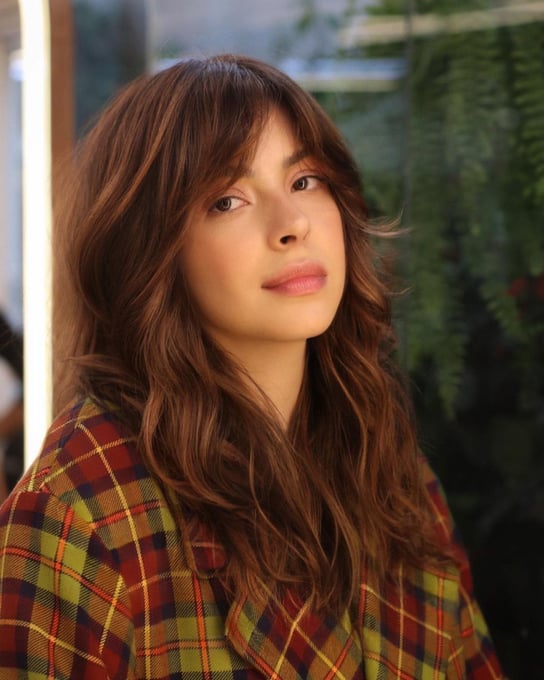 Lob with bangs is a unique hairstyle that combines the classic long bob cut with a modern, swept-across fringe. The versatile look is perfect for those looking for a stylish and low-maintenance look.
Center Part Bangs Hairstyle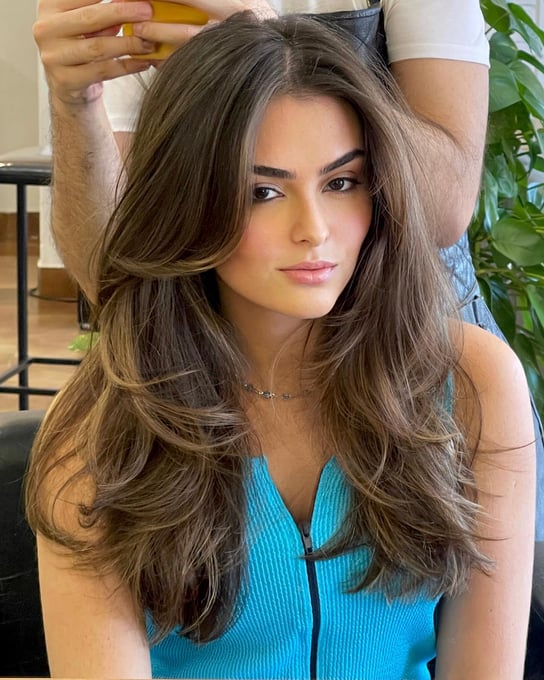 Center Part Bangs Hairstyle is a modern look that provides an edgy yet sophisticated style. This versatile hairstyle features bangs that are parted in the center and swept to the sides and can be styled in various ways.
Curtain Bangs With Flipped Ends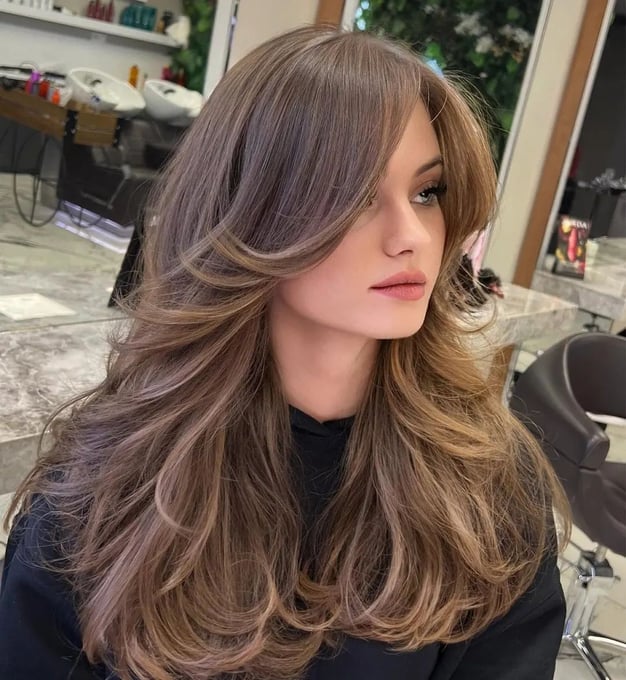 Bangs with flipped ends can add a modern touch to any look. This style of bangs has been seen on celebrities and influencers alike and is a great way to switch up your look.
Pros and Cons of Curtain-Bangs
Pros
Curtain-bangs are a versatile style tailored to fit any face shape.
Bangs create a soft, romantic look and can be a great way to draw attention away from any facial features you'd instead not emphasize.
It can be a great way to add a bit of drama to your look without drastically changing your overall hairstyle.
They are easy to style and maintain.
This is a great way to add texture and movement to your look.
Cons
Bangs require a lot of regular upkeep, as they must be trimmed often to keep the shape and prevent split ends.
This can be unpredictable regarding how quickly they grow out, which may require frequent trims to keep the bangs looking neat.
It can be difficult to style if you need the proper technique or tools.
These are only suitable for some hair types, as some hair is too thick or too thin for this style.
It may not suit your face shape, as the shape of the bangs may not flatter your features.
Reference
Note – The credit of the pictures and images shown in our website for illustrative purposes, goes to Pinterest and Instagram.
FAQs
Are Curtain Bangs High Maintenance?
Yes, Bangs are considered to be high maintenance due to their styling and upkeep requirements.
Do Curtain Bangs Look Better With Layers?
Yes, Bangs look best when combined with layers.
Do Curtain Bangs Look Good On Thick Hair?
Yes, Bangs can look great on thick hair.
How much does it cost to get Curtain Bangs?
Generally, you can pay anywhere from $30 to $80 for this service.
How do you keep Curtain Bangs out Of Your Eyes?
To keep bangs out of your eyes, you can use a light-hold hairspray or texturizing spray to help hold them in place.
Do Curtain Bangs Work On Frizzy Hair?
Bangs can work on frizzy hair, but it is important to ensure that your hair is adequately hydrated and conditioned before styling.
How hard are Curtain Bangs to Take Care Of?
Bangs can take some getting used to, as they require a bit more maintenance than other types of bangs.