Do you love braiding and looking for something unique? Then you are at the right blog post as we have got you the top 30 Feed in braids ideas that are simply gorgeous. This article will help you achieve 30 different looks with numerous unique hairstyle ideas that make people drool over you!
But first, you need to understand what this hairstyle is and how do exactly they look like? Feed-in cornrows are braids created using hair extensions that are smoothly attached. This hairstyle procedure helps attain a hair braid that appears more natural, providing your hair a neater texture. The hair extensions are knitted effortlessly into your hair, giving your hair a natural and voluminous look.
Now that you know the basics about this Hairstyle understanding its types and looks will be easier. So if you are excited and can't wait to learn more about its types, continue reading below!
2 Feed In Braids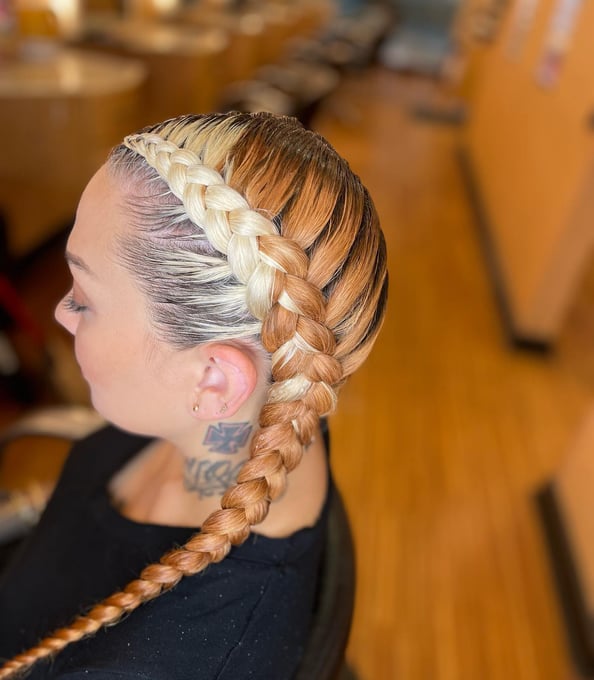 This hair look can be achieved by sewing in fake hair with your natural hair as you create the cornrow. This braided hairstyle looks fantastic on both long and short hair types. With the typical medium-width braids, you would need around 5–6 packets of braided hair extensions to get this appearance.
2 Feed In Braids with Design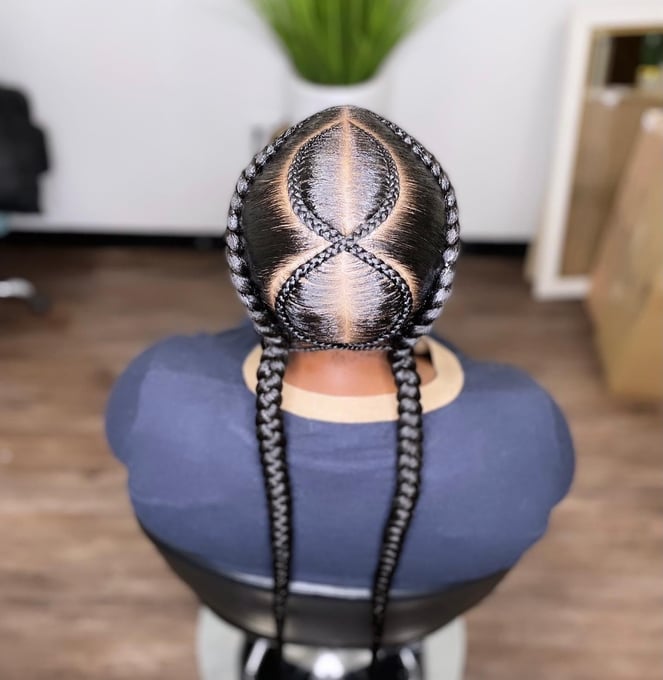 There are many new looks to pick from, such as 2 large braids and a unique design on the hairline. To get a flawless appearance with this hair look which is less likely to create stress on the scalp, this hairstyle employs fake hair. The hair extensions are added to your natural hair without knots.
Goddess Feed In Braids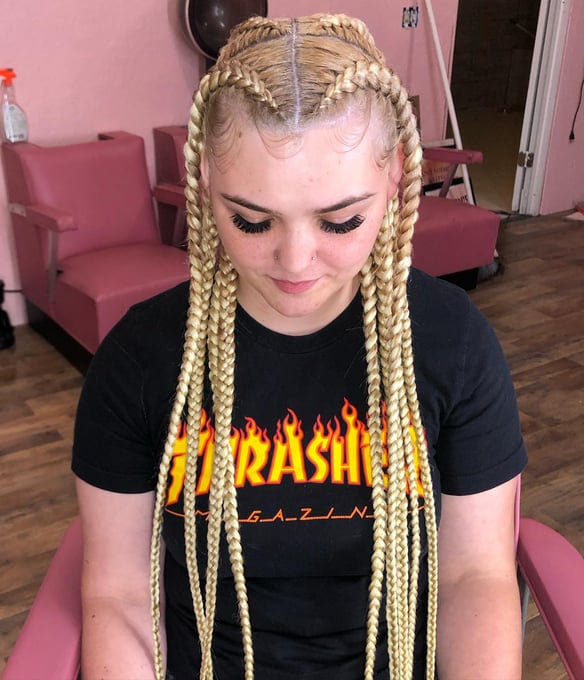 Underhand braiding is employed to create this hair look, which are thicker forms of cornrows. Goddess braids look beautifully feminine and are appropriate and relevant, enabling you to style them any way you like. They go very well with accessories like beads and cuffs to give your hair a unique style. They look lovely both up and down, long or short.
Feed In Braids to The Back
This hair look is trendy to style your hair, ensuring that the braids are centered at the back and away from the hairline. Such a hairstyle allows you to emphasize your features effectively. This appearance may be attained in numerous methods, such as by using an intriguing and striking design on the scalp.
Feed In Braids with Heart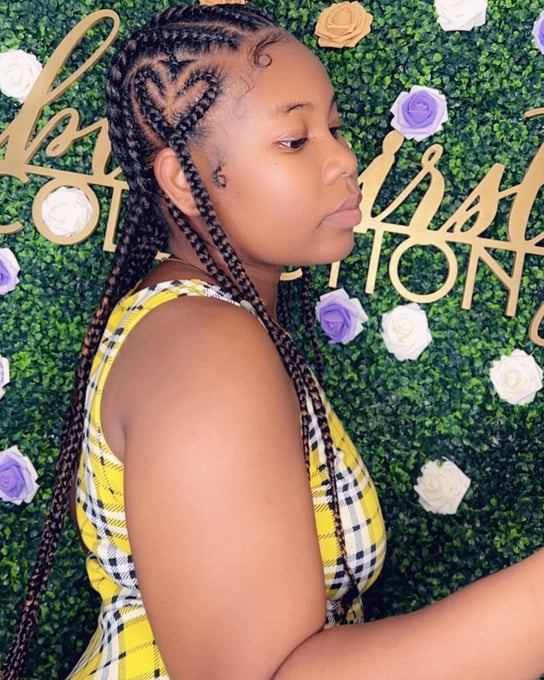 If you want a fun-loving hair look, this is your hairstyle. Braiding your hair in the shape of a heart is a great way to express self-love. This can also serve as a symbol to express your love and care for your near and dear ones.
4 Feed In Braids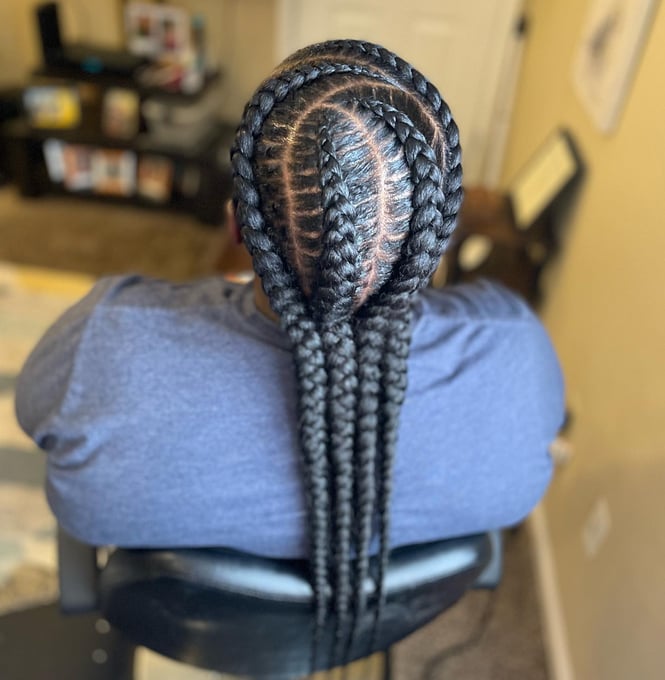 If you want to achieve an eye-catching hairstyle, try this hair look. This hairstyle has four parts in which the hair is parted for a stylish look. Choose a look that better describes your tastes from various distinct seems offered. This will help you experiment with multiple scalp patterns.
6 Feed In Braids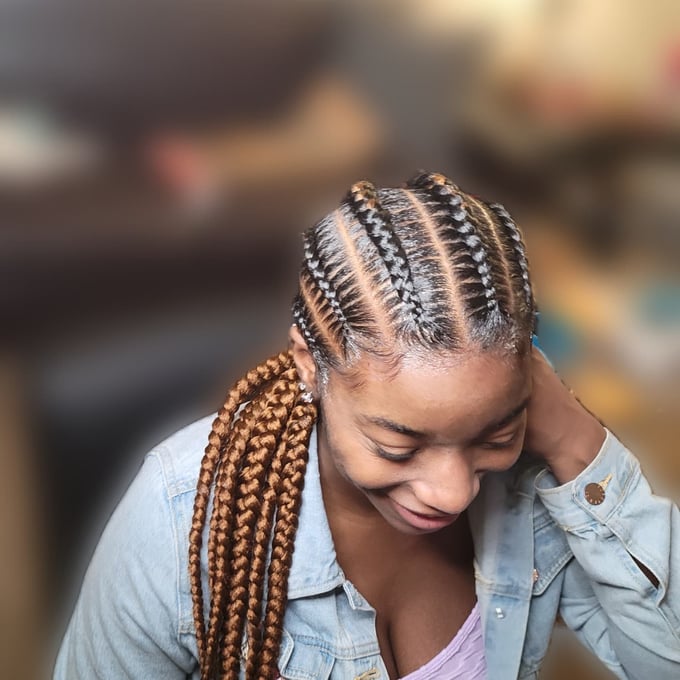 To create this look, the hair is divided into six braided portions, ideal for creating a more complicated hairstyle. Use fake hair to get the volume and length you desire to achieve. Additionally, applying the braiding will be a lot quicker, consuming only a few hours.
Small Feed In Braids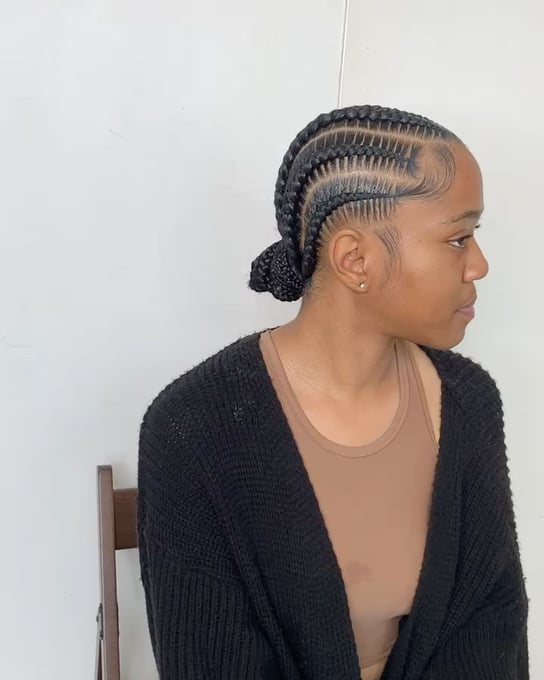 Small braids look fantastic whether worn short or long and are a great form of safety. Additionally, In addition to being great for daily wear and lightweight, they can create a statement and are ideal for individuals with fragile or short hair. This will also reduce the harm they do to your roots.
Feed In Braids Ponytail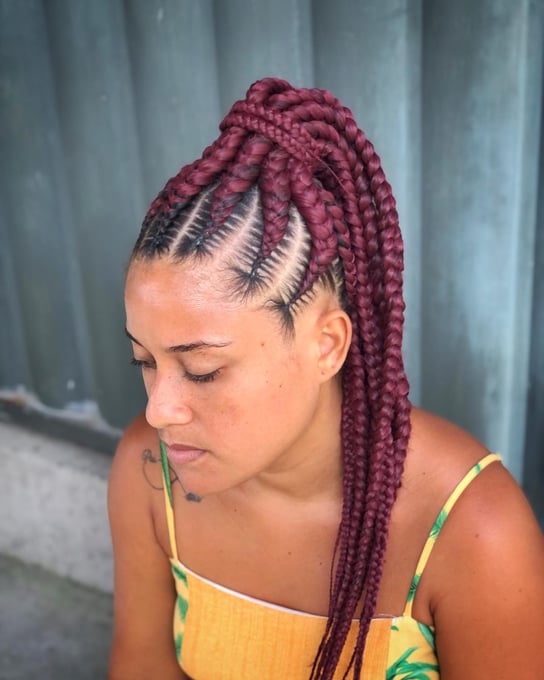 Braided hairstyles look gorgeous even more when complemented with a ponytail. This hairstyle is highly versatile and can be easily indulged in your everyday hairstyle routine. The best part is this blends well with all types of hair.
Layer Feed In Braids
If you want to give your hair a denser look, try this hairstyle. To give your hair greater depth and dimension, layering helps produce hair of various lengths. These hair looks are accomplished by making braids in the hair across several directions. This is fantastic for creating a stunning appearance.
2 Layer Feed In Braids Side Part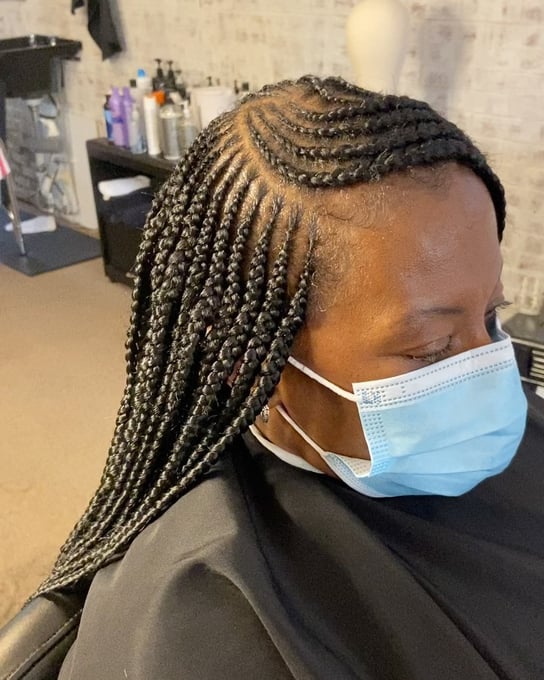 If you want a hairstyle that minimizes the amount of tension on your scalp yet provides your hair an elegant look, you will love this hair look. This hairstyle is made using hair extension that provides your hair with extra volume. This gives your hair a texture that helps to braid your hair in two different directions.
Straight-Back Feed In Braids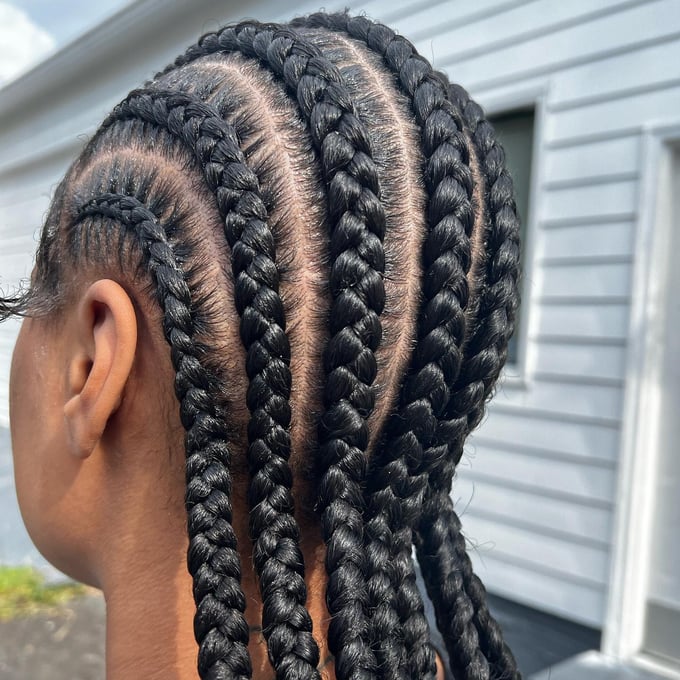 If you desire a hairstyle that maintains the hair out of your face, this hair look is just for you. This hair look highlights your face making your features prominent, which can be highly fashionable. This look particularly suits individuals who have solid jawlines and cheekbones.
Feed In Braids Into a Low Bun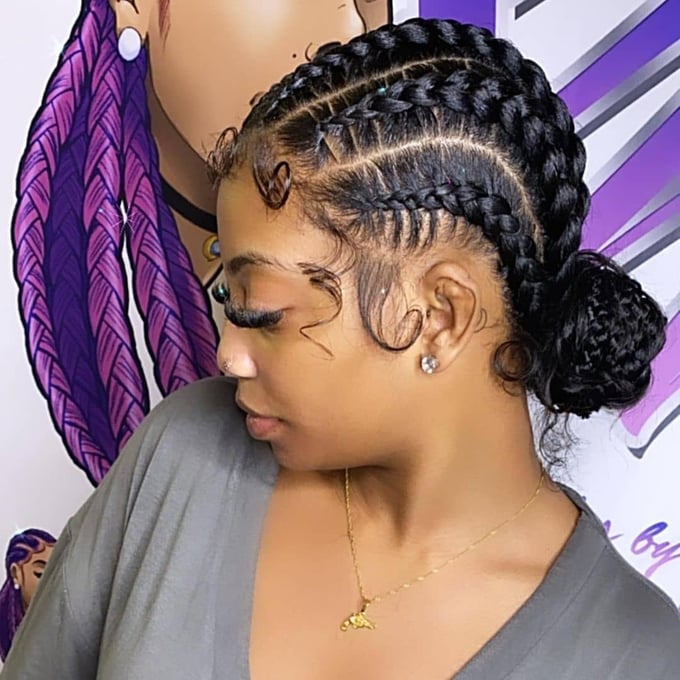 Try this hairstyle if you are seeking an easy hairstyle. Compared to a higher bun, which is frequently tighter, a simple plain updo like a loose bun is more comfortable. It is also simple and quick to create, making it perfect for everyday or formal occasions.
3 Layer Feed In Braids Middle Part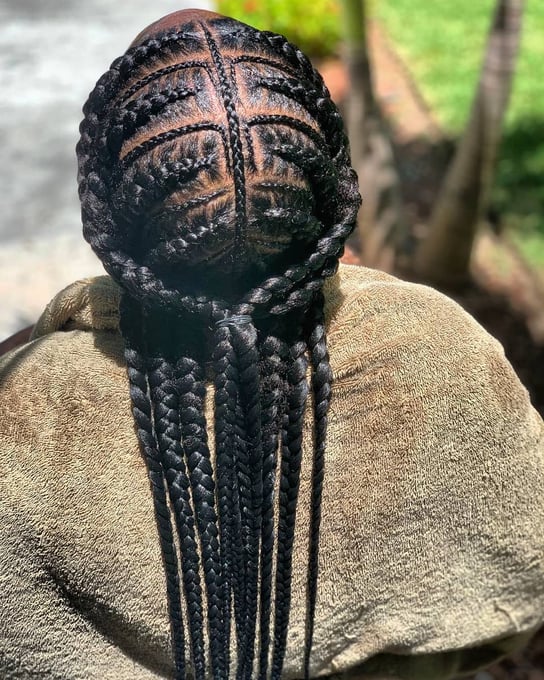 If you love braids and prefer middle parting, this hairstyle is a must-try out for you! Using the back of a comb, section your hair into three parts. To add extra volume and length, do not hesitate to use hair extensions. This hairstyle will add richness to your look, allowing you to experiment with your hair.
Half Up Half Down Feed In Braids with Weave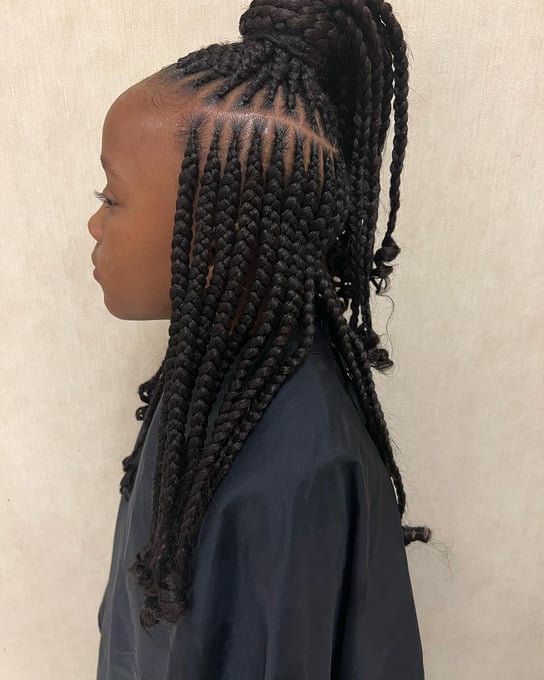 This hairstyle is one of the trendiest hairstyles of 2022 and has been explored in the market in various ways. To make your hair stand out with this look, it is advised to pair it up with Fulani braids or curls. Use human hair as an extension instead of synthetic hair for the best results.
Ponytail Goddess Feed In Braids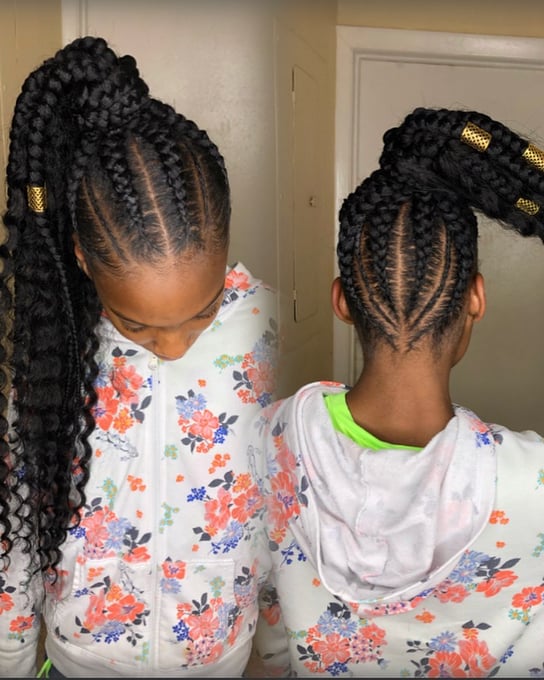 This hairdo is a simple hairstyle that can be easily worn high for a polished impression. Additionally, to create a more intimate and laid-back vibe, you can have your hair styled with this hairstyle in a low, untidy style.
Medium Feed In Braids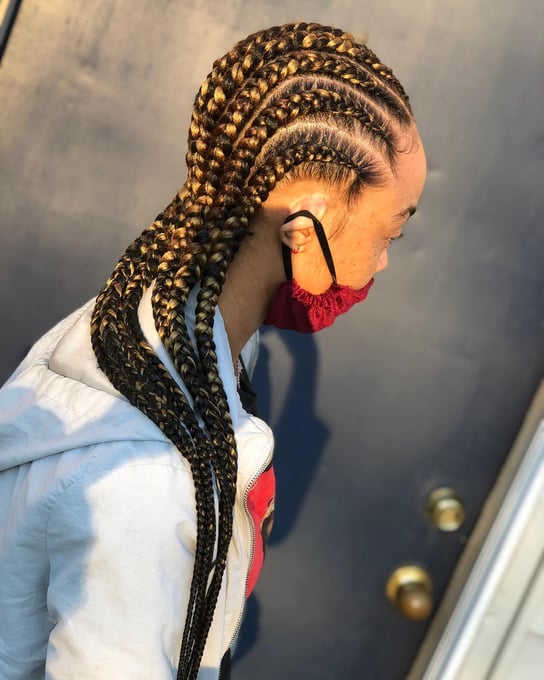 This hair look is gorgeous and party friendly and can even be worn on Monday mornings. To create this hairstyle, make 5 rows at the top of your hair and 2 at the back of your neck. This hairstyle can be expected to last for a maximum of 14 days.
Stitch Feed In Braids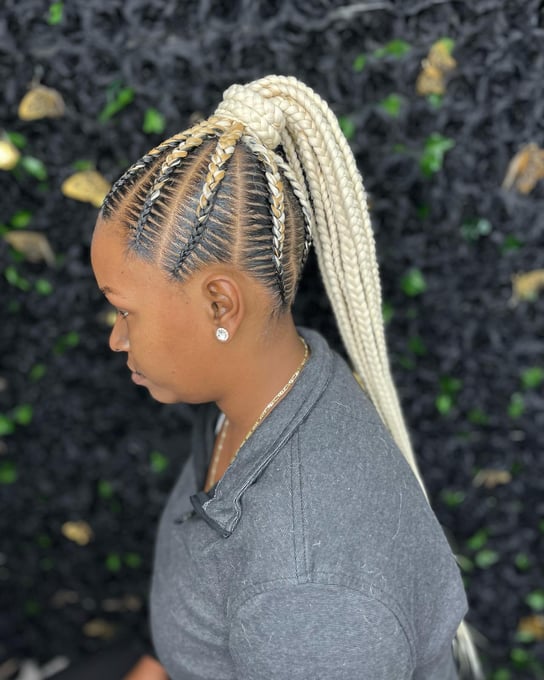 The pinky finger and a nail are employed in this hairstyle technique to make the stitches and lines, and more products are required to maintain the stitches in place. Based on your hair texture, this hairstyle may last 4 to 7 weeks.
Jumbo Feed In Braids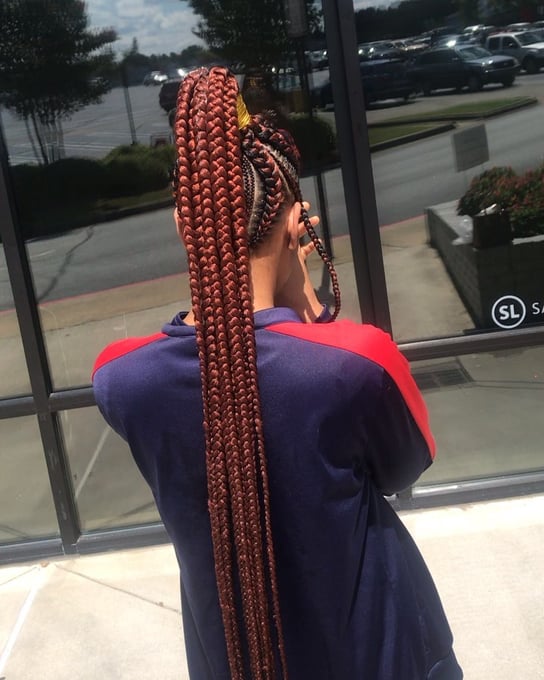 If you love braiding your hair section-wise, try out this hair look. This hairstyle has got a total of 18 braids and is created by first moisturizing a dry scalp. The specialty of this hair look is parting carefully by separating the rows to help define the parts in this hairstyle.
Bohemian Feed In Braids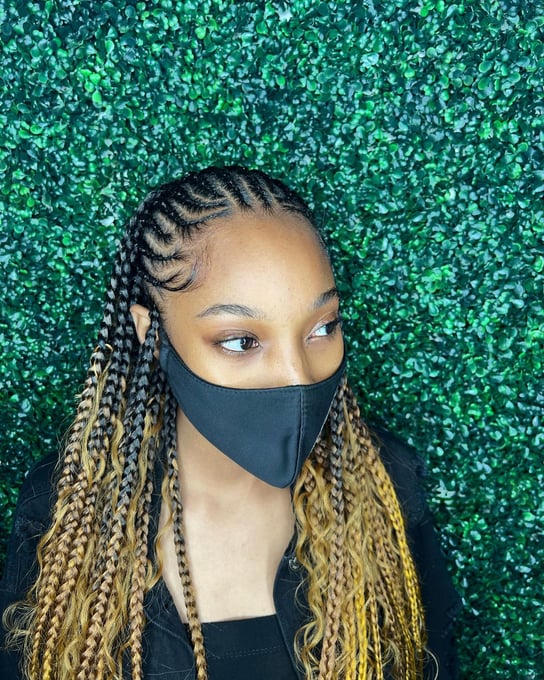 In general, bohemian braids are braided hair with loosened curled ends, giving the hairstyle a more prosperous, extra voluminous appearance. The initial few inches are braided, while the following length is left unfinished and frizzy. Use braiding hair made of Kanekalon to create this hairstyle. This provides impressive results that make it look flawless.
Creative Feed In Braids Bun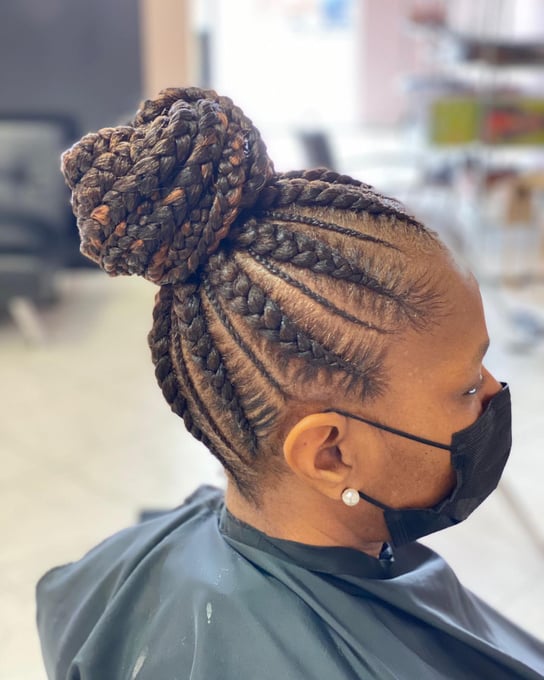 This hairstyle is perfect for styling your hair with a casually braided bun. Styling it using hair extensions adds the volume and length of your choice. This allows you to create your preferred type of bun using fake braided extensions.
Long Small Straight Back Feed In Braids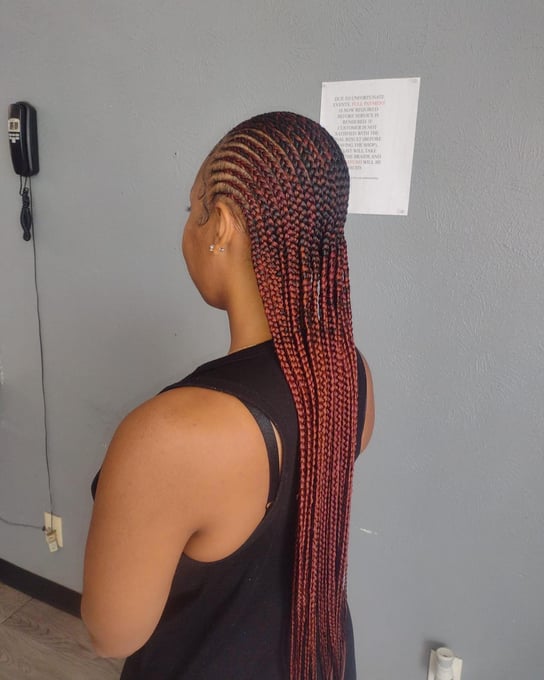 This is the most efficient feminine form of hair protection. This hairstyle is particularly best for women having naturally curly hair. This hairdo is highly trendy and looks lovely when dressed with fake hair, protecting the hair and preserving its quality.
Long Feed In Braids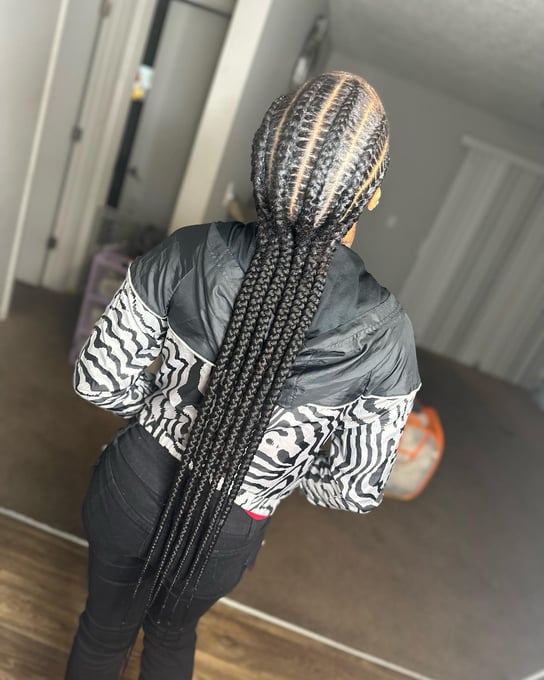 This hairstyle is ideal if you're pressed for time and don't intend to spend your entire day in a salon chair. Usually, it takes four to six hours to install the braid extensions. Moreover, such extensions are expected to last for up to 2 weeks.
Cornrow Feed In Braids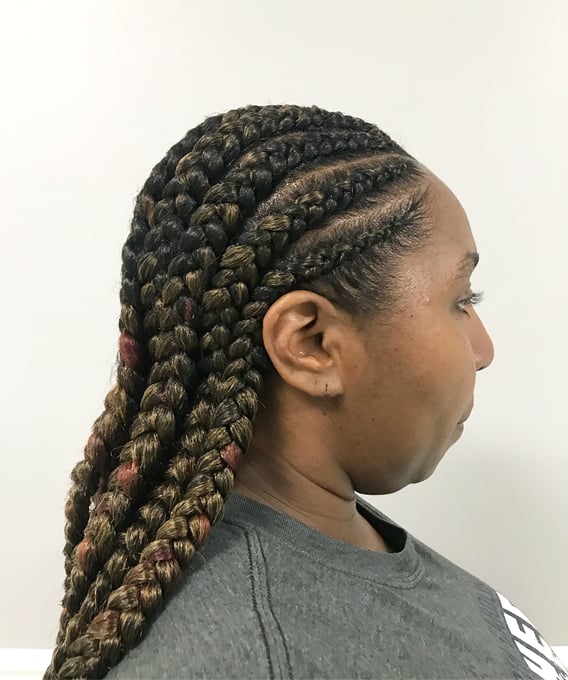 This hairstyle is a savior if you love braiding your hair from the scalp of your hair. Using extensions enables you to not only give your hair that extra thickness and bold look but also protect your scalp from being concentrated with tension.
Kids Feed In Braids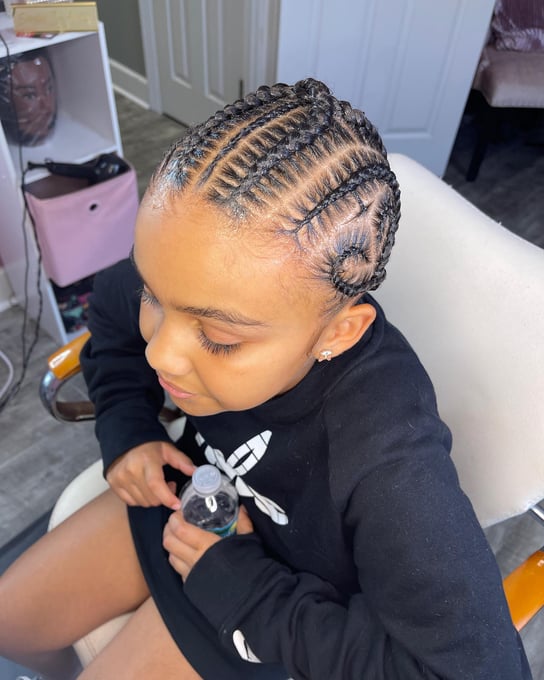 If you want to give your kid a unique hairstyle and protect their hair simultaneously, this hair look is all your kid would need. This hairdo is super cute, and your kid will love this look.
Pop Smoke Feed In Braids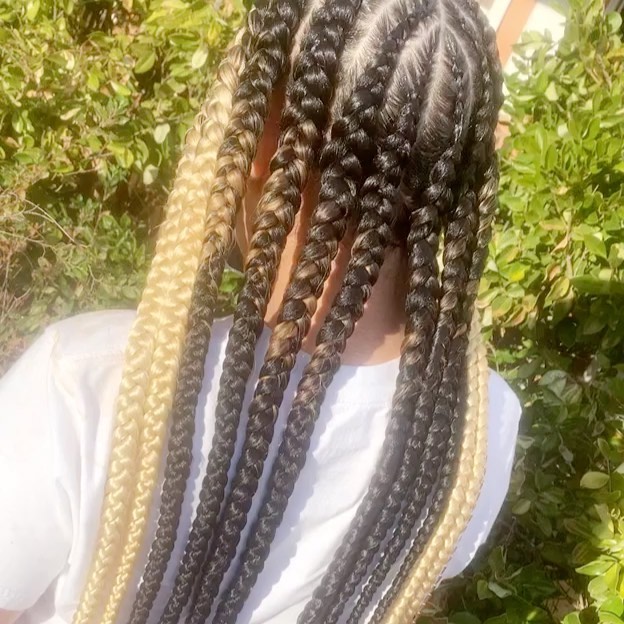 Four feed-in cornrows are woven along both sides of the scalp in this protective hairdo, providing a clear parting in the center. This hairstyle can always be created using the fake hair technique to give them a thick appearance, depending on your desired size.
Blonde Feed In Braids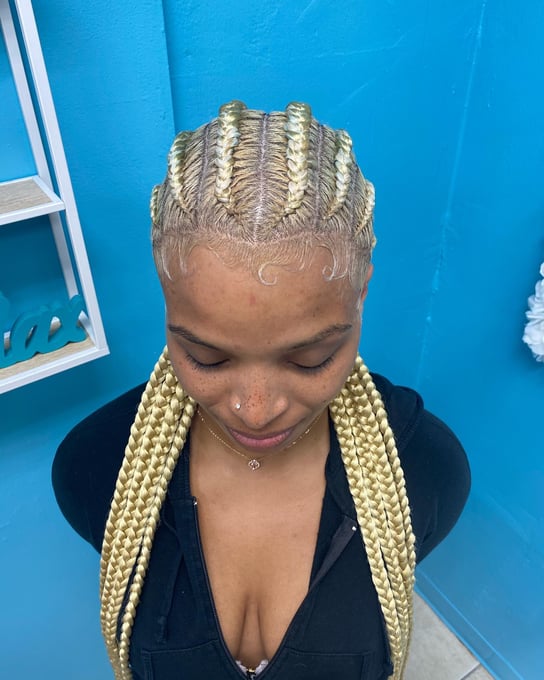 If you want to try something exciting that complements braided hair, try this hair look. For effective results, you can experiment with blonde highlights without destroying your natural hair by using this procedure. Blonde hair is an excellent way to highlight the pattern and style of your braids.
Lemonade Feed In Braids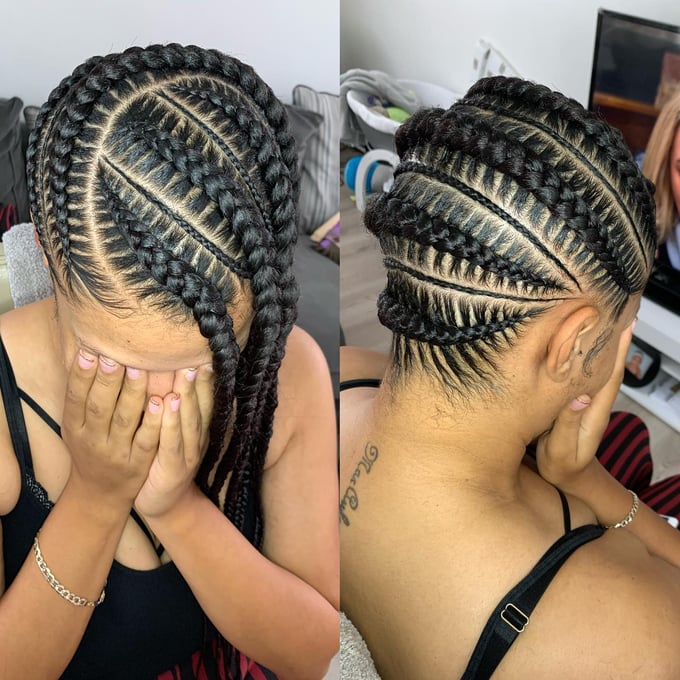 Black women prefer these hairstyles to maintain their hair. These braids are braided and brushed to one side, starting at the front. Additionally, using synthetic hair to add thickness to this hair look they have lately become prevalent.
Criss-Cross Feed In Braids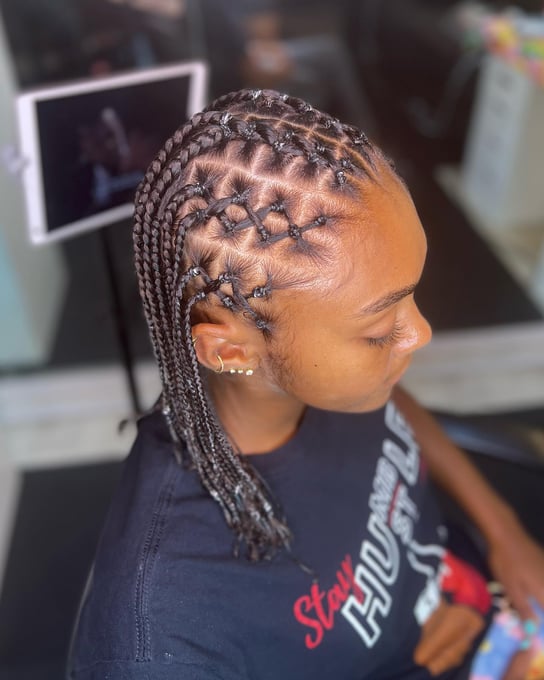 These are super loveable hairstyles and very easy to make. If you usually have a very hectic and busy schedule and cannot spend hours daily making your hair, then this hairstyle is for you. Such a braided hairstyle will not only keep your hair healthy but can also last intact for up to a month.
Feed In Braids updo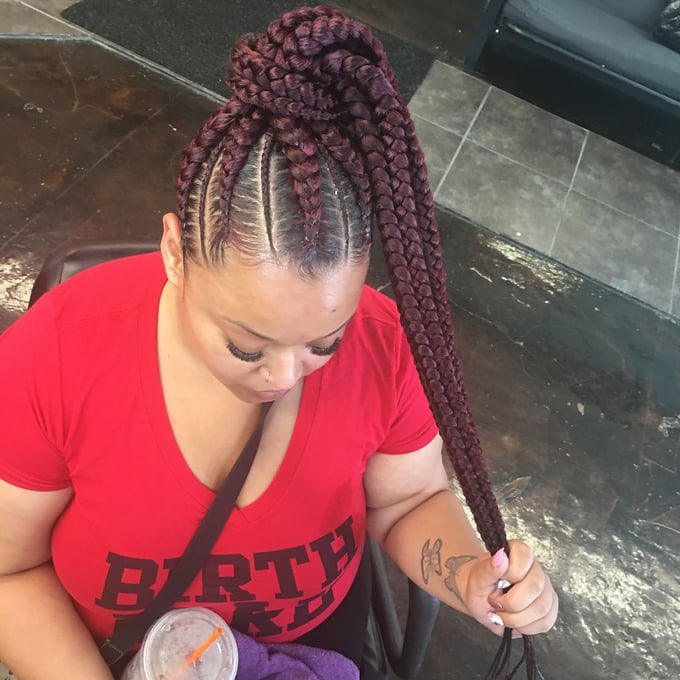 If you want to give your hair a royal and elegant look, try this particular hairstyle. These are so gorgeous and highly versatile that they can be worn out in multiple ways. Besides, with braided extensions, these look amazing and act as a perfect hair look for any event!
Reference
Note – The credit of the pictures and images shown in our website for illustrative purposes, goes to Pinterest and Instagram
FAQs
How long do feed in braids last?
In general, these braids are just beneficial, lasting two weeks. Your hair will begin to grow after that point, and the braids won't look as tidy and polished and instead will become loose.
How much does it cost to feed braids?
The cost of such braids depends entirely on the quality, type, and length you prefer attaching to your natural hair. Generally, the feed-ins can cost from $15 to $300+. 
How long will 2 feed-in braids last?
If appropriately maintained and taken care of, you can expect your fake braided hair to last up to 14 days.
Why do braids hurt?
If your hair is braided too tightly or has too many extensions applied, there is a high chance of hurting your head. This is especially bad for the growth of your hairline in any situation.
How do you prepare your hair for braids?
Use a cleansing shampoo to help eliminate all the dirt and buildup from your scalp, ensuring your hair is fresh. Your braids will last long after your hair is clean.