Despite being a very old hairstyle, the French braid has recently experienced an astonishing resurgence. Ladies across the planet were brushing up on their braiding skills or perfecting this time-honoured haircut, from street style stars to celebs and pretty much everyone in between. The French braid is a beautiful hairstyle for all ladies, not just those who are expert braiders, and is renowned for its ornate appearance yet very simple production. Also, there is a French braid for any taste and situation because of the variety of ways you may wear the trend.
How to do a French Braid?
Brush your hair well to remove all tangles and get it ready for braiding. Brush your hair backwards and away from the forehead to prepare for a single braid that runs to the back of your head.
Gather a sizable portion from the top centre of your head to start the procedure. This section's hair must all originate from the same "hair row." It would help if you didn't grab strands that are higher or lower than you.
These braids utilize three parts of hair to form their design, just as traditional braids do. Run your fingers across the piece you hold to separate them into three equal pieces. The pieces must not be any larger or smaller than the other two.
Start with a standard braid. Holding two strands in one hand and the third strand with the other will help you place your hands correctly. Cross the "right" strand across the middle to start a regular braid. Then, moving over to the middle, cross the "left" strand. Continue doing this until you have a few rows of a traditional braid.
Continue using this traditional braid technique while adding additional hair. Grab little hair from that side of the head and incorporate it into the cross-over until moving a section to the middle.
You'll start running out of free hair to incorporate into the braid as you braid down your head. You should have included all the hair when you reach the neck area at the nape.
Dutch Braid vs French Braid
Dutch and French braids are frequently confused due to their resemblance.
You need three pieces of hair for French and Dutch braids, slowly adding more to each area as you bring it towards the core.
A Dutch variation, though, can be worn inside-out or as a reverse French braid.
A Dutch braid twists the outer strands underneath the central strands instead of a French braid, which weaves the outer strands over the top of the middle area.
Consequently, the Dutch braid seems more noticeable than the classic French braid, which has a more subtle look.
Double French Braid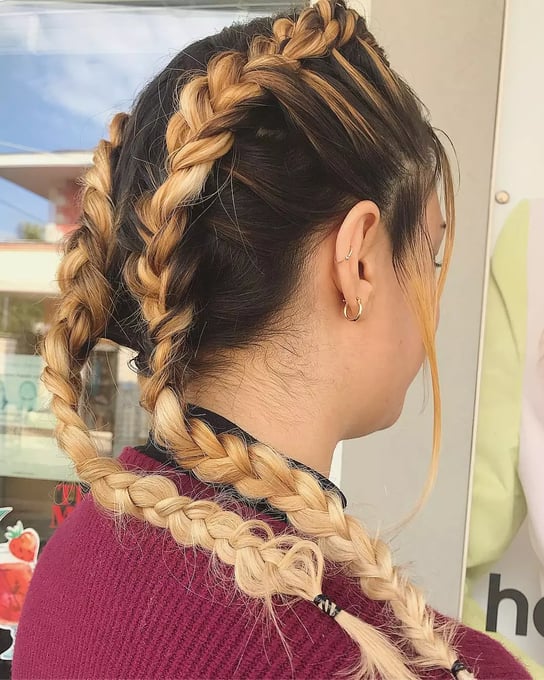 You can start an inverted Fishtail braid by dividing your loose hair into two equal portions.
Merge with the right strand after taking a piece from the left strand and crossing it underneath.
French Braid Ponytail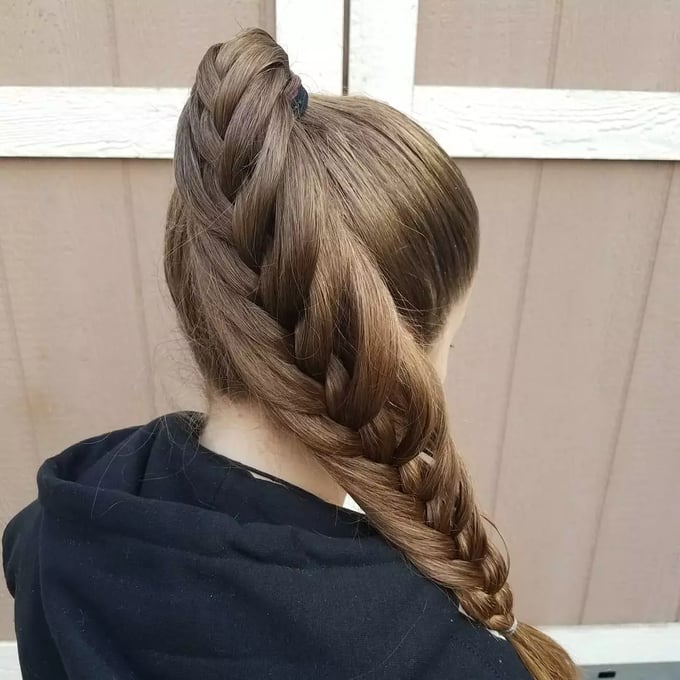 These braid hairstyles are timeless because of their adaptability.
New styles that highlight the newest hair colours and vogue emerge each season.
Side French Braid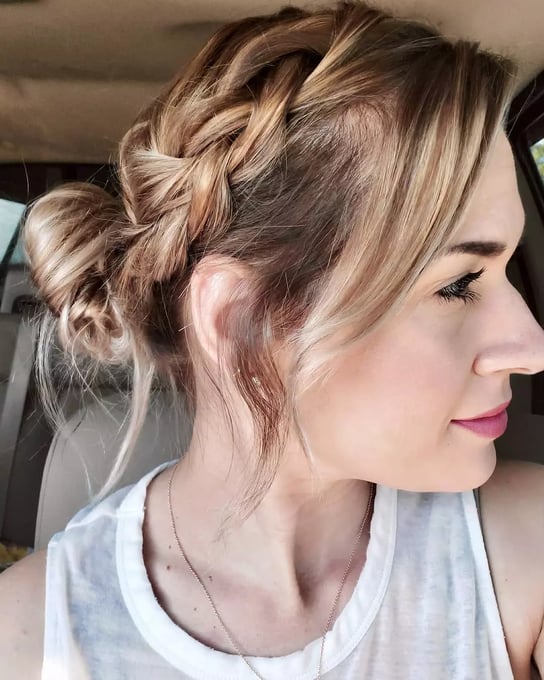 Divide this section of hair into three equal strands and keep them apart with your fingers to begin this braid.
Start a standard braid by crossing the right and middle strands.
French Braid Ponytail Lemonade Braids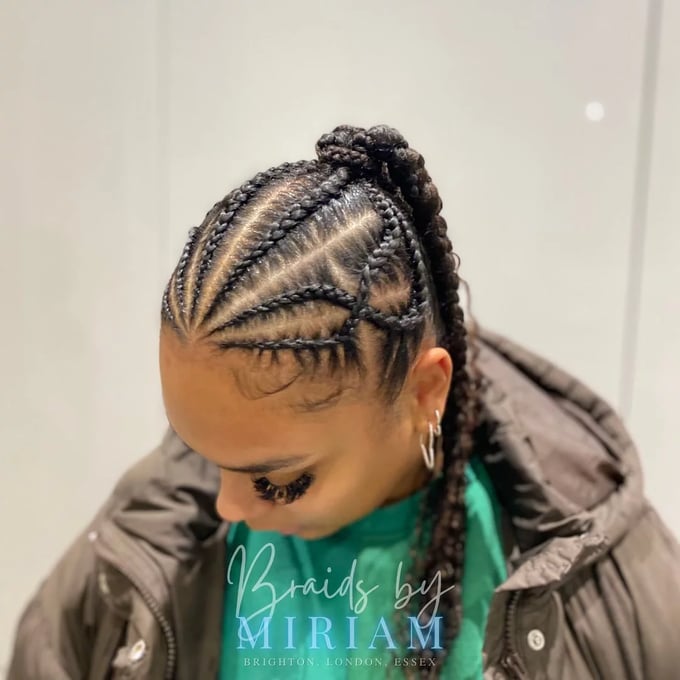 The chic and current ponytail lemonade braids are simple to twist up into a bun.
Get inventive and switch out your favourite braid style with your favourite updo!
French Braid Styles For Black Hair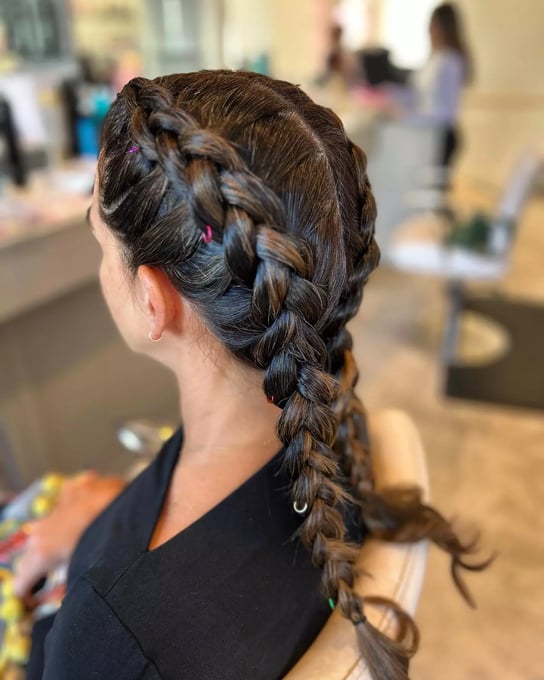 This braid is a simple and effective way to give your hair a new look, and it looks fantastic on black hair.
A portion of hair is wound around a tiny pin at the crown of your head to create the braid.
Reverse French Braid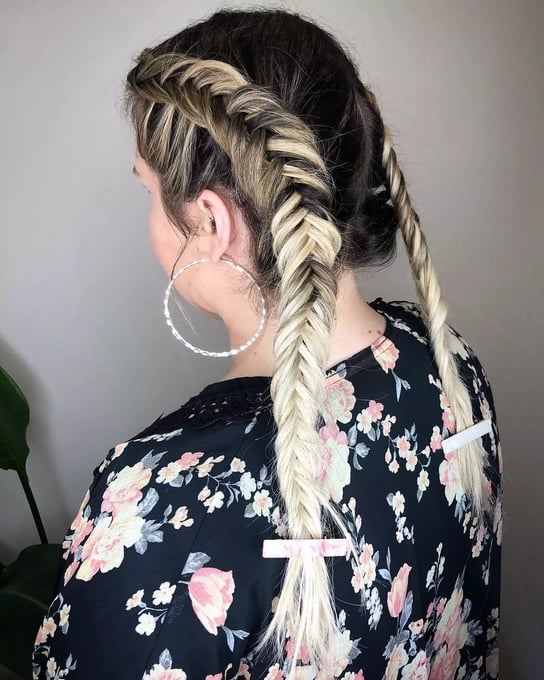 In this braid, you would cross-hair portions over one another; in even a Dutch braid, you would cross them underneath.
Due to its "underneath" method, the Dutch braid is frequently called a "reverse French braid" or even an "inside-out braid."
French Braid Short Hair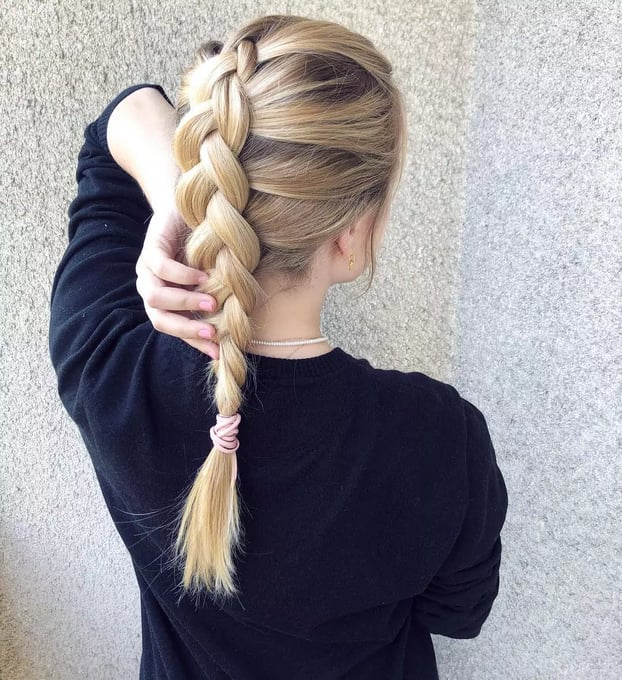 You won't be able to create a single braid down the middle of your head, and you can create lovely current side hairstyles.
You can braid short hair effortlessly by starting with hair that has not been washed for an entire day, including using hairspray to assist in fixing your look.
French Braid Bun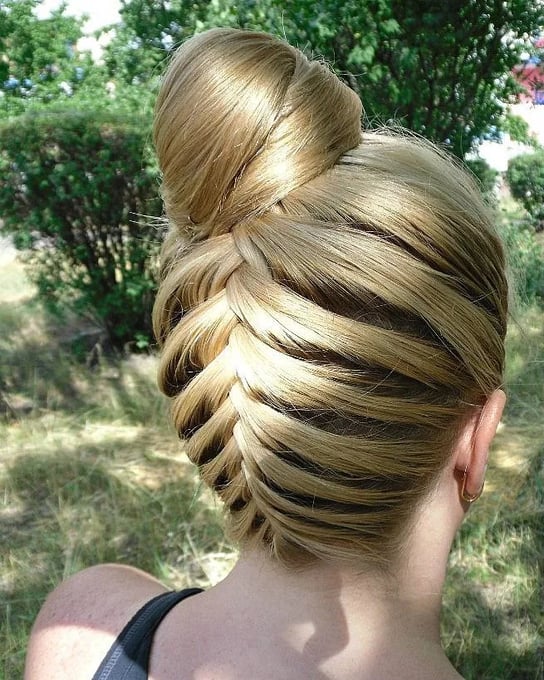 This braid the hair on either side of your part, excluding an inch-wide strip of hair that extends in front of the face close to your hairline.
The two braids should be combined, bunned, and pinned in position.
Fishtail French Braid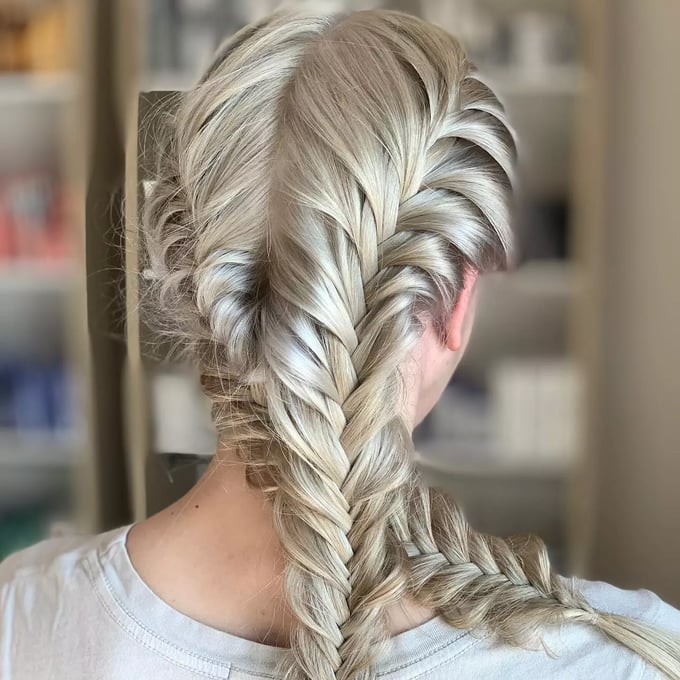 This braid contains three sections, while a fishtail braid only has two, giving it a matching smooth weave.
A tiny piece is continually passed from one segment to the next to form the braid.
French Braid Perm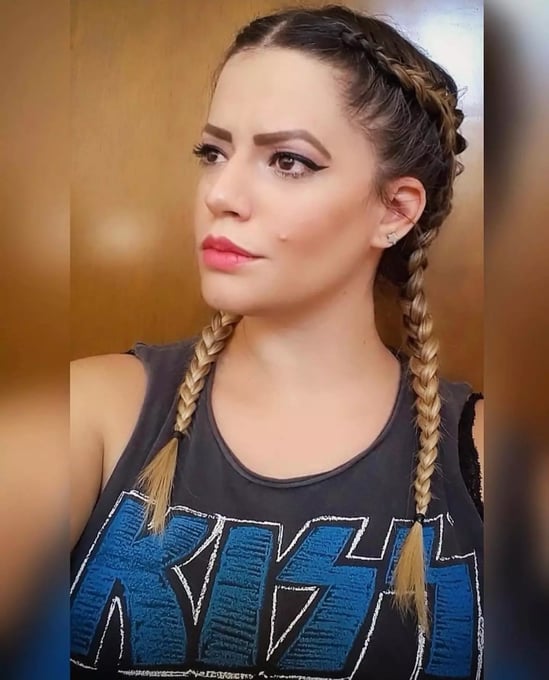 It produces a soft texture instead of a classic curl, making it simpler to maintain than a traditional perm service.
But, much like with any chemically based hair treatments, your hair will need extra hydration and care after the procedure.
Upside Down French Braid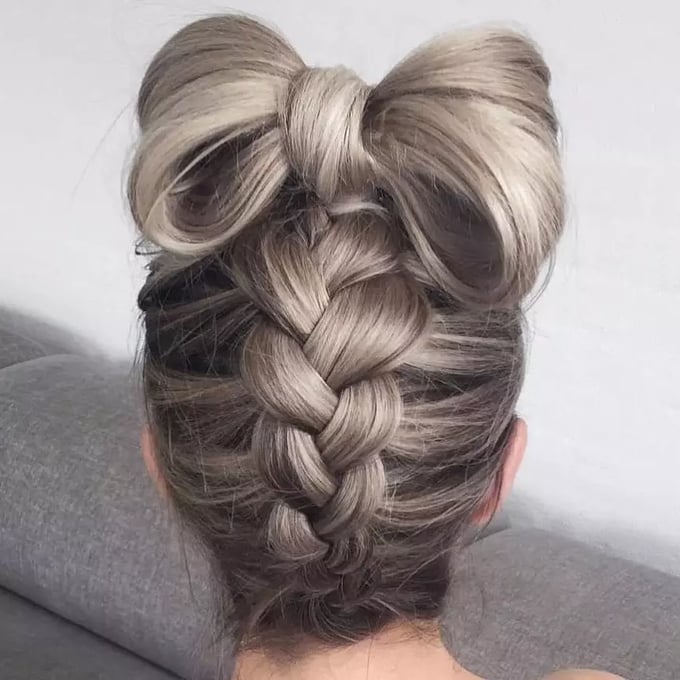 Turn your head upside down and create an upside-down braid using the lowest piece of your hair that is not trimmed.
The trick is to add hair below rather than over each part.
Loose French Braid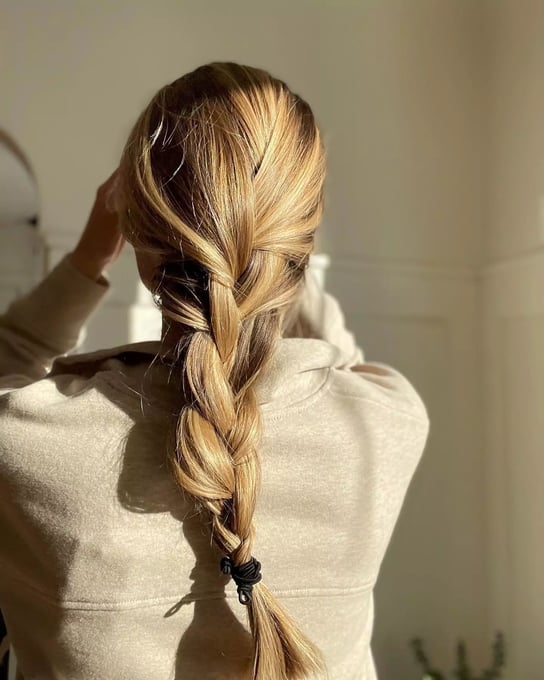 It's a typical braid that rises from the nape of the neck.
It will be easier if you continue to stand with your head upside down.
French Braid Crown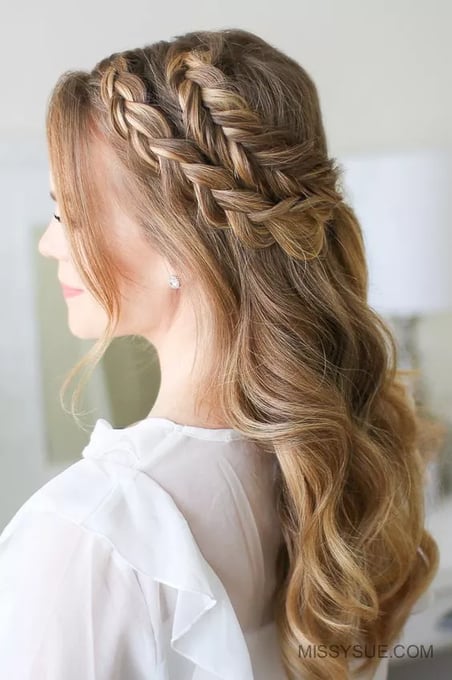 Making these braids across the head constitutes a French braid crown.
The appearance is harder to achieve than a traditional braid crown since a regular braid is created by simply dividing the hair into two places and braiding it.
French Braid Ponytail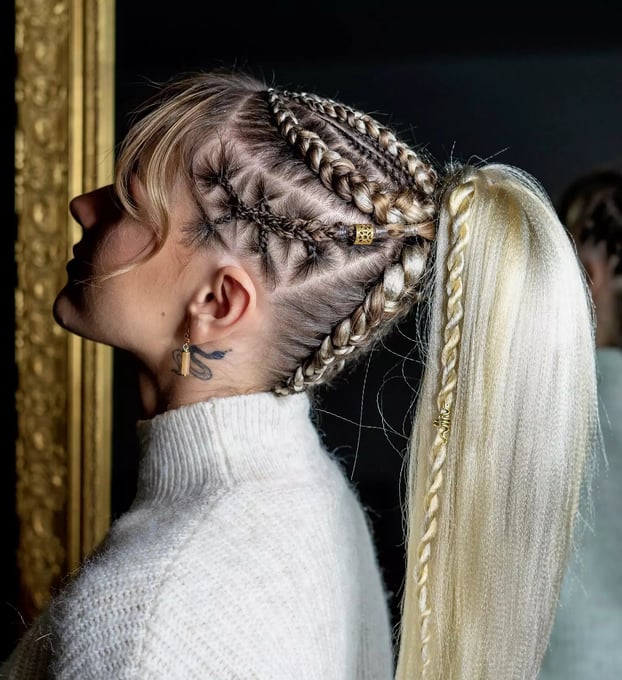 It's a fantastic technique to give a basic ponytail a bit of interest.
It is elegant enough for the workplace but also ideal for the weekends.
French Braid Mohawk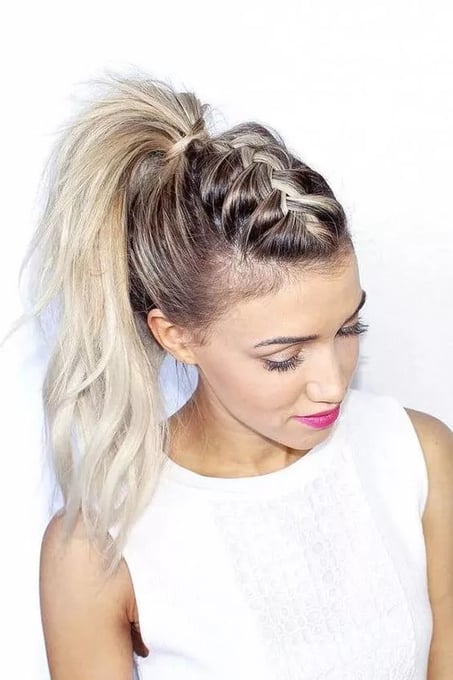 Native Americans from North America's Mohawk country are the source of the name.
The French mohawk braid style does not alter the structure of the hair since only the area surrounding the middle parting is considered.
French Braid Pros and Cons
Pros
Even when you are sleeping, it looks after your hair.
Your hair may remain nourished.
You can avoid frizz by using it.
It can prevent split ends.
It can help prevent hair breakage.
Cons
It may result in hair breakage.
It can result in hair loss (traction alopecia) if the braids are not properly placed.
Beautiful braids take time to achieve!
Depending on the sort of braids you get, they may become pricey.
Not advised: Braiding recently relaxed hair.
Dutch Braid Pros and Cons
Pros
It gives your hairstyle more interest. Your hair gains volume due to its 3D effect, especially if it is shorter.
It enhances your capacity for braiding hair.
It lends your appearance a carefree charm.
It presents you with bouncing waves once you've untangled them.
Several hair ornaments, such as flowers or brooches with jewels and gemstones, could give such braids an elegant and charming appearance.
Cons
May result in hair breakage.
If the braids are not placed properly, they may result in hair loss.
Making braids takes time.
Depending on the sort of braids you get, they may become pricey.
Not advised: Braiding recently relaxed hair.
Conclusion
French braids can last up to a few days, depending on styling. You can obtain two or three days of wear if the braid is tighter, you don't exercise a lot, and you sleep with a silk hat or scarf to keep your hair from frizzing. Loose braids, though, only last a day. French braids are among the simpler braiding styles, although they aren't meant to be permanent hairstyles.
FAQ's
How long does it take to French braid hair?
An optical illusion of sorts, a french braid takes a lot of work, but with the right technique, it only needs around 90 seconds.
How much for two French braids?
In addition to around eight packs of pre-stretched braiding hair, you should budget $75 to $175.
How long does a French braid last?
French braids can last up to a few days, depending on the type. You can obtain two or three days of wear if the braid is tighter, you don't exercise a lot, and you sleep with a silk hat or scarf to keep your hair from frizzing.
How much does it cost to get a French braid?
At most salons, you can get this done by a stylist. The price depends on where you live between $1,500 and $3,000 and how much hair you have.
Is it better to create 2 French braids wet or dry?
Your hair will be too heavy if you braid it while wet. When it's wet, your hair expands at least 15 times more than when it's dry. Try not to damage or weaken your hair.