Do you love Goddess Braids but are tired of trying typical hairstyles with them? Then you have good blog posts to lay your hands on some creative hairstyles. In this article, we have shared over 25+ iconic, such hairdos that are a must-try.
These hairstyles are gorgeous, easy to try, and highly flexible for any event. Based on our expertise, we have brought you some unique hairstyles on this particular hair design.
However, such hairstyles are way beyond to restrict within a limited form of hairdo and can also be quickly tried and tested out with other forms of hairstyles. By the end of the article, you will be getting ideas for some perfect hair looks that are highly reliable for every occasion. This will help you pick your best-suited hair design, thus easing your struggle to find an appropriate hairstyle for yourself.
To know more about this, keep reading below!
Goddess Braids with Curls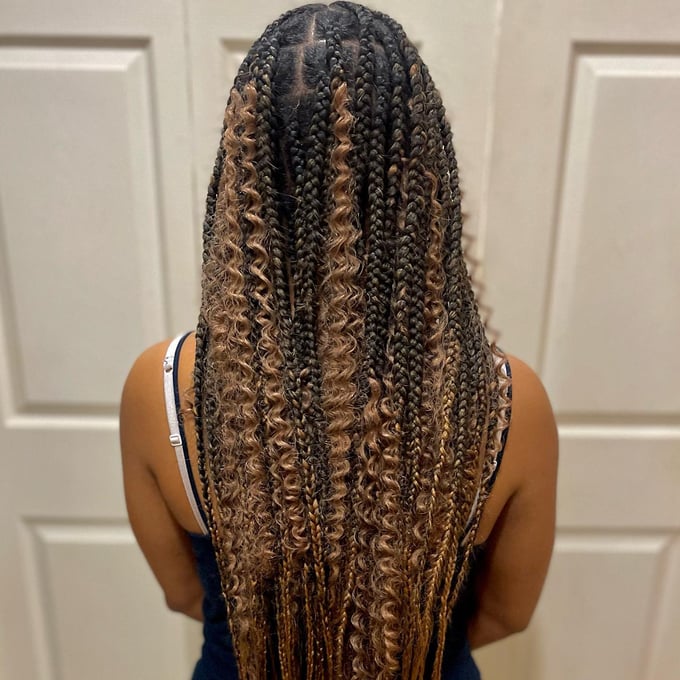 The best of both worlds can be yours with a hairstyle such as this with curls. You could maintain the lovely curls you want while keeping your hair in braids for protection. This appearance may be replicated by any individual with any hair, making it a universally flattering aesthetic.
Cornrow Goddess Braids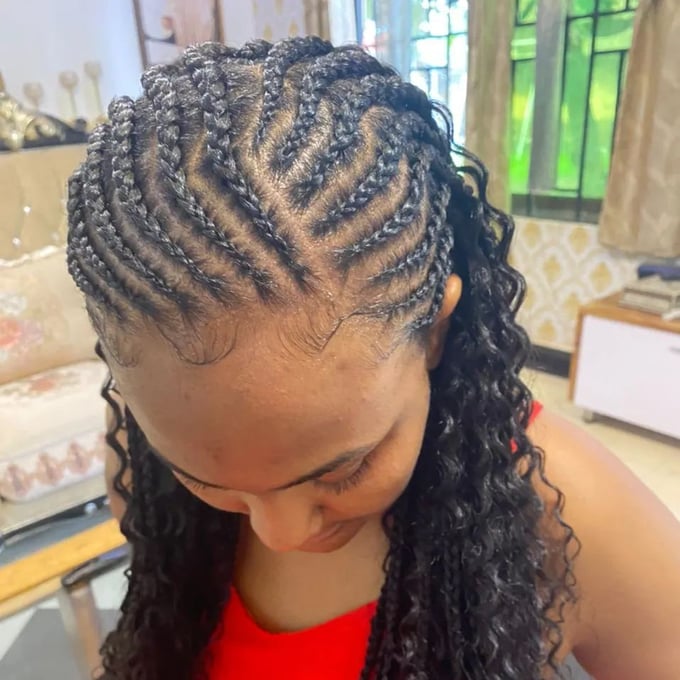 Among women of color, cornrow goddess braided hair are a preferred hairdo. You can achieve the look of long, tousled hair with this protective style without using extensions. These hairstyles are usually created by cornrowing your hair near the scalp and extending the cornrows. Following the desired look, hair extensions can be tight or loose.
Knotless Goddess Braids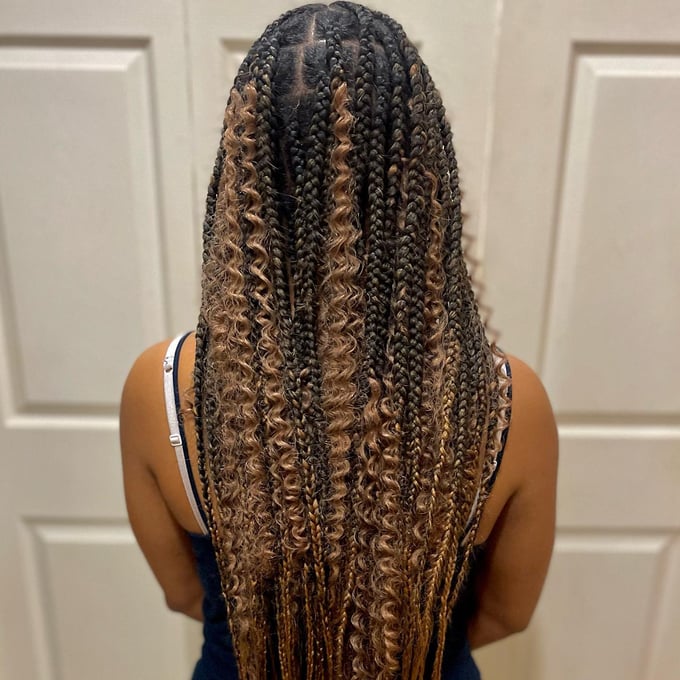 The knotless Goddess Braided hair look is a versatile hairstyle that anyone with hair texture can master. You may achieve the look by bundling your strands into a straightforward braid. Your hair will be protected and maintain its style if you tie this bun in a knot. If you're pressed for time, this look is a fantastic option because it can be completed quickly.
Mermaid Goddess Braids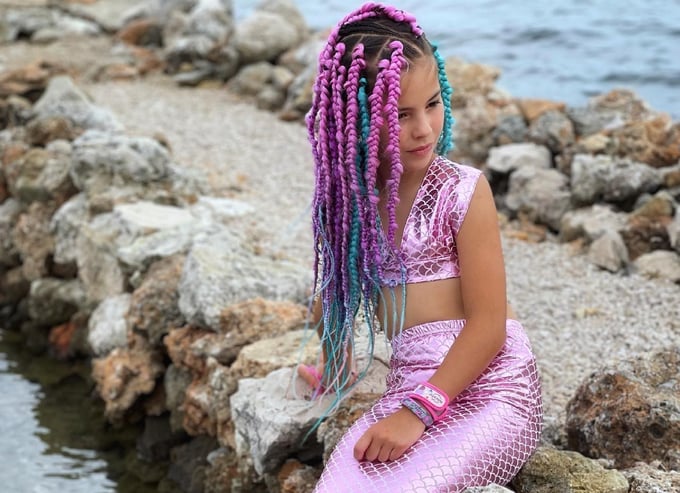 Such a hairstyle is especially advantageous for individuals with natural hair because it encourages hair development. Any season and occasion are suitable for this look.
Additionally, you won't need to worry about getting your hair done every morning because this hairstyle can stay for days. A protective and stylish hairdo can be created with mermaid goddess braids.
Goddess Braids Styles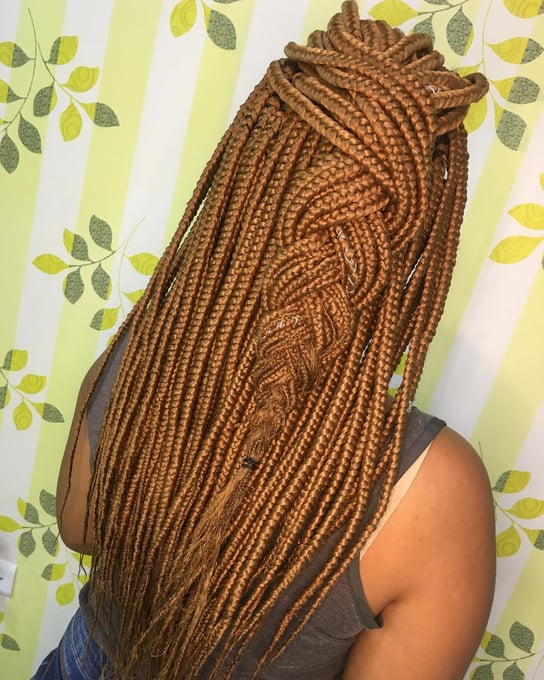 The hair can be braided into cornrows that lie flat on the head to create styles utilizing such a hair look. The braid can be styled in a wide range of ways, and fake hair can be applied for length and fullness. This style can remain for weeks with proper maintenance, which includes frequently nourishing the scalp and hair's ends, sleeping with a satin scarf or veil, and avoiding excessive manipulation.
2 Goddess Braids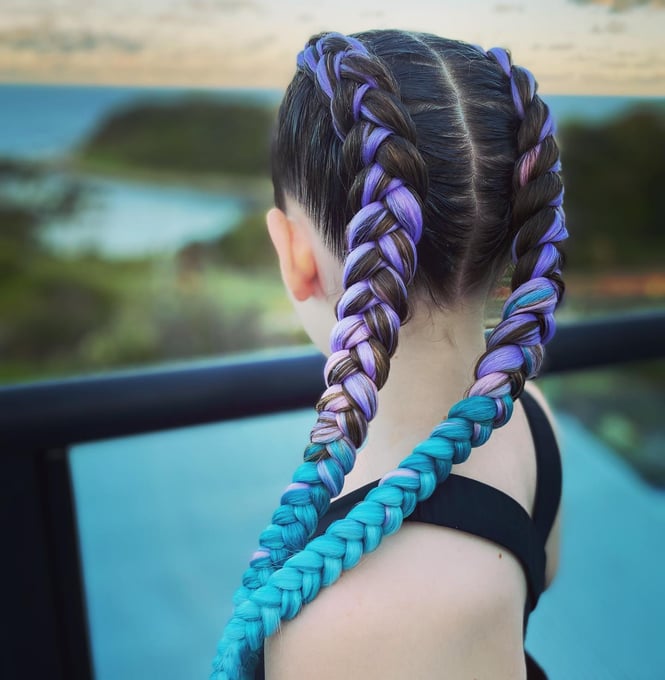 This hairstyle is a highly spiritual and aesthetic form of hair look. Generally, it is created with the help of synthetic fiber attached to our natural hair smoothly to provide a flawless, natural dimension to our look. Such a hairstyle is made on two sides of the head, braiding from the scalp till the bottom of the hair.
Goddess Braids updo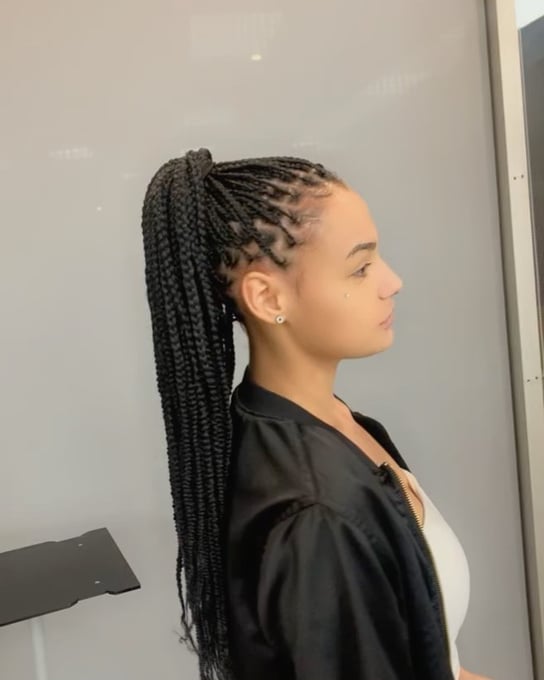 The hair is tied closely to the scalp to make this updo, and extensions are often used to add length and volume. Whether you are headed to the beach or a formal party, goddess braids are ideal for all occasions. Because of its capacity to encourage hair development, this look is suitable for individuals with natural hair.
Bun Goddess Braids updo Styles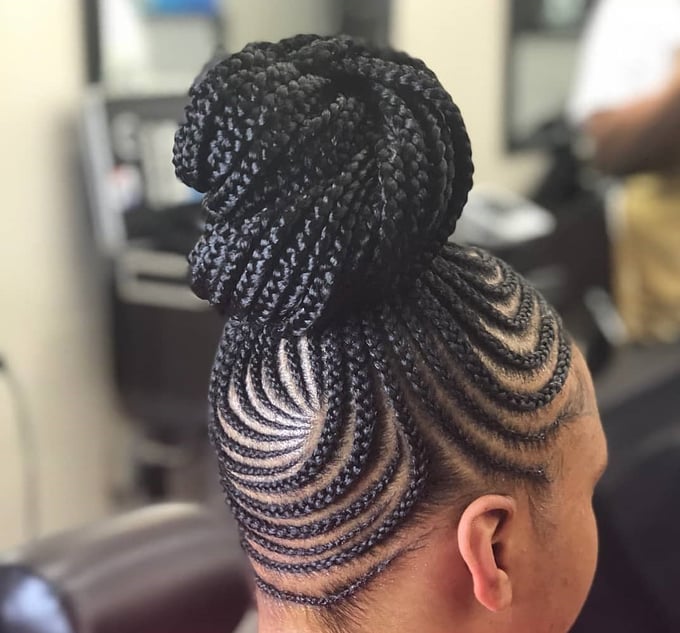 Try this look for a professional and sleek appearance without being concerned about your hair being in the way. Among African American women, this hairdo is typically very well-liked.
Crochet Goddess Braids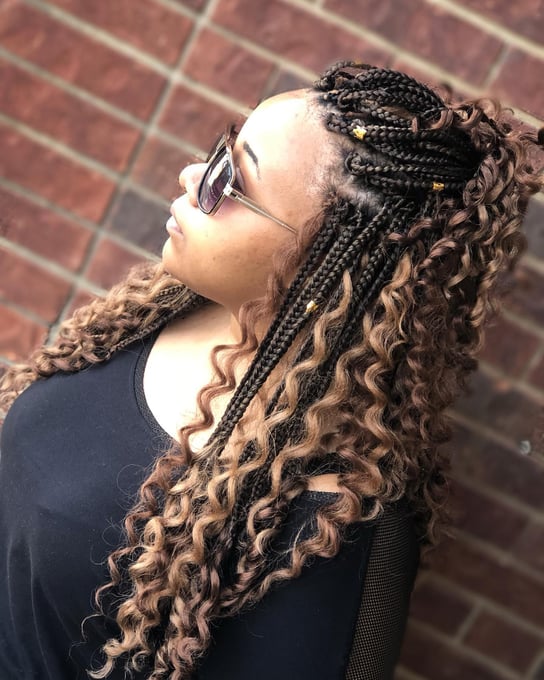 Most women wearing crochet goddess braids do so because they desire to flaunt their gorgeous hair. They are typically made of cotton and, with good care, could last a minimum of two weeks. It should be combed every day, and water should never touch it as this can weaken it.
When wearing it, be very careful to avoid letting it touch the floor as this could lead to it catching on to things.
Jumbo Goddess Braids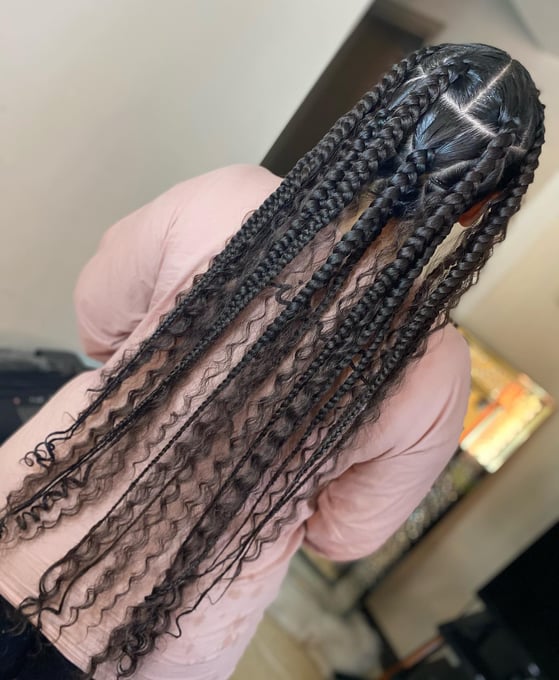 A protecting hairstyle is a set of Jumbo Goddess Braids. Individuals having long hair can wear this haircut; however, women of color tend to wear it the most frequently. Such hairstyles are unique because they don't need a lot of maintenance and can last for weeks. Certain safety measures should be taken when wearing this hairstyle, like not resting with the braids in place to prevent matting and breaking.
4 Goddess Braids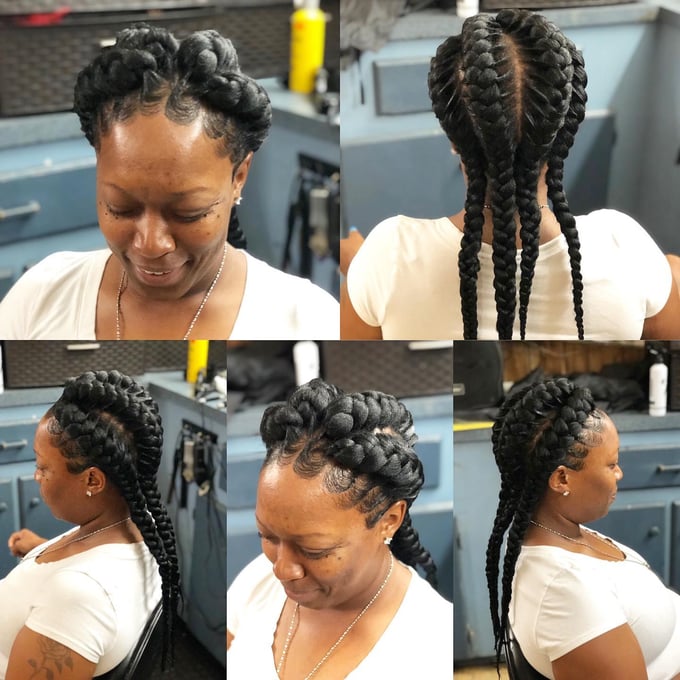 You can generate a goddess-like appearance with the aid of four goddess braids. Goddess braids look enchanting on anyone with long hair. These last several days are a great method to keep hair off your face.
Such a hairstyle is sophisticated and stylish and can last several days.
Feed in Goddess Braids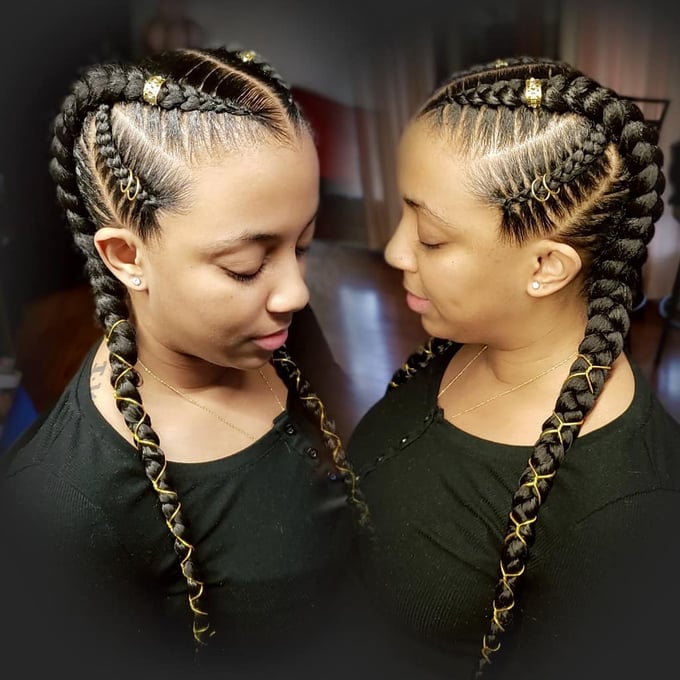 Such a hairstyle is a quick and simple way to give natural hair length and volume. Individuals with hair types can wear this protective style, which lasts for approximately two to three months. Goddess braided hairstyles are ideal if you're seeking a low-maintenance and fashionable hairstyle.
Short Goddess Braids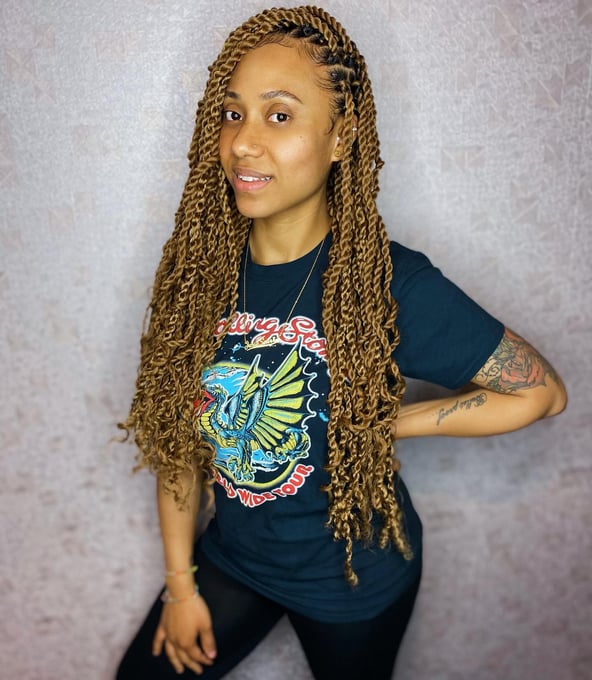 Short Goddess braided hairstyles are stunning, an elaborate hairdo that is suitable for any event. They can be worn for a range of events, along with a wedding or for any special occasion like a night out or a day at work.
Goddess braids that are shorter in length can be fashioned in a variety of ways. They can be styled in various ways, including chignons, ponytails, and buns.
Boho Goddess Braids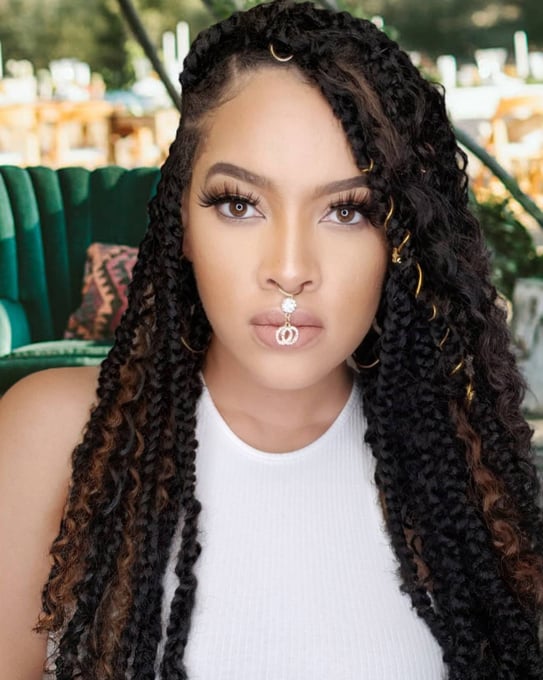 This hairstyle is a combination of Bohemian and Goddess braids. Such a hairstyle consists of boxed-braids starting right from the scalp, leaving the hair's ends undone in a wavy manner. This hairdo enhances the quality of the hair by adding volume to its looks.
If you love leaving their hair open after styling the first few layers of hair, this hair look is definitely worth trying!
Side Part Two Goddess Braids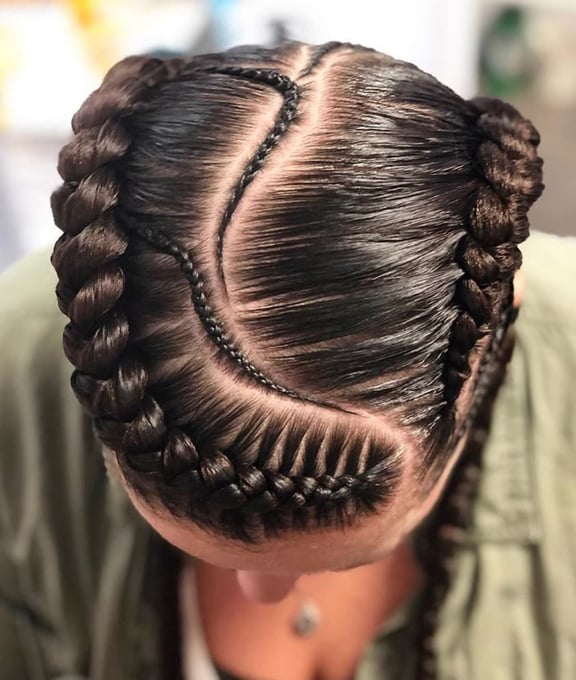 To recreate this hairstyle, part your hair on the side of your head. Once done, you can create your choice of goddess braids to give your hair a fuller look.There are numerous ways to style your hair using the goddess hairstyle look. You can choose your favorite hairstyle to enhance the look of your hair.
Goddess Braids Ponytail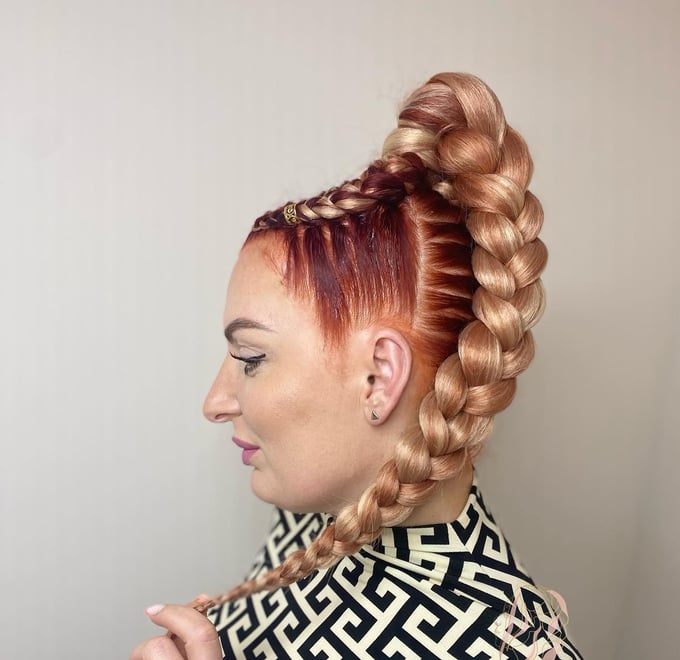 Try this hairstyle if you want to try something easy yet quirky. This hairstyle is a combination of two amazing hairstyles. You can choose how you would love to make a ponytail using this braiding style.
You can either make numerous braids from your scalp to your root and then tie them into a bun, or you can simply make one braid. Comb your hair thoroughly, and then make one single fluffy braid starting from the peak of your head to the roots. And that's it; you are all set to rock for the day!
Long Goddess Braids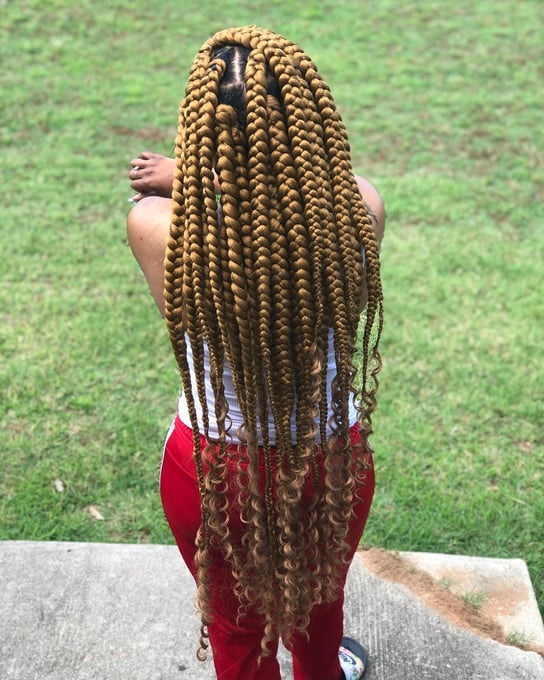 If you are looking for a hairstyle that you can complement your thin braided hair with, this hairstyle is for you. This hairstyle will not only make your thin braids look thicker, but it will also enhance the texture of your hair.
Make your desired goddess braids on your hair. Once done, gently pinch out the edges of your braids to create a soft look. This will make them look voluminous and enhance their texture.
Tribal Goddess Braids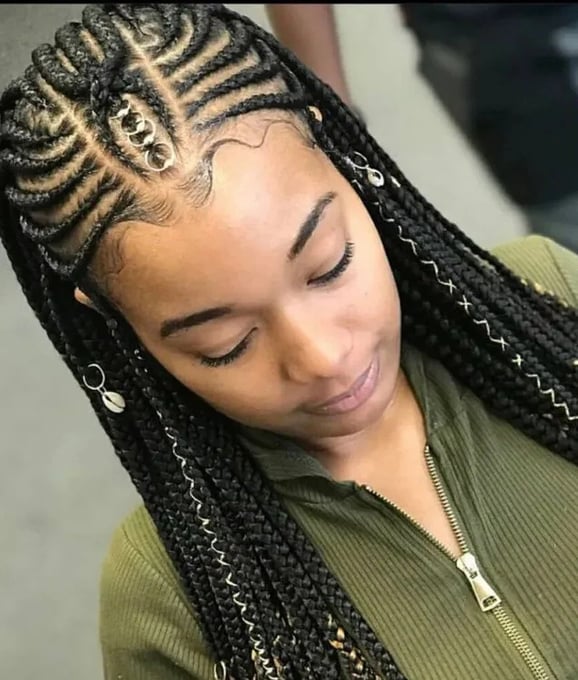 This hairstyle gives you many opportunities to style and experiment with your hair. Not only can you create a goddess-braided hair look using various tribal braids, but you can also choose the pattern you desire your hair to look like.
Such a flexible hairdo can be made with the help of both your natural and synthetic hair. Additionally, people of all hair lengths can choose to recreate this hair look.
Natural Hair Goddess Braids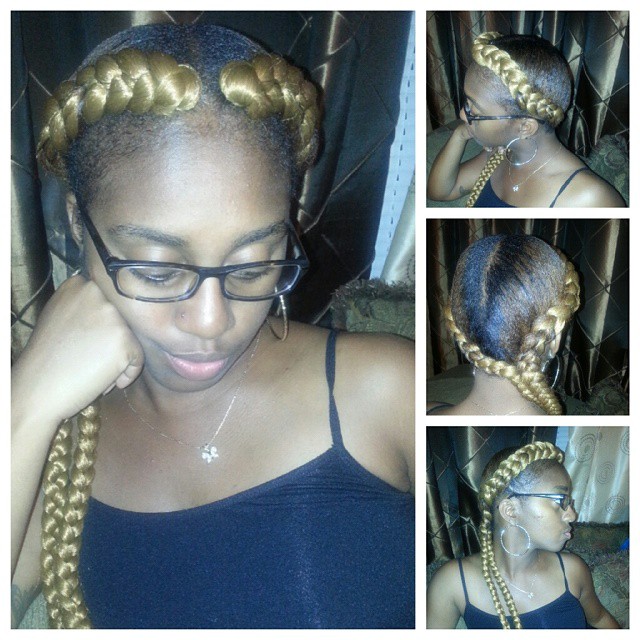 Are you looking for a hairstyle that you can easily create on your natural hair at home without using many products? Then this hairdo is your best bet! This hairstyle allows you to style in the most iconic way by making braids and wearing that as a crown around your head.
This hairdo is gorgeous and looks elegant and classy!
Goddess Braids with Beads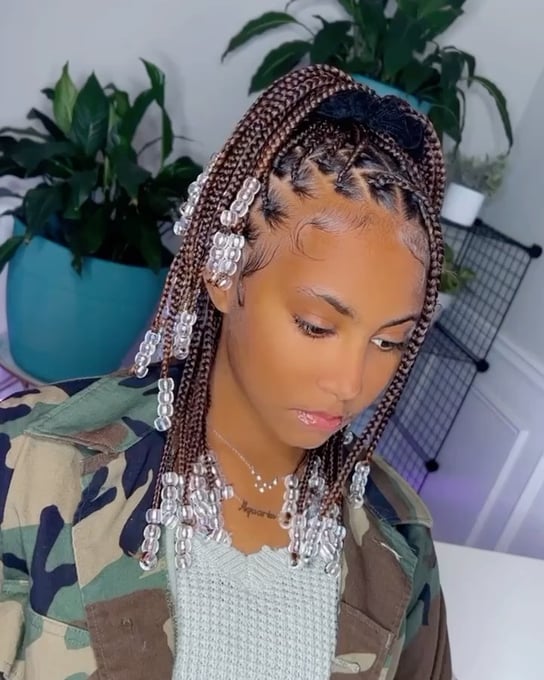 Goddess braids look aesthetic, but when paired with beads, it's hard to ignore the beauty of this hairstyle. The best thing about this hairstyle is you can complement your braids with beads of your choice.
You can either complement your braids with similar colored beads or dress them with neon or contrasting colors. Additionally, hair of all textures and lengths can easily win this hairstyle.
Ombre Goddess Braids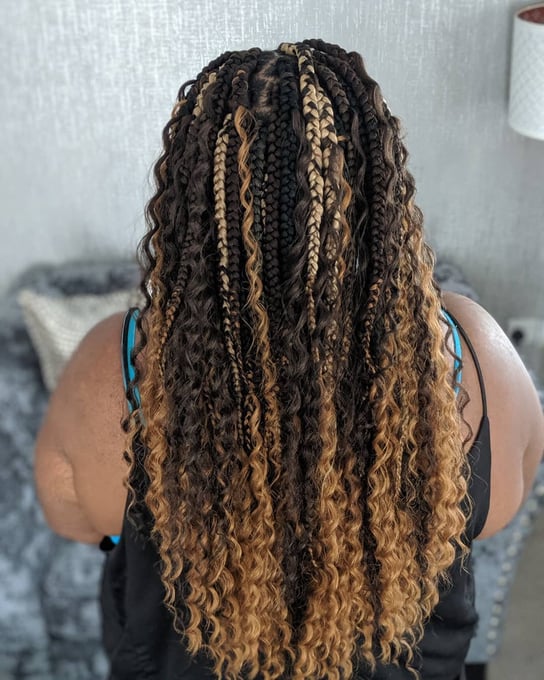 Suppose your hair consists of split hair color; then it up with this hairstyle to give them the ultimate look you want! Such a hairstyle usually looks great on hair colored with either ombre-black or ombre-dark brown.
Moreover, this hair color is very subtle; it usually highlights your braids by lightening the dark shade of your hair. This gives a hot and soft finish, highlighting your braids prominently.
Goddess Braids Weave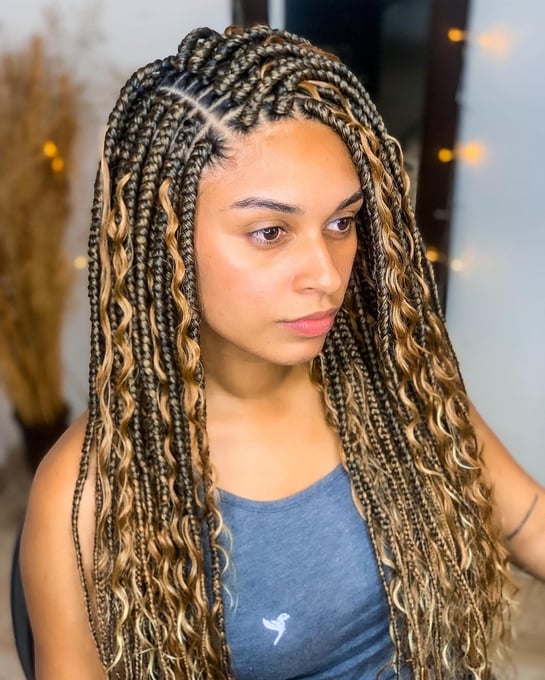 Hair weaves are a great source to recreate the desired hair look without causing much tension to the roots of your hair. Using synthetic hair, you can easily achieve your hairstyle by customizing your required texture and length.
Additionally, the weaves attached look natural on your hair, giving you a satisfactory result.
Lemonade Goddess Braids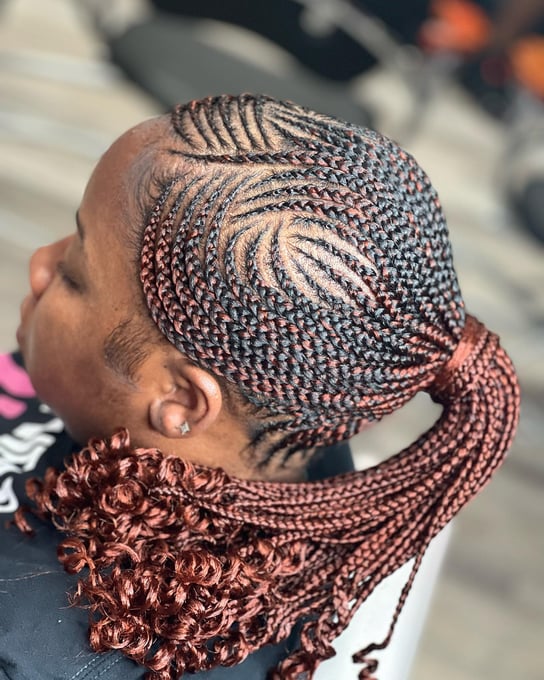 Such a hairstyle is simple, easy to create, and perfect for contrasting hairstyle textures. This hairdo can be easily achieved in multiple ways. The best way to create this look is by laying your braids one after the other in a contrasting manner. This will make your hair look stylish and simple at the same time.
Such hairstyles, if maintained, stay conveniently on your hair for 3-4 weeks.
Fulani Goddess Braids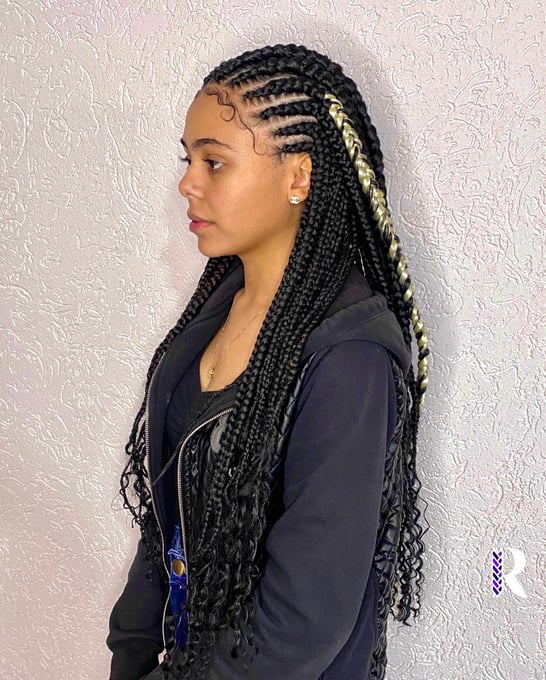 This hairstyle is a perfect combination of both box-braided and voluminous hair. Such a hairstyle can be easily worn for an everyday look. However, these hairstyles are mostly recommended to be worn on special occasions. Based on your preference, you can create 4-5 thick braids or make several thin strands.
Black Goddess Braids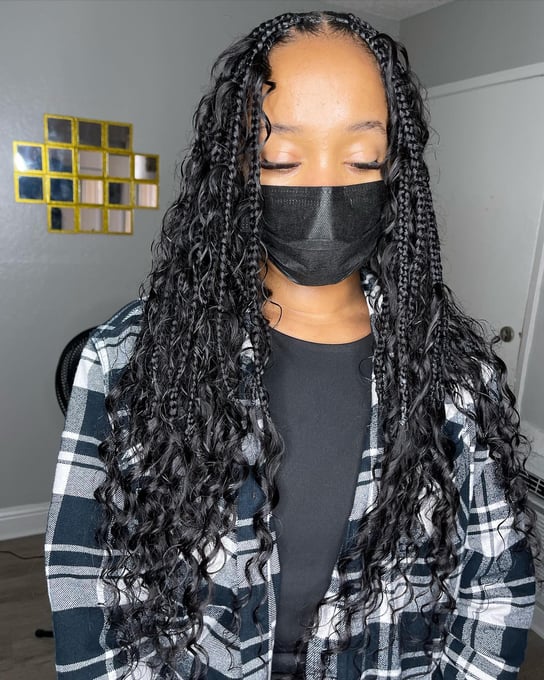 The Black Goddess braided hairstyle is a unique kind of hairstyle. Such hairstyles provide your hair with quality volume and boost the richness of your look.
Such a style makes you look bold, classy, and bossy, enhancing your attire's appearance.
Goddess Braids Styles 2022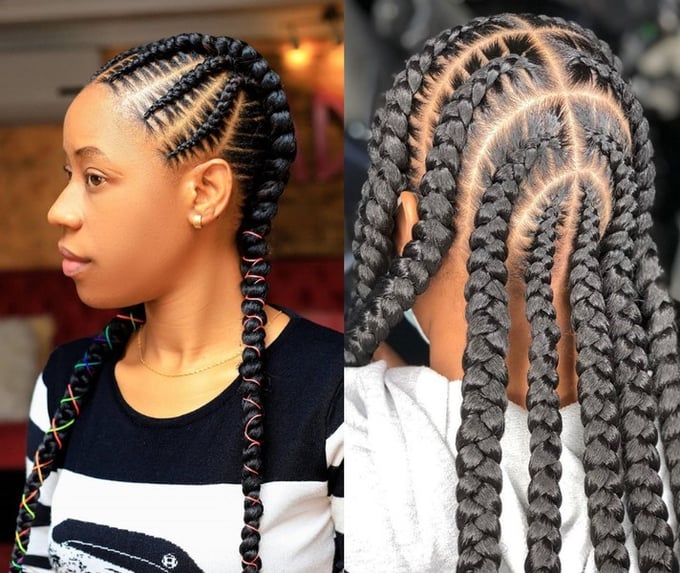 Goddess-braided hairstyles have been a lot in trend lately. However, there are a few styles of Goddess braided hair look that are recreated often and are trendy enough to try once.
Some of these hairstyles that are in demand currently are The Goddess Braids with weaves, the Ombre Goddess braids, Bun Goddess braids, updo styles, and Long goddess braids.
Goddess Box Braids Bob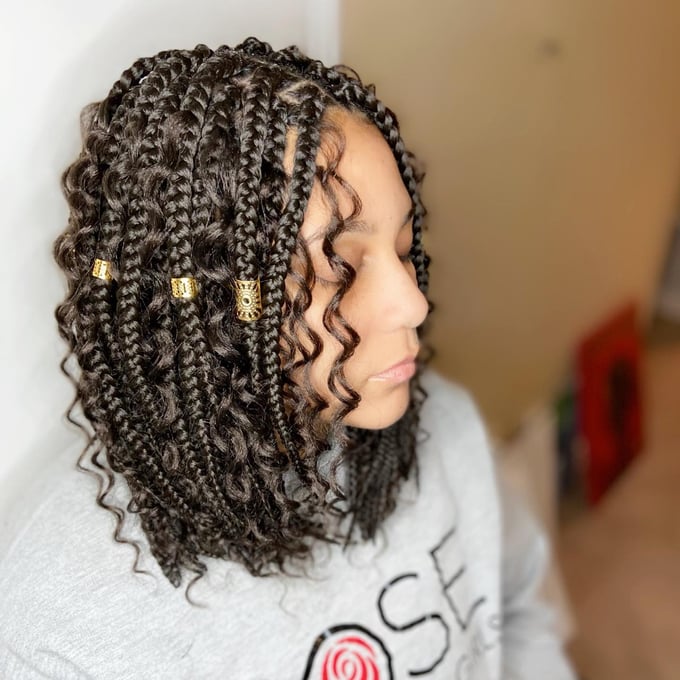 This hairstyle is quite a challenging hairstyle and is best recommended for novices to get this hairstyle done with the help of a professional. Such a hairstyle is quite unique and has various hairstyle patterns, making it easier for one to choose from a vast range of hair designs.
Although this hair look is time-consuming, the after-result is worth the effort!
Goddess Box Braids Medium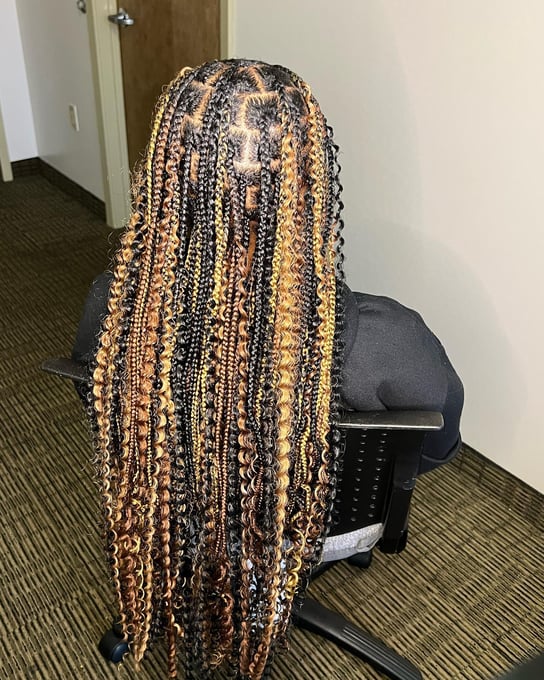 Last but not least, this hairstyle is best suited for individuals with medium hair length. This hair look can also be achieved by people having short hair by gluing hair extensions to add their desired length to their hair.
Such a hairstyle not only makes the hair look stylish but also helps to keep the hair in place, protecting them from getting damaged.
Reference
Note – The credit of the pictures and images shown in our website for illustrative purposes, goes to Pinterest and Instagram.
FAQs
What are goddess braids?
Goddess braids can be defined as an upgraded version of cornrows. Usually, such hairstyles have thick volume, and the braids appear to be much longer. 
How long do goddess braids last?
Generally, these braids require low maintenance. Therefore, their life expectancy can be considered somewhere between 4-8 weeks at the max. 
What do you need for goddess box braids?
To achieve this hairstyle, you will need around 3 packets of Cuban twisted braiding hair. Additionally, you will also need a minimum of 2 packets of Freetress strong curvy braiding hair for the ends.
How long do goddess box braids take?
Based on the type of hairstyle you want to create with this hairdo, it can take anywhere between 4-8 hours. 
How much do knotless box braids cost?
The cost of the knotless box braids depends on the experience of the professional, the length of your hair, and the design you desire to achieve. However, such a hairstyle costs somewhere around $150 – $600.