Knotless box braids are just an honest, lovely, and feminine way to show their independence and creativity. You should wear Knotless box braids without knots in your hair.
In addition to looking effortlessly cool, they are also adaptable, appealing, and protective, harming your hair less than conventional box braids. Box braids, a feed in braids, need not exert pressure on your scalp with just an "anchor knot." Instead, to avoid breakage and ruin your edges, the hairdresser gently weaves the braided hair into your natural strand to produce a seamless finish.
Medium Knotless Box Braids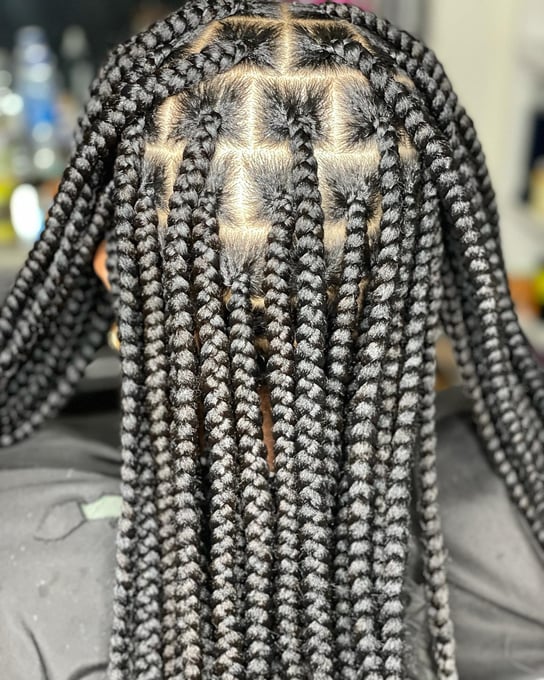 One of the most well-liked preventive Hairstyles is the box braid, which has square-shaped segments that give it a boxy look. Although box braids come in various colors, widths, and lengths, choosing medium knotless braids gives you the best of all worlds, as they're both lightweight and adaptable. You may achieve a smooth, realistic finish by using the knotless technique, which would be a great way to showcase the hair.
Jumbo Knotless Box Braids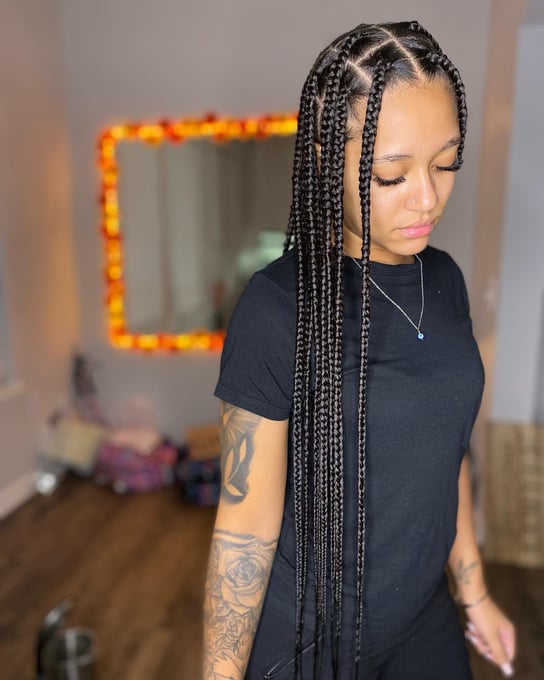 To begin braiding, You must separate your hair into three sections. Put the weave underneath your hair to cover the knot. To keep your natural hair visible instead of the weave, begin the braiding pattern over rather than under. Your hair will be on top while you proceed to braid over. The knot is hidden, creating the appearance of braids. A perfect Jumbo knotless braid is the end product.
Small Knotless Box Braids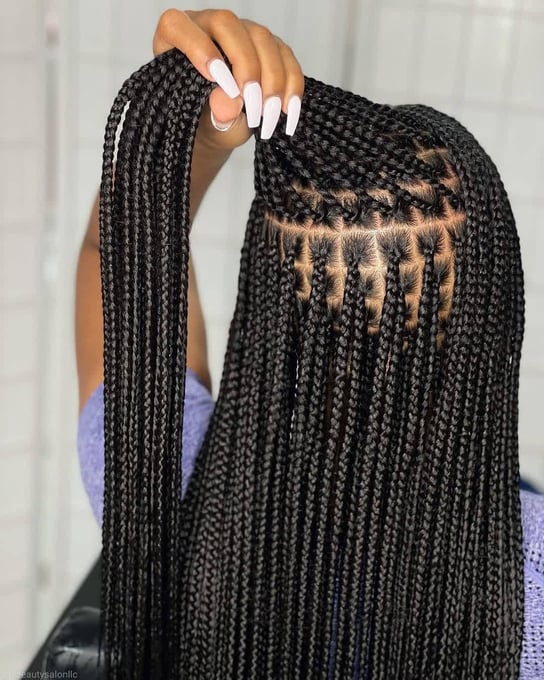 The benefits of knotless braids include their gentleness on the scalp with a lack of tension; instead of a knot, they have been braided into the natural hair for a more seamless appearance. You could do small braids however you like, whether long or short, and therefore are lightweight and attractive.
Large Knotless Box Braids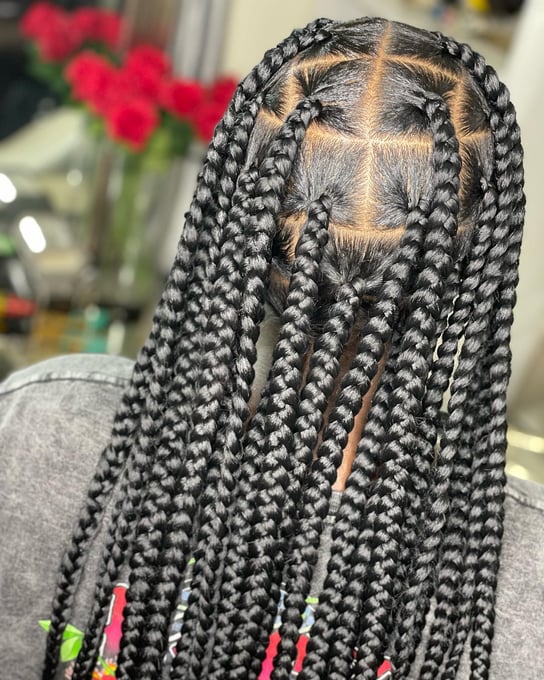 Although not exactly as thick as jumbo braids, huge knotless braids were larger than medium-sized ones. They lessen the strain on your scalp as there are generally fewer pieces than with larger box braids. Additionally, the braid's weight is dispersed more than a larger surface area. Large knotless braids look great at any length. You possess fewer options for styling if yours have a shorter side. But you can include statement-making accessories like rings and beads.
Knotless Box Braids with Beads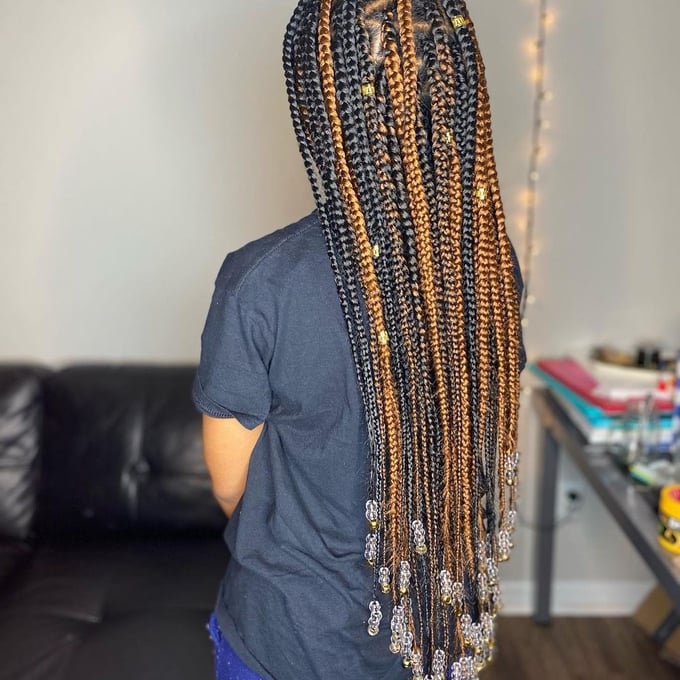 Box knotless braids are famous all around the world for how adaptable they are. Before creating the knotless braids, your hairstylist can divide your hair into square portions. Even though sectioning requires some effort, you will adore the results because you will look gorgeous.
Big Knotless Box Braids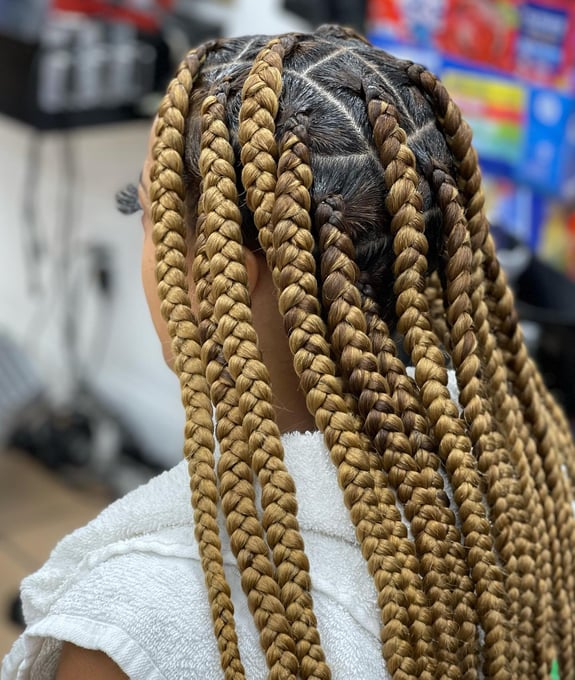 Jumbo braids, as we all know, are pretty thick, but some people would like braids that are much more noticeable. You may see the large giant knotless braids with only six on their head. They are outspoken and highly appreciable.
Short Knotless Box Braids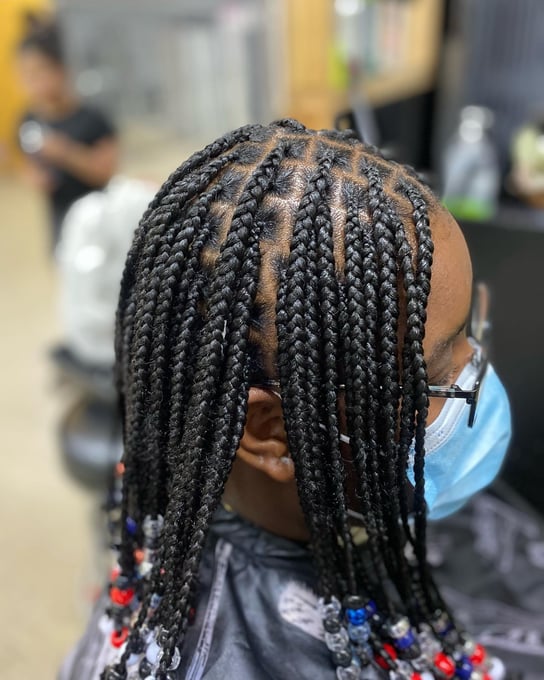 These days, it's pretty uncommon to have short hair, knotless braids, and no extensions. But if it's precisely what your soul wants, who cares, girl? Go for it and make the simple regimen you used to have for your short hair more complicated.
Knotless Box Braids with Curls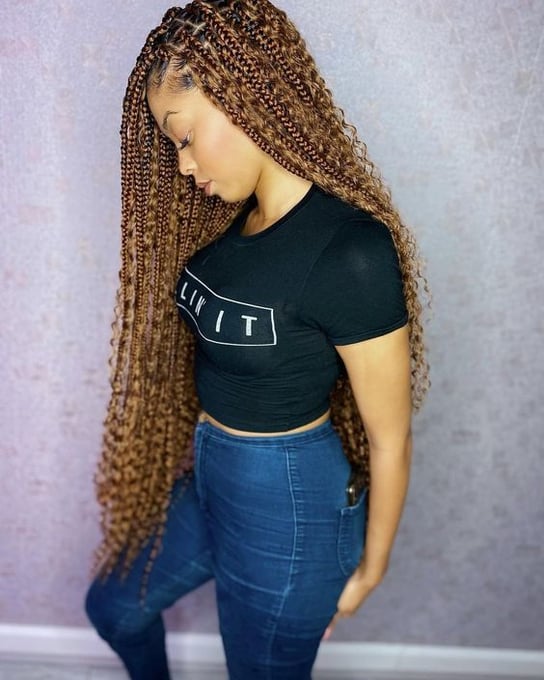 Your braids will look more feminine and attractive if you make the ends wavy. Knotless braids can be styled in various ways and, therefore, adaptable. However, the technique is frequently more pleasant and helps ease scalp strain. While the length and thickness of your braids are entirely up to you, picking curly braids between medium or lengthy will also have the most significant impact. The curls in long, free hair can frame the side of the face and soften it if you let it fall in place.
Bohemian Knotless Box Braids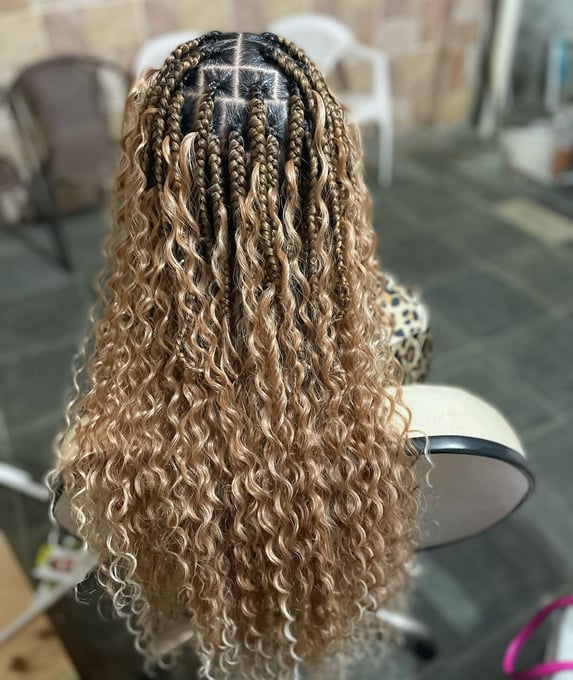 The boho style can maintain its breeze and be attractive with knotless braids. No rules apply to this hairstyle; the goal is to be unique and free-flowing. Consider incorporating fabric, threads, and natural elements like cowrie shells into your outfit. The simplest way of giving your knotless braids a bohemian feel is to leave the ends free. And you are making each braid unique rather than trying for a consistent appearance.
Knotless Box Braids Hairstyles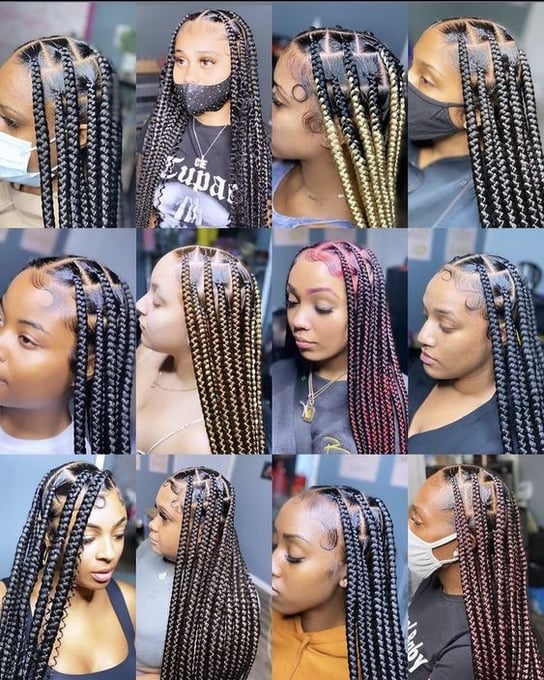 Since the braiding begins at the hair's root, box braids are more unpleasant. The hair accessories are applied as soon as the braiding is finished. In knotless braids, It adds hair attachments after you have braided the natural hair. They are less painful than box braids because of this. Knotless braids take longer to make or cost more money to buy than box braids. Prices for braiders will differ, though.
Goddess Knotless Box Braids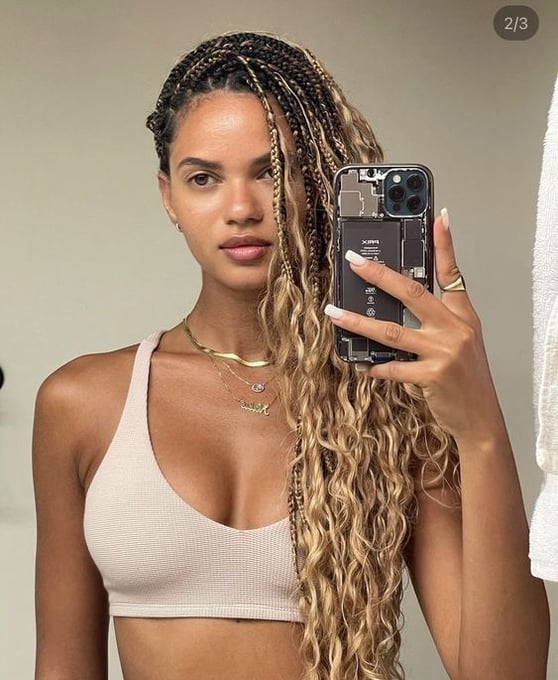 Goddess braids are just a feminine but fashionable option; however they do not last as long as most preventive styles—they are only effective for two to four weeks. Thicker cornrows are tightly braided to the scalp to achieve the style. You can change such braids to meet your tastes and show off your style and individuality because of their exceptional versatility. You could use thick braids or experiment with new lengths. Goddess braids are excellent for reducing friction or breakage, and they will promote organic hair development. Wire, vibrant string, and various glass and wood beads are just a few examples of hair accessories you can use to represent yourself.
Knotless Box Braids with Color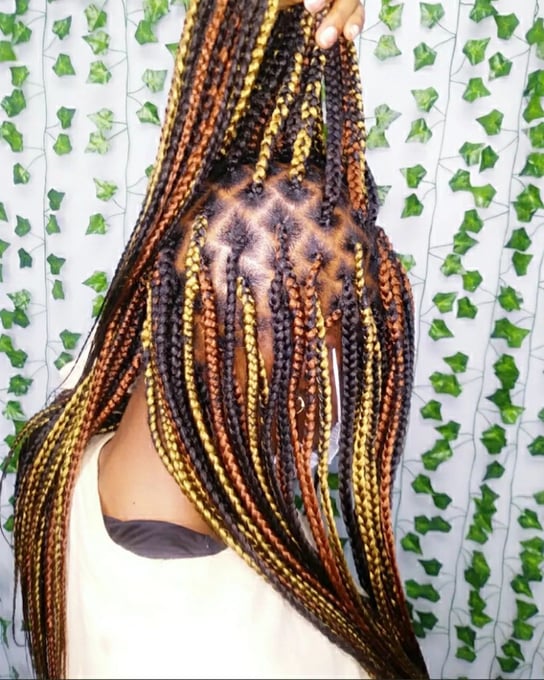 You can choose to have specific colors applied to various regions of your head or a color blend on your braids of mixed colors. When you're through with the color braids, lay your borders and add a little mousse to your head so that you are proficient at color braiding.
Waist-length Knotless Box Braids
Try waist-length knotless braids for the hairstyle that will turn heads. This style's stunning and feminine charm will make you stand out wherever you go. In addition to being adaptable, waist-length braids allow you to express your creativity in styling. If you want to change their braids daily, you can try a half-up, or half-down style, add beads, rings, cowrie shells, or even ribbons. They also look excellent worn loose.
Blonde Knotless Box Braids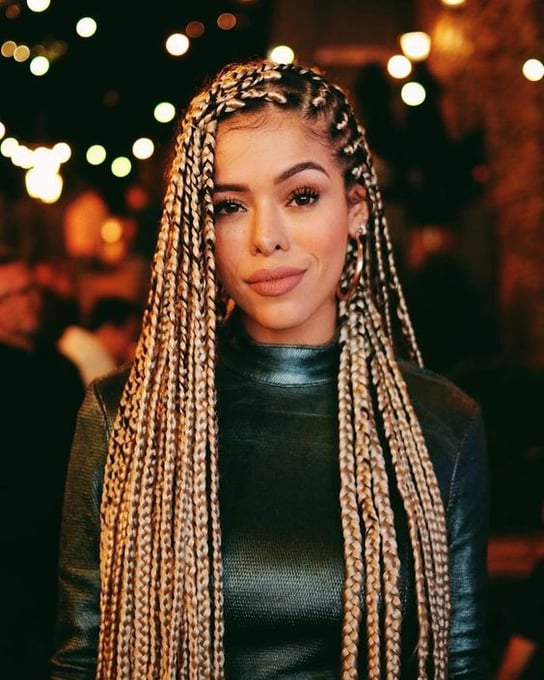 Blonde hair is incredibly stylish and attractive, particularly with deep skin tones. The best way to try the look without damaging your natural hair by bleaching it or adding knots would be with knotless blonde braids. You will distinguish yourself from the crowd whether you choose cold platinum blonde braids or a softer honey blonde. If you want to draw attention to yourself, try wearing knotless box braids that seem waist-length.
Knotless Box Braids with Curly Ends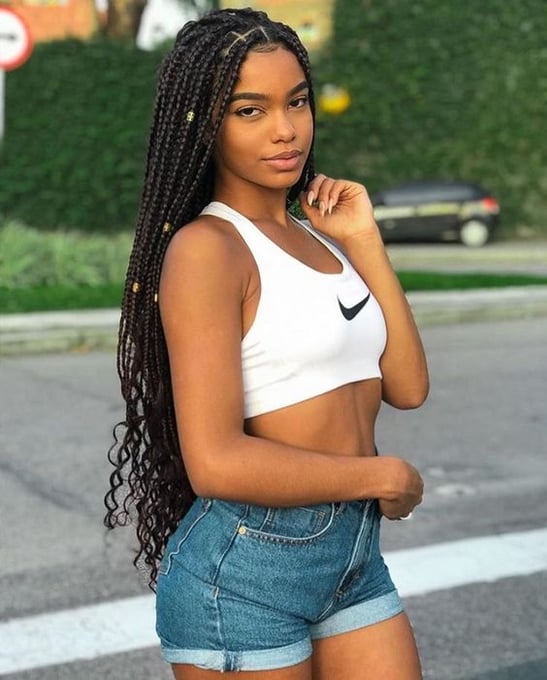 Do you want to add flair to your braids to make them look gorgeous and glamorous? Take a look at these braids featuring curly ends. These braids, which start at chin length, loosen up into curls. They are stylish as well as simple to wear.
Knotless Box Braids with Heart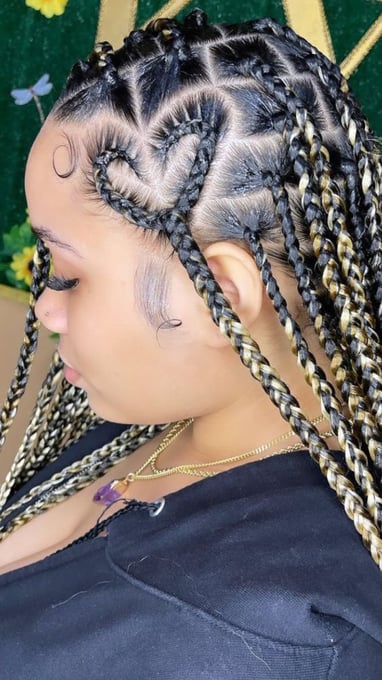 Think about the ideal hairdo for a date night or Valentine's Day. Well, anything with the word "red" in it is entirely appropriate! And why are you waiting if you're choosing the heart braid? This fashion is fundamental yet hints at something everyone wants in their lives. The heart-shaped design has been created with red braiding hair, which complements the nicely executed knotless braids. You must try it now because the red braids and the colorful curled ends are so gorgeous!
Triangle Knotless Box Braids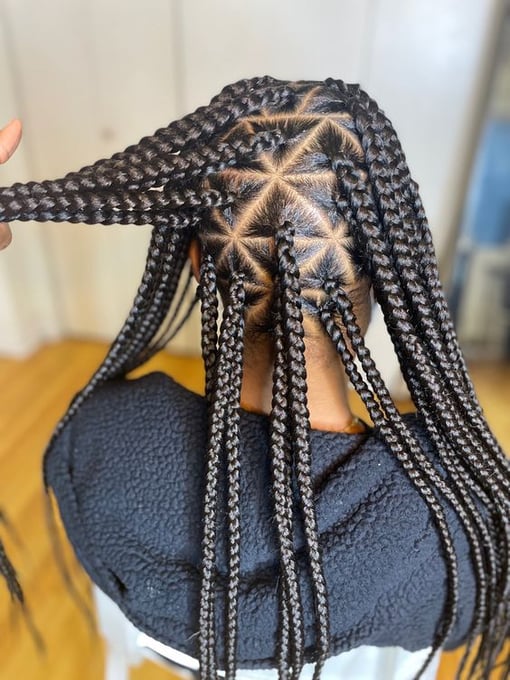 Box braids in triangles are a distinctive look that will give your hair a modern feel. The two-toned hair colors and star-shaped pattern it produces will undoubtedly draw attention, and the most significant part is that the style lasts for four to six weeks.
Conclusion
Knotless braids are identical to traditional three-strand box braids in all respects. They are available in a range of sizes and shapes. Traditional box braids start with a tiny knot at the root, whereas knotless braids do not. This is the main difference. Usually, this knot is used to hold braided hair in place.
Reference
Note – The credit of the pictures and images shown in our website for illustrative purposes, goes to Pinterest and Instagram
FAQs
How long do knotless box braids last?
You should only wear a protective style installation long enough to give your hair a break. While some preventive hairstyles, such as knotless braids, can be worn for up to 8 weeks, we advise only wearing them for 4-6 weeks to prevent any long-term harm to the hair beneath.
How much should knotless box braids cost?
The cost of knotless braids is mainly influenced by where you reside and the braider's level of expertise. However, you would often pay between $150 to $600 for them.
Do knotless braids hurt less?
The pain-free feature of knotless braids is by far the best comfort. Experts and women concur that having one's hair braided is more enjoyable when the tight knots are removed.
What kind of braids is suitable for thin hair?
Box braids are a protective hairstyle that separates natural hair into parts resembling boxes. The natural hair is then braided with the extensions. If you have thin and fine hair, this will help you increase the length or thickness of your hair.
Which is better: knotless or regular box braids?
They reveal more natural hair at the root than traditional braids; knotless braids tend to become frizzier much sooner. Therefore, conventional box braids are a better choice if you seek a protective style that can stay for more than two months.