One of the most trendy hairstyles that are into gossip these days is Lemonade Braids. If you ask why? Well because they are not only amazing but unique as well. Hairstyles play a vital role in our day-to-day life as it helps change our look. Therefore, this hair look will enhance your appearance and help break your daily monotonous look.
This hairstyle comes in numerous types and they all are simply gorgeous and a must to try out. Additionally, this hairstyle can be easily tried out with hair of all types. One major advantage of this hairstyle is that they are suitable for any occasion. So if you are about to hit a party or getting ready for your Monday morning, this hairstyle is always a savior.
Concerning the respective Hairstyles, below we have enlisted its various types helping you to understand their type and style in a detailed manner. Excited to know more? Continue reading below!
Lemonade Braids with Heart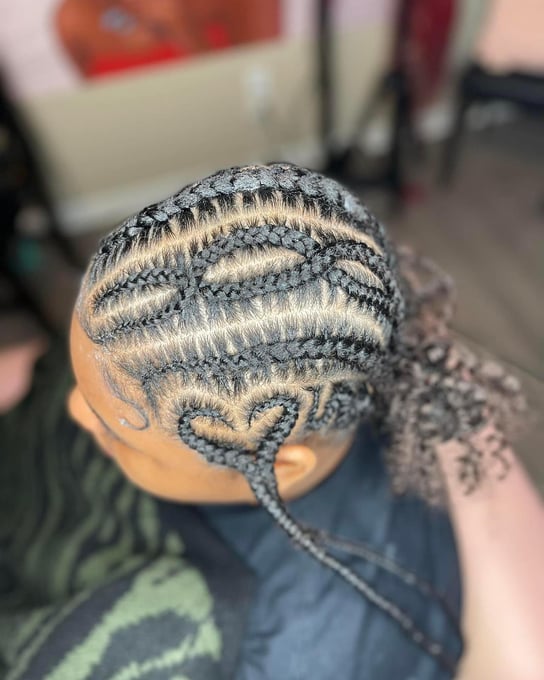 This is one of the most trendy hairstyles in lemonade braids. This hair look with hearts are usually hairstyles with hearts created with the help of lemonade braids. Such a hair look can form from one to various heart shapes on the scalp.
Ponytail Lemonade Braids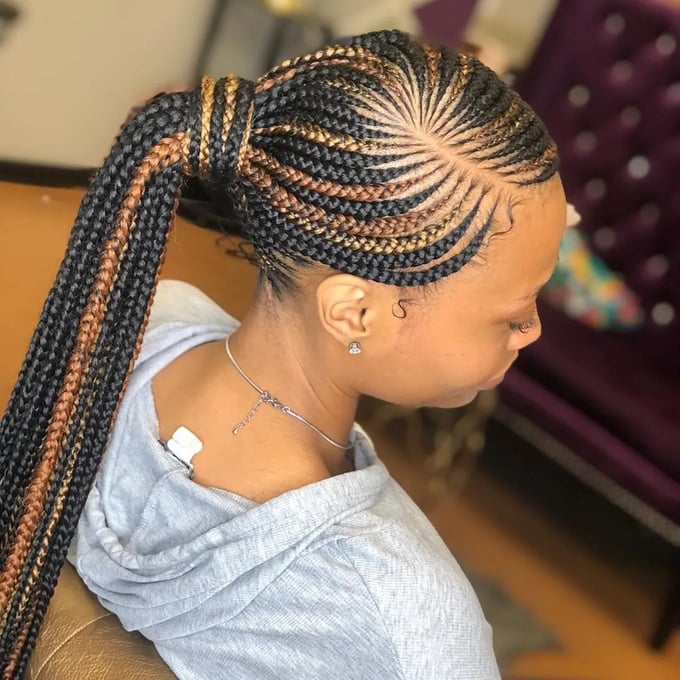 This type of hairstyle comes in the form of braided ponytails that indulges braids starting from the root to the tips of the hair. In such hairstyles, the braided length of the hair is typically used to create a subtle ponytail.
Ghana Lemonade Braids
These are the oldest forms of hairstyle that are in practice for ages within the Ghanaian culture. Despite being quite similar to cornrows, the extensions have made them appear much thicker. The Ghana braids are essential to try out as they can be worn in numerous styles.
Cornrow Lemonade Braids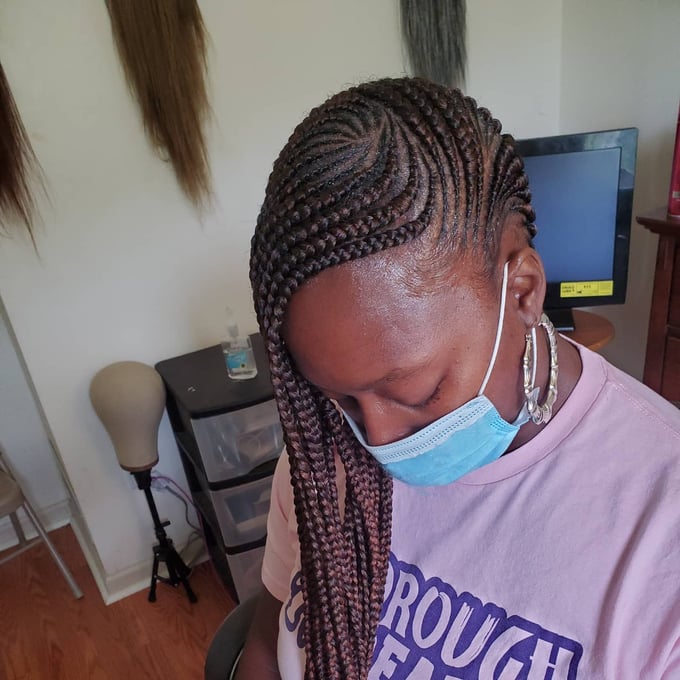 Long side-swept cornrows that typically extend either past your chest or waist are cornrow lemonade braids. They can be easily done using your natural hair or using extensions. Usually, they last up to a maximum of 4 weeks. It's a nice alternative for a glitzy appearance at any season of the year.
Side Lemonade Braids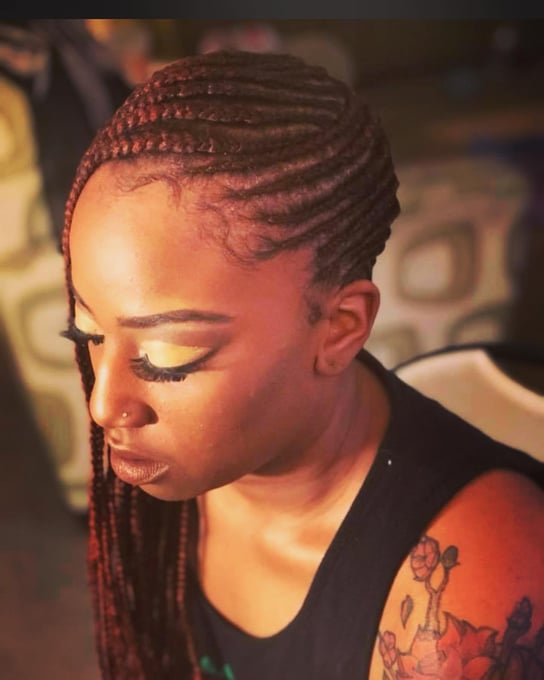 Such hairstyles are usually made on a side partitioned hair. Such a hairstyle is quite stunning, plus appears to be much more gorgeous when they are large lemon braids. The larger size provides the hairstyle with quality volume and looks great when paired with recently styled baby hair.
Medium Lemonade Braids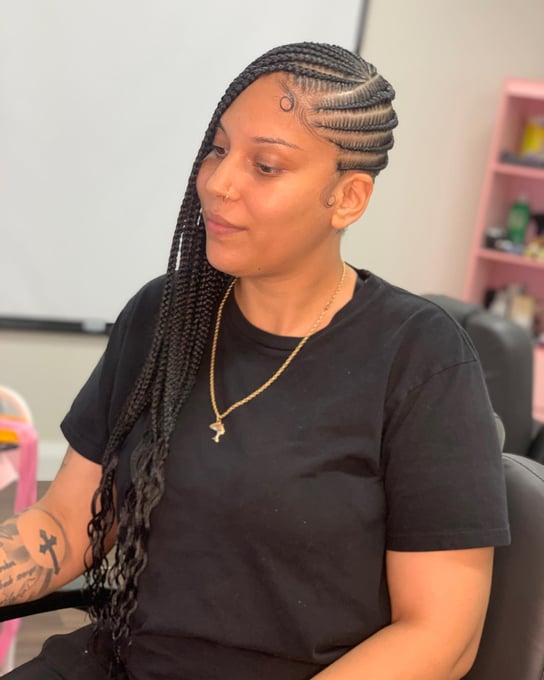 The "Lemonade album," in which Beyonce often wore a side cornrow style, influenced the name of the braid. In a manner, they are braids that come in a "combo offer". This hairstyle is a fusion of Fulani braided style, with cornrows with some Goddess braids, along with a massive amount of folded edges and lastly feed-ins.
Jumbo Lemonade Braids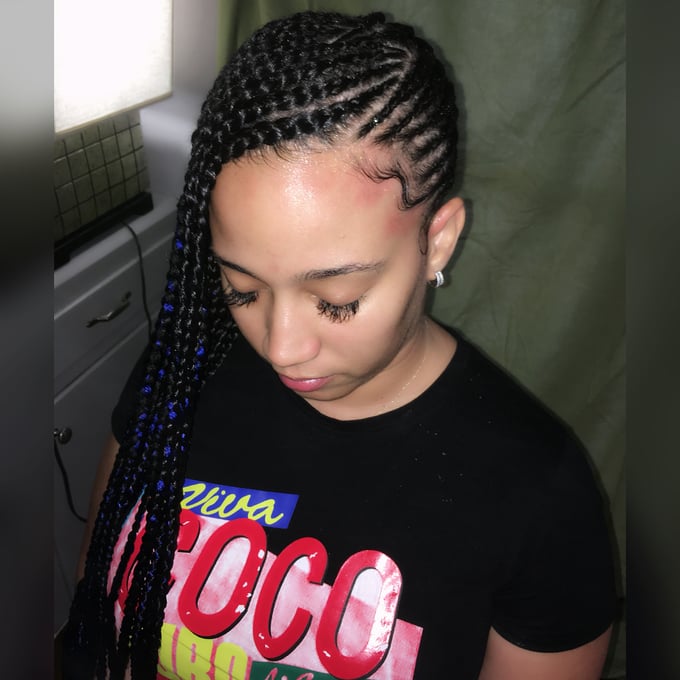 This hair look is made solely on one side of the hair, that is big and simple to create, having a gorgeous pattern. This hairstyle is elegant and simple to wear, and it looks really good on anyone and everyone.
Small Lemonade Braids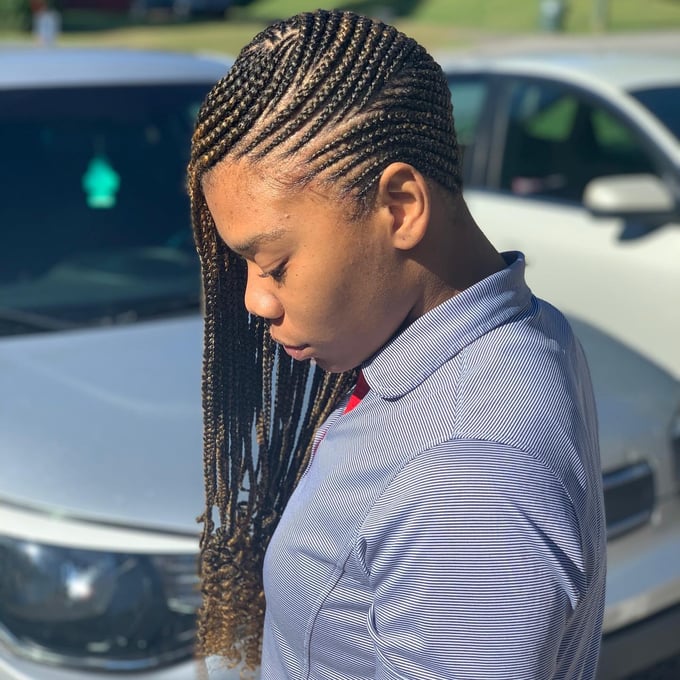 Braids that are short to medium in length are lightweight and cozy, known as Small Lemonade Braids. Such types of braids usually take a couple of minutes to dry after rinsing. This hairstyle is the best option for children who are getting their hair plaited for the first time.
Lemonade Braids For Kids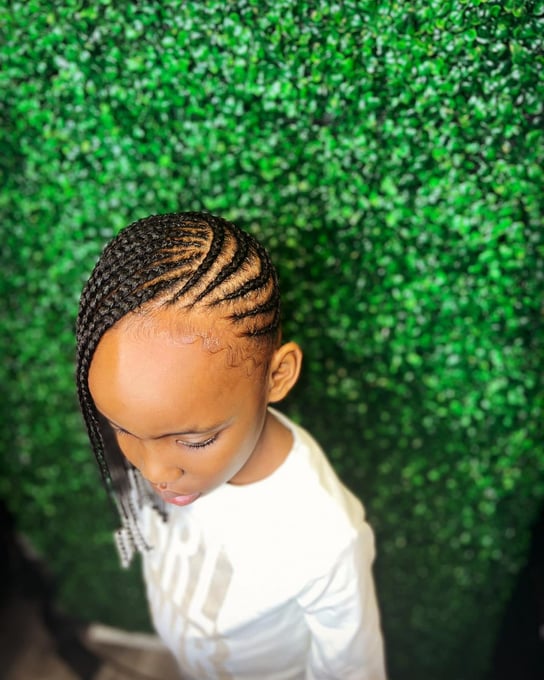 For young girls, side-swept cornrows in various widths and lengths are described as lemonade braids. This hairstyle protects the hair from getting damaged and allows it to stay in one place intact. Such hair styles can be easily worn at any special events such as weddings, anniversaries, birthdays, and much more.
Lemonade Braids With Heart Designs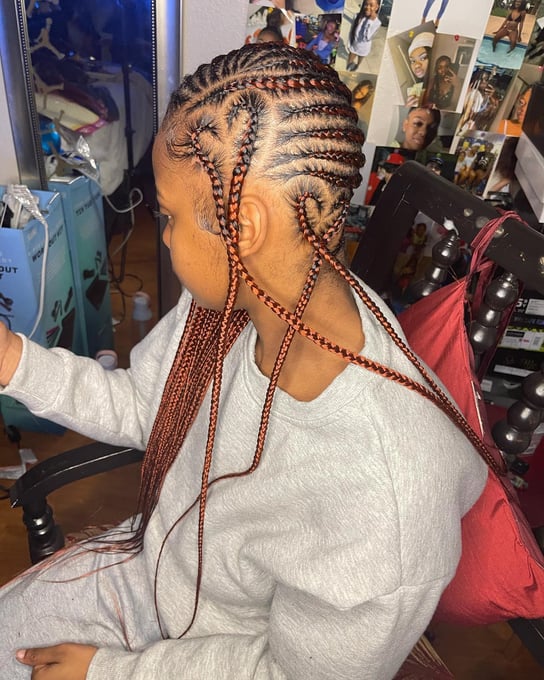 Lemonade braid with hearts is one of the many hairstyles that never go out of style and never ceases to be stunning. This hairstyle is among the most natural and popular hair protective styles. This hair look comes in numerous stylish side braid styles that help protect your kinky, textured hair.
Lemonade Braid With Curls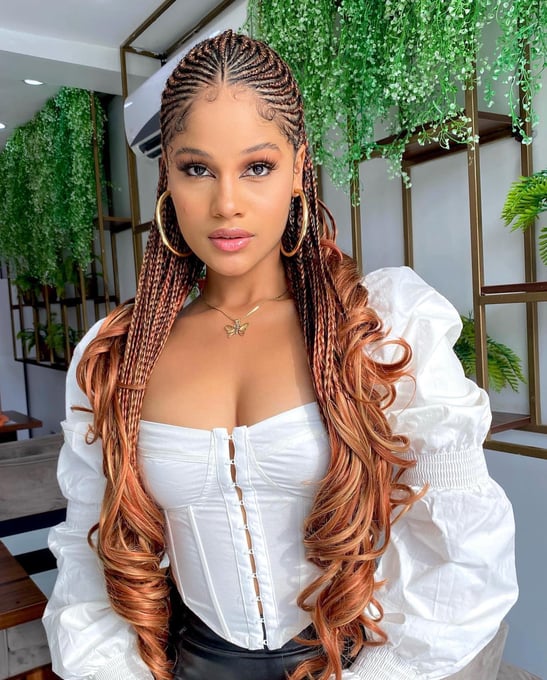 If you are looking for a hairstyle that allows smooth and luscious curls to suit your frizzy curly hair, then this hairstyle is worth trying! This hairstyle allows you to attain sectioned braids complimenting it with smooth curls using your baby hair that looks stunning!
Lemonade Braids With Beads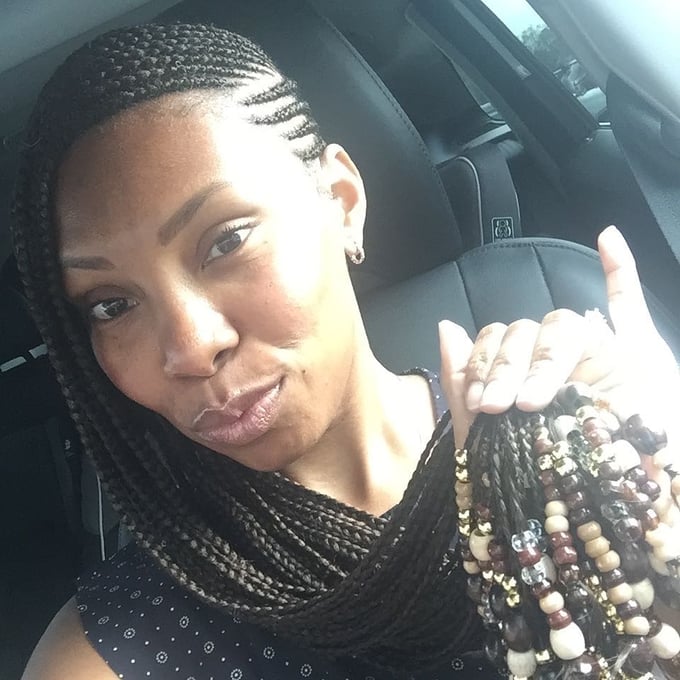 Creating hairstyles using beads are not only simple but attractive as well. So don't hesitate much longer if you've been planning to add beads to your braided hairstyle. Furthermore, they are so flexible that it won't take you long to find your unique style. They vary in length, color, pattern, and material.
Lemonade Braid With A Heart On The Side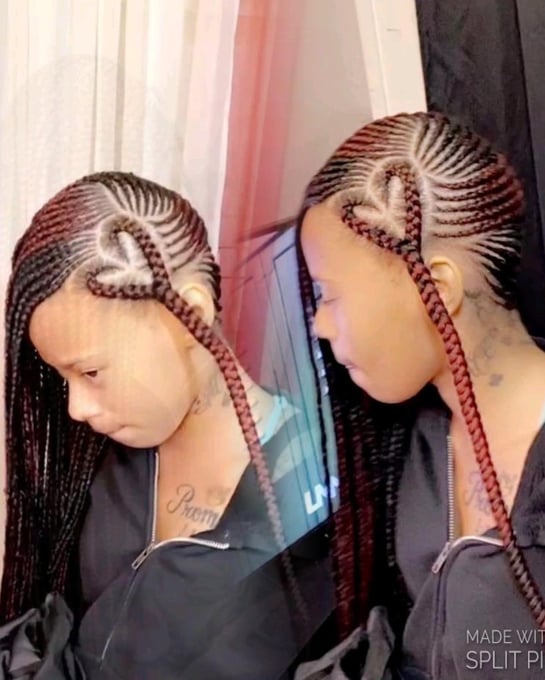 A lemonade braid with a heart on the side is simply iconic to make. This hairstyle consists of cornrow-style braided and is made by retaining the heart shape created via a comb on the side. For best results, the baby's hair is set with hair gel at the initial stage of parting the hair.
French Braid Ponytail Lemonade Braids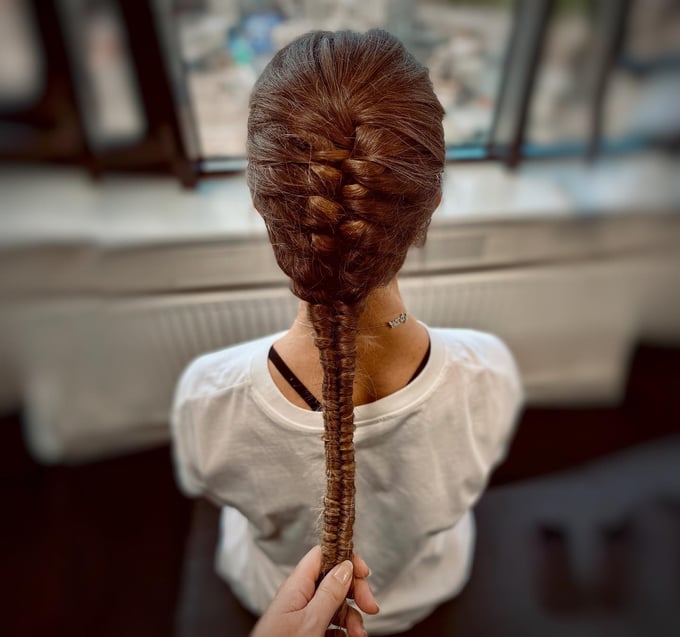 One of the most well-liked braided hairstyles is indeed the French braided ponytail lemonade braids. This hairstyle is admired because of its elegance and suppleness. It is made using the overhand braiding method and three hair strands. Although they are not made to last, they are a beautiful way of styling your lemonade braids.
Beyonce Lemonade Braids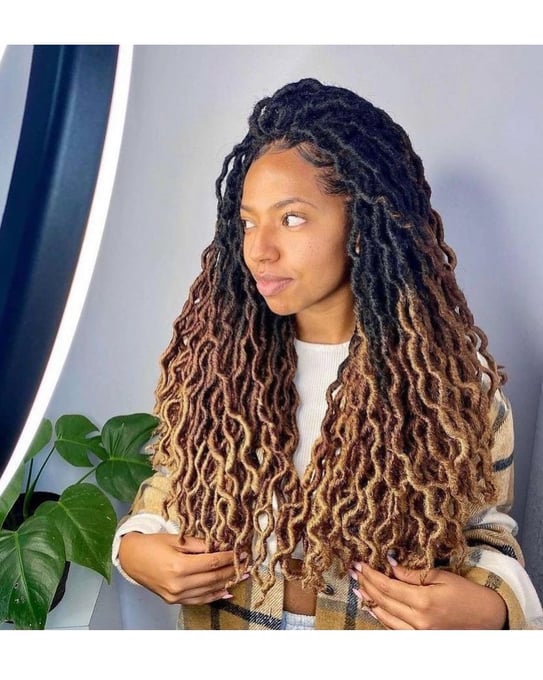 This hairstyle is influenced by the one and only Queen B. This is because during the album, Lemonade, she enlisted the assistance of her dependable hairdresser to design the most captivating look. The main attraction of this hair look is the natural texture of the hair that Beyonce possesses which was highlighted in the album.
Large Lemonade Braids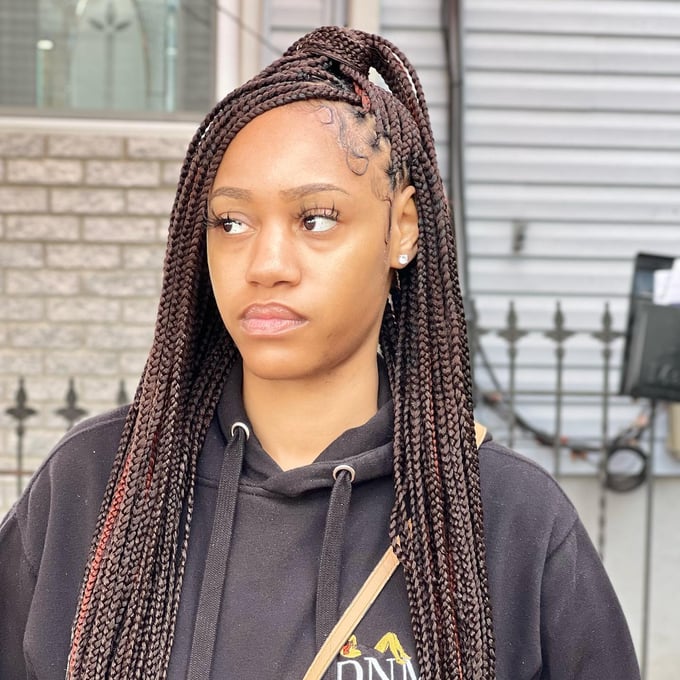 These are usually long braids that are styled by accumulating the hair on one side. These braids have a wide width that makes them look gorgeous. For mind-bending results, this hairstyle is paired with styling the baby's hair around the face that acts as a long lock to the hair.
Lemonade Braids Styles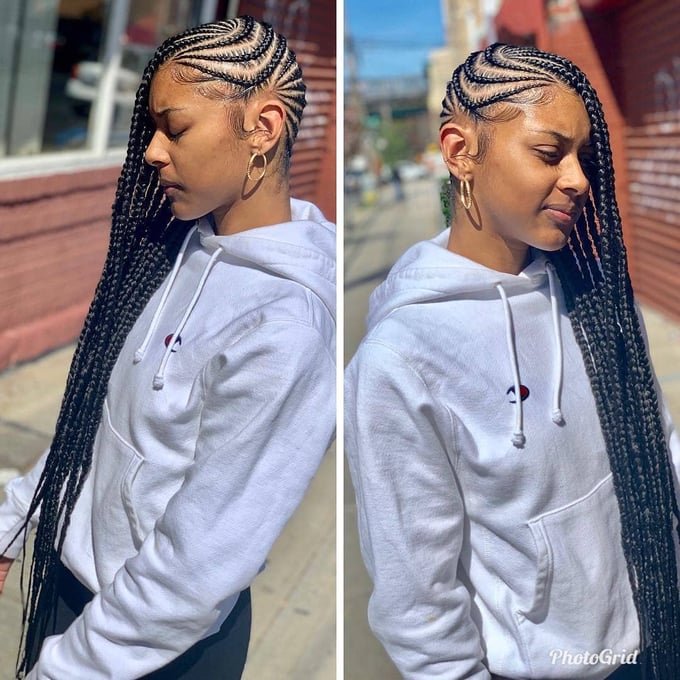 Braided hair has been an inspiration to the majority of women since 2016. This hairstyle has various flexible hair look that makes the hair look neat and is dependable to last for up to a month. The main attraction of this hairstyle is that it comes in various patterns and lengths.
Lemonade Braids Medium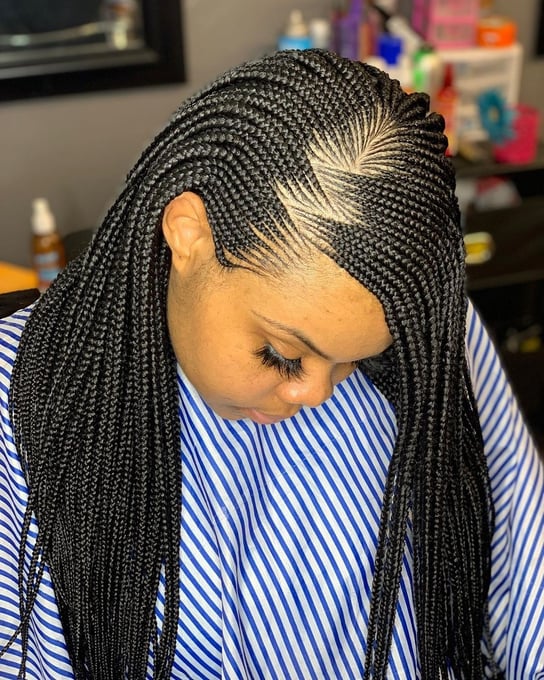 This hairstyle is especially for women having medium-sized hair length. However, the respective look can still be created for women or girls having shorter hair by using braided extensions. Such a hairstyle is highly versatile as it can be easily worn for any colored and textured hair.
Red Lemonade Braids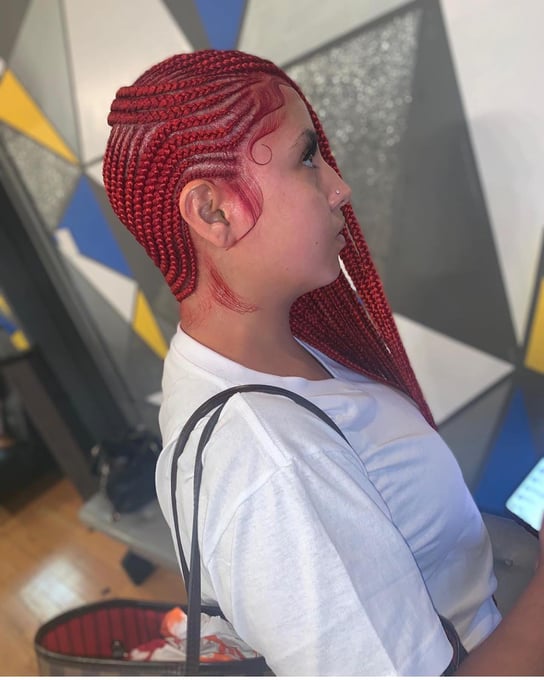 Red is an attention-grabbing tint, so coloring your braided hair in your preferred shade of red is a fantastic way to ensure they stand out. Your hair is a wonderful opportunity to express yourself that helps express your persona. This hairstyle can highlight your desire to take chances that differentiate yourself from others.
Bohemian Lemonade Braids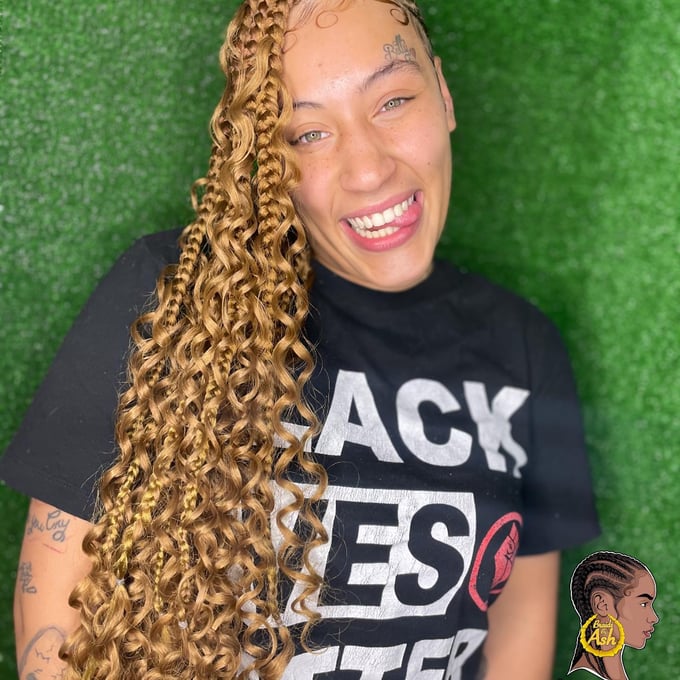 Despite lemonade and boho, braids are two completely distinct braided hairstyles, you can yet incorporate features from both looks. Bohemian braids are boxed braids with unraveled ends that provide a textured finish. Lemonade braided hairstyles are long, side-swept cornrows that enrich your hair with additional volume. To achieve this hairstyle, simply leave the bottom curls in place.
Lemonade Braids With No Edges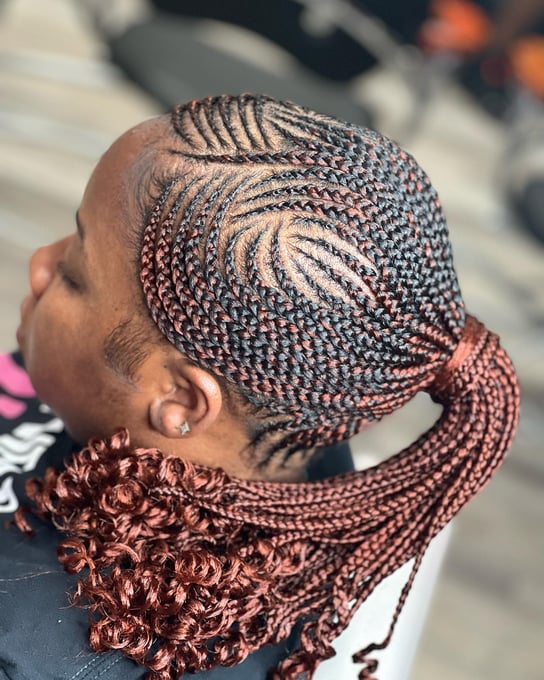 This hairstyle can be easily worn as long, short, or in a range of thicknesses, based on your preference. The style you adjust them can be stylish, and creative, that suits the hair texture you have. Short newborn hair on the hairline is considered to have edges. Different styling choices are available.
Medium-Size Lemonade Braids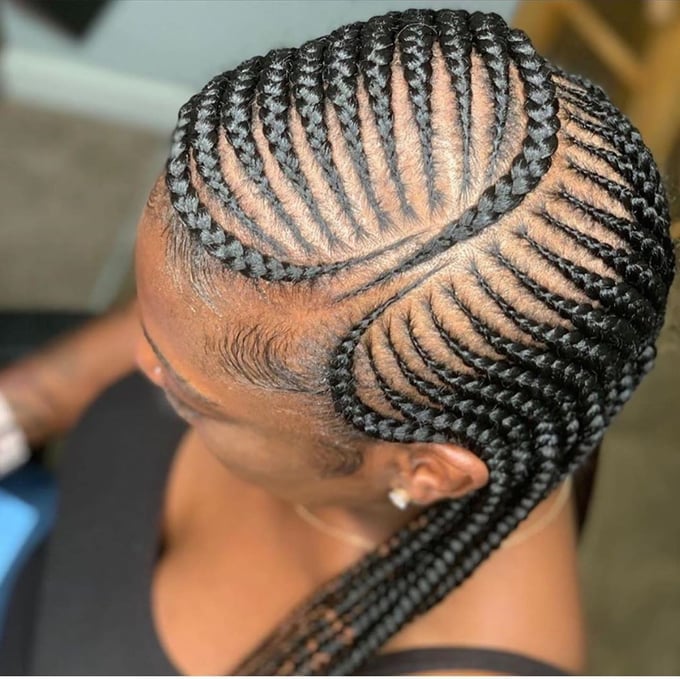 If you are wondering what hairstyle you should pick up and try next for your medium-length hair, then try Medium size lemonade braids. This hairstyle is super trendy that compliments well with any medium-sized hair texture.
Blonde Lemonade Braids
Blonde hair and braided hair complement one another like cream and peaches. Braids preserve the hair and aid in resurrecting the luster of bleached hair. When coupled with much more volume, the blonde hue emphasizes the elegance of the lemonade braids.
Ombre Lemonade Braids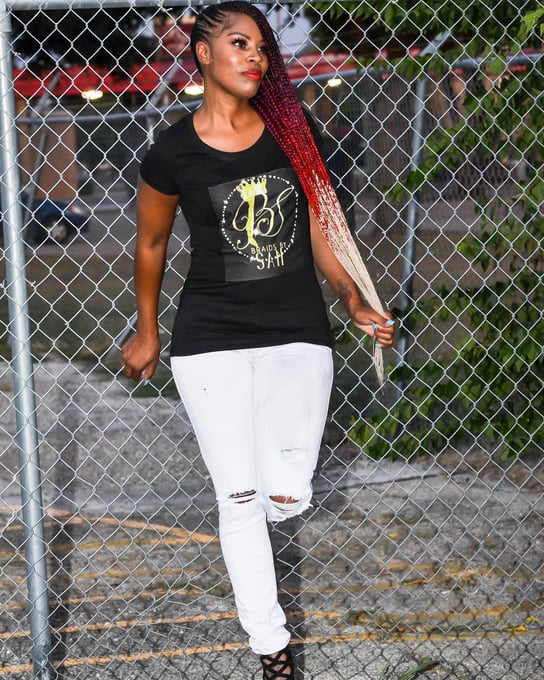 Why not add additional color to your thick, luscious braids as spring is the perfect time to brighten them? Bold pinks, sparkling silver and gold, summary blondes, and lively purples are some of the season's color trends. But the trick is to pick a color that compliments your skin tone flawlessly.
Burgundy Lemonade Braids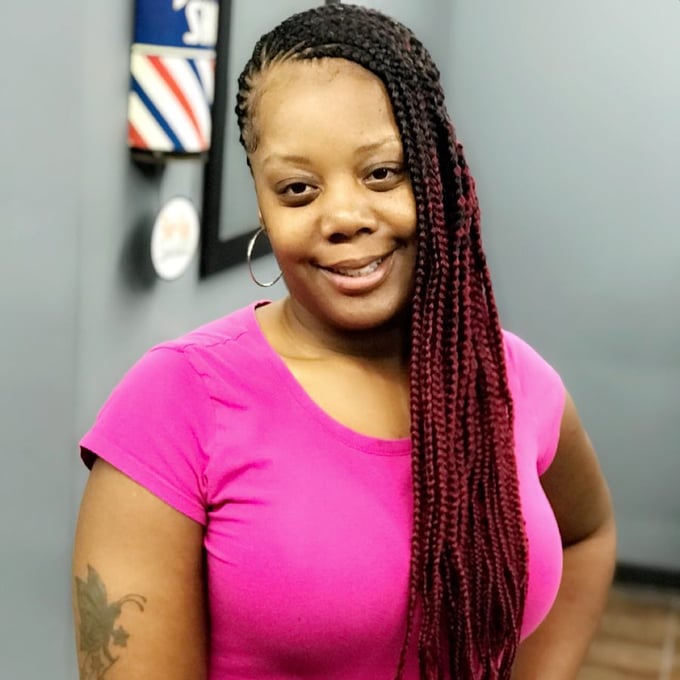 If you are looking to change your bohemian look with a burgundy color, then try Burgundy lemonade braids. This hair look along with a Burgundy shade will enhance your hair statement in a manner that will turn heads. For best results, complement it with burgundy braided extensions.
Goddess Medium Lemonade Braids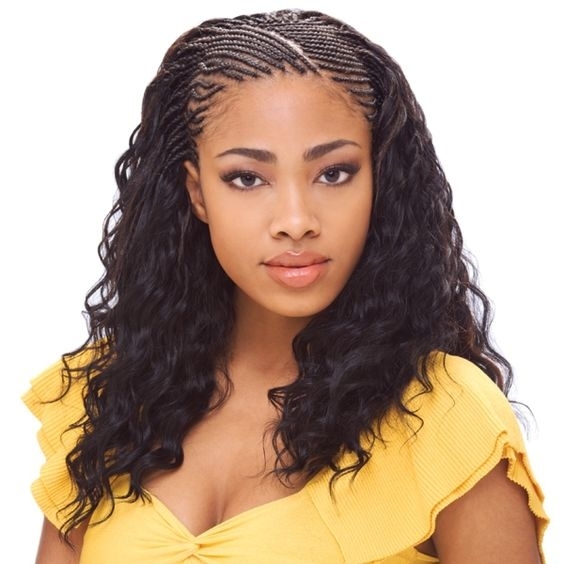 This hairstyle will help you to obtain knotless braids effortlessly that will give your hair richness. With this hairstyle, you will be able to achieve a free and natural imperial hairstyle. This hairstyle allows your baby's hair to be groomed perfectly which helps enhance the beauty of this hair look.
Short Lemonade Braids
You might be acquainted with these as a result of Beyonce's 2016 album Lemonade, which highlighted the famous style. To achieve this hair look, part your hair to one of the sides then cornrow to one side of your face until the braids hang free when wearing a lemonade braid. The look is exquisite and suitable for someone trying out a new braided style.
Lemonade Braids 2022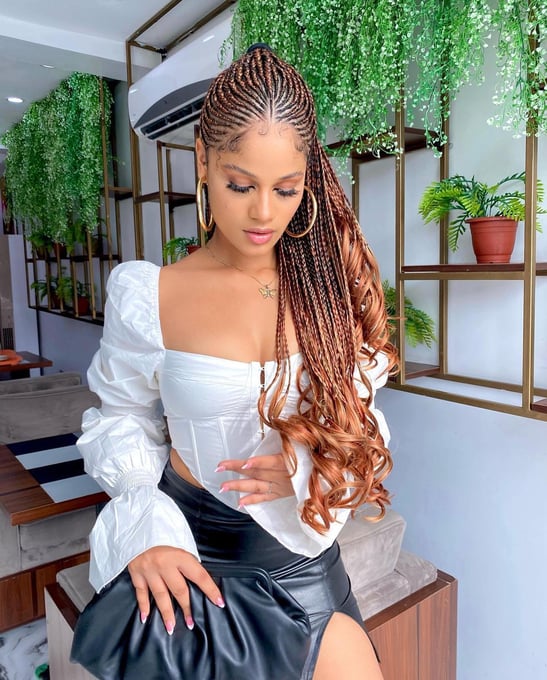 Now that you already know much about lemonade braid hairstyles, we shall share some of the most trendy hairstyle ideas for 2022! The long, knotless braids using hair extensions have been the trend of all. Apart from this, the Ornate braided updos and half-braided hairstyles have been quite in fashion as of 2022!
Lemonade Braids Straight Back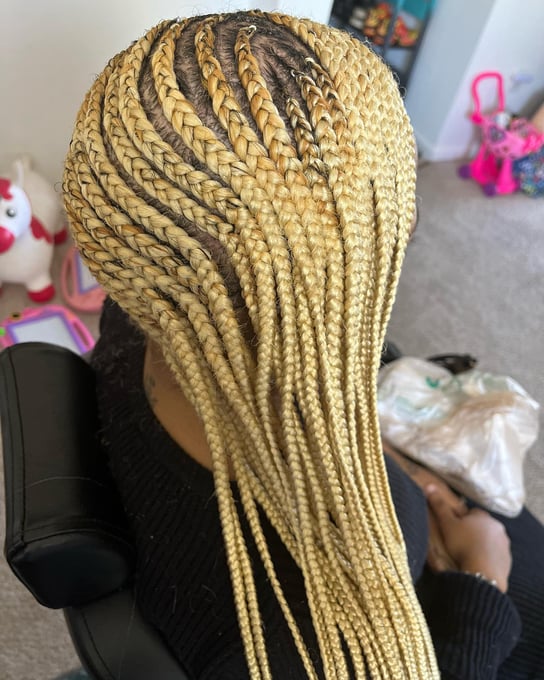 This hairstyle consists of braids that are traditionally made in cornrow style. The hair is braided closely to the scalp by using an underhand. They are typically braided in an upward motion to achieve a continuous chain of braids.
Boho Lemonade Braids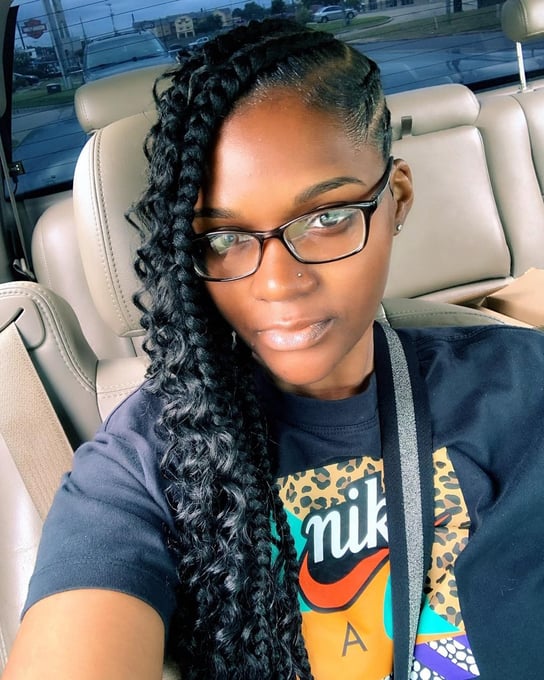 These hair styles are basically box braids that have unfinished, frizzy ends that make them appear to have quality volume. In this hairstyle, the majority of the hair remains unbraided and wavy at the length of the hair. However, from the roots, the hairs are braided in a lemonade fashion. 
Reference
Note – The credit of the pictures and images shown in our website for illustrative purposes, goes to Pinterest and Instagram
FAQs
How long do Lemonade braids last?
If maintained properly, Lemonade braids can last up to as long as 4 weeks. For best results, wrap your hair around a satin cloth while sleeping. 
What are lemonade braids?
Braids that start criss-crossing each other typically from the scalp to the length of your hair in different sections are known as lemonade braids. 
How much do lemonade braids cost?
Depending upon your hair length, additional services, and the type of media braid you want, it can cost $15 to $300+.
Why do they call them Lemonade braids?
After Beyonce launched her Lemonade album in the year 2016, where she had her hair braided in this hairstyle, the name of this hair look was influenced from there thereafter.
Are Lemonade braids cornrows? 
In a manner, yes Lemonade braids can be addressed as long-braided cornrows that can be easily obtained in simple and small hairstyle patterns.