Blonde, pink, and gold are blended to create the dazzling tint of rose gold hair color, which is meant to resemble your favorite rose gold hair accessories. Although rose gold is regarded as a fantasy color, it is also understated. You can choose from an infinite number of rose gold hues because it combines three colors. Choose the blonde, pink, and gold hues that complement your skin tone and hairdresser.
Doing your homework is extremely crucial while hunting for the ideal colorist. Because rose gold is not a standard color, you should ensure your stylist has a lot of expertise dealing with fanciful hues. An expert colorist will be able to demonstrate instances of fantastical hues they have previously made and detail exactly how they intend to reduce the harm bleach can do.
Dark Rose Gold Hair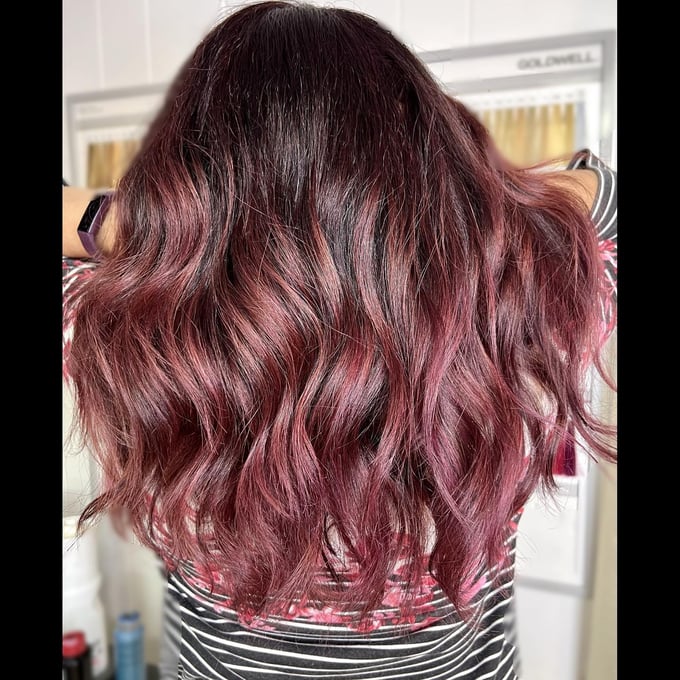 Brown hair already has a wealth of warm, golden undertones; therefore, bleaching is unnecessary to maintain the rosy hue. The daily conditioner is designed to preserve the new shade, whereas the rose gold deep treatment is utilized to color your brown hair or restore the faded color.
Rose Gold Hair Blonde
Rose gold looks stunning against light blonde hair. Their light base color means that pre-lightening can be minimized if your client desires an all-over wash. You can ramp up to an intense metal hue or generate a light, rosy tint thanks to your increased control over color strength. Try a semi-permanent enhancement to obtain rose gold on lighter hair. Nudist Pink can be perfectly customized by blending different colors.
Brown Rose Gold Hair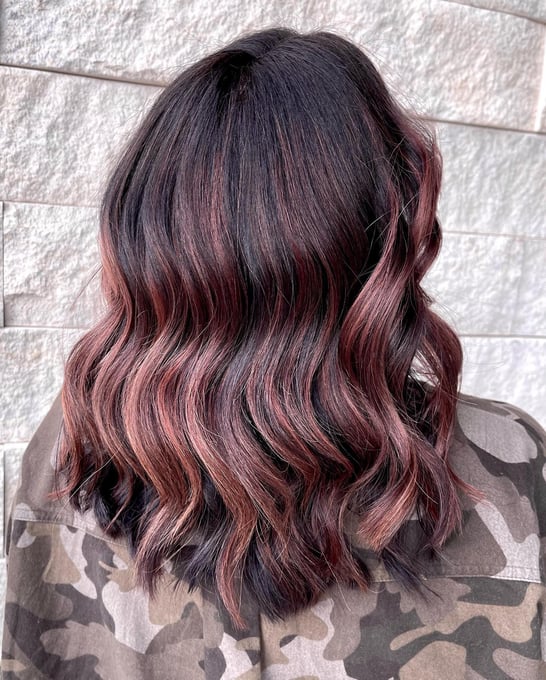 This must be the ideal fusion of chocolate and rose. You can see how well the pink tint and the luscious, deep chocolate merge. This hairstyle's oomph level is multiplied by a million thanks to the waves used to create it.
Ombre Rose Gold Hair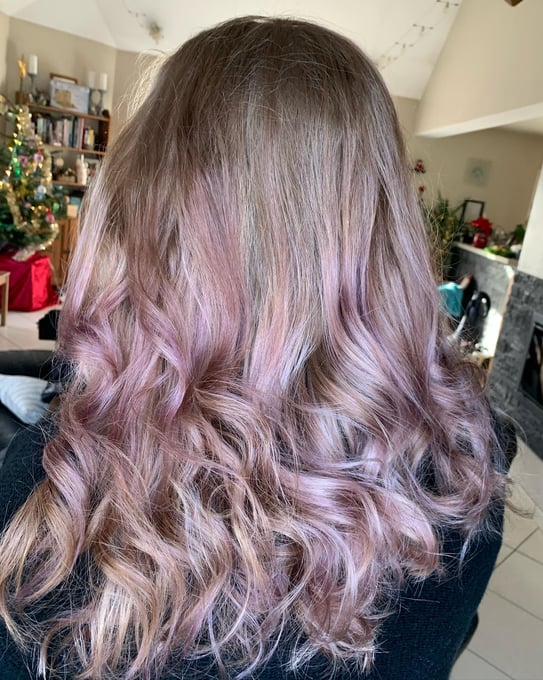 Your rose gold balayage would still look fabulous as it develops, and you can experiment with other looks like this bun. It also is important to point out that a bun is a fantastic, heat-free hairstyle for treating your hair to a break. Before pulling it up, apply some leave-in conditioner to make it a treatment!
Champagne Dark Rose Gold Hair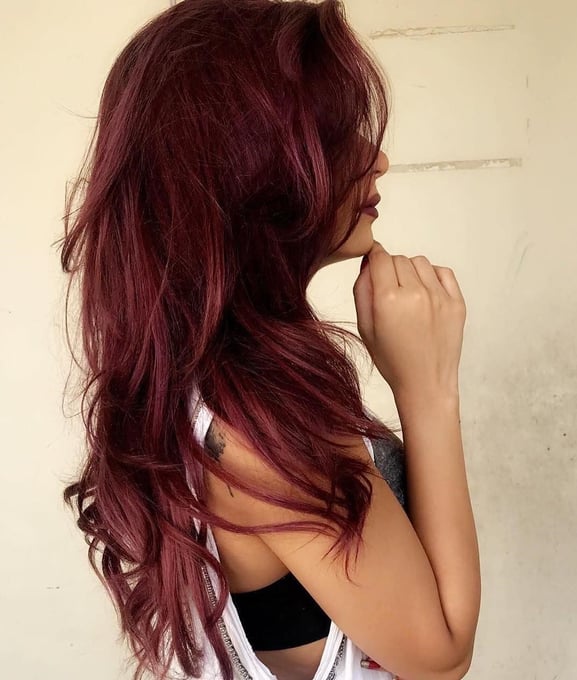 The preferred hair color for ladies who wish to look polished and elegant is champagne blonde, which has the same fizz as just a glass of bubbly. This fashionable blonde hair color has a golden blonde undertone and a pink undertone. It blends perfectly with the blonde hair and doesn't overpower it by having a blush of rose in it. Although you may customize it for practically all skin colors, pale-skinned ladies benefit the most. Choosing a champagne blonde hue requires a lot of care.
Pastel Rose Gold Hair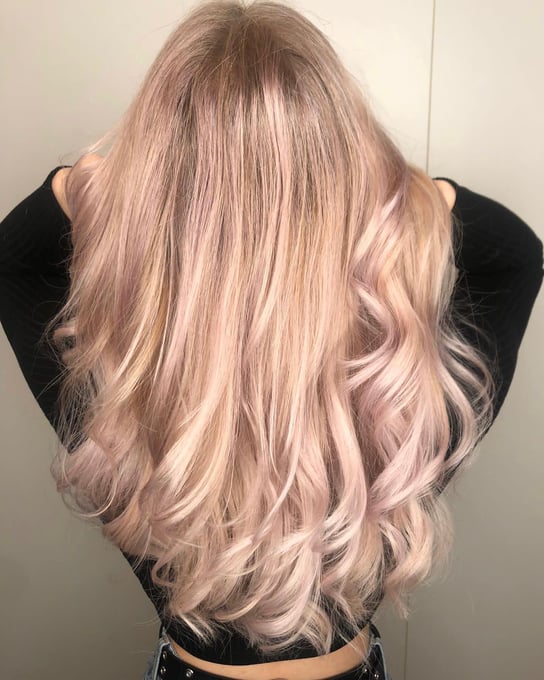 Consider a pastel variety of colors if you want a rose gold appearance with a soft finish. Once you've found the ideal shade for your hair, it's crucial to pick a haircut that will best highlight your new shade. Show off your rose gold by sporting a neat, backswept hairstyle with turned-out ends. To enhance shine and manage frizz and flyaways.
Rose Gold Hair Highlight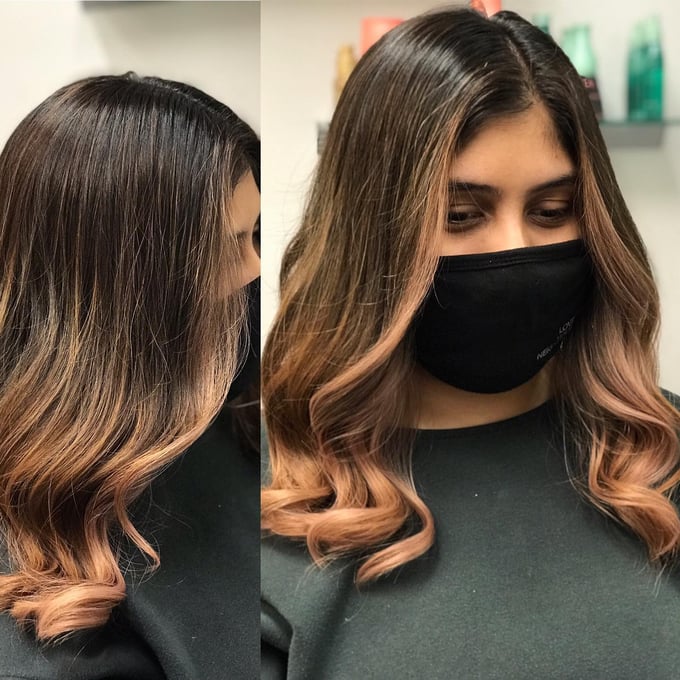 Rose gold hair is a gorgeous combination of red, pink, and blonde tones inspired by rose gold-toned jewelry. You can use this trendy pastel hair color to change into a more demure hair color or even to make a striking hair color transition; it goes well with any skin tone.
Rose Gold Hair Men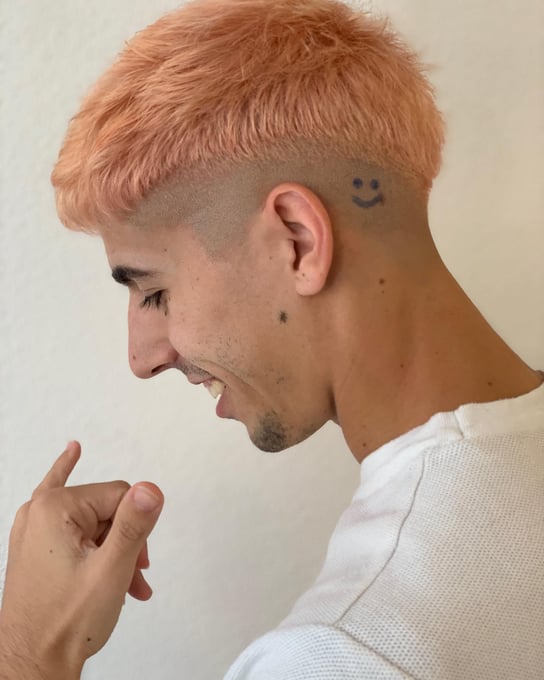 Although low-maintenance hairstyles or colors are expected to be more fashionable than ever before this year, even blondes are predicted to have a moment. There has been one hair color trend we can't seem to get out of our heads every year: rose gold. Rose gold is among the most versatile colors available, whether you are a low-key female seeking a suitable shade for everyday or anyone searching to go dramatic with their color.
Short Dark Rose Gold Hair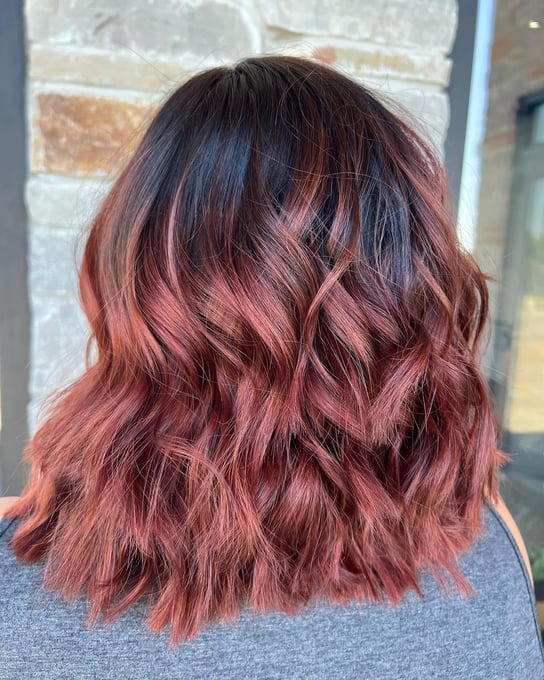 You'll quickly attract your desired attention with a bright rose gold balayage on even a pixie cut. For all women with a porcelain complexion, a subtle change from a darker auburn to metallic rose gold could be the right combination. It balances this out without overwhelming it by being warm and vibrant enough.
Light Rose Gold Hair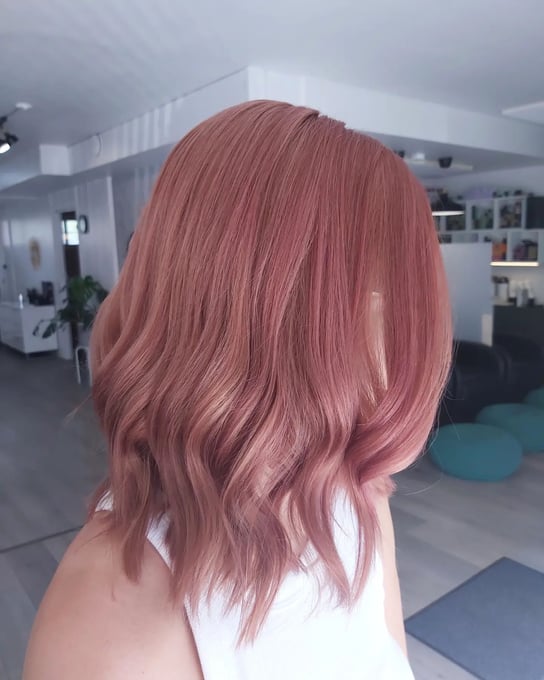 Rose gold color is a gorgeous combination of red, pink, and mixed blonde tones inspired by rose gold-toned jewelry. You can utilize this trendy pastel hair color to change to a more subtle hair color or to make a striking hair color transition; it goes well with any skin color.
Sunset Rose Gold Hair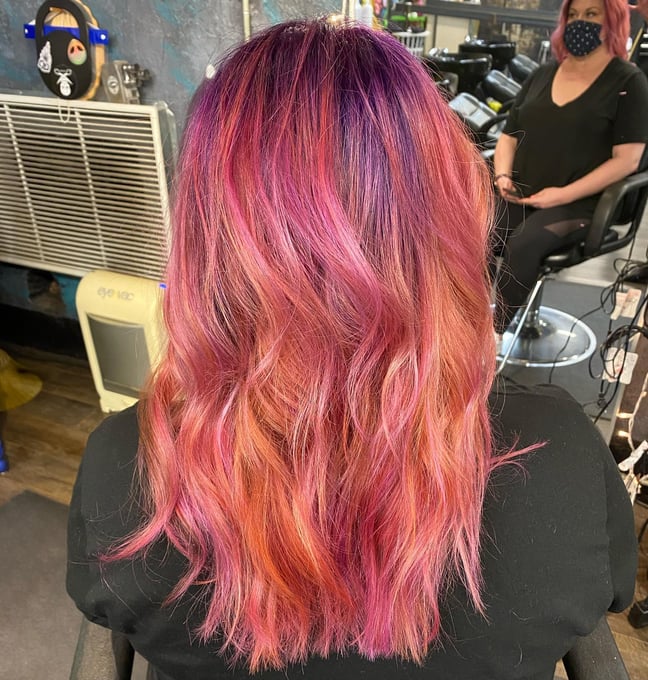 One sun-kissed trend is expected to rise for your bold clientele as fall approaches. Here comes sunset hair color, which gives the changing leaves a hint of summertime tones. Sunset hair blends a collision of vibrant colors that meld together like sunsets in the sky. Consider purples, pinks, oranges, as well as reds, although not necessarily all at once. For one customer, locks can have flaming scarlet or orange undertones.
Rose Gold Hair Balayage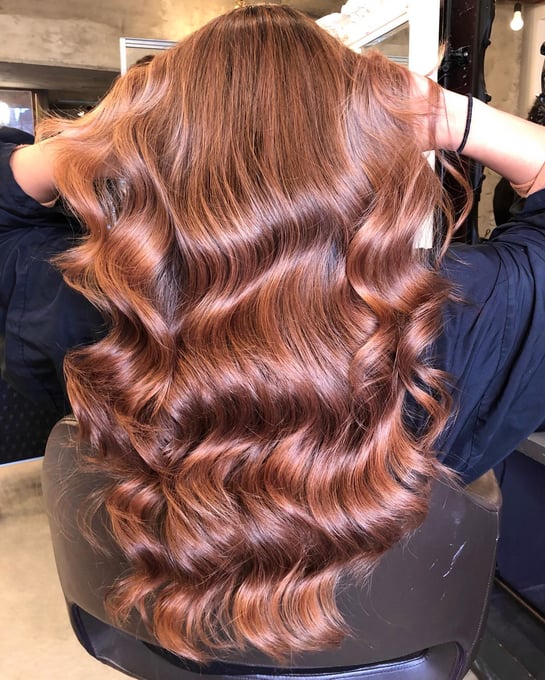 Due to its positioning and base color, rose gold balayage might seem different to every person. While many choose neutral bases and roots-to-end coloring, this illustration demonstrates how striking an auburn-plum base can appear when combined with the pink tone.
Copper Rose Gold Hair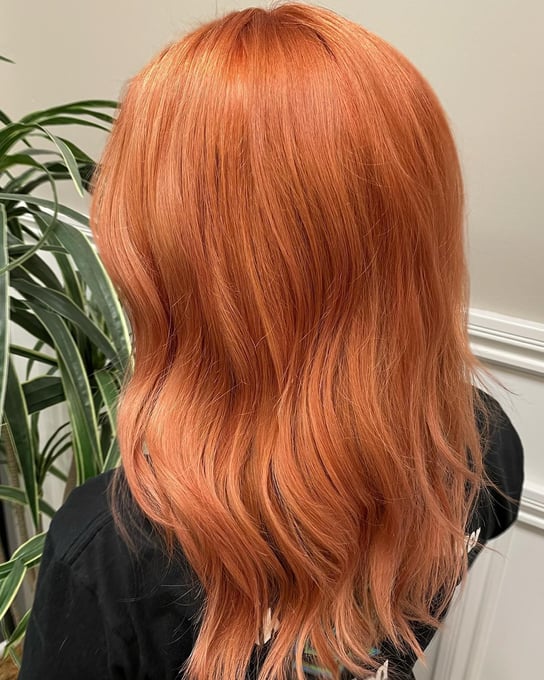 Copper rose gold is among the most subtle ways to wear the season's hottest hue. Like black, brown, or blonde, copper rose gold is a color that compliments every skin tone and has a brilliant vibrancy. A broad range of skin tones complements traditional copper's rich Warmth.
Natural Rose Gold Hair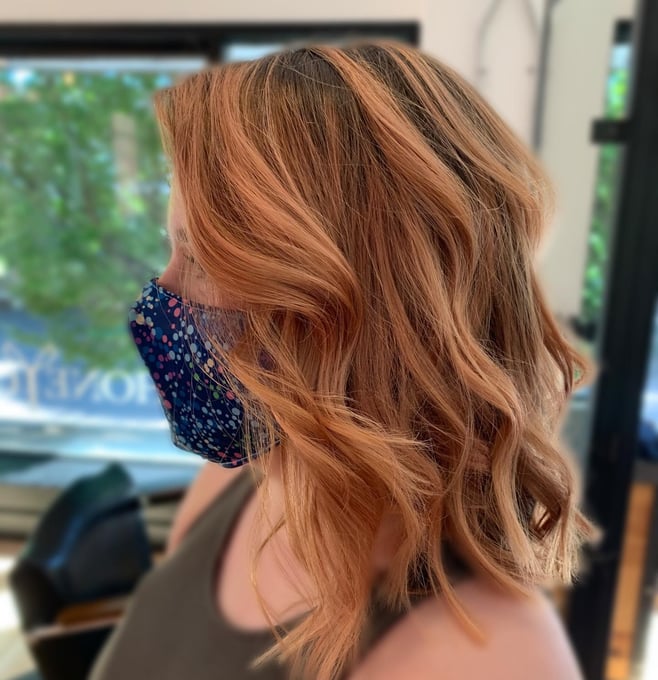 Rose gold can indeed appear natural. It mixed rosy red and blonde highlights to produce the most natural-looking, barely-there pink. The perfect hair color for a sunset-inspired look combines peach, light pink, and golden tones.
Strawberry Rose Gold Hair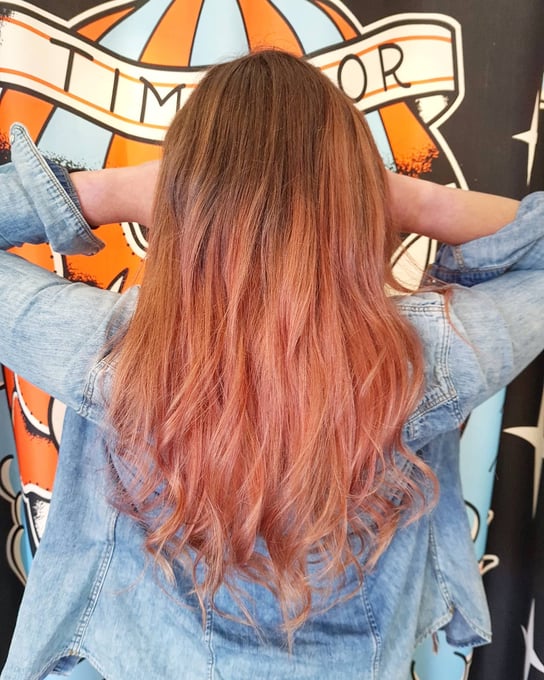 Strawberry blonde hair is in right now. It's a well-known warm reddish blonde shade that appears elegant and posh in some versions. The majority of blondes and redheads have used it and enjoyed its advantages. Among celebrities, Nicole Kidman, Amy Adams, Isla Fisher, Cynthia Nixon, and Sienna Miller are among the most popular strawberry blondes. These individuals are genuinely strawberry-blonde icons, and we frequently emulate at least some of their magnificent appearances.
Black and Rose Gold Hair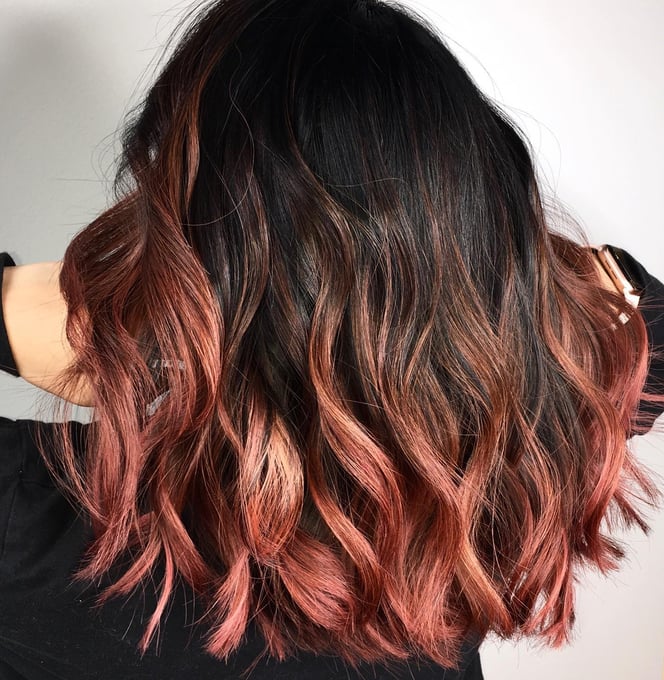 Maintaining your dark natural roots while extending a pastel rose gold ombre will give you the best of both worlds by making you look dreamy as well as hot at the same time.
Dark Hair Rose Gold Hair Balayage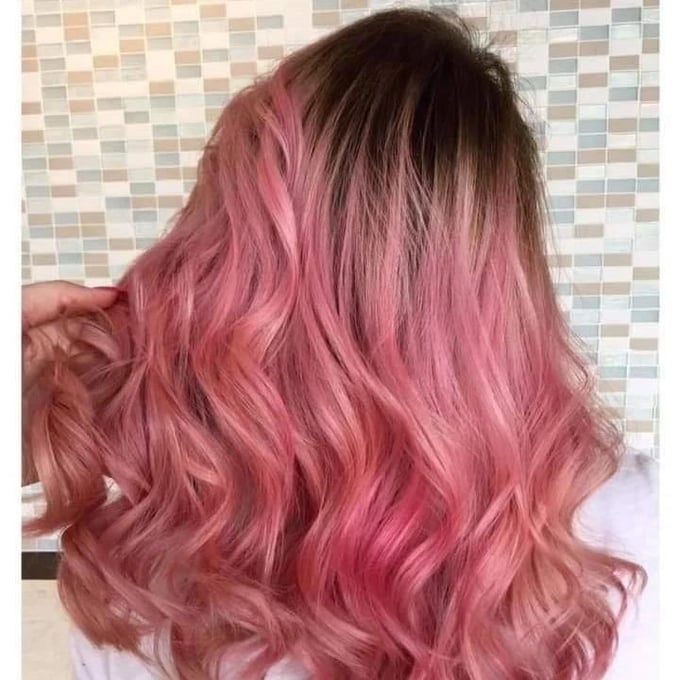 On warmer skin tones, dark rose gold balayage will shine brilliantly. Additionally, it's a smooth segue into experimenting with unconventional hues like blush rose gold. Compared to lighter tints that fade in a few weeks, the longer your rose gold color lasts, the darker (more pigmented) it should go with the rose gold.
Platinum Rose Gold Hair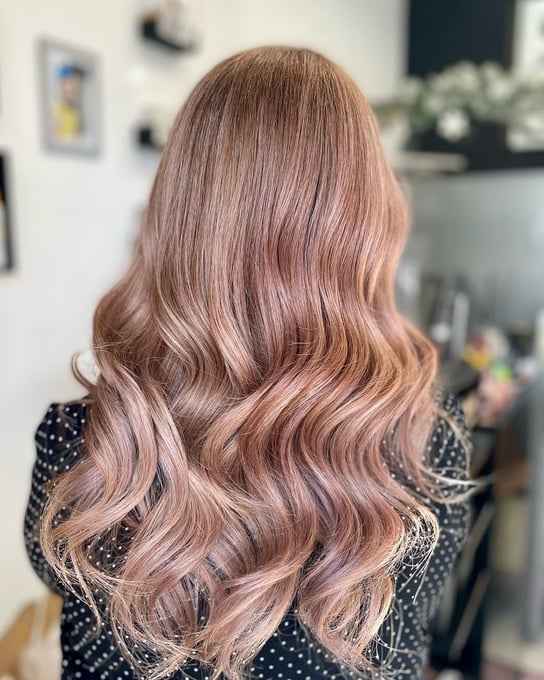 Demand for platinum hair is high! We adore it too! The lightest blond tint available is platinum. Even though not all skin colors will look good in this color, give it a try. Platinum hair can give you an edgy appearance. You are mistaken if you believe platinum hair only comes in one tint! You can pick from a selection of colors.
Metallic Rose Gold Hair Colour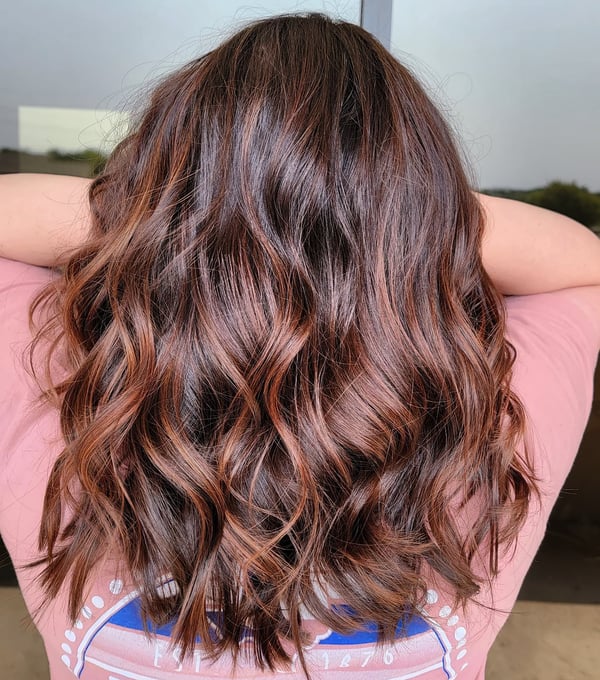 The rose gold combines golden blonde, copper red, and soft pink tones. Combining strawberry blonde and copper blonde, it has a pinkish undertone. This metallic shade can vary slightly depending on the amount of each style included.
Asian Rose Gold Hair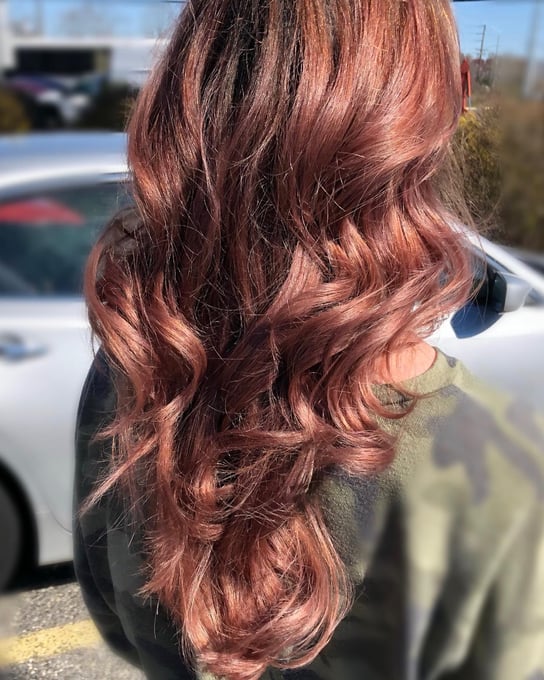 Asian hair is distinctive. It sprouts straight down from the scalp, has tight cuticles, and is quite dark. Therefore, resistance is more remarkable when you attempt to modify the hair's color. Consequently, you require certain hair dyes for Asian hair that can lighten its color while retaining its gloss or luster and, therefore, can permeate through the hair's tight cuticles. On Asian hair, regular hair dyes fall short of generating satisfying results.
Medium Rose gold hair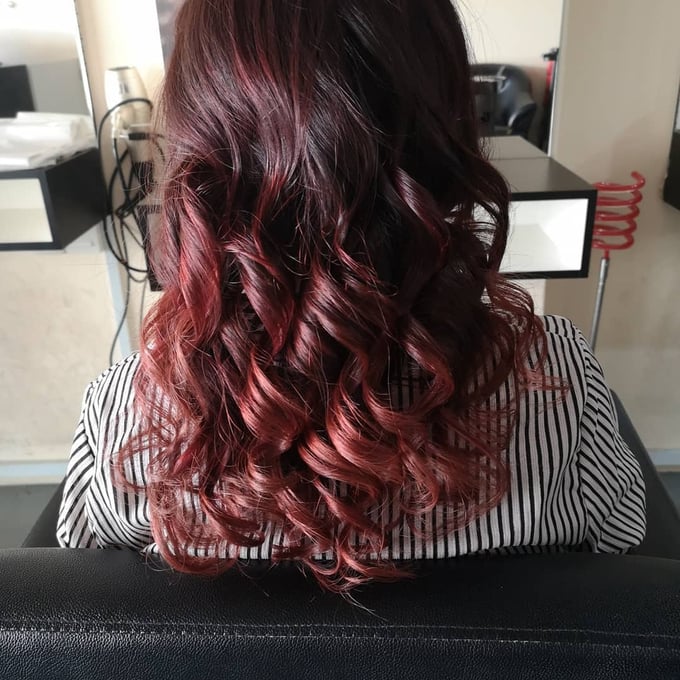 Anyone with natural hair that falls between light blonde and light brown is most suited for medium rose gold. There is no need to add any other ingredients because it already has a slight coral undertone.
Silver and Rose Gold Hair
All of our ice queens are needed! Your name is on that rose gold silver piece. This color consists of frosty pink and blonde in perfect harmony, unlike platinum rose gold hair, which also has warm undertones. Use it on long hair, and cut it into a blunt bob if breakage occurs.
Chocolate Rose Gold Hair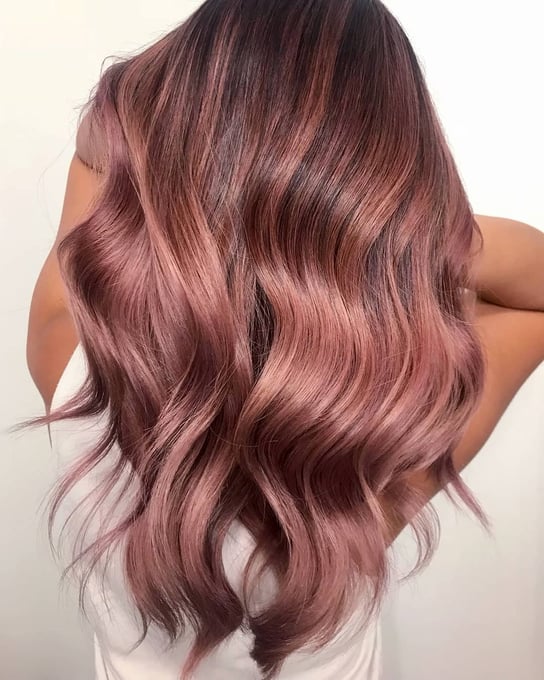 Add rose gold to the mix to give your chocolate brown tint a shiny, metallic touch. Red and gold pigments make up the base of a chocolate tint, giving it its distinctively bronzed color. Double red, as well as Gold pigments, provide the Hair with Colour richness and depth even while required to fill it with Warmth, producing a gleaming Hair color. Double Red and Gold pigments are usually known as Mahogany pigments.
Ombre Rose Gold Hair Colour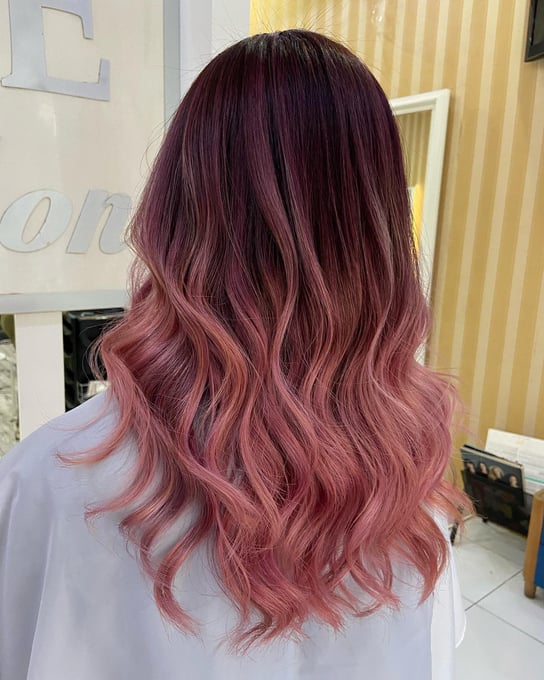 Compared to the trend's forerunners, rose gold ombré employs the famous pinky-bronze color slightly understatedly. You can add a minimum of color to the tips of your strands for a highly professional take on the appearance, or even the color can be graduated halfway up the shaft for a more eye-catching appearance.
Brunette Rose Gold Hair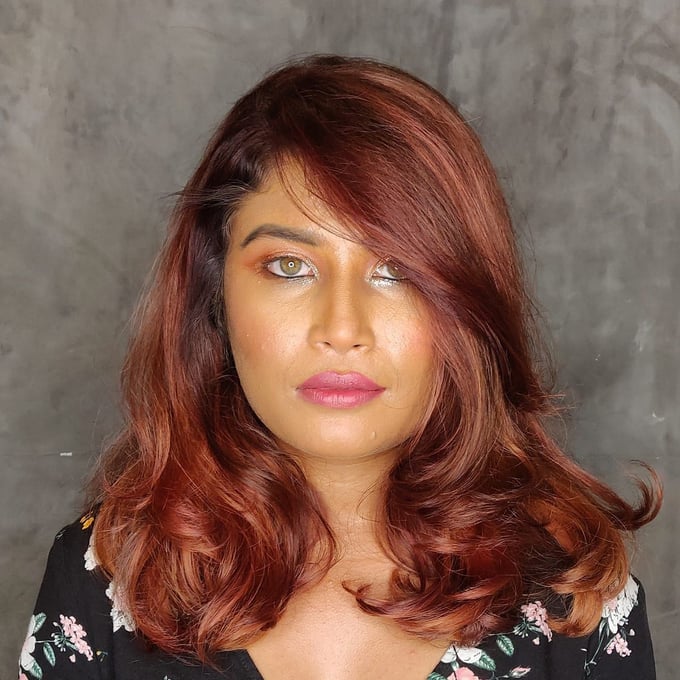 If you have brown hair, the colorist will need to bleach it blonde to offer you rose-gold hair. You must ensure that you are prepared for radical change since it will be coming. This hair color, which is distinctive and lovely, can reveal a lot about your character. People with black-brown hair are frequently perceived as being dependable, steady, as well as down to earth. They are usually very level-headed and adept at maintaining composure under trying circumstances.
Conclusion
Golden blonde, copper red, and delicate pink tones are combined to create the rose gold color. It has a pinkish tone that falls between copper blonde and strawberry blonde. This metallic shade can vary slightly based on the amount of each style included.
Reference
Note – The credit of the pictures and images shown in our website for illustrative purposes, goes to Pinterest and Instagram
FAQs
How long does rose gold hair last?
More quickly than some other hair hues, rose gold ages. Without any upkeep, rose gold should typically last four weeks.
How to make rose gold hair color?
Now is the ideal time to adopt this jewelry-toned hair color if you've been holding off. We've provided the fundamentals of obtaining and caring for this beautiful shade of rose gold color to aid in directing your search.
Does rose gold hair fade quickly?
More quickly than other hair hues, rose gold hair ages. Without any upkeep, rose gold should typically last four weeks.
How much does it cost to dye your hair rose gold?
₹765.00. While your hair is still damp, directly apply Crazy Colour to the desired locations, spreading it out evenly. Put on gloves to ensure cleanliness. Leave it on for 15 to 30 minutes.
How do you maintain rose gold hair?
You must bleach your hair to the lightest blonde level or get a platinum foundation for the most encouraging results for this hair color to settle nicely. Up to level 7 of bleaching will result in a brown-pink tint on hair.