If you are fond of experimenting and styling your hair using numerous innovative manners, then we are sure that you will love stitch braids. These braids are flexible and stylish and can also be combined and worn with other hairstyles of your choice.
Their high versatility enables you to explore your preferred hairdo. Moreover, these hairstyles are a great source of keeping your hair healthy as they provide significantly less tension to the roots of your scalp.
Such a hairdo is easy to maintain and create and comes in different shades accessible to complex creative levels. The best part is you can also color your hair with any hue of your preference to highlight and enhance its appearance. Below, we will introduce you to some of the best and most exciting Hairstyles that can be easily created with this hair pattern. 
Continuing reading below to explore your best-suited hair look now!
Stitch Braids with Heart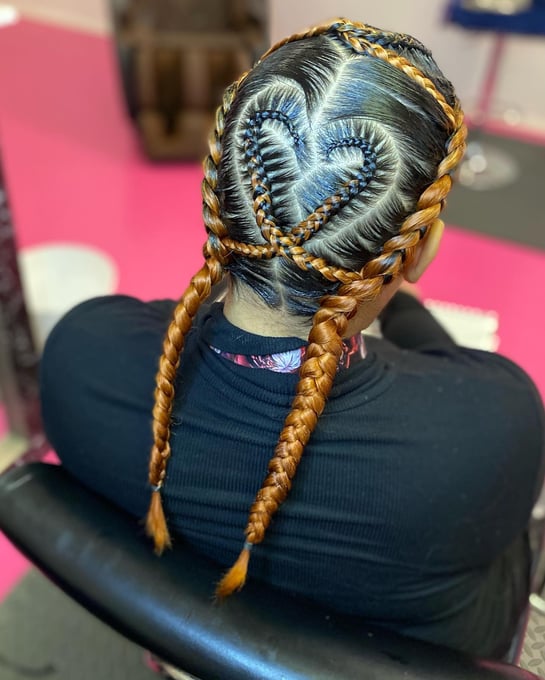 Women of all ages like the stitched braids with hearts. Any hair type can be used, which makes it ideal for people looking to spice up their look. This hairstyle takes just a few minutes to do. It works for both formal and informal occasions and requires no prior knowledge.
Stitch Braids Men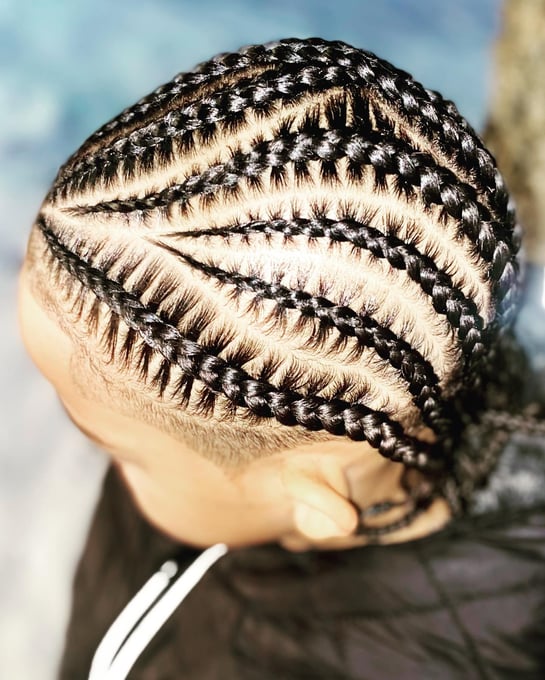 Men and women can flaunt such hairstyles, also known as Senegalese Twists, as a protective hairdo. Individuals of any hair type may achieve this trendy braid look, although people with pure African American textured hair might find it more straightforward.
These hairstyles are easily customizable and can be styled in several ways. They can be worn in many hairstyles and other fashions, but the most common of wearing them is usually in a protracted, flowing manner that drops down the back.
Goddess Stitch Braids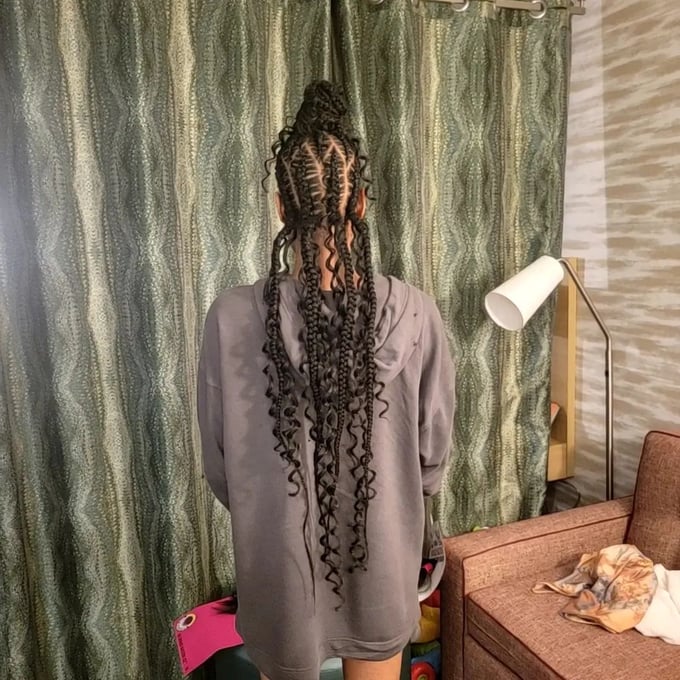 Anyone can adopt this hair glance. Such a hairdo is a unique style of hair weave. Although they are usually created by a professional, the correct equipment allows for home finishing. They can be carried out in various ways and are an excellent method to add volume and length to your hair.
6 Stitch Braids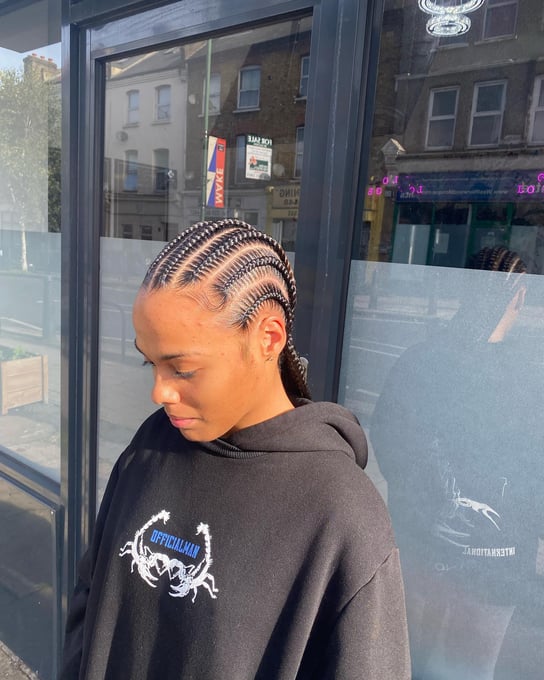 A dynamic braiding style, 6 stitch braids can be worn for several occasions. It can be worn to give your hair more body and texture or make it appear more intriguing. They can be executed in numerous ways and are also simple to complete.
Stitch Braids to The Back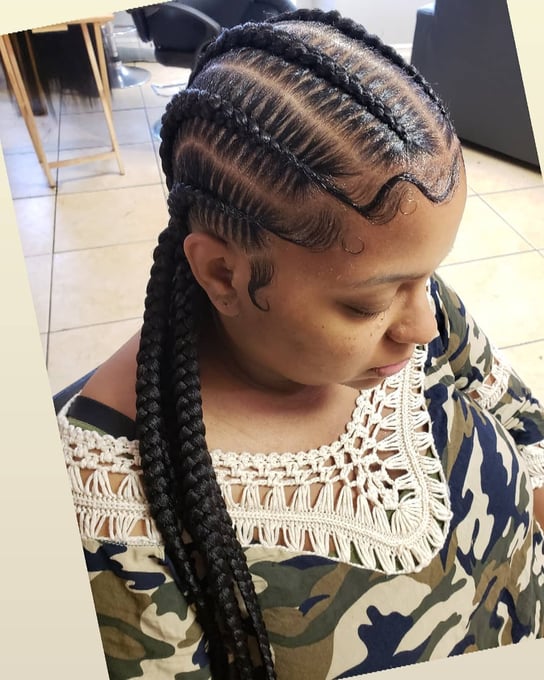 To get this hairstyle, the hair is separated down the middle of the head to form a stitched braid. This creates two braids, each on one side of the face. Then, a "stitch" is made by drawing these braids backward and tying them together. Young girls and ladies with long hair typically wear this haircut.
Feed in Stitch Braids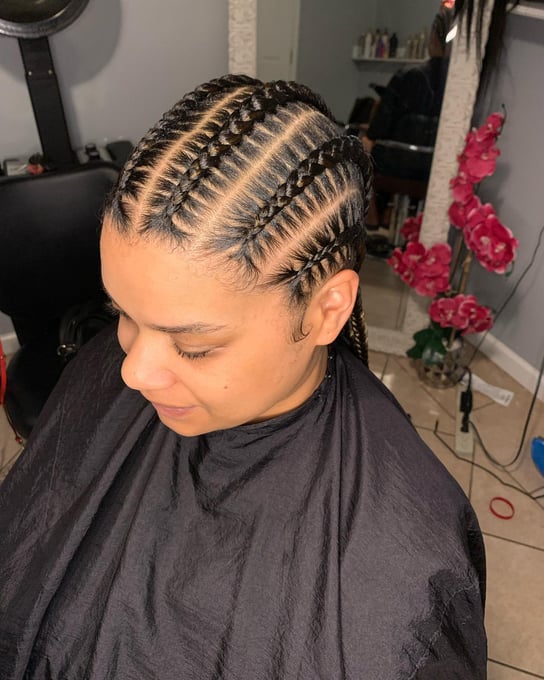 Such a hairstyle is a great way to provide your hairdo depth and complexity. You can choose from various styles, which are simple at home. They can be carried out easily by anyone and are a fantastic way to customize your appearance.
Feed-in stitched braids are a terrific alternative whether you want to modify your style or add a little more flair.
5 Stitch Braids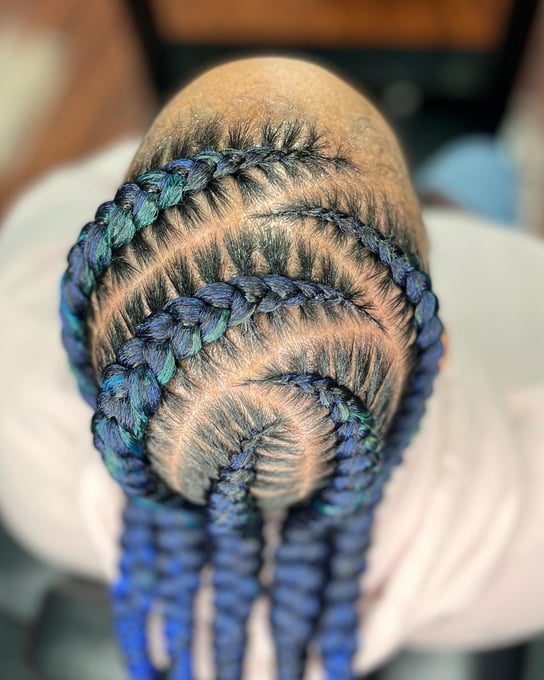 A time-honored hairdo that has existed for ages is the 5-strand braid. It is a flexible hairstyle and can be worn in many ways. The most basic technique for making a five-strand braid is simply dividing the hair into five different sections, then braiding each segment separately.
Because it is frequently worn around the head like a crown, this braid style is commonly referred to as a crown braid.
4 Stitch Braids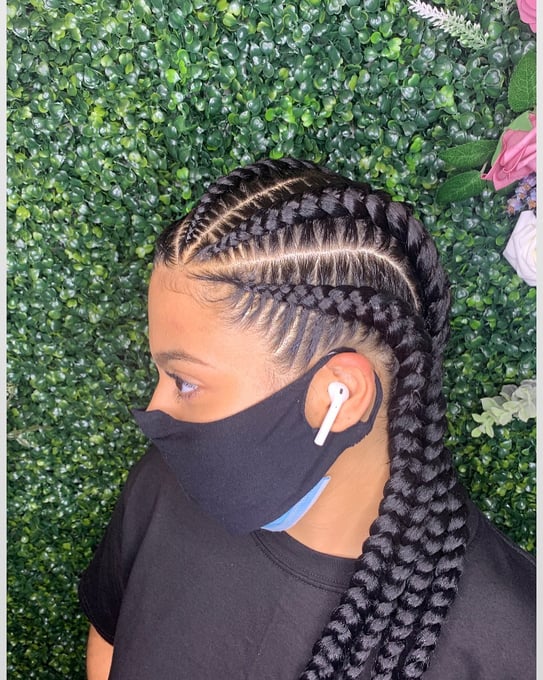 French braids, also known as four-thread braids, are a classic hairstyle for ladies. Such a hairdo typically has a preventive style that helps maintain the hair in place all day. This hairdo can be made in numerous ways utilizing different patterns. 
For instance, you can have braids arranged in a single direction straight down the center of your head or create a sophisticated style with multiple strands protruding from various parts of the head.
Small Stitch Braids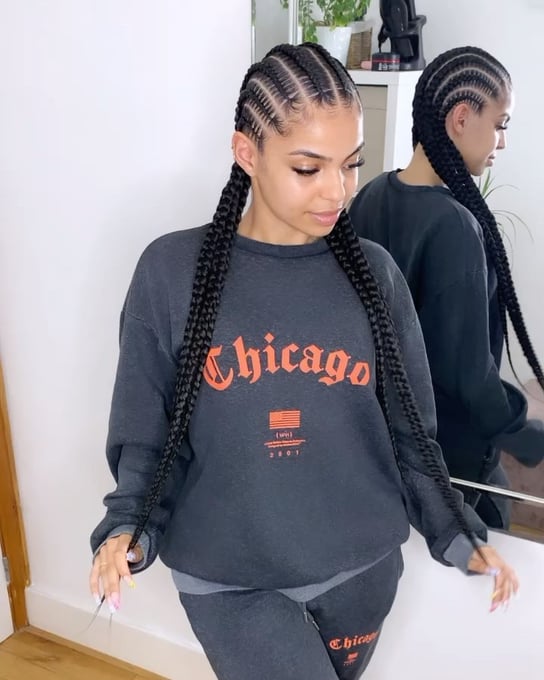 A hairdo with small thread braids is a fantastic approach to adding quality personality to your appearance. Anybody can quickly obtain it, but hiring a stylist to get it done for you is the best option. This hair look can be easily worn in various ways, enabling you to choose the style that suits you the best.
Stitch Braids with Bun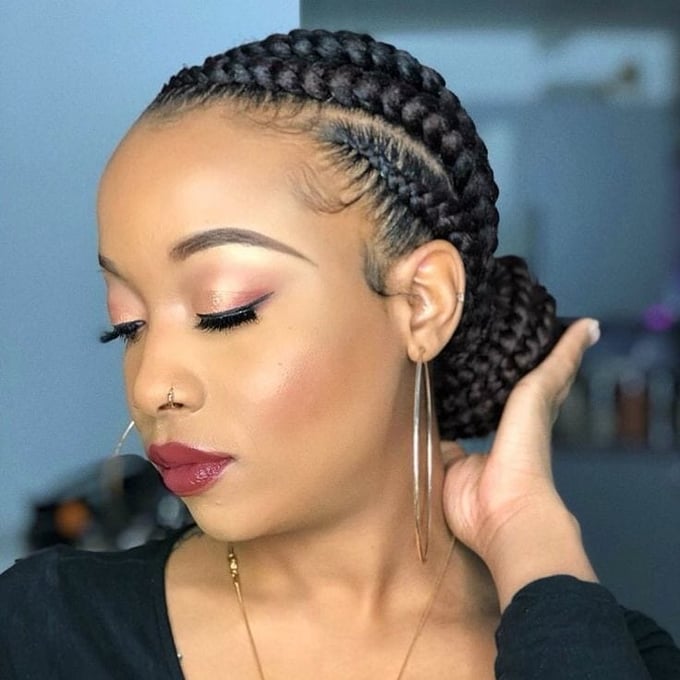 A hairstyle that contains both a braid and a bun is called a stitched braid with a bun. The braid, sewn to the head, is generally a French braid or a fishtail. 
The bun is often positioned at the neck's nape and can come in any style. This hairstyle can be used for any occasion and with any hair type.
Stitch Braids Ponytail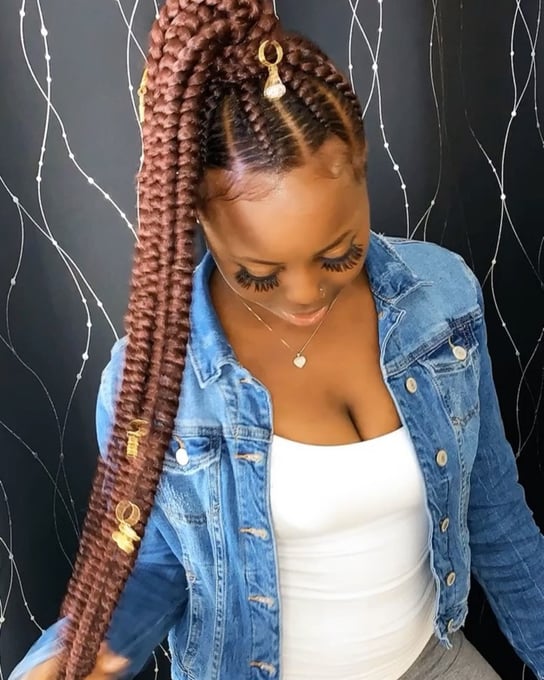 A stitch braid is an innovative approach to spice up a regular ponytail. Small hair parts are braided together to generate this style, which is finished with elastic. A ponytail with more texture and aesthetic intrigue is the final result. Every length of hair can be braided into this stitched style, although it looks best on shoulder-length hair.
Stitch Braids with Curly Ends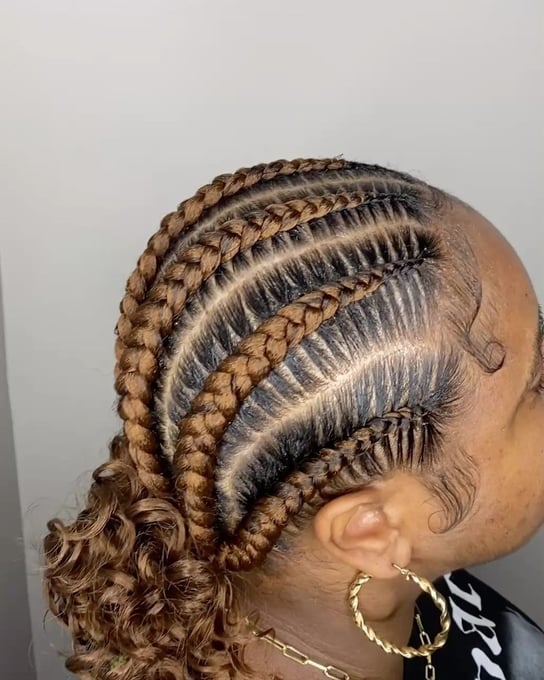 Curly ends can give a touch of elegance to a conventional hairstyle like this hairstyle.. There are numerous ways to style it, but the most well-liked look is to allow the ends to curl. Use a hair dryer or a curling iron to achieve this style. Getting the look involves some effort, but it is worthwhile.
Long Stitch Braids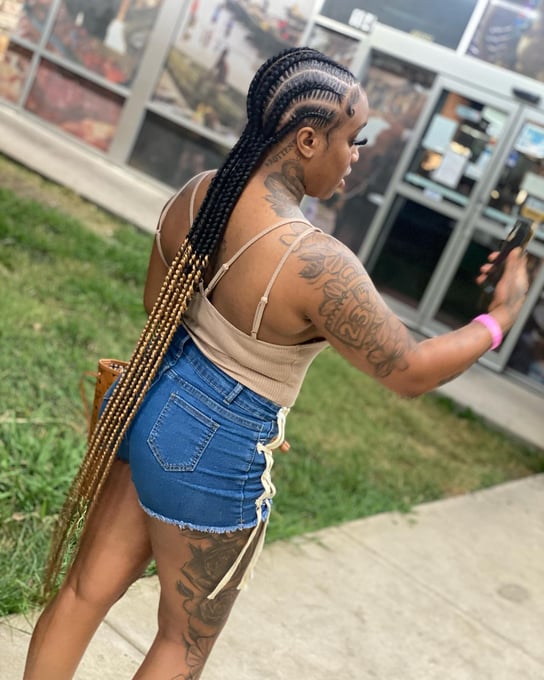 Due to the numerous hairstyles that can be made with long-stitched braids, they have become popular hairdos. Numerous hairstyles, such as afro, long, and braided styles, can be created using this hairdo. Long-stitched braids could be challenging to pull off, but anyone can create the style with the appropriate techniques and equipment.
Pop Smoke Stitch Braids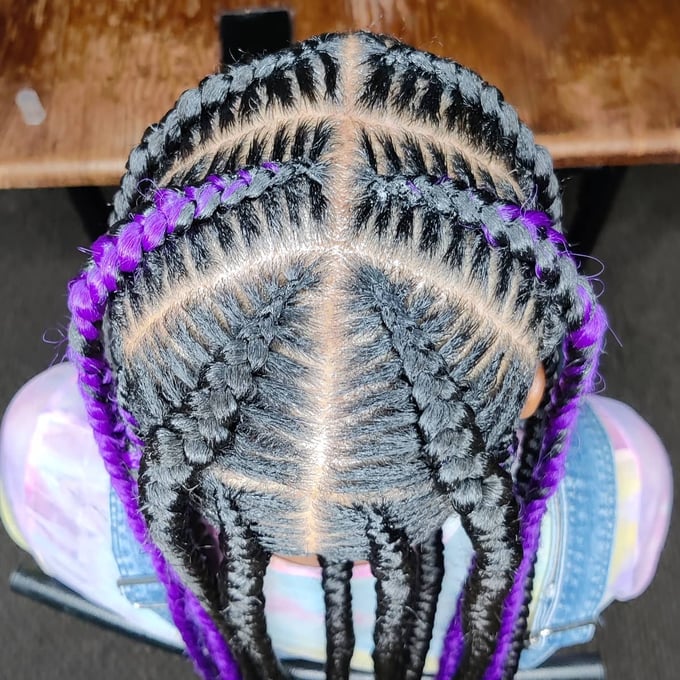 Pop Smoke, a late rapper, is credited with kickstarting pop smoke braids. A middle part and tribal braids are some other names for this hairdo. This hairstyle has several variations thanks to the imagination of hair stylists worldwide. 
Your hair can be used to recreate this hairstyle or add some extensions for length and volume.
Based on your hair's natural thickness, how you care for your hair, and how the braids were created, this hairstyle may last up to 6–8 weeks.
Cornrow Stitch Braids
The cornrow stitch braid is an intricate braiding style that can be used as a protective style. The hair is added to the cornrows as they are formed, typically made close to the scalp. The stitch braid is a widespread pattern of cornrows for making motifs and designs in the hair.
Such a braid may be made on any hair and can endure for weeks.
Blonde Stitch Braids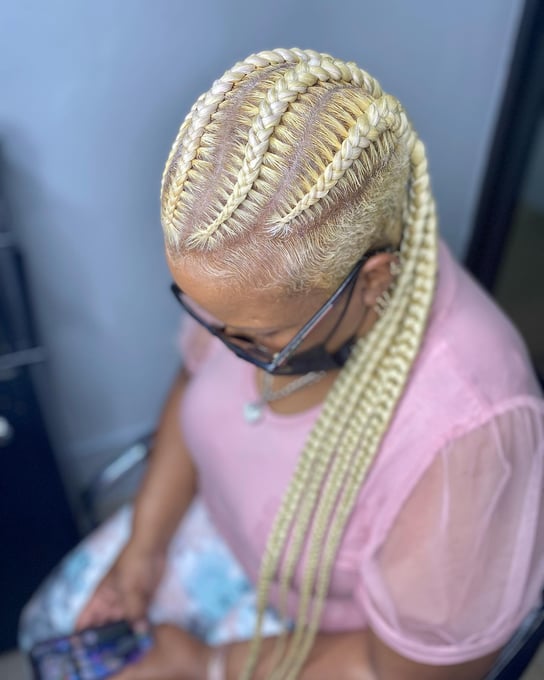 The perfect haircut enables you to express yourself and expresses your personality. Using the stitch braid technique, you can obtain the length and fullness you desire by sectioning your hair into different horizontal lines and adding extensions to the original hair.
Additionally, you can experiment with different hues, including blonde. Most women look stunning with blonde hair, and lighter hair might better highlight your hairdo.
Straight Back Stitch Braids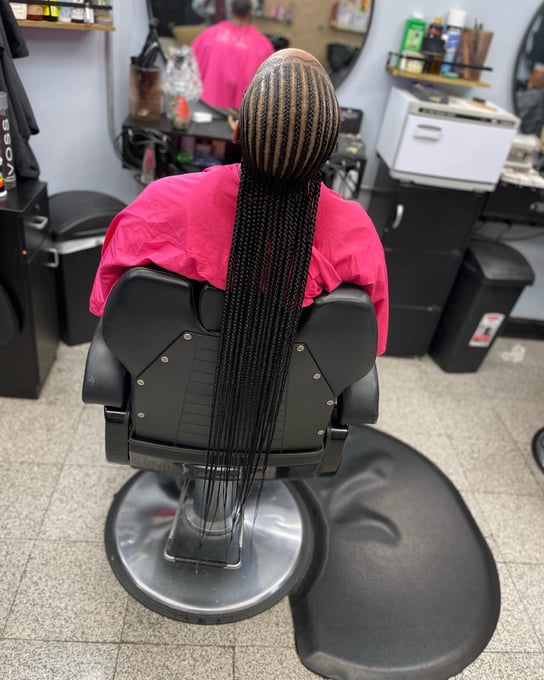 The stitch-in braiding technique and often the feed-in technique are utilized to create this hair look. They are a pliable protective style that resembles cornrow braids in many ways, but the method in which they are added to the hair differs.
Making your braids go back directly enhances the texture of your face, drawing attention to your features. The style will stimulate natural hair development and is an excellent pick for novices.
Stitch Braids Cornrows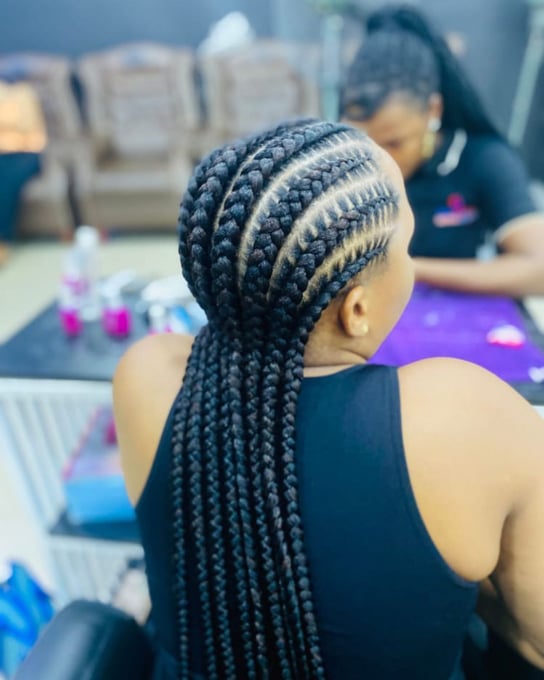 This hairstyle is a protecting hairdo for hair that can be tried and tested in several ways. Depending on your hair's texture and quantity, many techniques can be used to replicate this style. This hairdo is perfect for people who wish to lengthen and volumize their hair without harming their natural hair.
This hairstyle's main benefit is that it can go for weeks without any maintenance.
Stitch Braids to The Side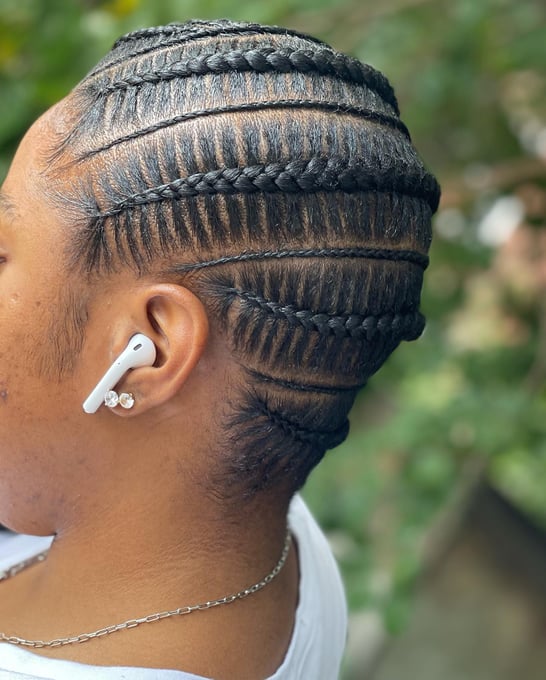 This hairstyle is super flexible and can be dressed in various styles, such as an updo, hair tie, or bun. They can have a variety of characteristics, including being styled in a bun for a casual outfit or as the focal point of an elaborate topknot for a more fancy party. They can also be worn side by side or layered on each other.
Stitch Braids to The Back with a Bun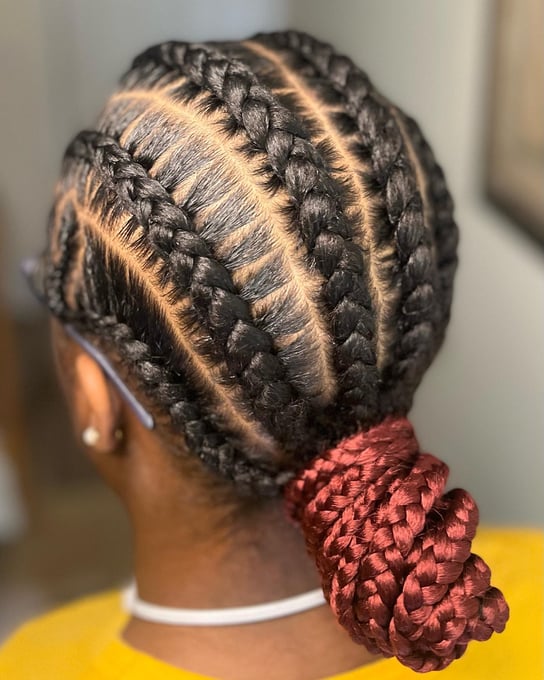 You cannot go wrong with a traditional updo while considering your hairstyle for a big occasion. The stitch braided to the back by complementing it with a bun is one updo that never goes out of style. Anyone can pull off this look, regardless of hair length or thickness.
Small portions of hair are combined within a specific pattern to create this look.
Stitch Braids with Color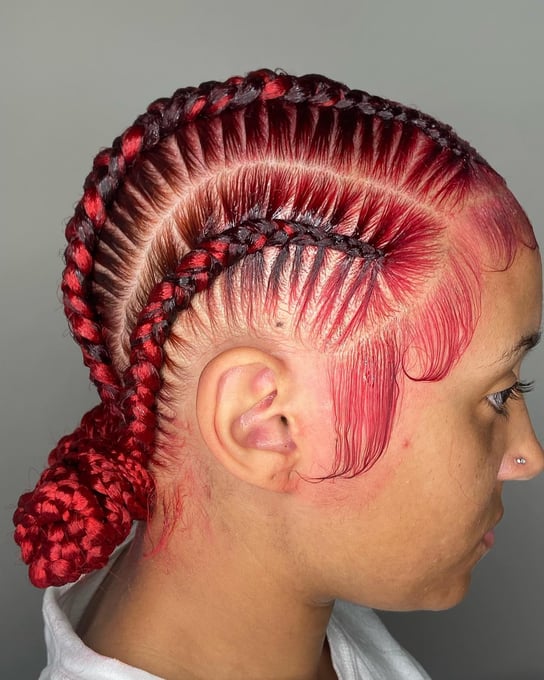 Do you love having colored hair? No issues! You can use more than one color for your stitch-braided hairstyle. I can't blame you because the hottest hairstyle right now is colored braids. Pairing your stitched braids with colors of your choice will make them look eye-drooling and grab everyone's attention around you!
Kids Stitch Braids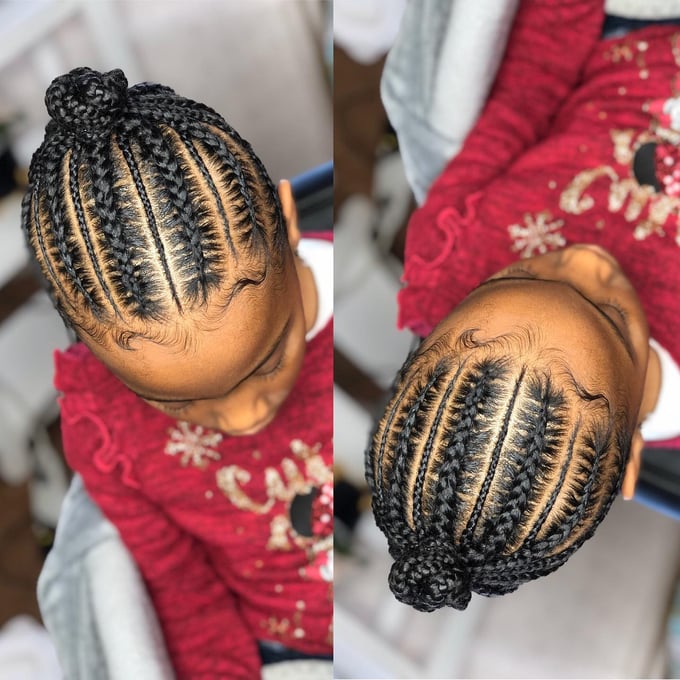 If you are looking for a unique hairstyle to dress your kid's hair, then I am sure this hairdo won't disappoint you. Such a hairstyle is so versatile that girls of all ages can easily wear it. Additionally, this hairstyle is super adorable, making others adore your little one!
Zig-zag Stitch Braids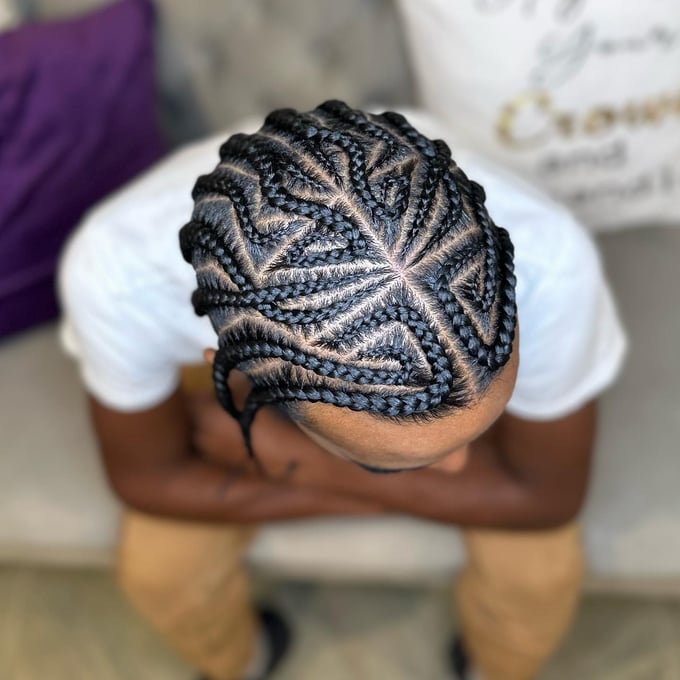 Such hairstyles usually have a pretty strong resemblance to cornrow braids, but they involve the use of extra fingers because your pinky finger is needed to finish the style. This is done to get a perfect finish and maintain your hair in place better.
Despite having a similar appearance to cornrows, you can customize the style to your preferences by adding unique motifs to the scalp.
Bohemian Stitch Braids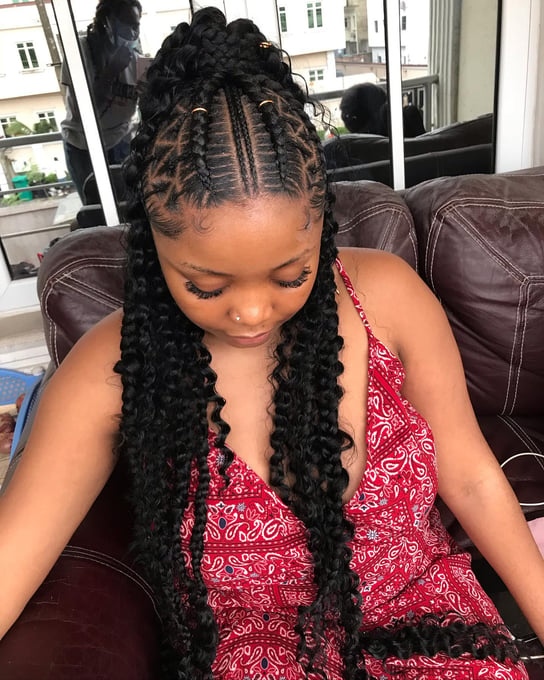 Stitch braids have several advantages and are an excellent method for giving hair a rest from chemical and heat styling. Furthermore, you can create the appearance of your desires with alluring bohemian braids since they allow you to flaunt your naturally curly hair. 
Box braids are employed in the braided form, but the ends are unraveled, which produces a stunning contrast. With long hair, this protective style is ideal.
Goddess Stitch Braids Ponytail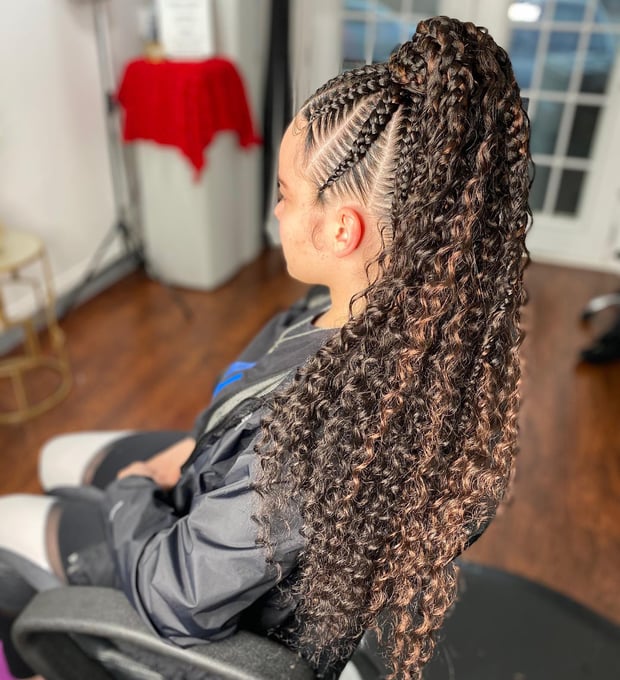 The hair is parted down the center for this specific look, and two low ponytails are made. Once the braided ponytails are secured, take a small section of hair from each and cross over the crown of the head, pinning it with bobby pins. Once the hair is securely held in place, collect the remaining hair into a bun, and you're done!
Stitch Braids with a Curly Ponytail
A curly ponytail with this hairstyle is a beautiful combination to enhance the texture of your natural hair. Any hair type can execute them, and women with curly hair adore them. They are simple to perform and generally last two to four days.
Ombre Stitch Braids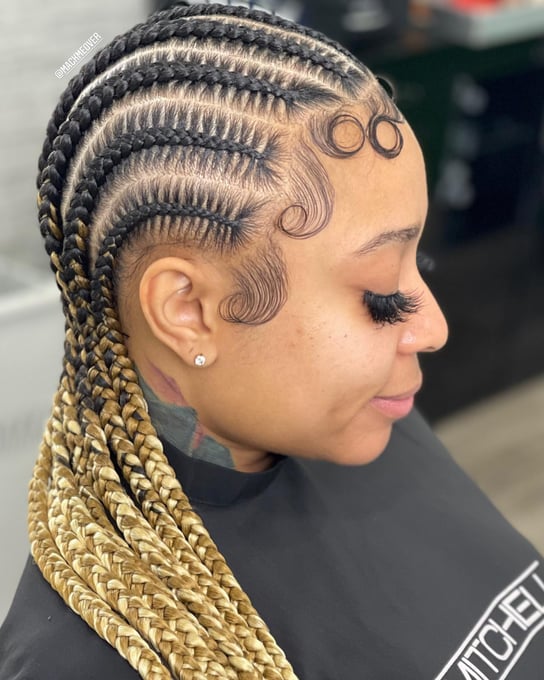 If you love wearing new hair looks every day and want to make them stand out, highlight them with a dash of ombre color. Such a shade blends well with a dark skin tone, complementing the hairstyle well.
Stitch Braids Half UP, Half Down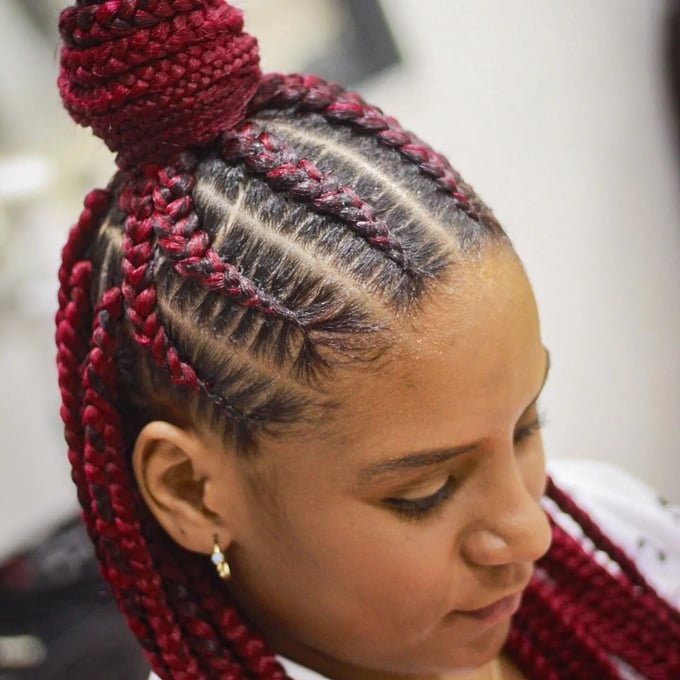 The half-up, half-down hairdo is widely famous because it lets you wear your hair up and down simultaneously. Drawing your hair away from your face can help open it up and draw focus to your features. While keeping it down might showcase your preferred braiding pattern or the texture of your hair.
Depending on your preferences, you can explore a range of hairstyles, including a straightforward half-up and half-down bun.
Stitch Braids Hairstyles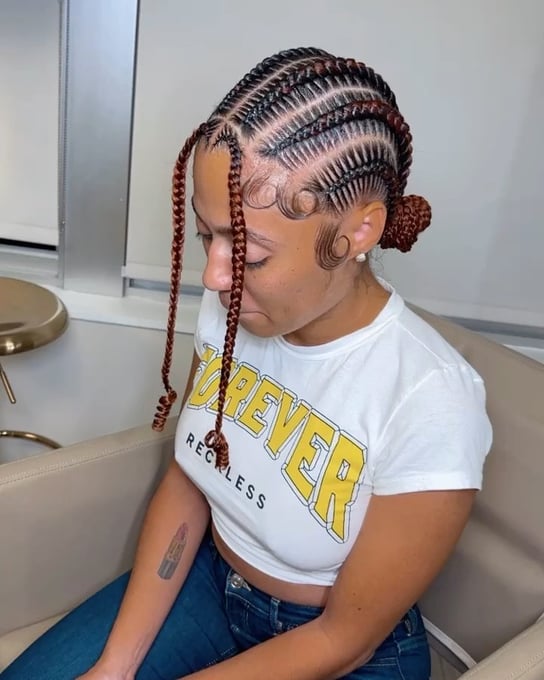 The stitch-in-braiding is used to create a hairdo that involves a specific braided hairstyle. The hair is separated into thick or thin horizontal lines for stitch braiding. Then, the horizontal lines created are braided further into a cornrow using braiding hair.
Stitch Braids Hairstyles 2022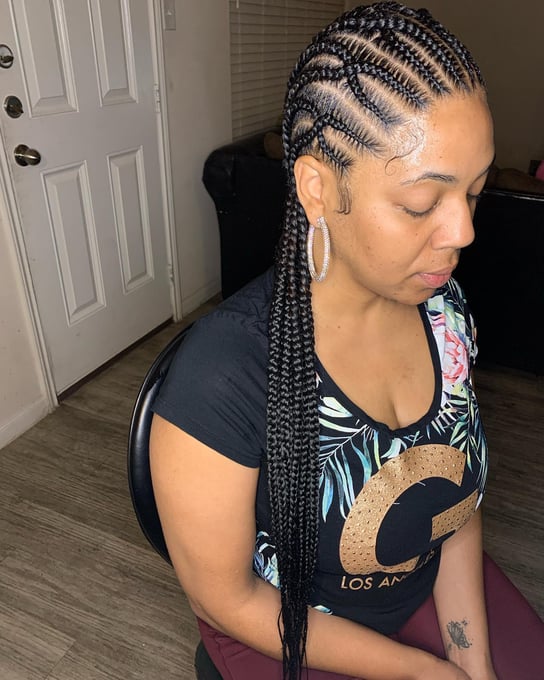 The stitch braid is one of the most popular braided hairstyles nowadays, making a splash in the fashion industry. Hairstyles incorporating stitch braids can be created in various ways involving length, patterns, and colors.
The zig-zag design, the Goddess stitch braid ponytail, and stitch braids with hearts are some of the most popular stitch braided hair looks for 2022.
Reference
Note – The credit of the pictures and images shown in our website for illustrative purposes, goes to Pinterest and Instagram
FAQs
How long do stitch braids last?
Your hair's texture and hair care regimen will determine this. Since type 3 hair falls less, stitch braids can persist for seven to eight weeks. However, type 4 hair shrinks more, thus lasting between 4 and 6 weeks.
How much does stitch braids cost?
Such hairstyles can cost anywhere between as low as $15 to as expensive as $300+. This is completely dependent upon the service you are looking to avail yourself of.
Are stitch braids good for your hair?
These hairstyles are a great source for not only letting you style your hair flexibly but also increasing the quality of your hair by adding strength and reducing manipulation. This helps restrict your hair fall and breakage pattern. 
Can stitch braids get wet?
Your braids could become wet while showering, swimming, or raining. However, it is advised to take specific steps to protect your stitch braids against fungus development, hair breakage, frizz, and unraveling your braids.
How do you maintain stitch braids? 
To maintain your stitch braids, ensure that your scalp is well moisturized. It is advised to massage your scalp with peppermint or castor oil once every two days for effective results.