Tribal braids refer to braiding styles that have their origins in African traditions. They commonly utilize braids and decorative accessories like rings, pearls, and shells. We will discuss Tribal Braids styles such as long braids, Fulani braids, lemonade braids, and more.
It is believed that tribal people have practiced the Art of tribal Braiding for over the last 5,000 years; now, the appearance of the tribal braiding style has slightly changed but still carries that royalty of tribes and technique depicted through ancient drawings and artifacts that remains the same. This technique of interweaving trees has been passed down through centuries and has become an essential aspect of Black and African cultures.
Similarly, these different braiding styles have been well-practiced in Europe, Central Asia, Africa, China, India, and Australia. It is claimed that the Art of braiding originated with Namibia's tribe known as the 'Himba.' In the ancient tribal, people used braiding styles to indicate everything, from what tribe a person belonged to, their social status, Marital status, Age, religion, Etc. Also, some societal discrimination in mapping routes to escape for enslaved people. Braiding was and continues to be a social art form.
Long Tribal Braids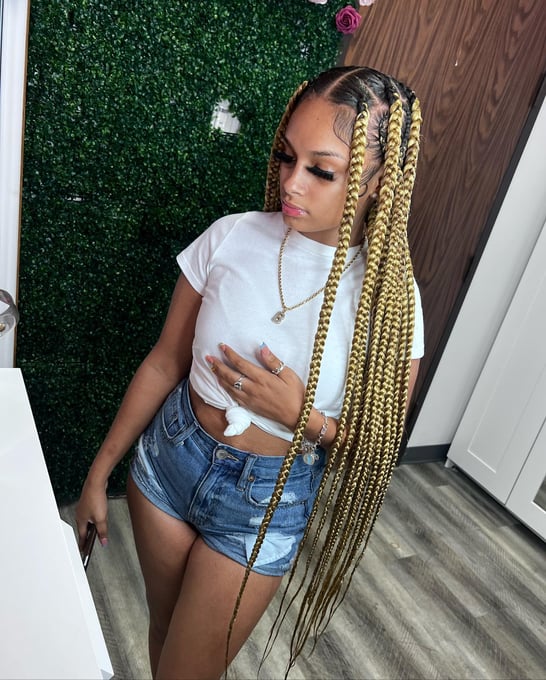 Long and thick hair may be difficult to manage, and most people find it challenging to try various Hairstyles. You'll enjoy the Long Braids that show you are a powerful woman. When coupled with sizable earrings, a magnificent hairstyle with thick cornrows is highlighted with brown extensions that are brilliant even without makeup. It combines Fulani braids with cuffs that can be worn with & without beads.
Fulani Tribal Braids
This braiding style is appropriate for any hair with hair extensions. One of the most popular braids is distinguished by straight-back cornrows separated in the center, which are frequently adorned with beads. Fulani braids are available in various styles, including half cornrow, half knotless braids, middle part straight back cornrows, and half braids with curly hair in the back.
Tribal Braids with Beads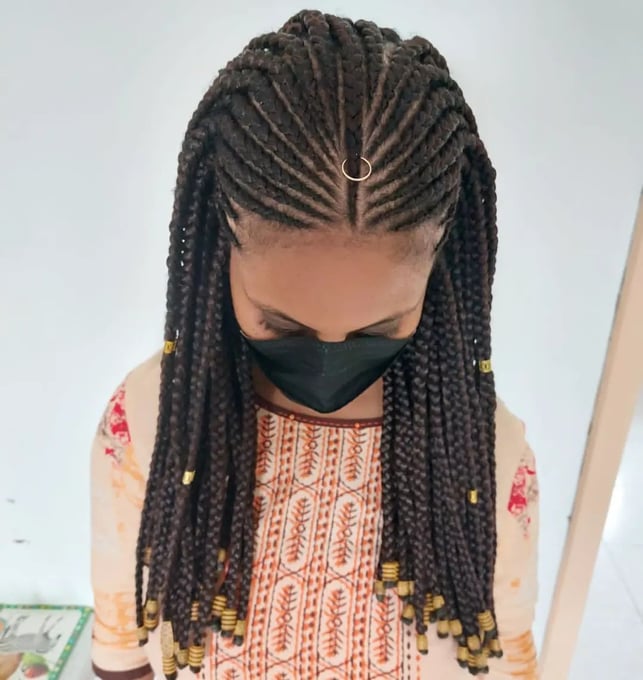 The forward cornrows right above the ears, as well as the beads, add a Fulani touch. Except for the forward plaits above the ear, all cornrows in a basic braid design with beads are braided from one side of your head to the other. Depending on your hair length, it is simple and allows versatility because you may wear the braids up or down with the beads.
Middle Part Tribal Braids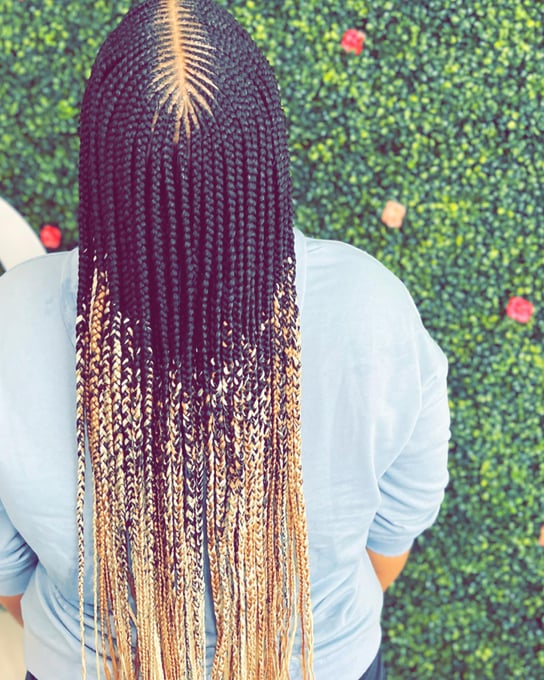 These braids are easy to put on in the middle and give you a royal appearance. The traditional cornrow in the Middle Part of the head braid four horizontal cornrows (two on each side) from the middle to the sides. And two horizontal ones (one on each side) go from side to center.
Lemonade Tribal Braids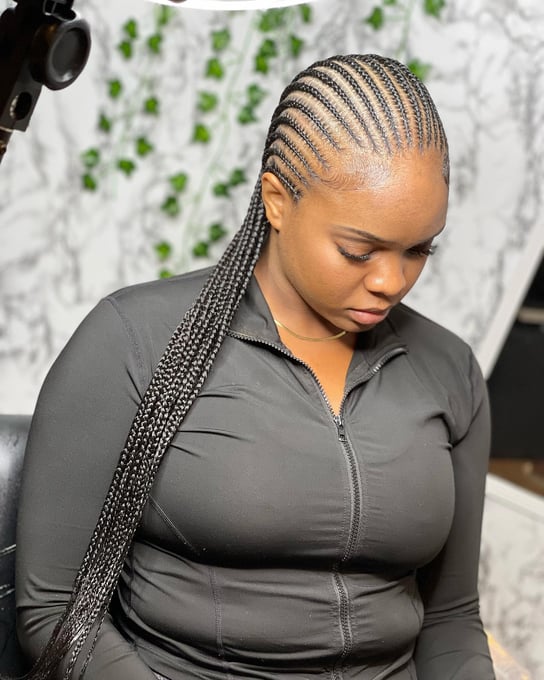 Lemonade Braids are typically known as side braids and cornrow braids. These braids are swept from the sides, taking approximately 7 hours to achieve their best result. Just sweep either side of the hair and style it however you like. You can try Beyoncé Lemonade Braids, Classic Lemonade Braids, Pulled Back Lemonade Braids, Small Lemonade Braids, Etc. With, of course, your unique highlighting accessories.
Tribal Braids with Heart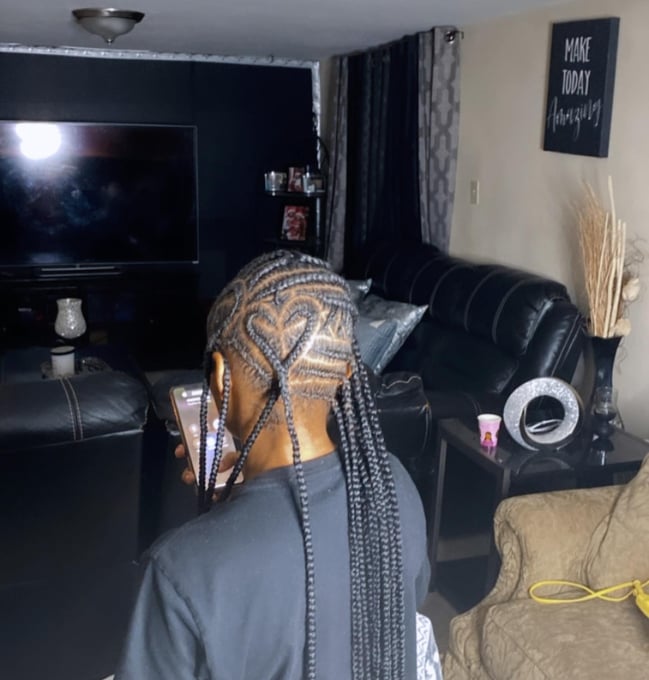 Braids are becoming more artistic and inventive in this generation. Heart patterns can be added to braiding hairstyles. To achieve these braids, consider hiring a hairdresser to make the process less unpleasant. However, it takes considerably longer than ordinary braids to get the desired effect.
Side Part Tribal Braids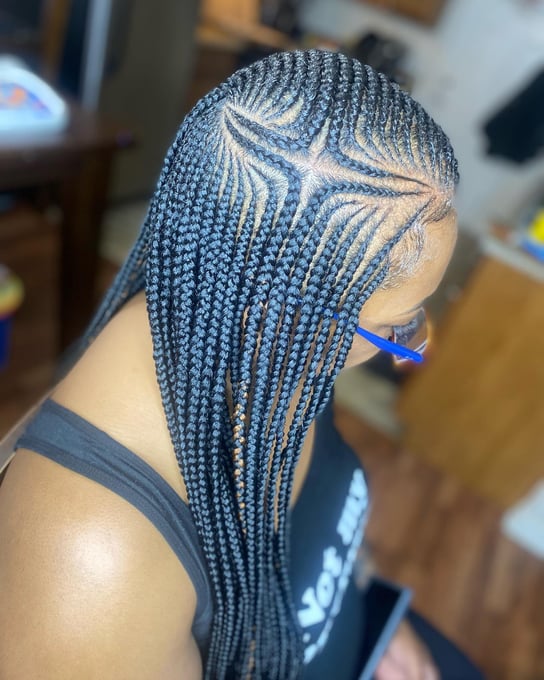 Side part braids are slanted hair braiding methods that can be done on the left or right side of your head, depending on your preference. It suits well on those with a long-shaped face. It is also adaptable, allowing you to add some finishing touches with great accessories toward the end.
2 Layer Tribal Braids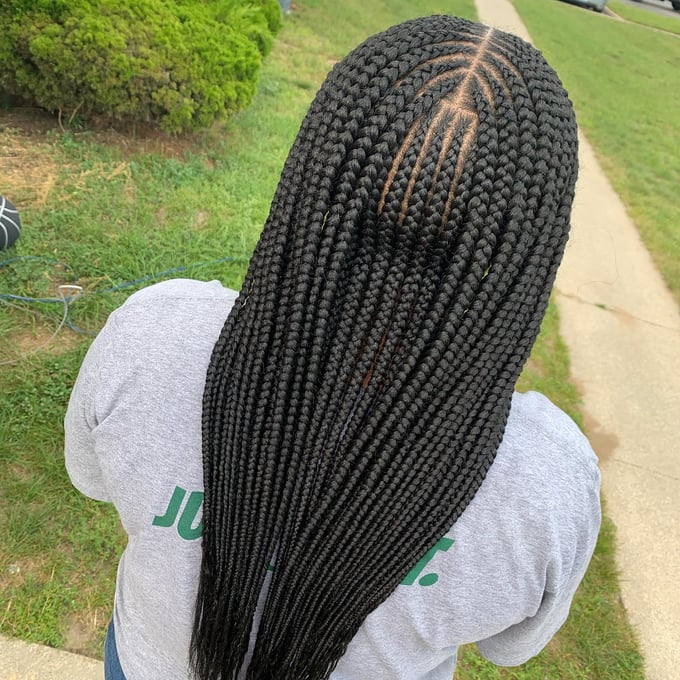 These braids are stunning and may be used to produce a variety of beautiful hairstyles. Two-layer braids, like tribal braids, involve braids divided in two distinct ways from a section of the hair. You may accent the braids with your preferred creative color. This braided hairstyle creates side parts, tribal styles, and dynamic cornrows.
2 Layer Tribal Braids with Middle Part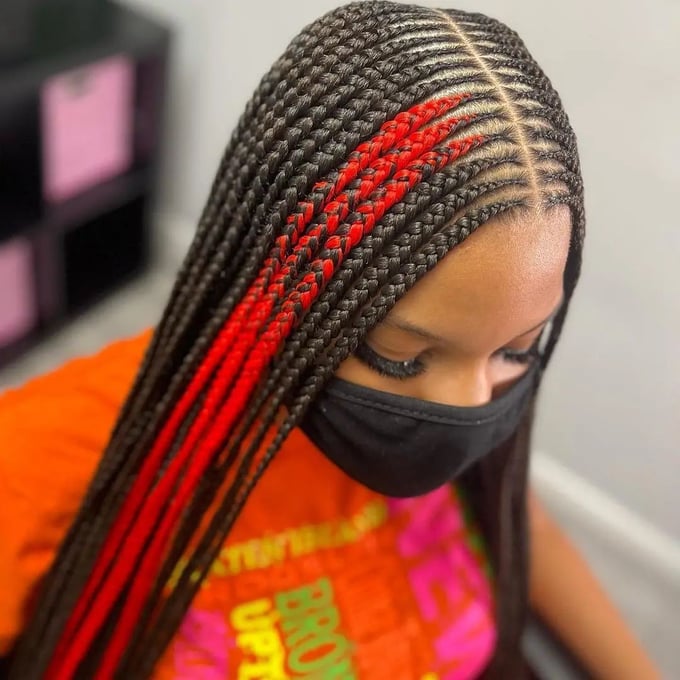 Create two separations on either side of the hair for a powerful and sleek look. You may be creative with finishing the braids by using any color extensions. Again, adding embellishments with braiding never disappoints. It is an elementary yet elegant braiding style that provides you with your desired haircut.
3 Layer Tribal Braids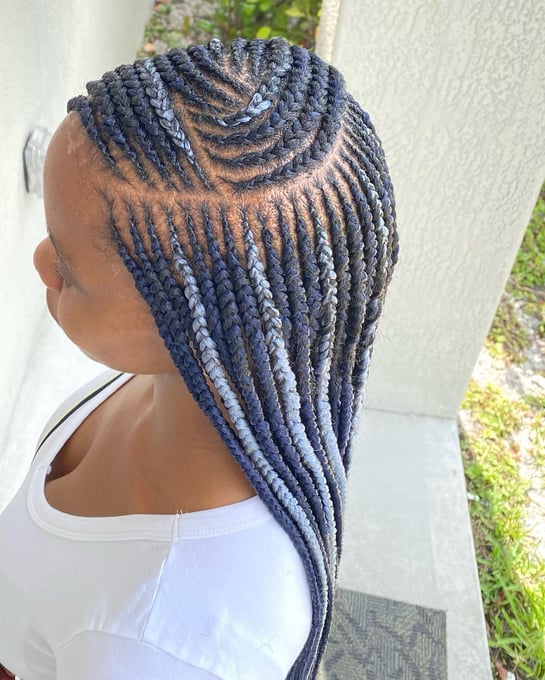 First, the middle back head hair is parted from the bottom, and then the top left and straight hair are divided into two additional sections. Next, the top section of the back head hair is parted into two more layers for braiding, and the top head hair is braided. For a finishing touch, you can add some highlighting vibrant color to the braided ends and optional accessories. Recommended professional assistance.
Tribal Braid Styles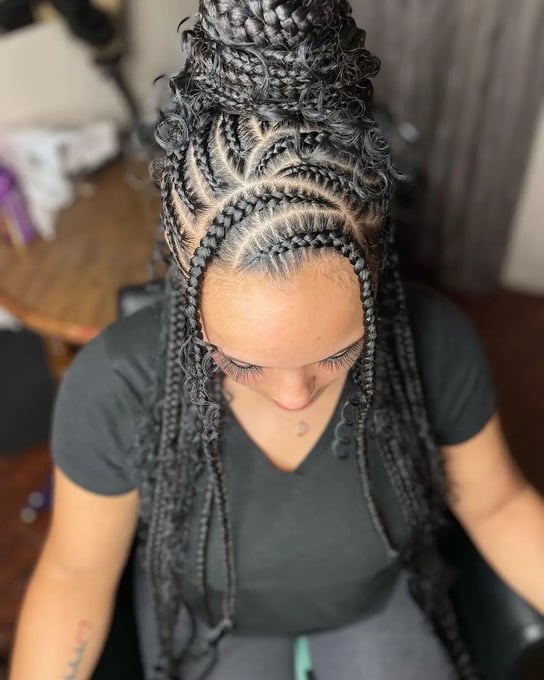 With braids, you may get various looks in your daily life. These are some exquisite mentions, half & half, half bun, ponytail, top-bun, messy or Rasta bun, back scarf bun, front scarf bun, space bun, side braid or twisted braid, high side bun, and last but not least poetic justice-ish.
Half UP Half Down Tribal Braids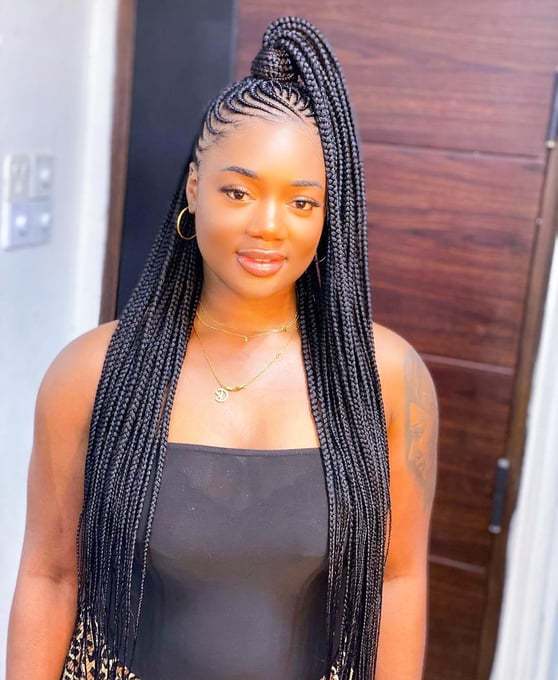 This braid does not even require the use of longer hair. It is the more effortless braid that can be completed in a few hours by simply separating the front and back of the head hair and beginning to separate and braid the left side hair in two sections, followed by the right side hair, and finishing with the right sections going to the top.
Medium Tribal Braids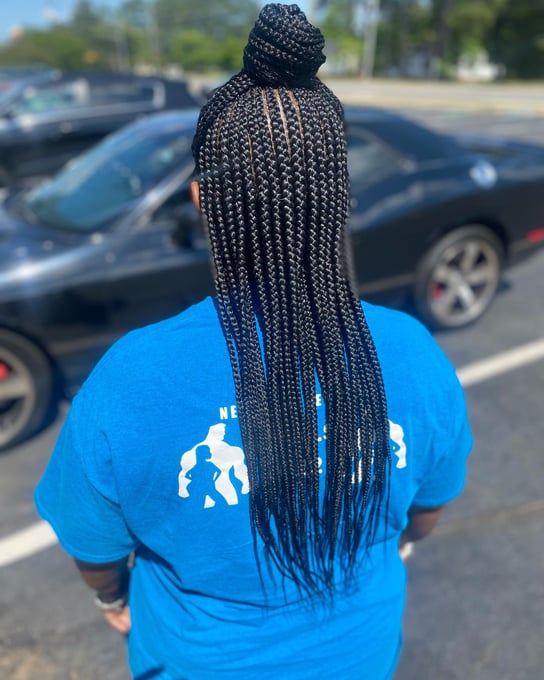 A very classic braid that is still used by tribal people today but has a modern twist to it splits the entire hair into equal sections, proceeds through the rear hair, and continues going toward the front covering all the hair sections and braiding each bundle of strands into a zig-zag form or horizontally line it up.
Tribal Braids with Curls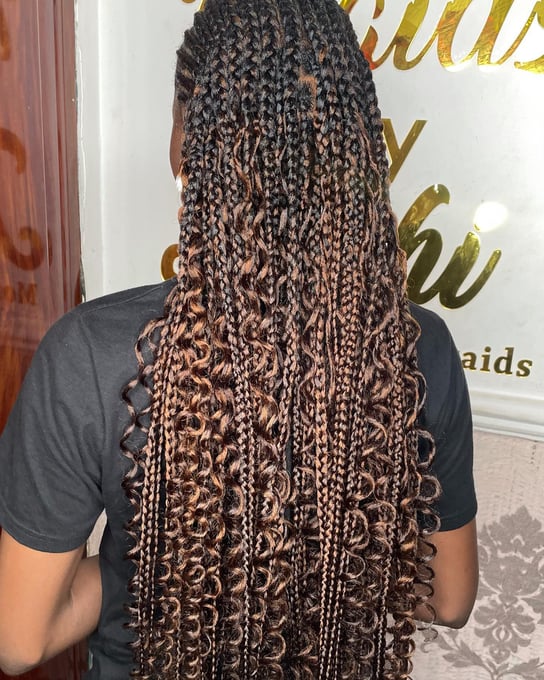 Some people adore curls in their hair to make it look voluminous, but having them at work or during activities can be difficult. Curls can be more elegant when paired with braids. First, have it pre-parted and braided. If your hair is shorter, you may add hair extensions at the end of the braids, curl the hair, and you'll have your gorgeous braided curl appearance.
Small Tribal Braids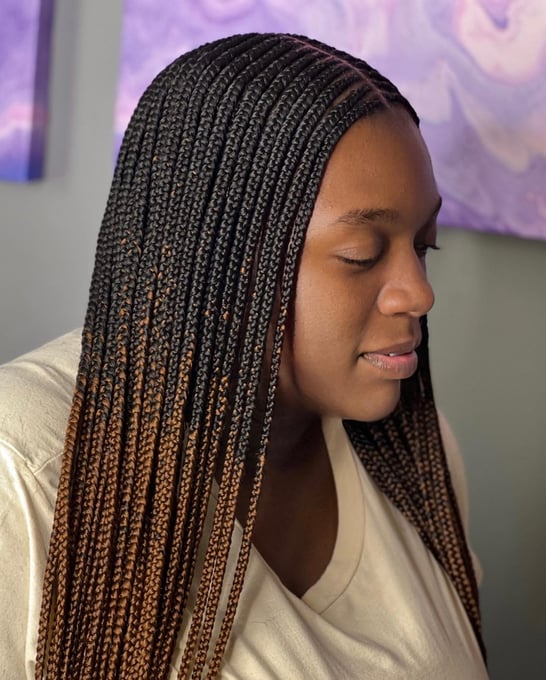 It might be difficult to wait to grow long hair. Therefore small braids are ideal. You may get creative with this one by adding hair extensions of any brilliant color that match your natural hair color, starting with braiding from the scalp, then sticking up the hair extension with the braided end and continuing to finish the extra braid extensions.
Jumbo Tribal Braids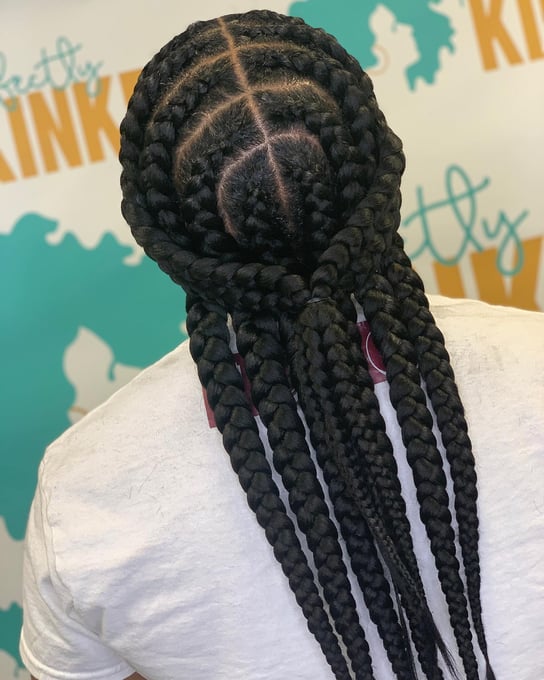 This braiding method is also a classic; you can use numerous style techniques and top it off with your desired finishing touches. It has considerably thicker braids than others, which have little stacks in each area, making it one of the easiest ones to finish; however, it requires much larger cuffs or beads, as you may desire.
Goddess Tribal Braids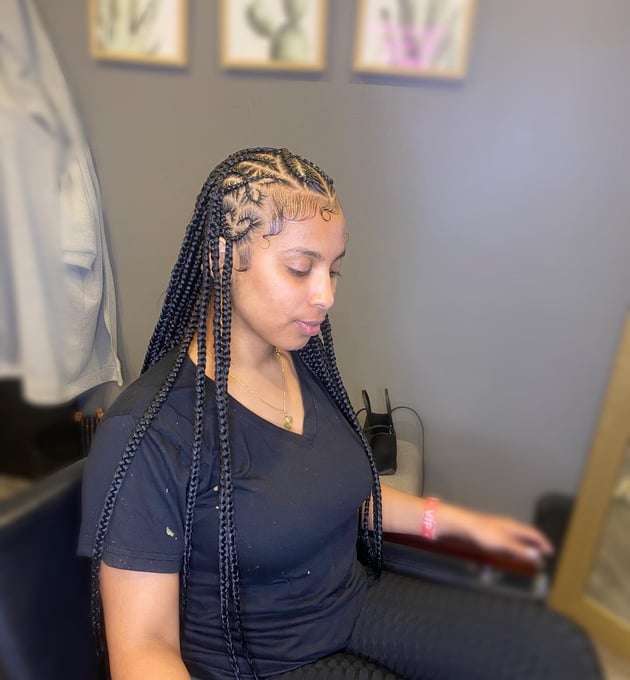 This braiding style may give your hair a bold, stylish, elegant, thicker look. They are essentially thicker cornrows. They're bigger and raised higher, so make separate rows starting from the nape and add extra cornrows vertically from the forehead to obtain that goddess appearance. Then, finish the look with horizontal cornrows that are thin or thick as you like, and curl the braids.
Tribal Braids For Kids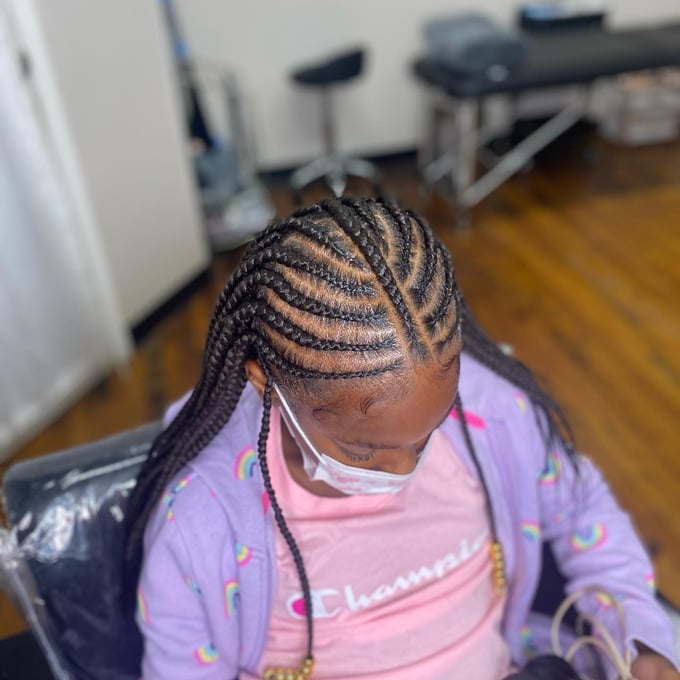 Braids are a simple style that comes in various variations and even allows you to accessorize your child's hair in various ways. In African culture, braids were given to children to teach them the ways and values of their culture. Even today, children still follow braiding fashion. However, with accessories, you may add beads or rings to their hair to top it off for special events.
Tribal Braids with Designs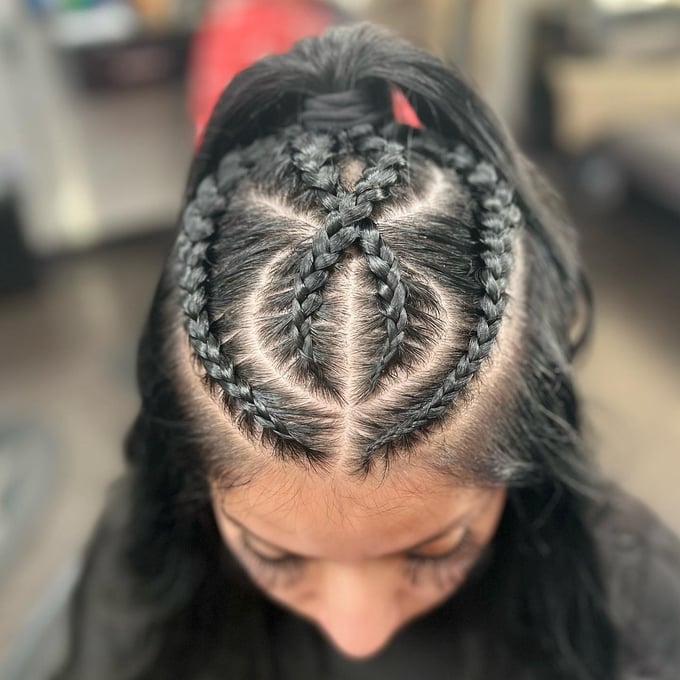 Start with any braiding method; a stylist can do any design you desire, but it can take a lot of time because each detail needs to be looked through thoroughly. You won't regret how it looks, though; it will be so stunning. Here are a few honorable braid design mentions—the designs of a star, a heart, a crisscross, a butterfly, etc.
Layered Tribal Braids Side Part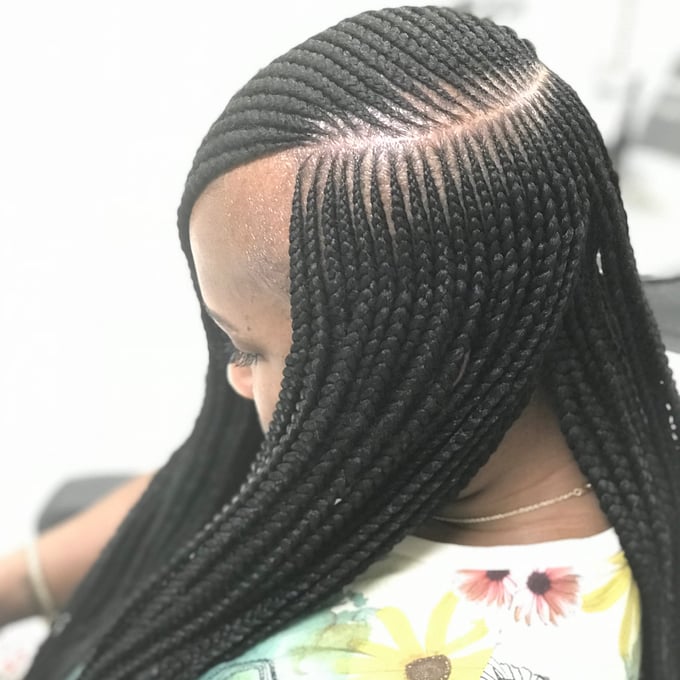 One of the most elegant ways to add beauty to your appearance is to layer your braids. To do this, divide your hair into equal sections, make thick or fine cornrows, and place one layer on the right side of your head, another on the left, and the final one at the back of your head. You can choose to have one, two, or three layers.
Egyptian Long Tribal Braids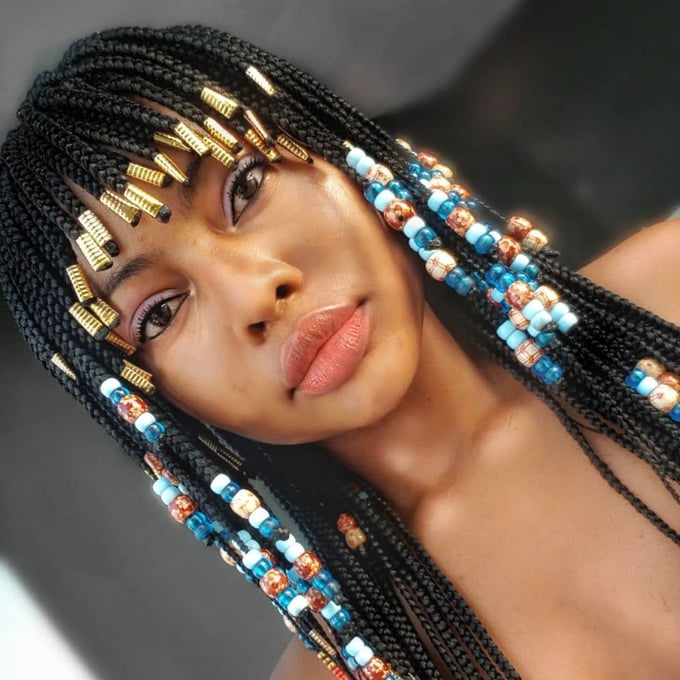 Since ancient times, braids have been a part of Egyptian culture. From the pharaohs to the ladies of upper Egypt, they have been styled in various ways and are frequently adorned with jewelry, beads, and hair extensions. People in Egypt, particularly the wealthy members of the Egyptian monarchies, were known for wearing this style frequently.
Ponytail Tribal Braids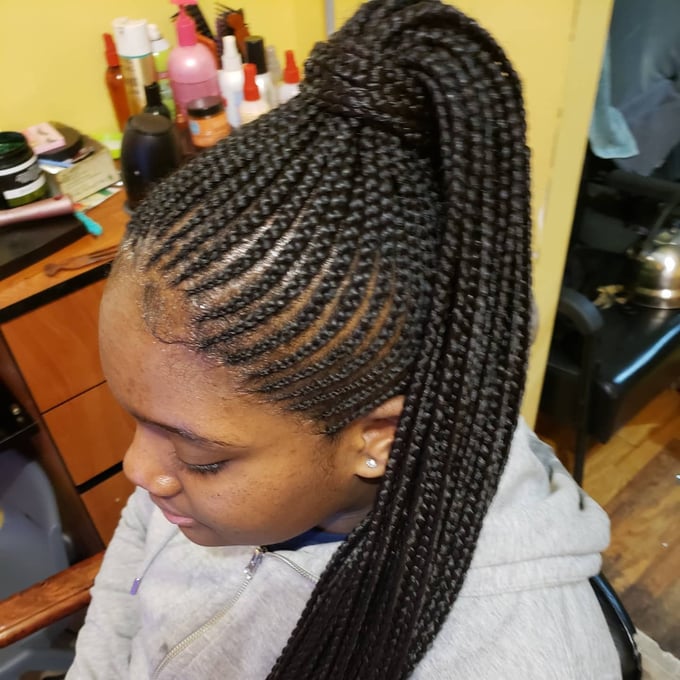 These ponytail braids are definitely for those who don't like to be bothered while working in the office, exercising, having fun with friends, and even having that fashionable look on special occasions. You can always opt-in to dress your hair with beads or cuffs at the end or curl them to look flaming hot. Typically, the braids are pulled back together, and you can wrap the braids with some hair extensions.
Blonde Tribal Braids
Who doesn't appreciate having their hair beautiful bright blonde hair? You may experiment with all the tribal braiding styles, use any accessories, and highlight the blonde hair at the points of the braids, the mid-sections, the lower portions, or the braided tips. Everyone may express their creativity with their blonde braids since highlighted blonde hair braids are charming and versatile.
Short Tribal Braids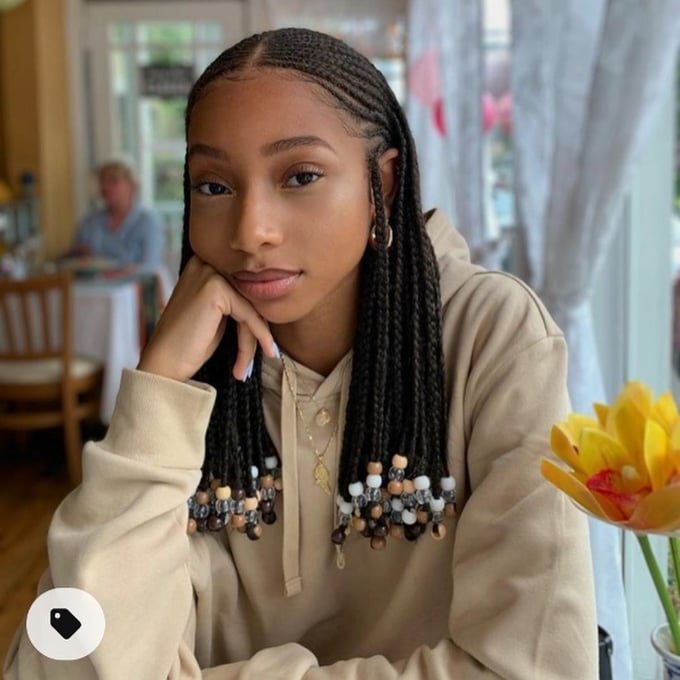 Even if you don't know if braids would look well on you because of your short hair? You may not even need to see a hairstylist since short braids are perfect for you. To make it stand out, add some beads, silver coins, cuffs, or a braid with a pattern like a heart, star, or any other shape for a bold & chic look.
Bob Tribal Braids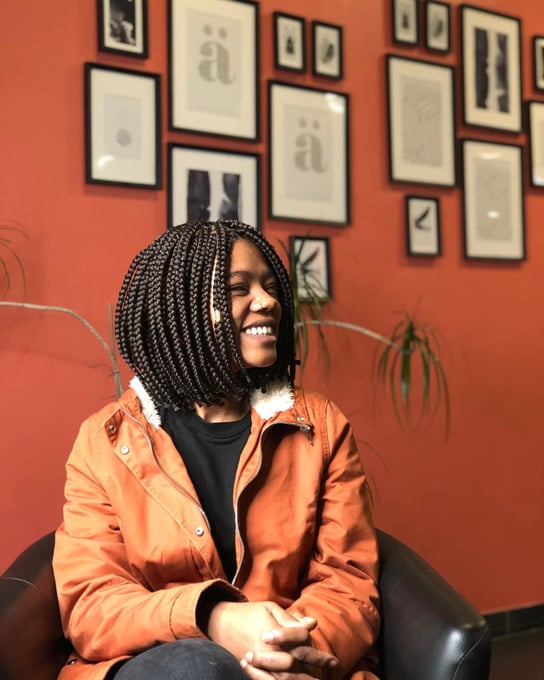 Speaking of bob braids, just because you have short hair doesn't mean it cannot add boldness to your appearance. Bob braids are the simplest to wear and can be styled in various ways, and this braiding style is no exception. Even when it comes to maintaining the braids, this one is inexpensive and protective. You can try pushed-back, bob braids with fan ends, and jumbo bob braids.
One Layer Tribal Braids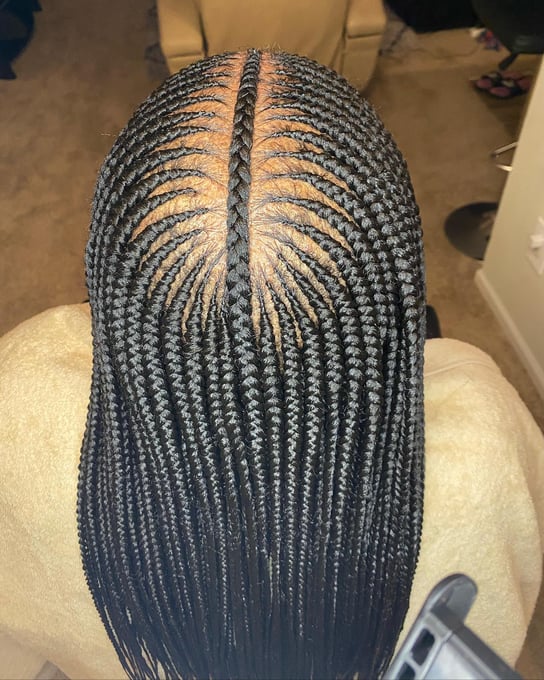 If you have short hair, you may add hair extensions to the one-layered braid since it has thicker cornrows and is simpler to braid because you don't need to separate the hair several times and stack it up thickly in one layer before continuing to create a pattern or pull the braids straight back.
Tribal Braids with Weave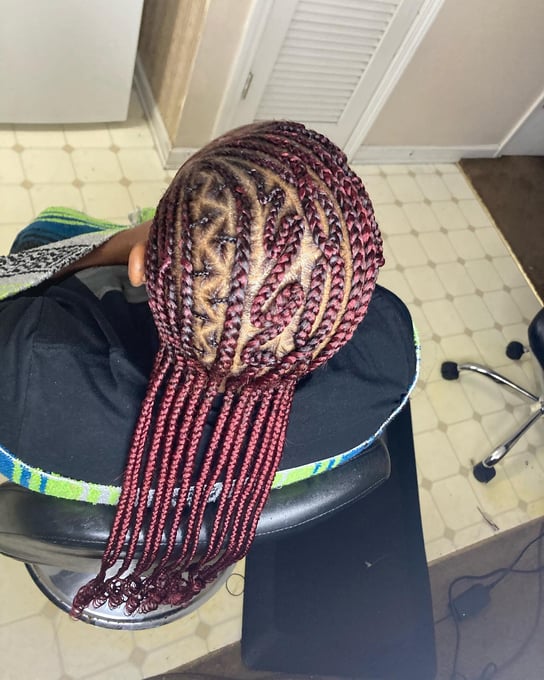 Hair extensions can be used to create braids with weaves, but if you already have long hair, you can skip this step. Weaves are little, wavy curls from the midpoint of the hair. You may braid it in any way you choose, add weaves to make it seem different, and wrap the middle of each cornrow braid with accessories or hair extensions to complete the style.
Straight Back Tribal Braids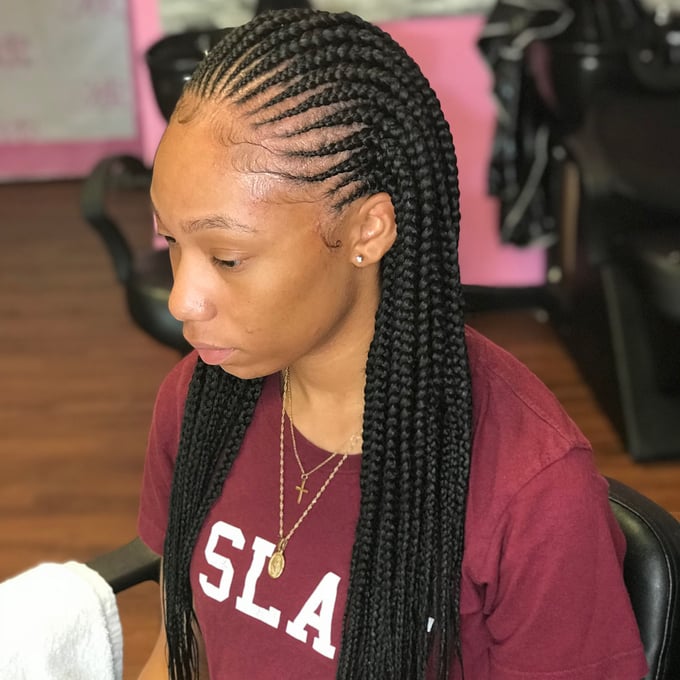 Straight-back pulled braids, which are incredibly simple to do and are the perfect example of these cornrows with a straight-back pull, are a very traditional yet gorgeous and bold braid that you should never skip out on. They act as the ideal base for any regular hairdo you wear and safeguard and preserve your mane.
Knotless Tribal Braid
Regardless matter the size of the braids you desire, knot-less braids look fantastic. Here are a few knot-less braids you may explore. Small knot-less braids are distinctive, elegant, and beautiful. They don't require much maintenance. Medium knot-less braids come in various sizes, are less bulky overall, and work best for medium-length hair. Large knot-less braids are quicker and can still look stylish without additional accessories.
Tribal Braids Natural Hair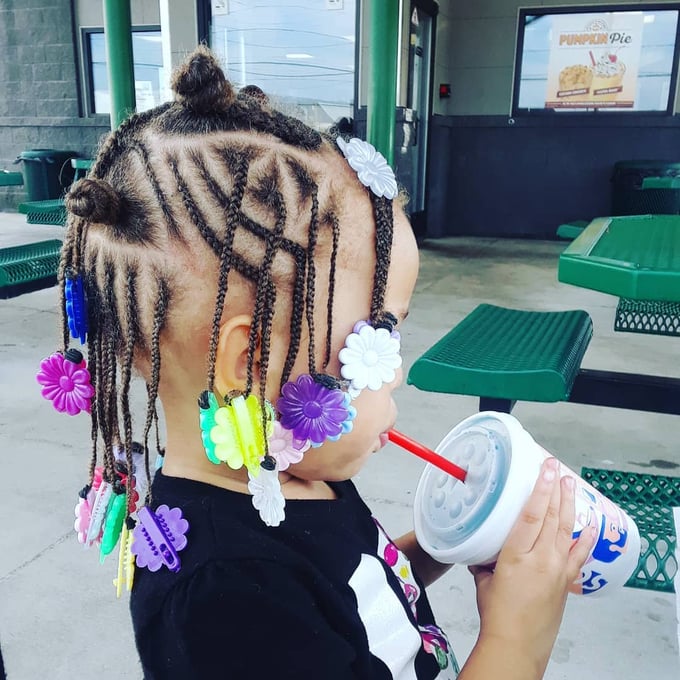 For a natural braid, you usually need five to six packs of braids to make small cornrows. To produce a natural braid, you could require multiple packs of hair, depending on how thick your hair is. Natural braiding only depends on your hair size and length and does not include hair extensions or coloring.
Reference
Note – The credit of the pictures and images shown in our website for illustrative purposes, goes to Pinterest and Instagram
FAQs:
What are tribal braids?
Tribal braids have braiding patterns representing each person for their tribe, religion, culture, ethnicity, marital status, and position of power in the tribe. People often use accessories like Beads, cuffs, shells, and rings paired with several tribal braids. The most commonly known braids are Fulani and Egyptian, originating from African culture.
How long do tribal braids last?
Tribal braids commonly last for four to six weeks. But the thin braids last for more than three months in all sizes of braids which doesn't need to keep going back to the salon, nor do you need to fix your hair yourself. However, you can wash your braids every three to four weeks to maintain them and make them last longer.
How much do tribal braids cost?
Deciding how much would tribal braids cost does many times depend on your hair length, the style of braid you choose from, the complexity of work, additional accessories purchased, and the availability of a stylist may vary different charges. If a stylist charges you $100 for 200 minutes, the price will likely be more than how long it takes to finish your braids, but usually, it costs from $120-250.
How to style tribal braids?
Tribal braids have complexities and toughness, even when it comes down to whether you are braiding or the stylist. But the basics are the same, prepare by washing & drying your hair, parting your hair into sections depending on hair type. The section created will be parted into smaller segments, patterns may vary with thickness, and securing the bottom of each braid with a rubber band or a different method, then repeat.
Can you put tribal braids in a ponytail?
Tribal braids have modernized in a trend throughout time, and you may place them in a ponytail to give them a more stylish and eye-catching appearance for any special occasion. Bring your braided hair together at the top of your head to form a tribal braid ponytail style.